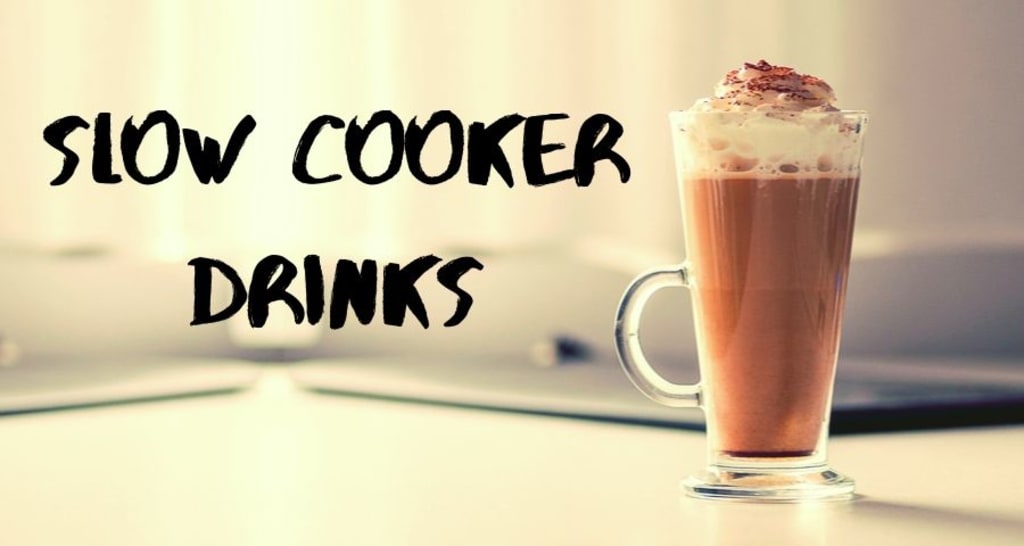 1. Salted Caramel Hot Chocolate
2 cups milk chocolate chips
1/2 cup caramels
4 cups milk
2 cups heavy cream
1 teaspoon vanilla extract
1/2 teaspoon fine sea salt (optional)
whip-cream (for fun)
Measure out the ingredients and unwrap the caramels. Get your slow cooker ready and add the heavy cream in first. Next, add in the milk, chocolate chips, the caramels and the sea-salt. The sea-salt is optional because if you want a regular non-salted caramel hot chocolate all you have to do is leave this one ingredient out. Cover your crock pot and cook on LOW for four hours, stirring occasionally. Four hours later and it all done! You can use a ladle to help serve your amazing new hot chocolate.
Don't forget to decorate it with a whipping cream topping! I used chocolate whipped cream, but vanilla is more traditional. I also tried to put chocolate.
Thoughts—At first I was confused by this recipe because I thought the milk would curdle in the slow cooker ... it turns out this is NOT the case at all. As long as all the ingredients are in there together and the slow cooker is on low, the milk doesn't get a chance to 'cook' or boil.
I used chocolate whipped cream, but vanilla is more traditional. I also tried to put chocolate on top of it and well... note to self: Grate the chocolate first next time.
2. Vanilla Latte Syrup (and the final recipe)
The Vanilla Coffee Syrup should be easy... if you can find a vanilla bean. I did manage to find a vanilla bean at one of my local grocery stores... but it was $11! So if you want to skip this part of the recipe... you can always buy that caramel ice-cream topping instead. With that said, making my own syrup was certainly something fun to try.
1 3/4 cups water
1 1/2 cups granulated sugar
1/2 cup packed light brown sugar
1 vanilla bean, split in half
2 teaspoons vanilla extract
Boil the water then add the sugar and the vanilla bean. Cook for about 4-5 minutes. Next add the vanilla extract. Cook it again for another minute and... all done! Once it's cooled down, bottle it up and store it in the fridge... or... use it right away to start making your slow cooker Vanilla Latte. Let it cool, bottle it and store it in the fridge.
Note: will be good in the fridge for 1 week.
Vanilla Latte Final—Slow Cooker
4 cups milk (I like 2% but whole is, of course, also delicious)
2 cups very strong brewed coffee
1/2 cup Vanilla Coffee Syrup
Whipped cream (recommended)
Add milk, coffee, and vanilla coffee syrup to a two quart or larger Crock Pot. Stir. Cook on high for two hours to two hours and 30 minutes. Make sure it doesn't boil! You may also heat it on low, but it will take a little longer to heat up. Turn Crock Pot to warm setting to keep latte warm for two to three hours. You can use low to keep it warm if your slow cooker doesn't have a warm setting, but keep an eye on it. Stir occasionally to make sure it doesn't scald.
Scoop by the ladleful into individual mugs. Top with whipped cream if desired. Serve.
3. Chai Tea
3 1/2 quarts water
15 slices fresh ginger, peeled
15 green cardamom pods, split open and seeded
25 whole cloves
3 cinnamon sticks
3 whole black peppercorns
8 black tea bags
1 (14 ounce) can sweetened condensed milk
Pour the water into the slow cooker. Add the in the ginger, cardamom pods, cloves, cinnamon sticks, and peppercorns. Turn to High and let cook it for eight hours. Next, steep the tea bags in the hot spiced water for five minutes. Strain tea into a clean container. Stir in the sweetened condensed milk and serve!
4. Apple Cider
9 medium apples, assorted types (I used a mixture of red, yellow and green apples)
1 orange
3 cinnamon sticks
1 whole nutmeg
2 teaspoons whole cloves
1/2 teaspoon whole allspice (optional)
12–16 cups water
1/3 – 2/3 cup brown sugar (or your desired sweetener*)
First things first, wash the apples. Next, cut up the apples into quarters. Throw the apples and peeled orange slices into your slow cooker. Add the cinnamon sticks, nutmeg, cloves and allspice. Pour the water over it all and cook it on high for three to four hours... or on low for six to eight hours if you want to cook it over night and have it be ready by morning.
To be extra professional with your hot cider, wait until the cider is nearly done and use a potato masher to mash the apple and orange slices. Cook it for one more hour. Strain out the pieces and if you want to be fancy, put the apple cider juice into a clean pitcher. Otherwise, a pot does the trick too.
All done! This recipe is best served hot but ... cold cider is pretty good too. Once in the fridge, it should be good for about five days.
Notes: I was going to add whole cloves and allspice, but I couldn't find any! I would never add ground spices to a cold drink, but the ground spices dissolve completely as the cider is heated so it works just as well. If you can find ground cloves and allspice and want to go that route, it would also be amazing!
Work Cited
Barbara, and Lady Heidi. "Pot Salted Caramel Hot Chocolate." Crock, 11 Aug. 2019, crockpotladies.com/recipe/crockpot-salted-caramel-hot-chocolate/.
"Crock Pot Cranberry Apple Cider -- Easy Recipe!" The Recipe Rebel, 10 Nov. 2018, www.thereciperebel.com/slow-cooker-cranberry-apple-cider/.
"Crock Pot Vanilla Latte." Kitchen Treaty RSS2, 10 Oct. 2013, www.kitchentreaty.com/crock-pot-vanilla-latte/.
"Homemade Vanilla Coffee Syrup." My Baking Addiction, 30 Aug. 2019, www.mybakingaddiction.com/homemade-vanilla-coffee-syrup/.
"Slow Cooker Apple Cider." Gimme Some Oven, 22 Oct. 2019, www.gimmesomeoven.com/slow-cooker-apple-cider-recipe/
"Slow Cooker Chai Recipe." Allrecipes, 27 Dec. 2009, www.allrecipes.com/recipe/58312/slow-cooker-chai/.
"Slow Cooker Hot Chocolate." Cafe Delites, 19 Dec. 2018, cafedelites.com/slow-cooker-hot-chocolate/.
"Slow Cooker Salted Caramel Hot Chocolate." Creme De La Crumb, 13 Oct. 2018, www.lecremedelacrumb.com/slow-cooker-salted-caramel-hot-chocolate/.