33Greenwich
A taste of the South in New York's Greenwich Village.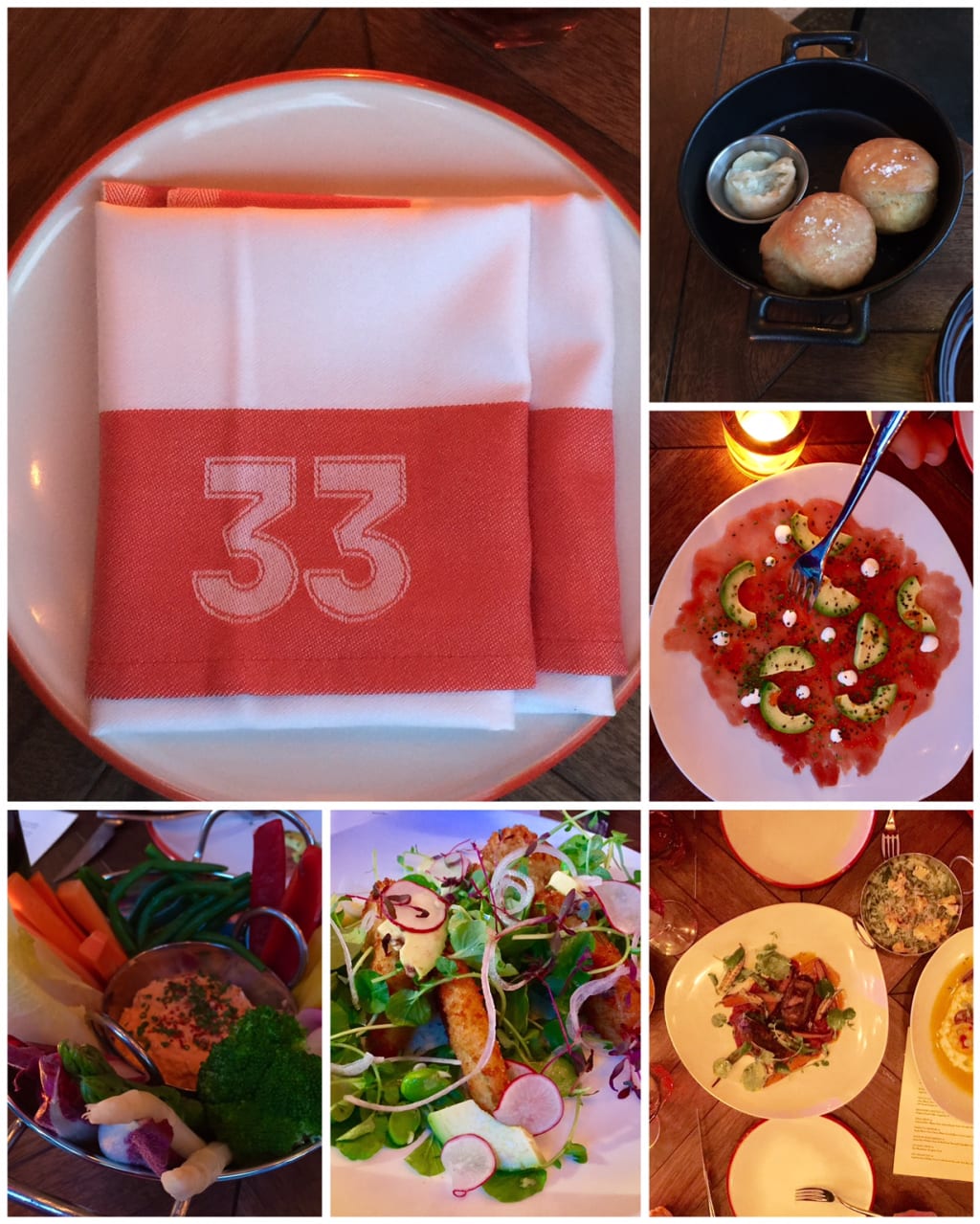 Just before I relocated to Florida my dear friend and amazing Chef, Anne Thornton, moved back to NYC from LA to lead the kitchen team and open 33Greenwich. Located on Greenwich Ave. in the heart of New York City's Greenwich Village this southern inspired eatery does not disappoint and looks to have a long life ahead. Anne opened Little Pine, a vegan restaurant, in LA with singer-songwriter Moby, in 2015 and I know NYC is grateful to have her back.
I had to opportunity to eat at 33Greenwich twice before I left New York and the food was not only delicious both times but the portions were plentiful and there was a consistency to the flavors that can only be described as impeccable. The decor is a beautiful mix of what I would call chic and rustic with hand painted tables, a beautiful mural, and an eclectic portrait wall. The gorgeous farm table running the length of one side of the dining room greets guests of multiple small parties for communal dining or can accommodate a party of at least 12. And the staff is friendly, knowledgeable, and attentive without being overbearing.
On both visits my guests and I had the pimento cheese with crudités and the tuna carpaccio:
I am a sucker for a raw tuna dish whether a carpaccio, a tartare, sushi, whatever, I will eat it up! The carpaccio at 33Greenwich was perfection — ultra thin slices of the freshest tuna topped with ripe avocado, crème fraîche, bene seeds, chives, a touch of chili oil, and finished with smoked salt. The crunch of the salt and the bene seeds add an amazing bite of texture and the chili oil gave the slightest hint of heat. I could eat this all day and never get tired of it.
I will admit I have never really been a fan pimento cheese so I was a little apprehensive to try the crudités appetizer however, Chef Anne's version was delightful. The vegetables were perfectly cooked when needed and served chilled alongside a plentiful dish of the cheese dip. The crunch of the veg with the creamy dip hit all the right notes. Chef Anne uses piquillo peppers which she balances expertly with tangy goat cheese in place of cream cheese. This dish is a must if you visit 33Greenwich.
Now the fried green tomatoes... OH MY - I am not even sure where to start. Fried to a spectacular crispiness and served on a bed of house made herbed buttermilk dressing — think the best ranch you have ever tasted and then multiply that by a million — and the fresh salad of watercress, herbs, fava beans, radish, and avocado. The use of amaranth sprouts add a surprising little pop when bitten and a gorgeous splash color.
I don't even think I need to go into the biscuits but to say if you don't get them you will regret it!
And now for the entrees:
Between my two visits I sampled 5 of the main dishes which were all quite good. The shrimp and grits were flavorful, creamy and the shrimp cooked just right. The andouille sausage added the right amount of spice without setting your mouth on fire. The Arctic char was moist and definitely fresh with a creamy beurre blanc, and sweet fennel that highlighted the subtle flavor of the fish. The meatloaf burger was enormous! The tomato jam surpassed the usual ketchup on a meatloaf sandwich by leaps and bounds and the caramelized onions and mushrooms add a depth of flavor and earthiness I haven't experienced on a sandwich this homey before. It was accompanied by a giant pile of crispy fries.
I would have to say my two favorites were the lamb t-bone and rotisserie chicken. I know you're thinking "ugh roasted chicken" but this was perfectly golden on the skin and succulent inside. The meat was tender and lightly seasoned served with crisp lightly dressed greens, crunchy Marcona almonds, and pieces of goat cheese. The creaminess and tang of the goat cheese complimented the chicken in a delightful way.
The lamb t-bone was cooked to a beautiful medium rare with a dark sear on the outside that contrasted the melt in your mouth meat to create a heavenly experience. Much the same with pimento cheese, I usually do not care for okra however, the roasted okra with the lamb had a snap to the outside and was devoid of the slimy texture I am used to it having. That mixed with the stewed tomatoes added a punch of flavor to the dish that any southern cook would love.
Finally, Chef Anne's desserts are to die for. On both visits my guests and I had the salted caramel banana pudding pie — ripe bananas, salted caramel sauce, vanilla pudding, topped with fresh pillowy whipped cream and shards of caramelized sugar I thought I could die a happy man after having it. That is until my second visit when we had the coconut cake — moist layers of cake with coconut cream frosting and coconut flakes served with a side of chocolate sauce to drizzle on top. The cake was mountainous and could easily be shared between 3 people.
If you find your way to New York City do yourself a favor and visit 33Greenwich, you won't be disappointed!
Check out their website to view the menu or make reservations here — 33Greenwich