3 Filipino Desserts You Need to Try This Summer
A Quick Guide to Ice Candy, Maiz con Hielo, and Halo-Halo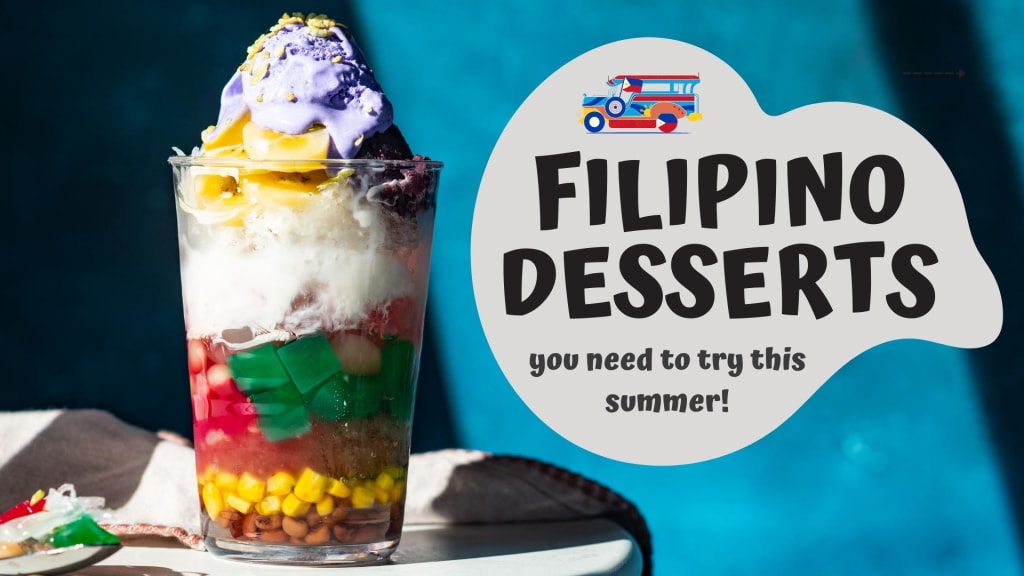 Photo by author
For Filipinos, food and nostalgia are intricately intertwined. Ask any Pinoy millennial about their most memorable birthday party experience, and it will probably involve hotdogs and marshmallows on skewers. Talk about fond fiesta memories, and it might trigger olfactory hallucinations as they remember all the Lechon and Lumpia they used to snag from the dinner table as kids.
Apart from birthdays and fiestas, perhaps the most seminal period for Pinoy kids back in the 90s like me were the long summer vacations. Designated to the hottest months of March, April, and May, summer also coincided with the school break across the country. So for those three months, the streets would become a vast playground where we would etch hopscotch patterns on the pavement using sharp rocks, skin our knees while playing a dozen varieties of tag, and hit tin cans with our thin-soled slippers in a game called Patintero.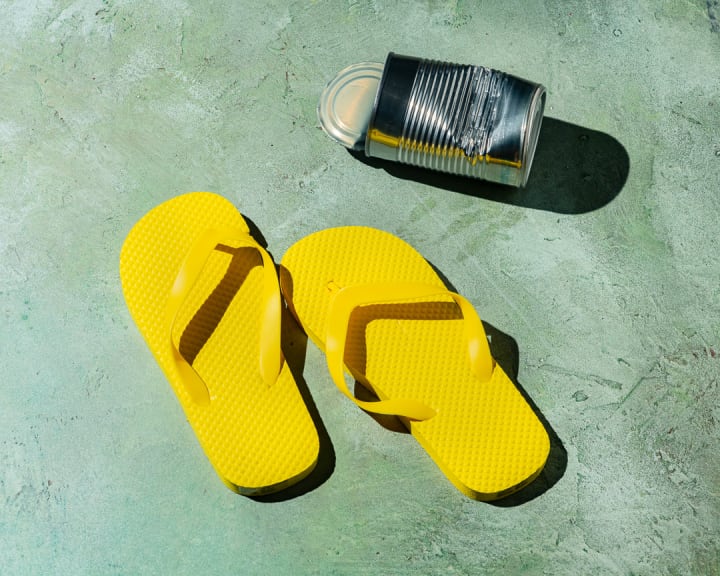 Once we got tired of playing under the relentless heat of the tropical sun, we'd inevitably embark on another conquest--this time of the comestible kind. We'd walk around the neighborhood in search of Ice Candy, Maiz con Hielo, and Halo-Halo, the savory trinity of treats that cooled our tounges with an explosion of flavors so potent that, even now as adults, still evoke deep nostalgia with just a single lick.
It's been twelve years since I moved from the Philippines to Florida. But on hot sunny days, I still get this seemingly quenchless craving for my favorite childhood frozen snacks. Fortunately, even though I'm 9,000 miles away from any Halo-Halo stands, I can now make Ice Candy, Maiz con Hielo, and Halo-Halo at home, thanks to the God-send Asian stores that offer imported Filipino goods.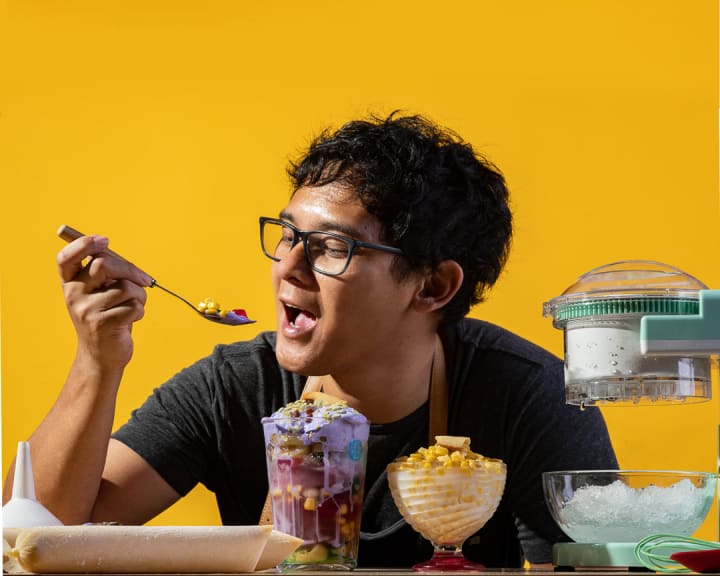 Now let me show you how to make all these popular Filipino snacks yourself, whether you're a Pinoy immigrant abroad who misses the distinct flavors of the Philippine snacks or an adventurous Western foodie eager to try exotic desserts.
Ice Candy
When we were kids, there weren't many things we could afford. But whenever anyone of us had a peso on a hot day, it would invariably be spent on ice candy--the cheapest frozen treat our money could buy.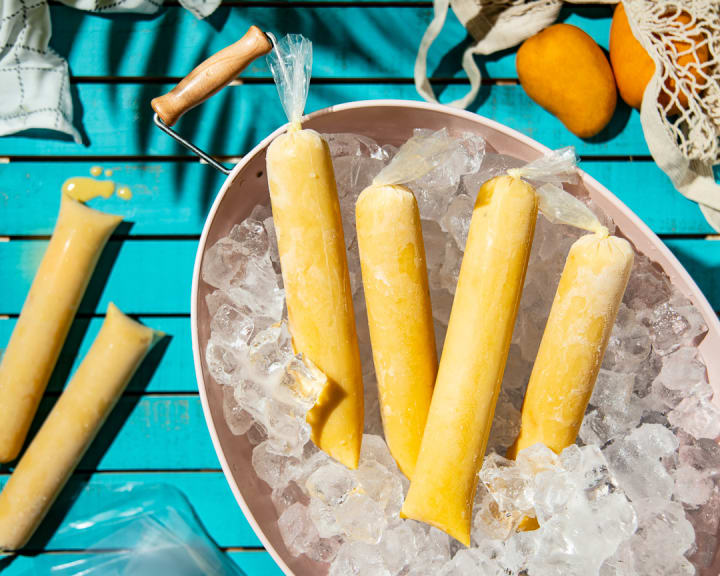 You can think of the ice candy as the Filipino version of the popsicle. It tastes like a regular popsicle, except it's in an elongated plastic bag, not a stick.
To enjoy ice candy, you rip out the tip of the plastic casing and suck on the colorful icy treat in it. The best ones would typically be made of real fruit puree. But there are also the cheaper varieties with artificial flavoring.
Ice candy was pretty enticing to us kids because it was available everywhere--even in private residences. All we had to do was look for a house with an "[sic] Icecandy 4 Sale" sign and knock on the door to procure one.
Of course, some places offered better ice candy than others. But as veteran snack connoisseurs, it was easy to weed out those with subpar products. Whenever we saw a house with kids crowding at the door, that was undoubtedly THE PLACE to go.
Ingredients:
Ripe mangoes (at least 2 pounds)
8 cups of water
2 cups of sugar
1 can of evaporated milk
1 can of condensed milk
1 cup of cornstarch
Instructions:
Ice candy is one of the most popular frozen treats in the Philippines because it's cheap and simple to make. All you have to do is make a fruit puree, pour it into the long plastic bags, and freeze them for a few hours.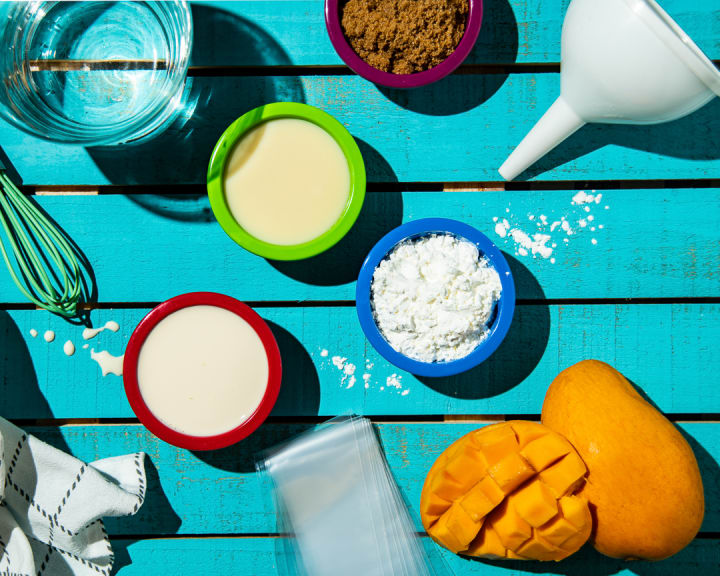 Boil 8 cups of water in medium heat.
Cut mangoes and mix in the blender with 1/2 can of evaporated milk until smooth.
Mix 1/2 can of evaporated milk, one can of condensed milk, and sugar in a bowl.
Once the water starts boiling, adjust the temperature to low and pour the dairy mixture into the pot.
Mix the cornstarch in a cup of water until smooth, pour it into the boiling pot, and let it simmer in low heat for five minutes.
Let the pot cool down for about an hour. Once cool, pour the liquid into the plastic bags using a funnel, tie them up, and freeze them for at least four hours.
Maiz Con Hielo
Whenever our parents were generous enough to give us paper money instead of coins, Maiz con Hielo was typically our go-to treat. They weren't as widely available as ice candy, but we could buy them from street hawkers that sensibly congregated in places where we were playing.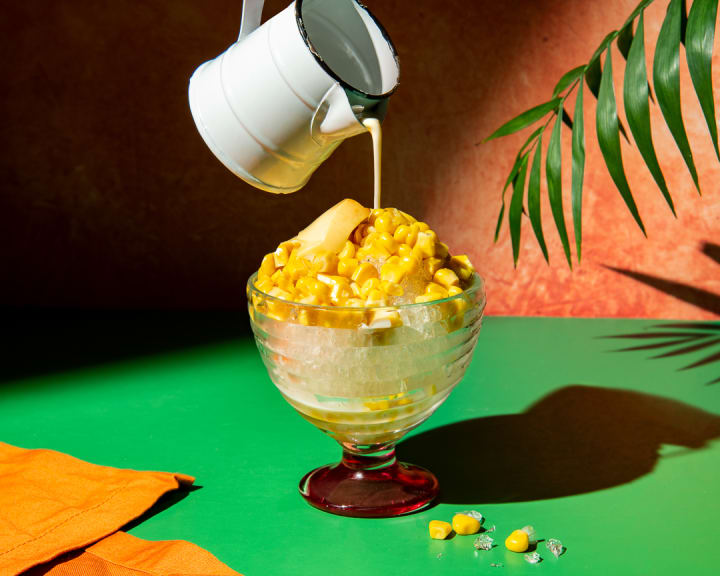 Maiz con Hielo, phonetically spelled in the Philipines as Mais con Yelo, translates to "corn with ice." As the name entails, this popular dessert is made chiefly of shaved ice flavored with sweet condensed milk and topped with corn kernels. But every once in a while, you'll also encounter other varieties of toppings, including creme caramel, jackfruit, and purple yam.
The trick to eating Maiz con Hielo is to stir it vigorously so the corn kernels mix with the shaved ice. You then scoop the snack with your spoon and let the kernels' zest punctuate the milky slush's uniform taste.
Ingredients:
1 can of whole corn kernels
Crushed ice
Sugar
1 can of evaporated milk
Creme Caramel (optional)
Instructions:
In many ways, Maiz con Hielo is the poor man's version of Halo-Halo (you'll see why in the next section) but with significantly fewer ingredients. Just dump interlapping layers of shaved ice and corn, pour some milk, and you're done!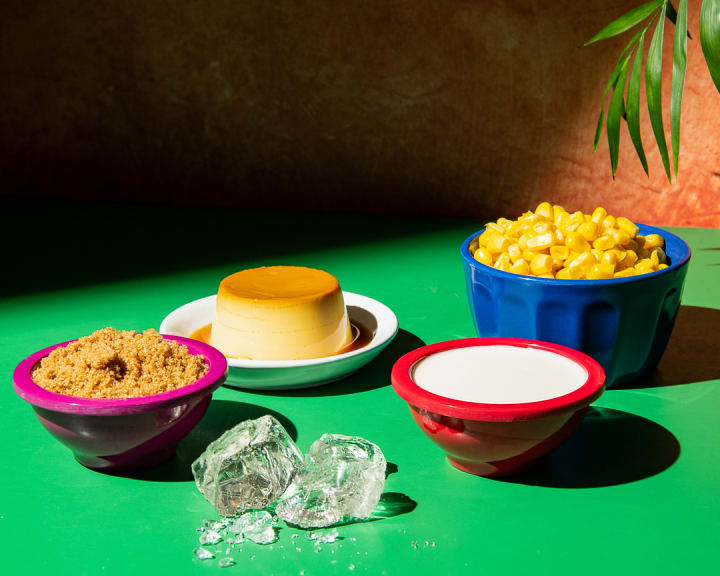 Place some ice in the ice shaver and make enough shaved ice to fill a dessert glass.
Add between 1/2 to 1 tablespoon of corn kernels to the bottom of the dessert glass.
Add a layer of crushed ice on top of the corn kernels.
Keep adding layers of crushed ice and corn until you fill the glass to the brim.
Top the glass with a small mound of ice and cover it with corn kernels.
Mix sugar and one can of milk in a bowl and pour it into the dessert glass until full.
Top your dessert with an optional garnish. In my case, I used creme caramel.
Halo-Halo
Ah, the creme de la creme of Filipino desserts and, of course, the most expensive. This is the type of treat a kid can only buy by stealing from their mom's purse. And all the others who weren't enterprising enough would have to wait for a special Family Day to enjoy it.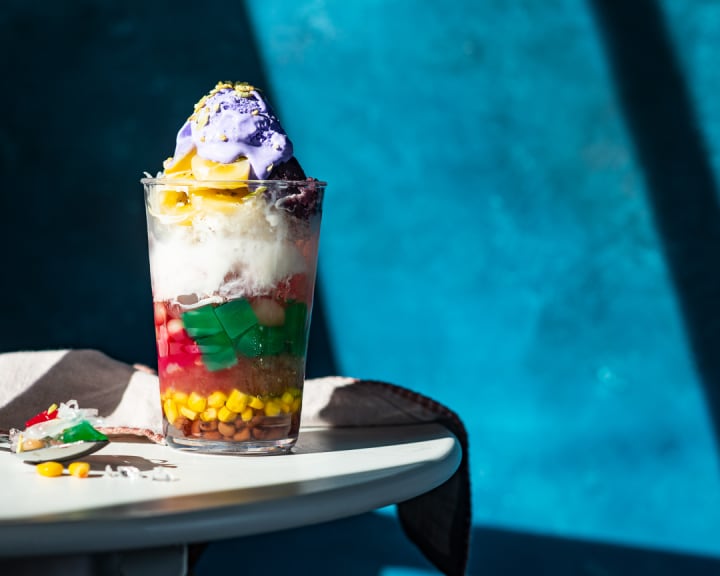 Although you can occasionally find halo-halo at random stores, you can usually buy the best options at dedicated halo-halo stalls--the Filipino version of the American soda shop and ice cream parlor combined.
Halo-Halo translates to mix-mix in Filipino, and once you have one in your hand, you'll understand why. It brims with various dessert ingredients, including purple yam, banana, coconut, creme caramel, condensed milk, and ice cream layered on top of shaved ice.
Since the Halo-Halo literally overflows with sweet garnishes, it requires a certain amount of skill to eat without spilling everything. You'll need to carefully drive your spoon into the shaved ice until you reach the bottom of the glass. You then start churning until the ice caves in and the ingredients blend with the slush.
Once you mix your dessert, eating it is pretty straightforward. You scoop a small pile of ice and Halo-Halo's savory victuals from the glass, deliver it into your mouth, and relish a spectrum of flavors that changes every time you chew.
Ingredients:
Note: Sure, the ingredients list is a bit extensive and some of them sound absolutely foreign (what the hell is Kaong?). But thankfully, Halo-Halo is so popular that you can buy batches of these ingredients in Filipino and Asian stores. If you see a jar with Halo-Halo written on it, put it in your shopping cart immediately!
Crushed ice
Evaporated milk
Ice cream
Whole corn kernels
Kaong
Macapuno
Garbanzos
Rice crispies
Coconut gel
Sweetened plantains
Sweetened jackfruit
Purple yam
Creme Caramel
1 can of evaporated milk
Brown sugar
Instructions:
With more than a dozen ingredients, Halo-Halo may seem intimidating to make. But it's as easy as making Maiz con Hielo: Pour layers of garnishes and shaved ice into the glass, add some toppings, pour some milk, and you got yourself a bona fide beefed-up Filipino dessert, all in less than five minutes!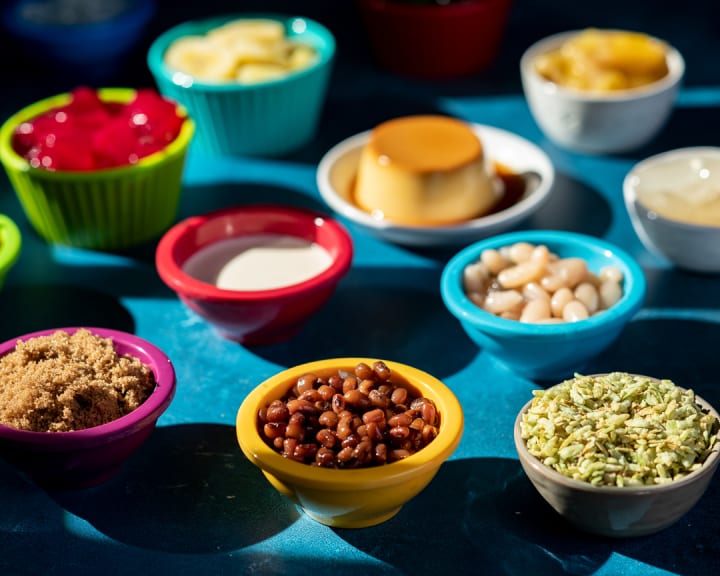 Pour your first batch of ingredients into the bottom of the glass. It could be anything you fancy putting in. In my case, I added corn kernels and Garbanzo beans first.
Add a layer of shaved ice to the first batch of ingredients you chose.
Keep adding layers until the glass is packed to the brim. You can then top your dessert with a small mound of shaved ice.
Add the toppings to your Halo-Halo. These vary greatly, but the most typical options include purple yam, sweetened Saba plantains, rice crispies, ice cream, and creme caramel.
Pour condensed milk on your Halo-Halo, let it trickle down the glass, and enjoy.
Hello there, reader! Thanks for reading my story! I typically spend most of my time taking photos of Western food products for a business I co-own with my wife, Lathala Creative Studios, so documenting these delicious Filipino desserts for this article was an exceptional experience for me. I sincerely hope you make these treats at home because they're certainly one-of-a-kind!
recipe
About the author
Reader insights
Outstanding
Excellent work. Looking forward to reading more!
Top insights
Easy to read and follow

Well-structured & engaging content

Eye opening

Niche topic & fresh perspectives

On-point and relevant

Writing reflected the title & theme
Add your insights