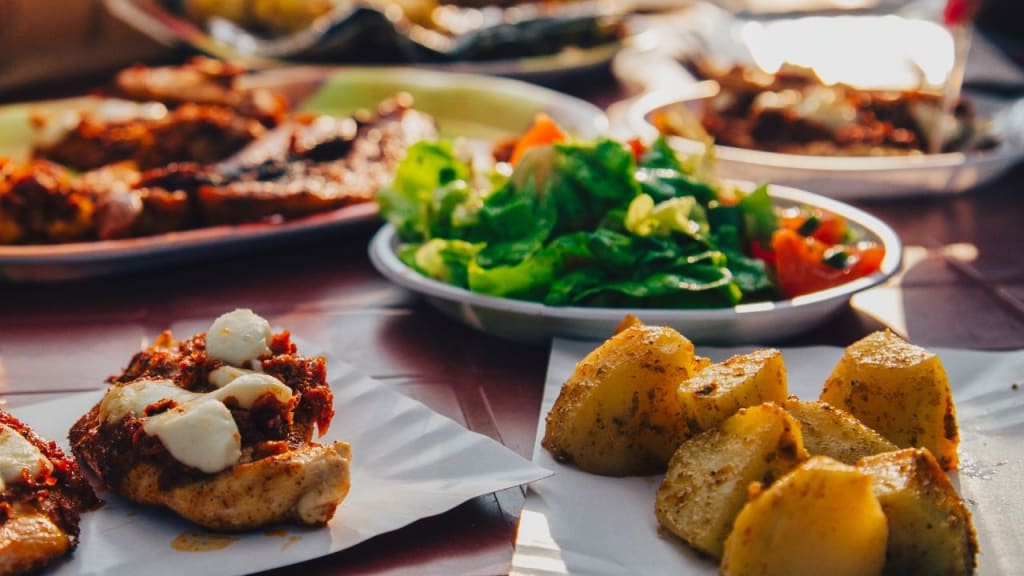 My first year at college I was on campus and we had a cafeteria where homemade food was sold. It was amazing and I loved it. My second year at college I had to learn how to cook... and it became apparent to me really fast that I didn't know how to cook. Since I've been there, I want to help! So I made sure to find 3 trendy, fun, delicious and easy recipes for the new college student.
1. Chicken Ranch Wrap
2 cups chicken breasts chopped
1/4 cup Ranch dressing
1/2 cup mozzarella cheese
3 leaves of lettuce
1/4 cup cilantro minced
4 tortilla bread wraps
Cut up your chicken breasts and season it, if you want. However, for this recipe the chicken doesn't need to be seasoned... so it's optional.
There are two ways you can cook your chicken: in a skillet or in the oven.
In a large skillet, start by heating up some canola oil. Once the oil is hot, add the chopped up chicken breasts. Cook them for 6 - 9 minutes while tossing gently.
In a Conventional Oven, start by heating the oven to 350 degrees F. Don't forget to line the baking sheet with foil paper! Bake for 16 - 20 minutes, while flipping halfway through.
To be safe, the chicken breasts need to reach an internal temperature of 165F. Don't forget to turn off the oven once done!
Grab the rest of the ingredients and wrap it all up in a burrito shape! If you want, and yes it is recommended, grill the wraps on medium heat for 1-2 minutes until the tortilla is crispy/ golden.
2. Pizza Baked Chicken
1 can of diced tomatoes
1 jar of pizza sauce
4 chicken breasts
1 teaspoon salt
1 teaspoon pepper
1/4 cup of mozzarella cheese
sliced pepperoni
Fresh parsley to garnish
Start by preheating the oven to 400°F. Spray a baking dish with nonstick cooking spray, or cover it with foil. Quickly stir together the pizza sauce and tomatoes and then pour it in the pan. Place the chicken breasts on top of sauce. Top it with the salt and pepper. Bake for 50-60 minutes.
To be safe, the chicken breasts need to reach an internal temperature of 165F.
Once ready, add the pepperoni and cheese on top of the chicken. The cheese doesn't need to be grated, I like to break of chunks. Bake it again for another 4 minutes to melt the cheese. Don't forget to turn off the oven after this!
Sprinkle with cheese and place pepperoni on top. Bake for 3-5 more minutes or until cheese is melted. Garnish it with fresh parsley for fun!
3. Faux Cookie Dough (a.k.a Dessert Chickpea Dip)
Now it's time for dessert! How about something a little different this time?
1 can of chickpea (unflavored)
2/3 cup sugar (or brown sugar)
2 tsp pure vanilla extract
1/3 cup chocolate chips
1/4 cup oatmeal
3 tablespoons peanut butter (smooth)
Start by draining and rinsing the chickpeas. Then put everything, but not the chocolate chips, to a blender and then blend it until very smooth. Last but not least, mix in the chocolate chips by hand with a spoon. If done right and with a bit of luck it will have the same texture of cookie dough. Keep in mind, it's not meant to be cooked, though. it's just supposed to mimic eating raw cookie dough.
Work Cited
"Chicken Ranch Wraps." Gimme Delicious, 31 Jan. 2019, gimmedelicious.com/2017/03/31/chicken-ranch-wraps/.
"Chickpea Cookie Dough Dip - The Famous Original Recipe!" Chocolate Covered Katie, 11 Sept. 2019, chocolatecoveredkatie.com/2011/05/23/want-to-eat-an-entire-bowl-of-cookie-dough/.
Diethood, Katerina. "The Juiciest Stove Top Chicken Breasts - An Easy Chicken Recipe!" Diethood, 19 Sept. 2019, diethood.com/stove-top-chicken-breasts/.
Gallagher, Joanne. "Sweet Honey Baked Chicken Bites Recipe." Inspired Taste - Easy Recipes for Home Cooks, 7 Jan. 2017, www.inspiredtaste.net/14649/sweet-honey-baked-chicken-bites-recipe/.
"Pizza Chicken - One Pan, 5 Ingredients!" Rachel Cooks®, 31 July 2019, www.rachelcooks.com/2019/01/09/pizza-chicken/.
Shoemaker, Caitlin, and Liz. "Chickpea Cookie Dough Recipe: The ULTIMATE Guide." From My Bowl, 1 Mar. 2019, frommybowl.com/chickpea-cookie-dough/.