17 best vegan milks and why you should alternate them
Diversity is the answer, even in vegan milks.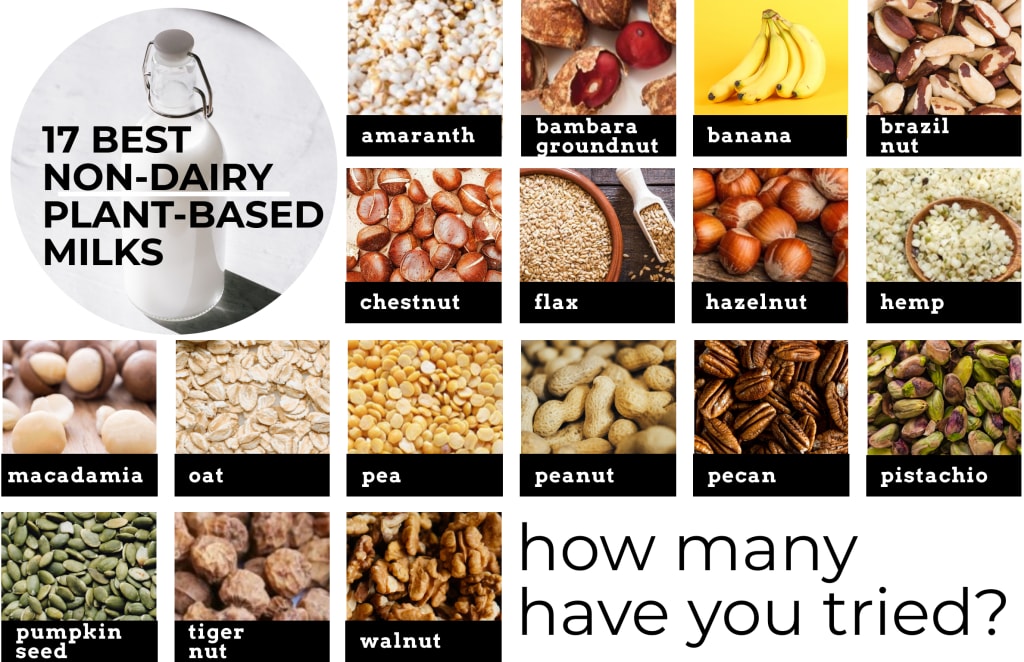 Mr. Almond Latte
A few years ago, I remember sitting at a coffee shop in Brooklyn sipping on an almond latte served in a tiny shot glass. This was part of their vegan champion taster set – almond, coconut, oat, rice, and cashew mini lattes, sat on a wooden paddle looking ultra-instagrammable. I don't usually drink coffee (which still comes as a shock to my Brazilian mother) so I wasn't particularly loving the experience, but my friends seemed to be enjoying it. Standing at the cash register forced to dish out a painful $12, I asked the owner what inspired the vegan champion taster set. "One day everyone will be drinking almond lattes and dairy will die off", he said. I don't recall what my exact response was, but probably a smile, nod, head tilt combo.
A little late, but this is the conversation I wish we could have had, Mr. Almond Latte:
The problem with agriculture today
Today, the world population depends on just 3 crops – wheat, corn and rice – for over 60% of our plant-based calories, and just 1 animal for 81% of dairy milk. In just 30 years, there will be 9 billion of us and we will need an estimated 70% increase in food production – a huge strain for just 3 crops and 1 animal to bear.
Regardless of how (or if) climate change pans out, our current agricultural model is not sustainable and needs great collaborative adjustments to stand any chance of meeting our future needs.
Besides food insecurity, putting all of our eggs in just 3 baskets also forces constant genetic modification on these crops in order for them to yield more and be more resistant, AND contributes to an overwhelming loss of plant diversity – over 75% of plant species have been lost since the 1990's, as farmers all switch over to genetically-uniform crops.
The dairy industry has also admitted that their model is unsustainable and needs major changes (I look forward to seeing the changes in action – like Fonterra agreeing to pay more for sustainable dairy). However, as these changes may be slow to come, a common piece of advice seems to be that "the best way to help dairy farmers is to get them out of dairy farming".
The solution
So what does this have to do with your vegan champion taster set? Diversity!
The solution to our flawed model is to diversify our agriculture to include more neglected and underutilized crop species (NUS) into our diets, and – you guessed it – some of these also make awesome non-dairy plant-based milk alternatives.
This is not a new idea and there have been some misguided attempts along the way, where one "diverse and novel" crop becomes all the rave – leading to an unprecedented surge in consumption almost overnight. The issue with crazes and trends is that it promotes that same unsustainable uniformity again, instead of diversity. For example:
The issue may not be in the crop itself (i.e. quinoa, coconut, and almonds), but rather in the sheer craze around these limited crops forcing demand to exceed supply – thus making them unsustainable. So instead of looking for one alt-milk to rule all, why not expand our palates and change it up once in a while? Your vegan taster set had the right idea, Mr. Almond Latte, but you just chose some bad contenders.
The hidden gems of vegan milks
Although some options are naturally more sustainable than others (i.e. hazelnut over walnuts), the idea is that by alternating and staying away from the romantic idea of the one trendy vegan milk, we can avoid the unsustainable strain of excessive demand.
Start building your own vegan champion taster set:
1. Amaranth
2. Bambara groundnut
3. Banana
4. Brazil nut
5. Chestnut
6. Flax
7. Hazelnut
8. Hemp
9. Macadamia
10. Oat
11. Pea
12. Peanut
13. Pecan
14. Pistachio
15. Pumpkin seed
16. Tiger nut
17. Walnut
I was unable to find some plant-based milk options, such as amaranth, brazil nuts, chestnut, peanut or pumpkin seed, ready to buy. Given the nutritional benefits and sustainability of these options, I believe it could be a great opportunity for interested entrepreneurs to get a product to market.
How to navigate your options
Tech can play an important role in boosting consumer demand for crop diversity. As we become more curious, aware and willing to try new foods, there are great apps that can make navigating our options and spreading the word easier.
When grocery shopping:
When eating out or traveling:
Conclusion
Circling back, Mr. Almond Latte, I think you had the right idea with your taster set – diversity is key. Our current agricultural model is undeniably unsustainable and must be diversified. That means no one alt-milk (especially not almond) can be our savior. Instead, we must learn to alternate and expand our taster palates, allowing the supply-side to flourish. Our choices have the power to create demand.
So why not start alternating your plant-based milk options based on your mood (Flawless Flax), the weather (warm honey pecan when it's cold), day of the week (on Wednesdays we drink Hemp), or your travel destination (Bambara groundnut when in Africa or Indonesia)?