Meal Planning
10 Songs to Play While Meal-Prepping Buddha Bowls
Quarantine Playlist
I lay out everything I got from the store: vegetables, nuts, grains, spices. Then I look for the stuff we've already got like oil. Which bowl do I want to make first?
The term Buddha bowl comes from the Buddha concept of balance, as such is the meal which includes 6 choice ingredients like a grain, legume, starchy vegetable, non-starchy vegetable like a green, a fermented food (that keeps the good bacteria in your system), and a healthy fat.
The dishes are variable and can adapt to any theme you set to it. I tried some this week and they came out smashing.
While I was chopping squash, onions, sweet potato, garlic, red peppers and organizing them into separate bowls to dump onto a baking pan, the song playing is Drippin' in Finesse by none other than Bruno Mars and Cardi B.
Then I put on my headphones to not wake everyone who's still asleep for Nice for What, by Drake because it gauges my mood as it starts off with,
"Everybody get you --- roll on,
I know shorty and she doesn't want no slow song..."
With that energy I keep it up by playing Moment for Life by Nicki Minaj because "in this moment I just feel so alive" waiting for the water to boil and the food to bake.
When that goes off, I hum to the sounds of... Let it Flow by Toni Braxton.
Listening to her I can't help but rock to it because it makes sense. Go with the flow.
My favorite song On Chill by Jeremih and Wale is the song that keeps me going on 10 for hours. I hit repeat every time it goes off because the beat is so...so nice (chill). I even made up a line dance to go with it. So far 30 plays on Youtube by me this past month.
I have to follow it with Long Song Away by Kevin Ross because it has a similar vibe and effect on me. When this song came out, it too was on repeat. The lyrics are:
"City girls want it all, but they never can wait
Not so fast, you could loose control
I know we live in the now, but we can start our own pace
Take my hand, we can slow dance, slow dance to the radio"
And here's my part:
"'Cause forever is a long, is a long song away (is a long, is a long, is a long song away)
Forever is a long, is a long song away (is a long, is a long)
So won't you please, please let the record play (let the record play)
Just let he record play (let the record play"
And I let it play. He has some amazing mashups on Youtube that are also binge-worthy.
Preparing the bowls happens one by one and in doing, you get caught up in what goes where and how everything looks.
The first one is a Burrito bowl that includes a corn and black bean mix, rice, baked sweet potato, and roasted red peppers covered with a Spanish romesco sauce that's blended with roasted red peppers, whole tomatoes, blanched almonds, olive oil, paprika, garlic, salt, and onion powder.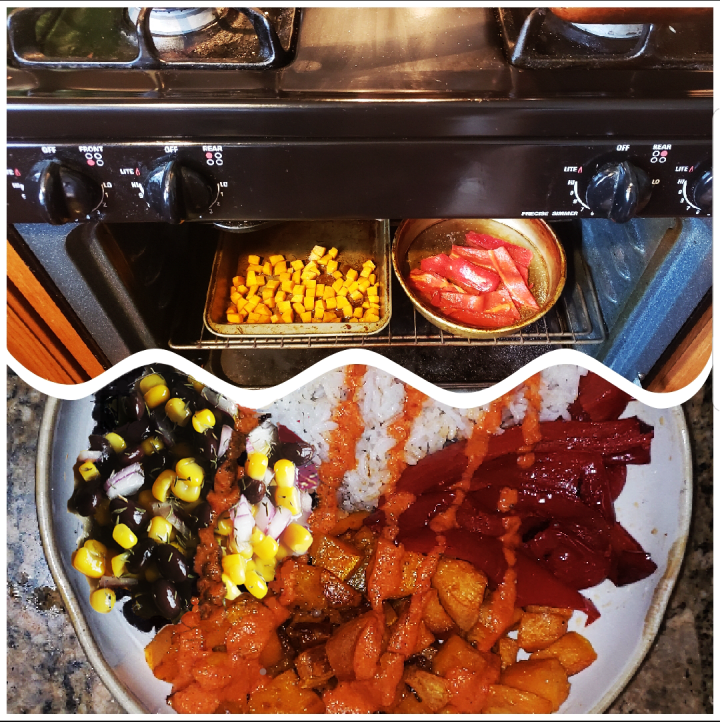 The second one is a Carribean medley of jerk seasoned lentils sweetened with coconut palm sugar. Roasted butternut squash, sauteed kale, garlic and herb couscous, and a side of cashew nut sauce that is made of water-soaked cashews, garlic, onion powder, salt, mustard, and grapeseed oil.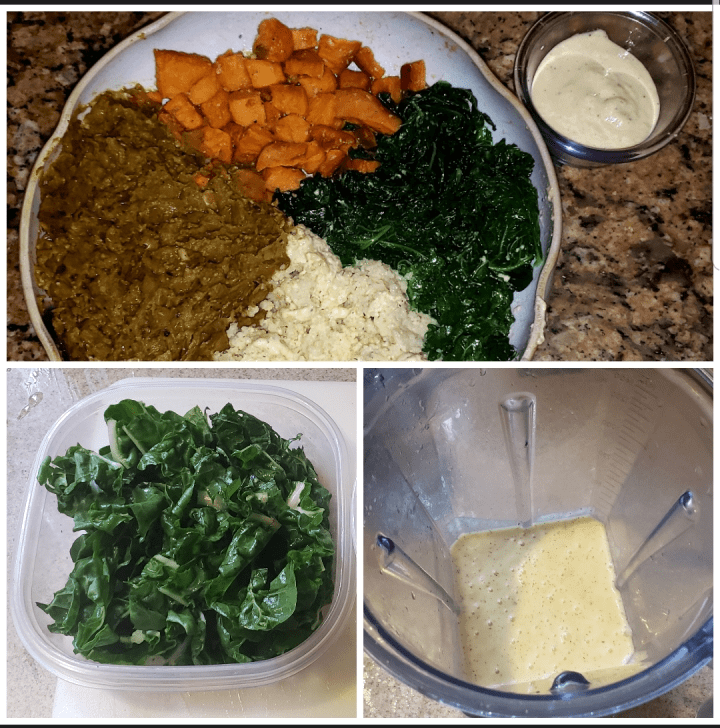 The third is a Spring Buddah bowl with a red pesto chickpea blend made of blended roasted red peppers and garlic, ground almonds, onion, thyme, and salt. A side of swiss chard and broccoli, and a lightly sweetened red cabbage and cooked chia seed mix with roasted potatoes and pickled ginger.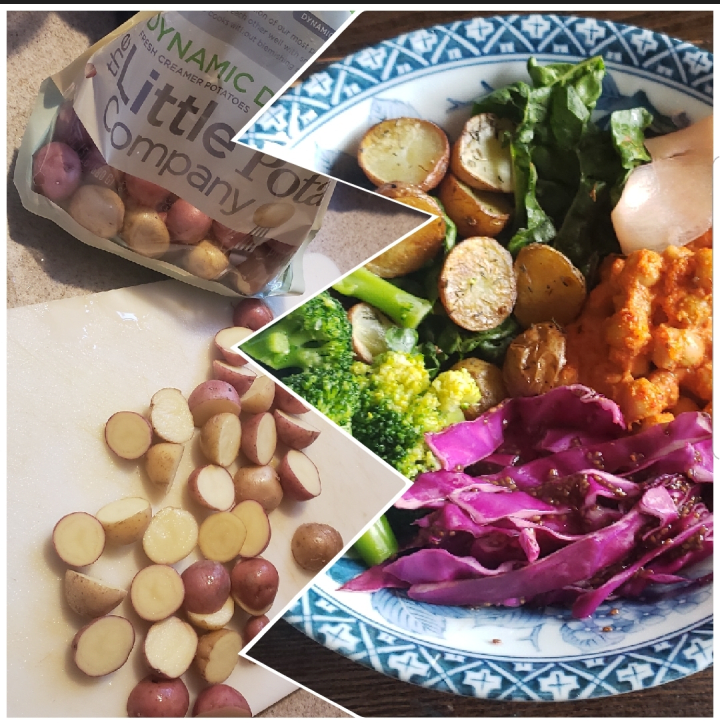 Followed by a Summer Buddha bowl with a kale and pine nut pesto white bean mix, red quinoa, watercress bed and pan-seared eggplant and fermented artichoke hearts.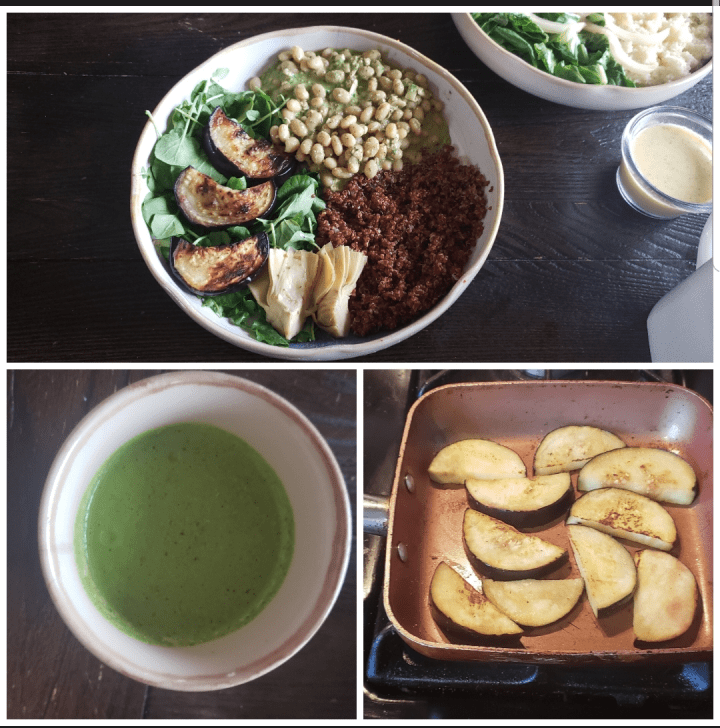 The last bowl is a Southern Buddha bowl theme with black eyed peas, buttered quinoa, and a corn-pepper-tomato and cucumber mix, with collard greens hand mashed with a peach vinagrette that is also included on the side for topping. The onion is fermented with apple cider vinegar, sugar and salt.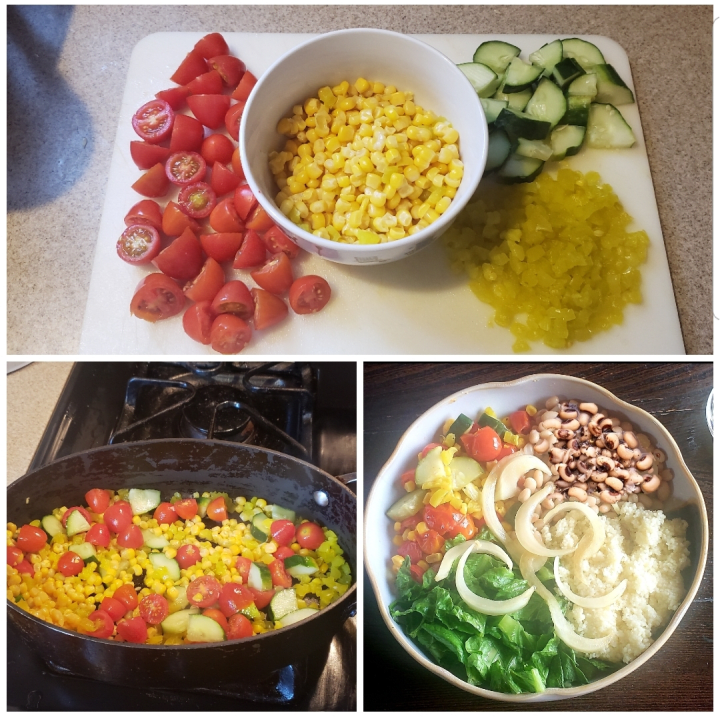 I had never looked up the lyrics to the Earth, Wind, and Fire song September, but know it for the happy parts,
"Do you remember, when it was like September,
Mmmm---Remember,
Chasing the clouds away."
(Actual lyrics)
"Hey hey hey, Badeyah!
Say do you remember,
Badeyah, dancing in September,
Badeyah, never was a cloudy day."
I usually dedicate the song to my brother on his birthday on September 2nd and its one that makes the playlist.
When I'm finally eating and everything is done, I'll listen to contemporary jazz on my Pandora app that'll play soft sounds and jazzy instrumentals with a medium to low sax, piano, and other instruments that soothe the ear. It's a really untapped station that's truly a gem. I can think of titles like London Chimes by Paul Hardcastle and Later Tonight by Brian Culbertson that are a common staple on the station the come on every time I play it. Puts me right into my groove. Eat on! and do dishes afterwards.
While cleaning, I'm playing the Halo anthem by Beyonce. Enough said.
Playlist:
1. Drippin' in Finesse- Bruno Mars, Cardi B.
2. Nice for What- Drake
3. Moment for Life- Nicki Minaj
4. Let it Flow- Toni Braxton
5. On Chill- Jeremih, Wale
6. Long Song Away- Kevin Ross
7. September- Earth, Wind, and Fire
8. London Chimes- Paul Hardcastle
9. Later Tonight- Brian Culbertson
10. Halo- Beyonce
For more information on Buddah bowl recipes, check out the video linked here by Sweet Potato Soul: https://youtu.be/1ihAPzjPLFo
Bonus: For added pleasure, included are some breakfast smoothie bowl recipes: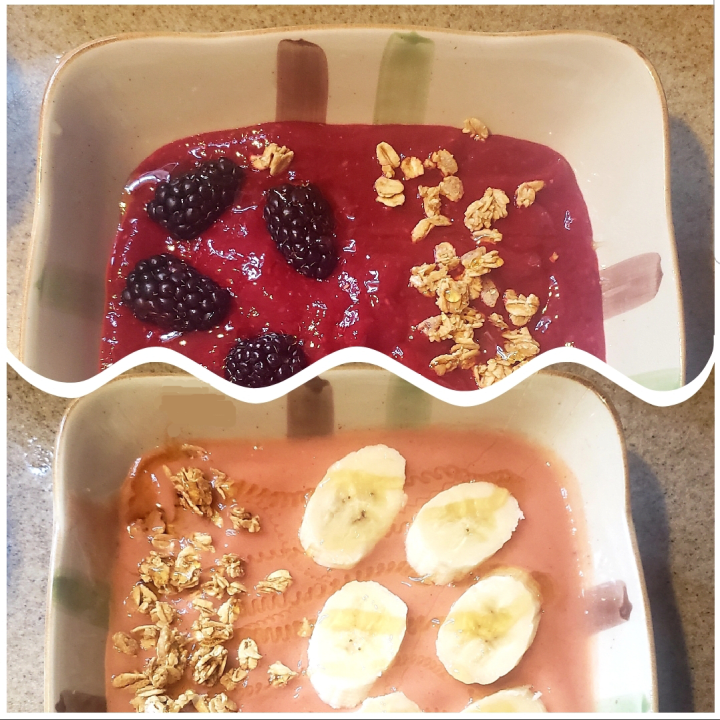 Berry Blend: Red raspberries pureed topped with black berries and honey oat granola
Tropical Blend: Mango, Banana, and strawberry blended with sliced banana and granola with drizzled honey on top