10 Retro Cookbooks You Can Still Buy
If you love the historic flavor of the Atomic Age and want to taste recipes from last century, these retro cookbooks are sure to please.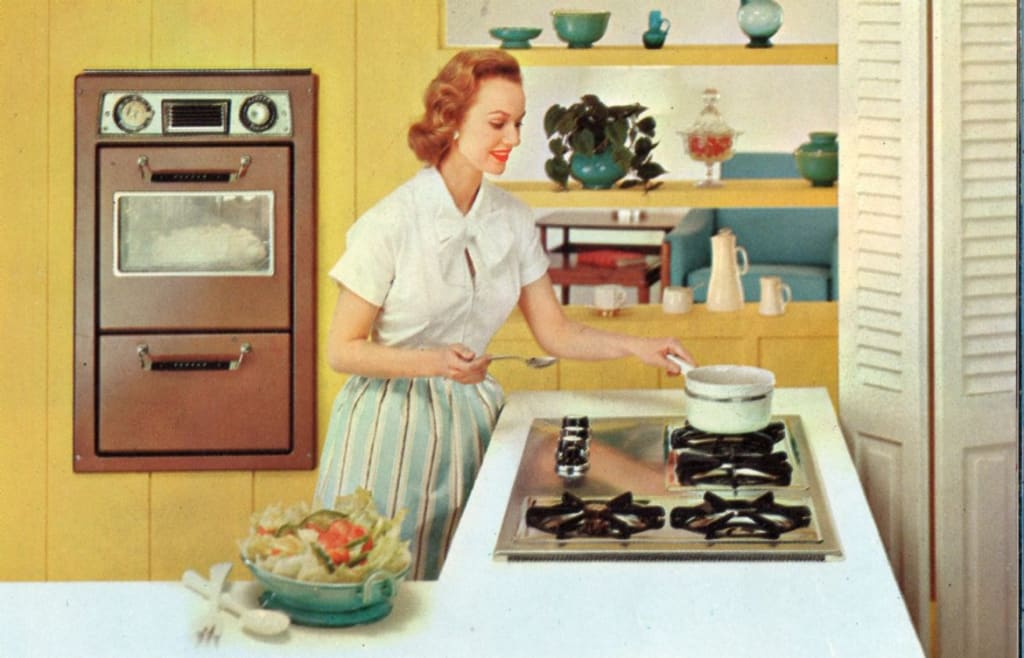 I swear, I might have been a 1950s housewife in a past life!
I'm totally fascinated with what life was like in the 30s, 40s, 50s, and 60s. More specifically, I'm enamored with learning what running a home was like in those days. It just seemed like people had a simpler life back then, and that people were just more resourceful back in the day.
There's something about the nostalgically retro charm of those days that makes the recipes seem extra delicious. That's why I love to collect retro cookbooks.
Right now, I own a Betty Crocker cookbook from the 70s, a couple of books from the 60s, as well as a refrigerator recipe book from the 50s. Finding these books is a chore, but thankfully, there are still some retro cookbooks you can buy relatively easy online.
If you're not the type to peruse antique bookstores, don't feel left out of the retro goodness. These books below offer up classic recipes without the pretentiousness of modern cuisine. Don't worry, we'll skip the gag-worthy retro foods that people actually ate.
The 60s might have just been one of the most extreme times in American history, and it definitely shows in the food. This cookbook isn't just retro for show; it contains real retro recipes that were regularly found in homes throughout the decade.
If you love aspics, tiki cocktails, or tasty recipes like Strawberry Romanoff, then you're going to love The Mad, Mad, Mad, Mad Sixties.
Don't want to settle for a newer compendium of old school recipes? Thanks to the wonders of Amazon, you don't actually have to settle for newfangled books if you don't want to.
One of the older retro cookbooks you can still readily find on Amazon is Betty Crocker's Good and Easy Cook Book. First published in 1954, this cookbook is nothing short of a time trip into the middle of the Atomic Age.
Inside, you get retro illustrations and forgotten recipes that will have you praising Eisenhower and whipping out your Elvis records. Any historian in your family will get a kick out of it.
Here's another retro offering from the fictional queen of cooking, Betty Crocker! This cookbook is actually a reprint from one of the best Betty Crocker cookbooks of all time, The Betty Crocker Picture Cook Book of the 1950s.
This massive cookbook gives you all the practical tips 50s home chefs used to use, and man, those tricks still work phenomenally today. The recipes aren't too bad either. It's like tasting a slice of retro Americana, right out of a time machine.
Any connoisseur of vintage recipes can tell you that one of the more classic desserts to ever come out of the 19th century is the pineapple upside-down cake, and what better way to drive the point of this cookbook home than sticking a photo of it on the front cover?
If you've ever wished that you could legitimately cook like June Cleaver or whip up some tasty dishes that would make Lucille Ball envious, then you better grab this tome of classic dishes. Potato donuts, anyone?
Did you ever wonder what the biggest names of yesteryear ate when they'd go to iconic restaurants with their friends? Perhaps you were one of the many people who wished they could dine with people like Oliver Hardy and Stanley Laurel—or maybe even Clarke Gable.
If this sounds like you, then this is one of the very best retro cookbooks money can buy. Lost Recipes is a compendium of recipes from America's most famous restaurants back in their heyday. You can dine on Imperial Crab from the now-defunct Harvey's, taste Schweizer's Saurbraten, and also try some of the hottest cocktails of bygone eras.
Vintage recipes rule, especially when they're from famous restaurants. Bon appétit!
Cooking Through the Decades is one of those retro cookbooks that really, truly kicks the "retro" up a notch. Unlike the bulk of this cookbook genre, this cookbook focuses in on American cooking from the 20s, 30s, and 40s.
Home cooking really takes on a new flavor of historic with this book, which takes a look at a pivotal point in American culinary history. If you've ever wanted to dine the way Eisenhower did during the war or try fare from the Great Depression, this book is for you.
Yes, it's another Betty Crocker cookbook. Deal with it. Back in the day, people just went kooky for Crocker. It's just the way things were, and many retro cookbooks on this list are here to reflect that craze.
This cookbook is a treasure trove of recipes from the olden days. Delicious old school treats like chiffon cake, beef Stroganoff, and deviled eggs are all in here, as well as many other retro foods that are due for a comeback. Those that have unattainable ingredients are made attainable once more thanks to subtle changes in the recipe, all without losing any of the flavor.
Rosie the Riveter is one of the most iconic faces of World War II, and quickly rose to become a classic feminist icon. In her own way, she became one of the most impactful fictional characters ever made.
Rosie's Riveting Recipes pays homage to the famous war icon, all while serving up delicious comfort foods from the 1940s. If you've ever wanted to get a taste of World War II, you can slip back into time using the recipes from this war effort-friendly book.
Former journalist and radio personality Mary Margaret McBride decided to use her expertise to dig up the true essence of the carefree Atomic Age. These recipes were all compiled by McBride during the 50s, and were tested in kitchens throughout her career.
This awesome recipe encyclopedia contains 1,000 vintage recipes that will make your mouth water—and also give you a pretty interesting glimpse into the old school world of American food.
Vincent Price was known for being a famous horror movie actor who helped voice the evil laugh in Michael Jackson's "Thriller" music video. In the culinary world however, Vincent Price was known for being one of the most talented gastronomes in Tinseltown.
Cooking Price-Wise was first published in 1971, but still remains a favorite among Price fans today. The food is scary good, and it's written by a legend of Hollywood. Is it any surprise why this is still one of the most popular retro cookbooks on the market today?
book reviews
Iggy Paulsen is a fan of anything and everything wholesome. He loves his two dogs, hiking in the woods, traveling to Aruba, building DIY projects that better humanity, and listening to motivational speakers. He hopes to eventually become a motivational speaker himself.