10 Luscious Snacks for a Feast on Super Bowl Sunday
Snacks rock my world and will spice-up your Game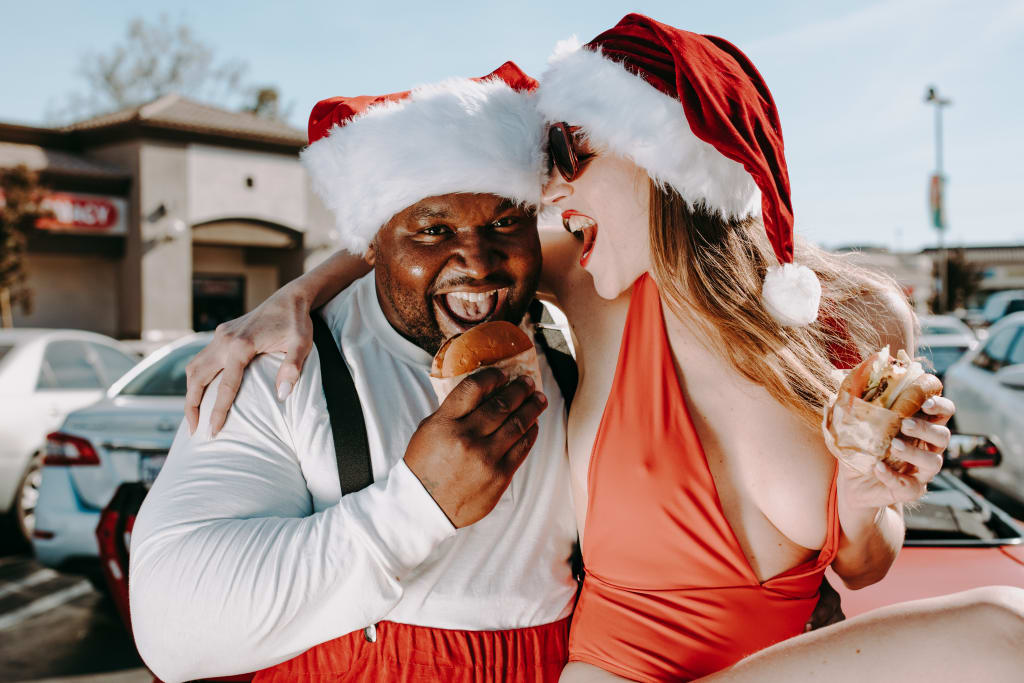 Photo by RODNAE Productions from Pexels
I'm a world citizen and a Super Bowl zealot; hence in this article, I'm writing about how, for the last seven years, I have traveled around western Europe tasting excellent snacks while watching the major sports events of the previous decade.
I welcome you on board as we take this road trip around some of the most luscious snacks I have ever tasted. Between 2014 and 2019, I was living in Brussels, the so-called capital of the European Union. Back then, COVID-19 was unimaginable, and life was fun at the Old World's heart.
Back then, I started working in a multicultural environment for an international company. The experience was great and allowed me to make friends from around the world. Moreover, we traveled together and went to sports events where we could partake in regional snacks.
I digress, and just the thought of such delicacies is mouth-watering. Last night, once again, I celebrated this ritual. I prepared a Francesinha, my all-time favorite Portuguese snack. Then, I got to watch Tom Brady, 43, outplay his much younger counterpart, Patrick Mahomes, to deliver his first title to the Tampa Bay Buccaneers and win MVP honors at Super Bowl LV.
In Super Bowl, as in snacks, Tom Brady's achievement shows how tradition still matters, as many of the delicacies hereafter have been passed down from one generation of sports fans to another.
Belgium
Fries (Pommes Frites)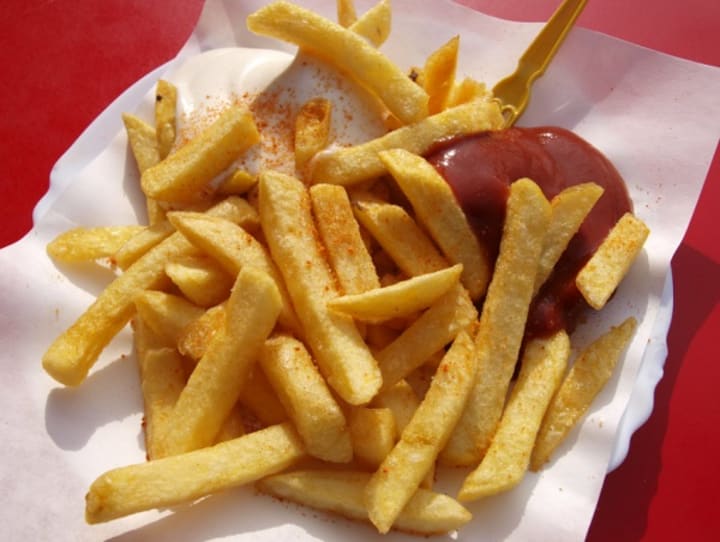 These snacks are known worldwide as french fries; yet, historical records do not state who invented this snack. But there are several candidates, and among some of the most powerful nations, there's even a saint that could claim authorship.¹
Belgians, French, and many others dispute with Saint Teresa of Avila the invention of frites. Belgian historians have traced back to 1680 the first records of fries. Apparently, in times of hunger, families started using sliced fried potatoes in their meals. These potatoes were cut longitudinally to give the appearance of small fish.
This famous crispy delicacy is home-cook friendly. Hence, yesterday I indulged myself with several tiny fish like potatoes swimming around in my Francesinha sauce while watching Tom Brady win his seventh ring by leading his Buccaneers to victory over the Chiefs in Super Bowl LV.
Mussels / Mosselen met friet / Moules-frites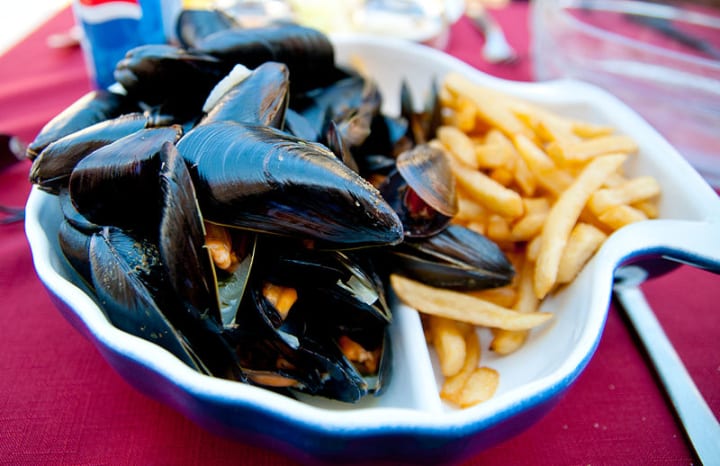 Fries in Belgium go along with mussels, as Belgium's unofficial national dish is mussels with fries.¹ This is that kind of unusual combination of snack food that will leave your mouth watering with much finger-licking.
I had my fair share of Brussels moules-frites during my five-year (2014–2019) stay in the Belgian capital. It was back then that I became a fries & mussels zealot. I remember watching matches in small local establishments while indulging in this traditional snack.
My everlasting memory is a dish of moules-marinières I savored at home while watching the UEFA Euro 2016 Final. When Portugal defeated the hosts and two-time winners France 1–0 after extra time, with a goal from substitute Eder, to claim its first major tournament title so far.
Those were some mussels to remember!
Now every time there's a big match coming down. I like to prepare my very own Brussels Mussels snack for good luck. This was again the recipe for success on Sunday, 9 June 2019, when Portugal added the UEFA Nations League title to their UEFA Euro 2016 crown with a 1–0 defeat of the Dutch in Porto.
Spain
Patatas bravas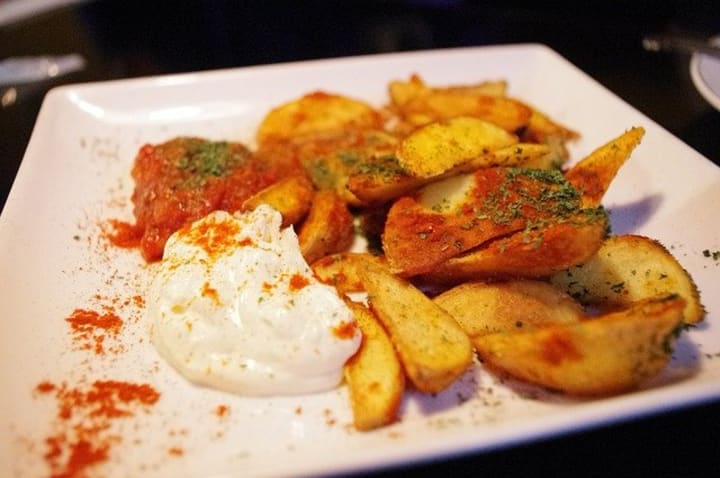 I'm Portuguese; thus, I often visit neighboring Spain and have many Spanish friends. I enjoy watching a match with them whenever I can.
I don't remember when I first tasted patatas bravas, but I love them, and even while I was staying in Belgium, I would go to food-truck festivals to have a bite of this typical dish of Spanish gastronomy. I remember the queues around the food-truck serving patatas bravas in King Baudouin Stadium were mythical.
Patatas bravas are served as an appetizer or snack, referred to in Spanish cuisine as tapas, accompanied with a beer or a glass of wine, which will calm the spiciness. The birthplace of patatas bravas can be traced to two Madrid establishments that currently no longer exist: La Casa Perico and La Casona¹.
Churros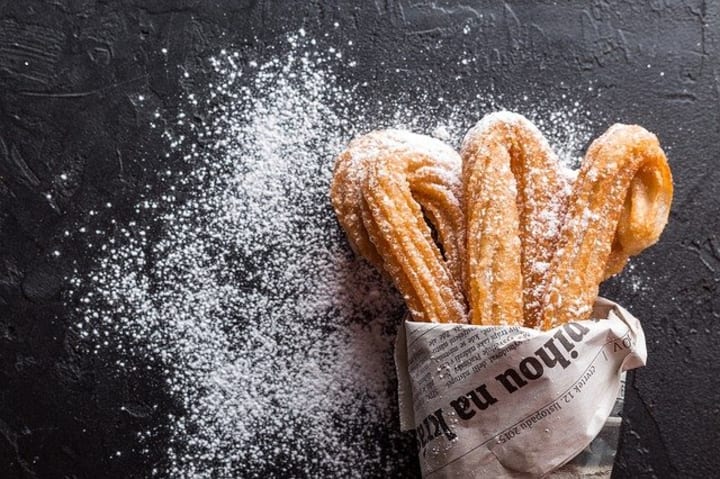 It's time to call for a substitution and bring some sweetness into play for our Super Bowl snacks marathon.
Churros consist of elongated, crispy, crunchy deep-fried yeast dough with cinnamon and sugar sprinkled twists. Tradition explains how Spanish shepherds invented this sugary treat because they could quickly cook them in a pan over an open fire.
Nowadays, the unusually shaped cinnamon sugar sprinkled twists are commonly eaten in Spain and Portugal. Here in northern Portugal, they are a symbol of celebration, as even the smallest local festivity has at least one food-truck serving churros.
Before the COVID-19 pandemic outbreak, at any soccer stadium across the country, food trucks would be lining up to serve churros to sports fans. Now, I'm eagerly waiting for life to return to normal, so I can go back to the stadium and watch a major sport event while eating churros.
Netherlands
Sausage Rolls (Saucijzenbroodjes)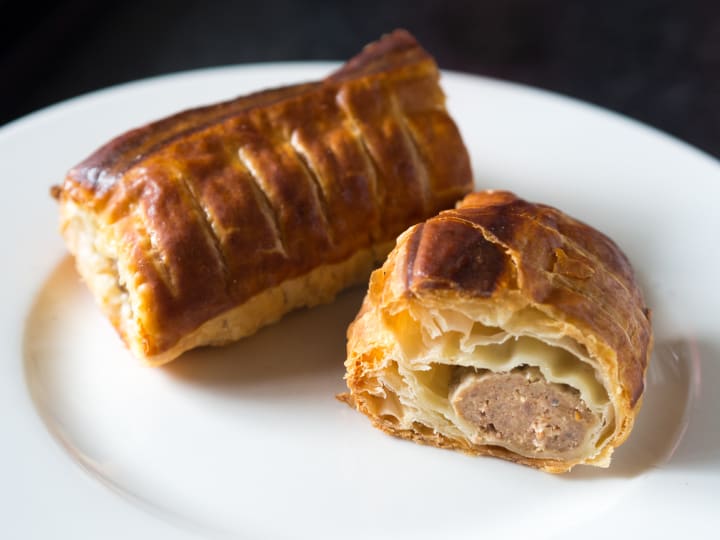 While working in Brussels for a dutch company, many of my friends and colleagues were from the Netherlands. Hence, I learned a lot and got the chance to taste many delicious dutch snacks while watching sports events.
Sausage rolls taste amazing, and they go nicely with Belgium's finest witbiers, as this type of beer is light and refreshing. On Game Day, we would buy the rolls at the supermarket around the corner and have our homey apéro (short for apéritif) in front of the TV.
Alors… on prend l'apéro?
The sausage rolls are made of pastry filled with seasoned minced meat, pork and beef, and chicken or veal. Curiously, there's no actual sausage inside but only spiced minced meat. Although various herbs or spices are used to flavor the beef, nutmeg provides the sausage roll's unique taste. In supermarkets, you can find the so-called jumbo saucijzenbroodjes in XL and XXL formats.
In the Netherlands, you can spot saucijzenbroodjes on food-trucks when you go out of the train station and around the stadium on game day.
Dutch Doughnuts (Oliebollen)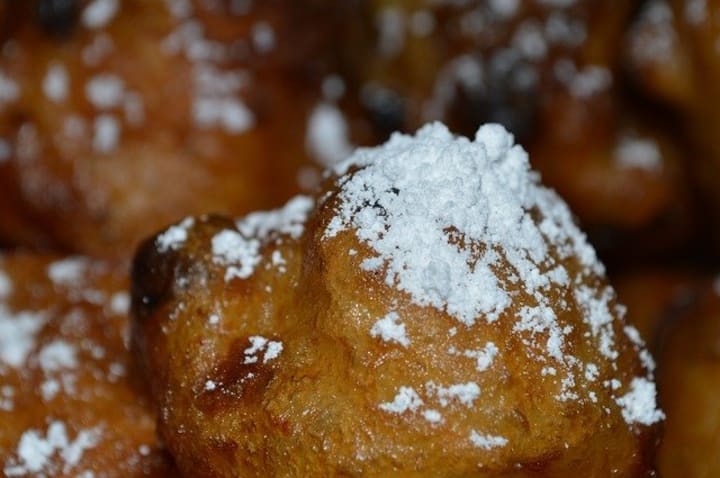 The sweet counterparts of saucijzenbroodjes are Dutch doughnuts, a fried ball-shaped dough typical of the Netherlands. One of my Dutch friends was an expert on making these snacks. Thus, when we watched a match at his place, these oliebollen were always making their appearance.
Eating oliebollen has been a Dutch tradition for centuries, and it can be traced back to the Teutons. The earliest evidence of the oliebol dates from the beginning of the Christian era.
Oliebollen were sacrificial food to the Gods. Teutons believed this type of greasy food would cause the goddess Perchta's sword to slide off their bodies, doing them no harm during the harsh winter-time.
Yet, it was only in the nineteenth century that the oliebol became a traditional delicacy. oliebollen are rich in fat and calories; hence this was a highly nutritious food in hard times.
What was originally an offering to the gods became a tasty way to comfort the stomach while watching the stadium titans clash like Tom Brady vs. Patrick Mahomes during the U.S. longest night.
France
Gougères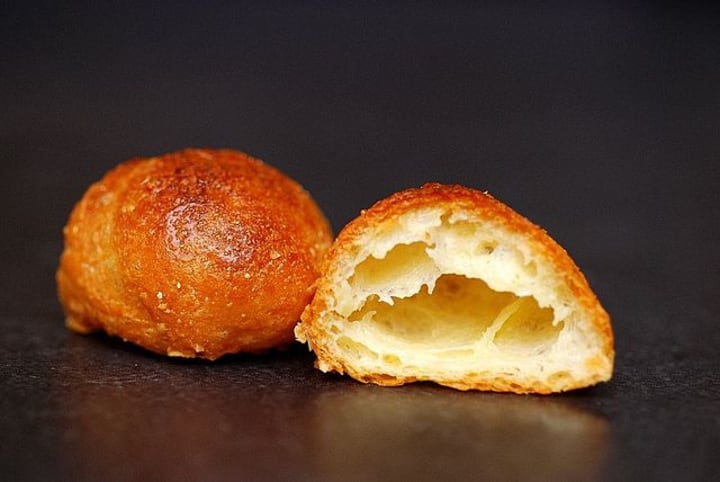 The origin of gougères is still unknown. Historians note how the chou dough was introduced to France by the servants of Catherine de Médicis during the Renaissance.
I have family living in France, not far from Flogny-la-Chapelle, a village close to Auxerre, which has proclaimed itself "the world capital of the gougère." Hence, I have visited Burgundy, where any sports event always calls for a batch of gougères.
This little salty and airy snack takes almost no time to prepare, as it consists of a baked savory choux pastry mixed with cheese, often Gruyère or Comté, for a more pronounced taste. Traditionally, the locals explain how gougères go wonderfully with Burgundy wines. However, I prefer them with coke while watching a match on TV.
Vol-au-vent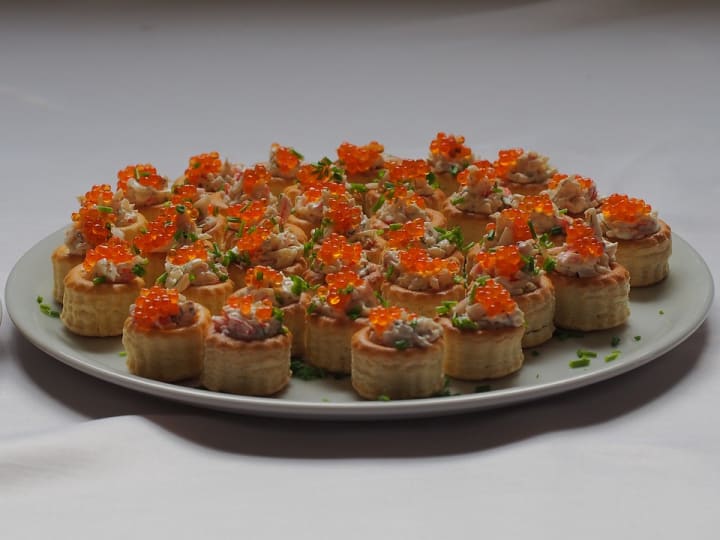 When you look at this iconic French snack, it indeed seems as light as the wind. Traditionally these snacks are filled with a cream of prawns or minced meat (stroganoff). The filling is always well seasoned with lots of butter and sour cream. The combination of the crunchy pastry and the creamy filling is an explosion of flavor. The puff pastry, with its characteristic flavor, helps to enhance the taste of the filling.
The vol-au-vent is the aristocrat of all snacks, and I have never seen these on food trucks around stadiums. However, at my uncle's house in France, whenever his favorite soccer team was playing, I would have the pleasure of tasting them.
Portugal
Francesinha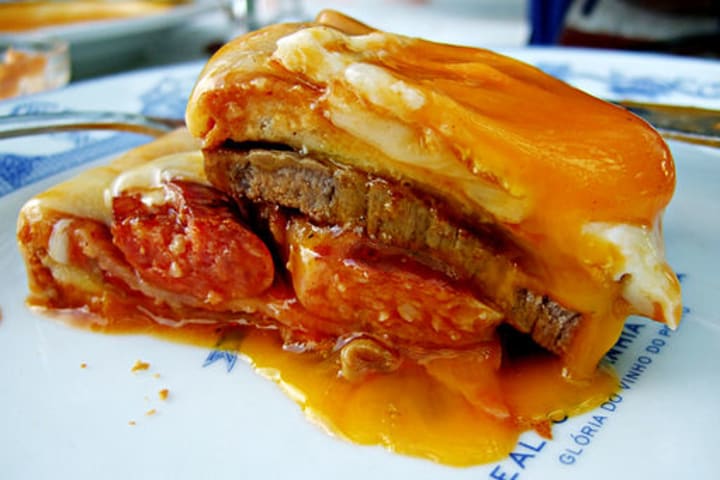 Francesinha is the most famous and iconic snack from Porto. But, the idea for this Portuguese snack originated in France. The French Croque-Monsieur inspired a Portuguese emigrant called Daniel David Silva." He returned to Portugal in the 50s and worked at the restaurant A Regaleira. Hence, this became francesinha's traditional birthplace.
Daniel's idea was to revamp the French sandwich with ingredients more appealing to our taste and gastronomic culture. Hence, inside the two thick slices of bread, slightly toasted, he added a beef steak, sausage, bologna, fresh sausage, and cheese. Afterward, he covered the bread with generous slices of cheese on all sides. Finally, the sandwich is grilled in a brick oven until the cheese starts to melt.
The secret to the perfect francesinha is in the sauce. Everyone claims to have a secret ingredient to make the perfect hot sauce that has to be thick and spicy. The sauce is the soul of a good francesinha. But if the sauce is the soul, the quality of the meat used and even the type of bread are its structure.
Here in Portugal, francesinha is the queen of all snacks on game night.
Bifanas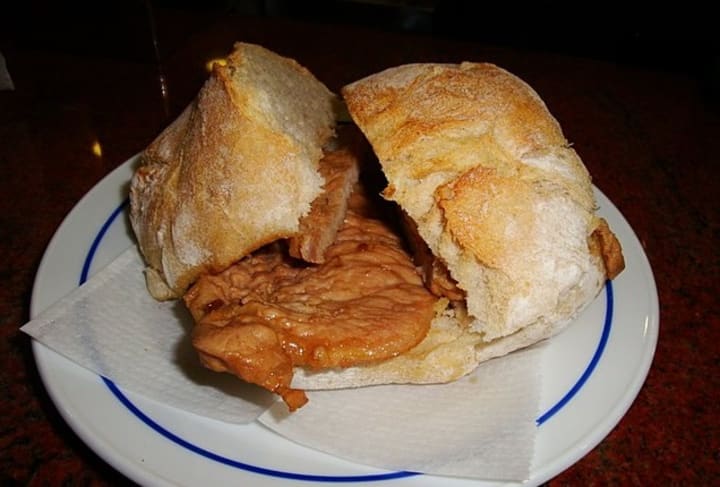 Bifana is another traditional Portuguese snack. Here in the North region, we make them with laminated pork loin strips cooked in a special sauce. They are usually seasoned with mustard or hot sauce and served on bread as a sandwich. However, Vendas Novas, in the Alentejo region, is the actual birthplace of this mouth-melting snack.
Porto has a great tradition of this excellent delicacy. I learned how to prepare bifanas à moda do Porto (bifanas Oporto style) during my Army days. At a time when I was stationed in that beautiful city by the Douro river's shore. It was one of the army cooks that told me his recipe.
Almost every province in Portugal has its unique kind of bifana. For the Porto recipe, the meat is laminated, and the flavor is even spicier! It's hard to slice it at home, so I always ask the butcher to cut the meat as thin as possible to get the recipe just right. Usually, we eat them in sandwiches.
It usually takes less than an hour to get things done.
Ingredients
- Thinly sliced ​​or sliced ​​steaks.
- For the seasoning: salt, sweet pepper, chili, and cumin q.s., white wine q.s., olive oil, lard, chicken or beef broth, tomato pulp soup, salt, hot sauce, beer, Port wine, whiskey.
First, we need to season the meat for at least an hour.
Seasoning
Season the bifanas with salt, hot sauce, cumin, and sweet pepper. Wrap the meat well in the seasonings. Add white wine and mix again. Reserve.
Cooking
In a large saucepan, we let the lard melt;
Then add the broth and the tomato pulp;
Stir well to wrap. Then add the spirits and let it start to boil;
Afterward, we can add the meat to the pan, separating it and adding all the marinade.
When it starts to boil, rectify the seasonings of salt and chili. Bring to a boil until the meat is well cooked.
Remove from heat and then serve, on bread or a plate, always with french fries on the side.
There you have it, the perfect snack for a memorable match. Now, as we say in Portugal:
Bom apetite!
Final Thoughts
I hope you have enjoyed this small road trip around my favorite snacks memory lane. May it inspire you to seek out new ways to spice up your game! Stay safe and treat yourself to fun snacks and ball games.
1 Street Food Around the World: An Encyclopedia of Food and Culture, by Bruce Kraig and Colleen Taylor Sen, ABC-CLIO, 2013.
_________________________
Thanks for reading this article. Please feel free to come back at any time and pick up another thread from my Vocal book of content. Till next time, cheers.
-Rui

Rui Alves
I write to find the surrogate writer in me.
Rui is a graduate of the University of Porto, teacher, and life-coach.
He is also a partner of Rock n'Heavy and the founder of ZENite.
See all posts by Rui Alves →