When The Lights Go Out
A mother cries her silent tears.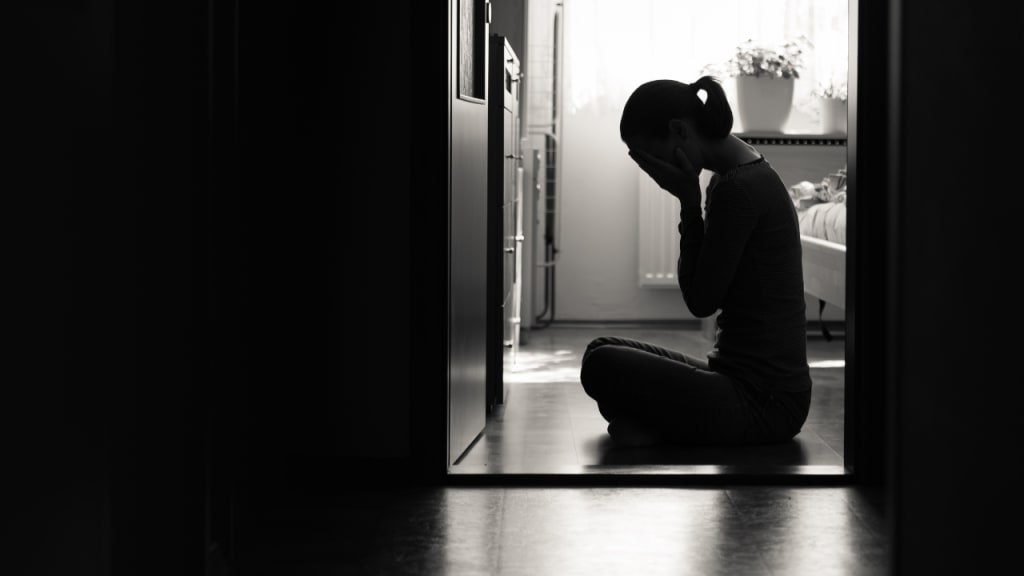 I see you, mama. Your unwashed hair tied loosely in a chaotic bun. Dark circles and bags ringed beneath your tired eyes, the energy you reserved for your appearance repurposed to surviving till nap time. Your sweatpants and loose t-shirt still bear yesterday's stains, maybe even the days' before that. Even now, the laundry shoots its accusing glare as it continues to pile, unwashed, unfolded. You never imagined it could be this hard, this exhausting, this monotonous.
You move about with a bone-weary shuffle, your back aching, your eyes bleary, your mind a whirlwind of chaos. A zombie on auto-pilot catering to the whims of a pudgy half-pint with a gummy smile. You love that smile, you know it deep down, but the fickle demands and constant guesswork keep you teetering over the edge of sanity, always alert, always listening, always worrying.
I hear the words you whisper behind your mask of Fine and Alright. Your cries for help hide behind your weary smile, smothered beneath the euphemisms that bleach the stains of your struggle.
They won't be this little forever.
Enjoy it while it lasts.
You'll miss these days when they're older.
If you think it's hard now, just wait till...
You hear the wisdom but secretly wish for validation of the hardships you face day in and day out instead. Because the moment you don that title, your whole world flips into chaos. Precious time frays and slips through your fingertips, the strands meticulously pulled and plucked by tiny fingers that simultaneously manage to expertly dissolve the threads of your sanity.
I see the sacrifices you make, mama. The physical, emotional, and relational scars that terraform your life into something new, every inch of you stretching, adapting. But these changes are often hidden, shamed, judged; amplifying the loneliness that seeps down into your soul. You long for connection, but shrink away from reaching hands, overstimulated and overwhelmed by the endless physicality of motherhood until even the thought of touch leaves you wishing to dissolve into empty space. You long for help but strive to uphold the heroic image palpitating society's view of maternal strength.
Mom does it all.
Mother knows best.
Supermom...
And while you're stronger than you know, you ache for a moment's peace if only to feel like yourself again. Because it's been so long since you last thought of yourself, since you did anything outside of being what someone else needed in that given moment, catering to all and pushing self-indulgence far out of sight. Intrusive thoughts name you selfish for even imagining a minute to yourself. Bricks of guilt and shame and anger and fear stack upon your shoulders, cemented by the responsibility that comes with holding the literal future in your arms.
So when the lights go out and those little eyes drift sweetly off to sleep, it seems as though your time is finally within reach, but instead your mind wanders down darker paths.
Did I do enough for her today?
Why am I so angry all the time?
I didn't mean to lose my temper, but it's so short these days.
I should have played with him more.
I should have made the time...
But I see you, mama, alone in the dark, seeking the solace of quiet tears in the shadow's embrace. Alone and exhausted, the emotional throttle constantly floored though the tank sits empty; you give all of yourself while expecting nothing in return. You cry when no one watches, then seal the cracks in the dam once more with memories of sweet smiles and tender moments.
Because you love your baby. That much is etched in the bedrock of your soul; infinite and unconditional. So you keep smiling. You keep moving forward even when every ounce of energy has been sapped from your being. You play and laugh and hug and kiss and guide and manage the whirlwind of tantrums and emotional rollercoasters because you've evolved into everything that developing mind needs to thrive.
And in the quiet of night, you have your moment. The tears roll down your cheek before you close your eyes and survive another day.
I see you, mama. Your struggle is not invisible, nor is it lessened by the platitudes and momisms we all repeat if only to remind ourselves of what lies ahead: that one day those tears will fall for joy instead.
***
For all of the mothers in my life and those I have yet to meet, this one is for you. I see you.
About the Creator
Although writing professionally for a few years now, fantasy has always been Kelly's passion. The greater the world building, the better to get lost in. Here's the hoping you'll want to get lost in her worlds, too.
Reader insights
Outstanding
Excellent work. Looking forward to reading more!
Top insights
Heartfelt and relatable

The story invoked strong personal emotions

Compelling and original writing

Creative use of language & vocab

Expert insights and opinions

Arguments were carefully researched and presented
Add your insights