What to See While Choosing a Baby Body Lotion?
Baby Lotions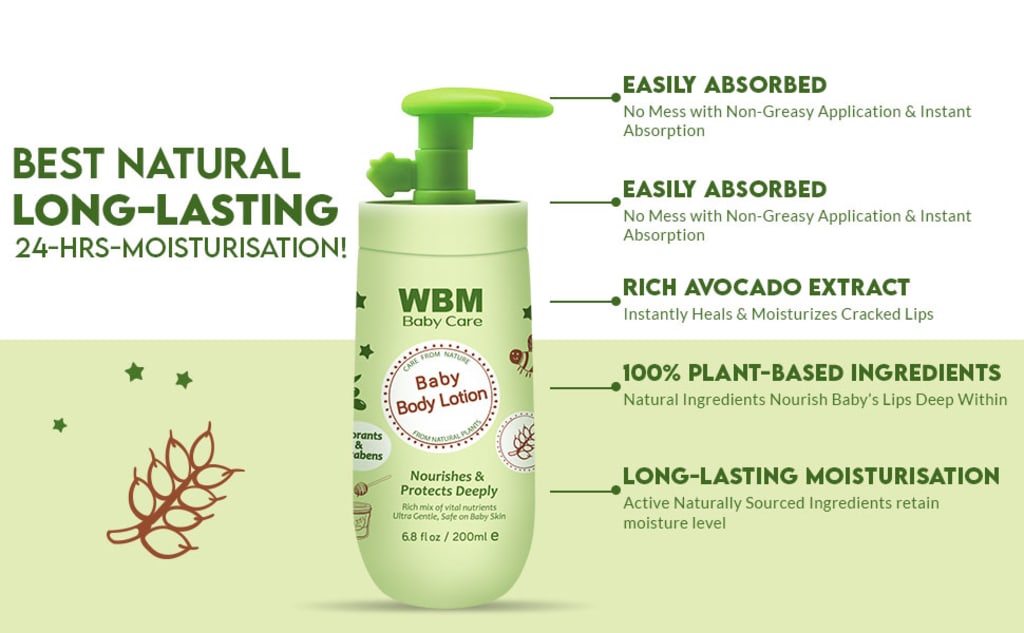 Baby Body Lotion
Baby Body Lotion
Choosing the right baby lotion for your child can be very complicated, don't worry, this blog will help you with the points that you must take into account to get the best baby lotion for your baby. Babies' skin is very delicate compared to adult skin; therefore, you need to be very specific when choosing products for your baby.
You need a toxin-free baby body lotion, rich in natural ingredients and that provides lasting hydration to your baby's skin.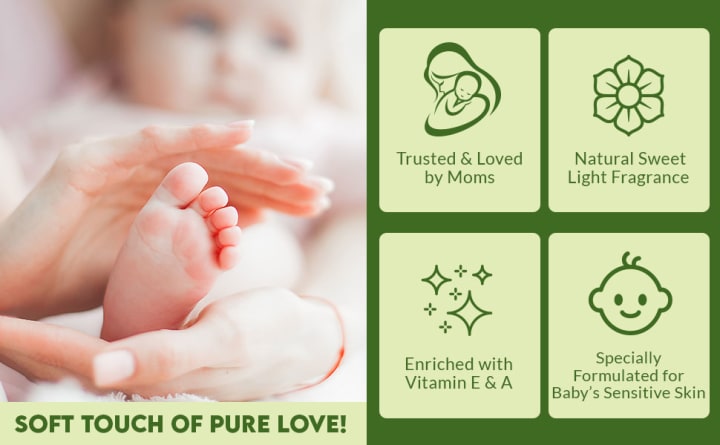 Pay Attention to the Ingredients.
You'll find countless baby lotions on the market that claim to be the best, but most are missing the key ingredients that help combat dry skin. When you check the label of the product you want to buy, make sure that the product is rich in ingredients like colloidal oatmeal and calendula oil, as they help to retain moisture in the skin and increase the tone of the skin barrier. Calendula oil in particular has regenerative, antioxidant, antiseptic, and anti-inflammatory properties that aid wound healing.
Check Laboratory Test Approvals
Since a baby's skin is sensitive, you should always look for clinical laboratory test labels or dermatologically tested/hypoallergenic labels on the product.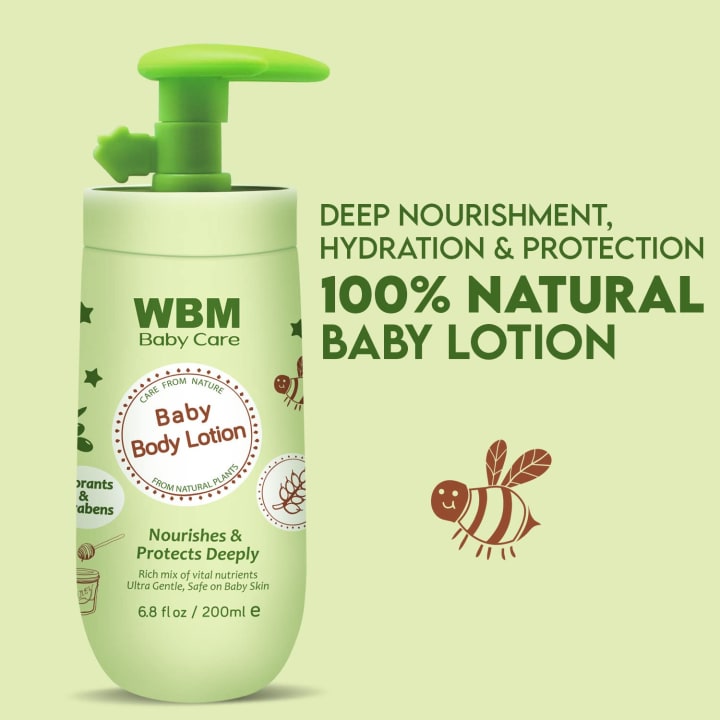 Why?
Clinical laboratory test approvals ensure that the product composition is thoroughly tested under different conditions and does not cause skin irritation or other side effects. Therefore, a clinically proven baby lotion will relieve you of the stress of possible side effects on your baby's skin.
Be Natural
The most important thing to consider when shopping for baby lotion for dry skin is to choose a product that is made with natural ingredients and free of toxins. Without toxins, without parabens, without synthetic fragrances, among other certifications, they are safe for your baby's skin, this is what each one means:
Toxin-Free:
The term toxin-free is a label that represents a product that is free of potentially poisonous, poisonous, or harmful ingredients. It also indicates that the product is 100% natural and is not formed using any chemical component.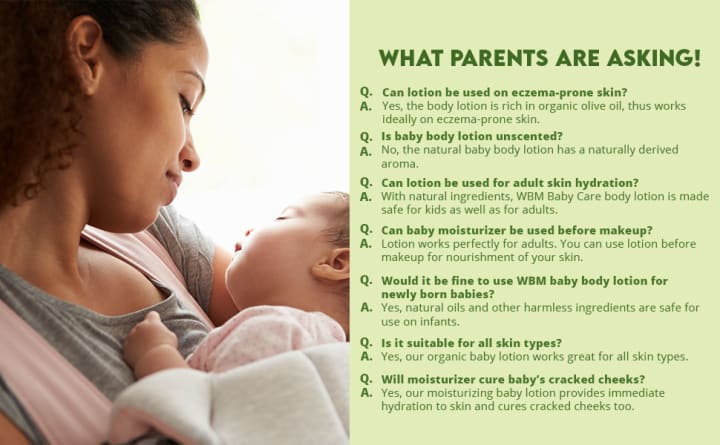 Paraben Free:
Parabens are synthetic chemicals derived from para-hydroxybenzoic acid (PHBA) and are used to extend the life of a product. A product labeled paraben free is free of synthetic chemicals. The role of parabens is to prevent the product of fungi and other microorganisms. But research has suggested that parabens can cause skin irritation, may be potentially carcinogenic, and could affect the reproductive systems of both men and women. Therefore, companies are trying to formulate compositions that can help them naturally increase the shelf life of products. If you come across a baby lotion that contains any of the following, it contains parabens and you should opt for an alternative.
Synthetic Fragrance Free
As the name suggests, this label indicates that the product is free from synthetic fragrances. Products labeled free of synthetic fragrance mostly have fragrances made from essential oils as alternatives. It is important that you choose a synthetic fragrance-free baby lotion for dry skin, as synthetic scented products are not only the main cause of contact dermatitis, but also cause redness, eczema, irritation, among others skin problems.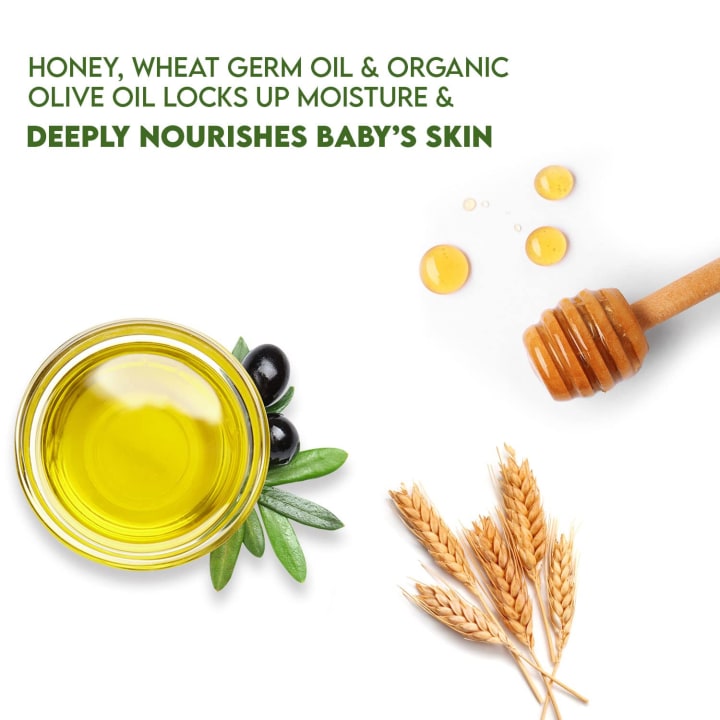 Reasons to Use Baby Lotion
Organic baby lotions should be used exclusively on your newborn. You don't want the absorption of potentially harmful chemicals or additives. Organic baby lotions should be plant-based, chemical-free, and fragrance-free.
Dry Patches After Birth
It is not uncommon for a newborn to have dry patches on the skin after birth. These areas are usually around the hands and ankles. Skin may appear scaly or actually peel
Bath
Babies have sensitive and delicate skin. It is not uncommon for your baby's skin to become dry from repeated baths. Remember that your baby does not need a daily bath with a baby soap bar. If you notice that your baby's skin is drying out, apply a very thin layer of organic baby lotion.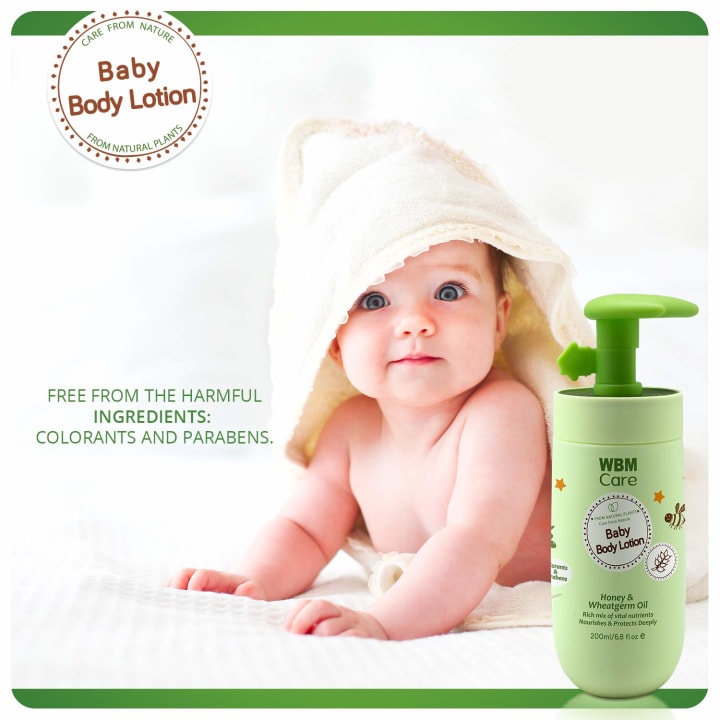 Diaper Rashes
Some babies are more prone to diaper rash, be sure to clean baby thoroughly after their diaper gets wet or dirty. If you notice redness, immediately apply diaper cream. These rashes can get worse if not treated right away. Also you need to keep in mind that your baby's cloth should be washed with a baby detergent. why do we need baby detergent?
Prevent Moisture Loss
Organic Baby Lotion provides a barrier that not only protects the skin, but also helps keep the skin hydrated.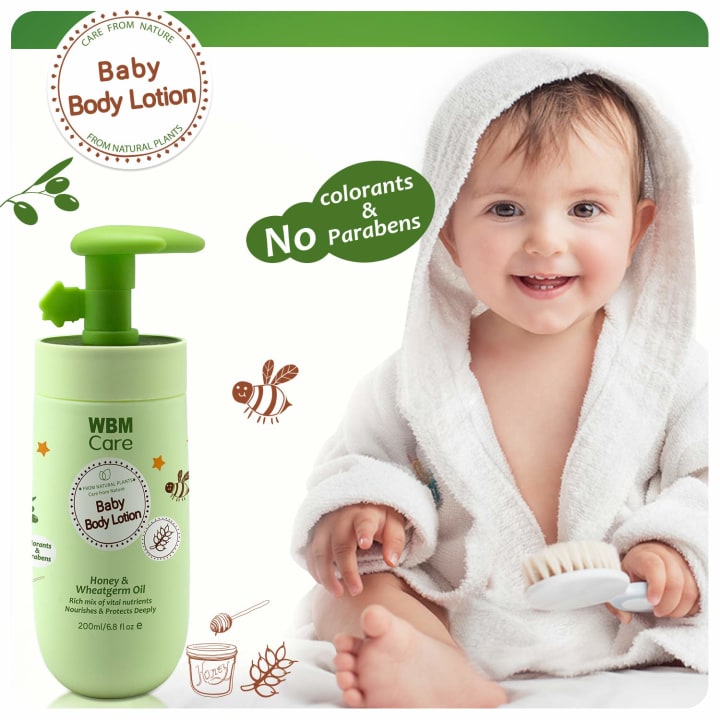 Who Doesn't Love a Massage?
Giving your baby a massage strengthens the parent-child bond.
Massaging your baby is a great way to calm a fussy or frightened baby. It's also a great way to end the day after a bath.
Moisturizing Body Lotion | WBM Baby Care
Gently hydrate and hydrate your baby's sensitive skin with WBM Baby Care Lotion with extracts of honey and wheat germ oil. Our baby lotion is rich in vital nutrients and is free of dyes and parabens. Our baby lotion can help nourish a baby's skin, leaving it soft and smooth to the touch.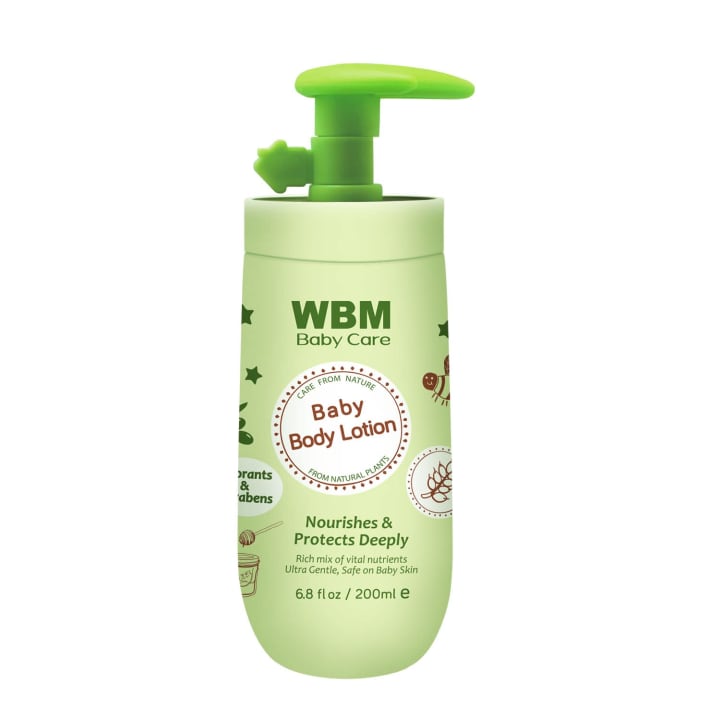 Naturally, it helps soothe a baby's skin and leaves a sweet scent. Made with naturally derived ingredients Free of dyes and parabens Enriched with natural fragrances Forms protection against dry weather Help your baby's skin return to natural health with WBM Care Baby Body Lotion. This nourishing blend of honey and wheat germ oil helps to gently hydrate, soothe and comfort your baby's precious skin. Directions for use of wheat germ oil with honey and olive oil: Simply apply all over baby's skin. Gentle enough for everyday use.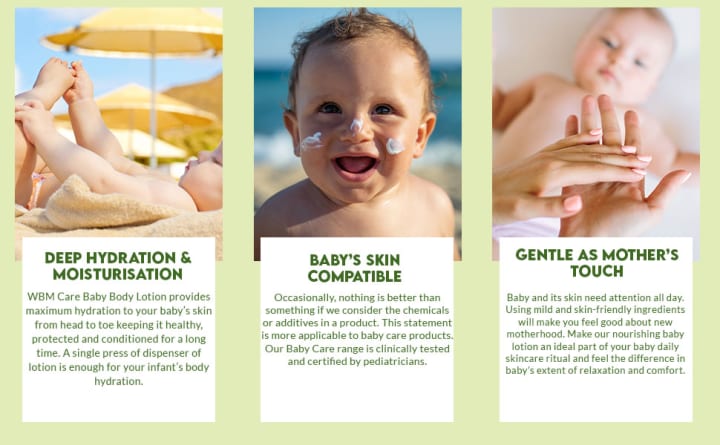 You always consider natural baby care products that are rich in natural ingredients and that provide lasting hydration to your baby's skin.
Reader insights
Be the first to share your insights about this piece.
Add your insights