The 30th that proved right
Brendon Luke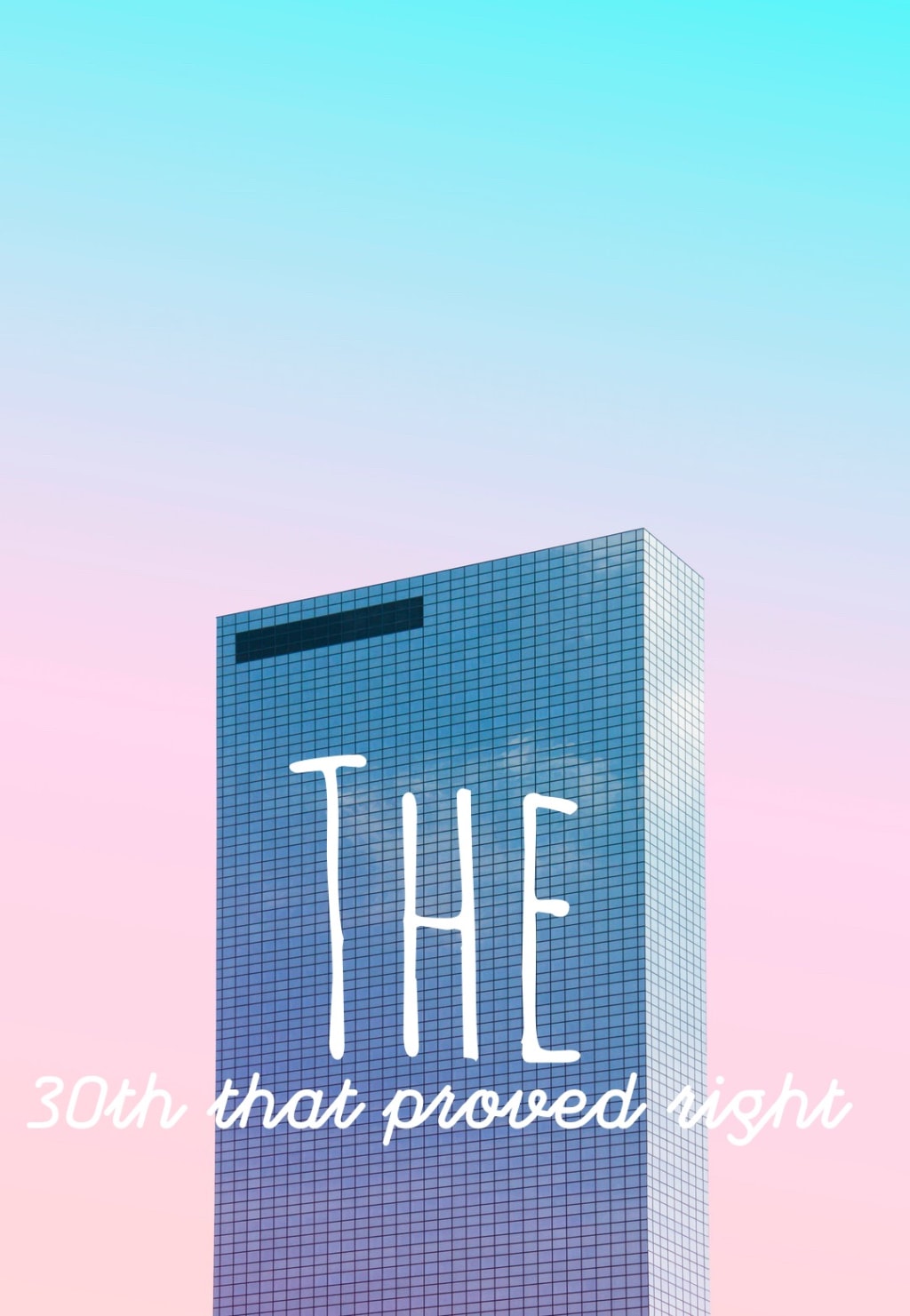 I hit my 30th with true drunken Dionysus style. Probably more Dionysian than strictly necessary, but it was a dream 30 years in the making, so it needed to be epic. I had two hot ass bartenders wearing speedos, because I deserve to objectify hot men on my birthday. One was a bartender I met at my farewell drinks from KRONOS, the other was his mate who was a model. I propositioned Mark at the Ivanhoe, and he said he would be happy to walk around my house half naked and serve drinks at my 30th, for a price of course. After that it just felt so unnecessary to go online looking for hot wait staff for hire, only for them to turn up looking like the elephant man's less attractive younger brother. That's the problem with online these days. With all the filters and stuff, a photo can be a bit deceptive. On a related note, what counts as hot these days can be a bit confusing. I blame the body positivity movement. I am all for people loving themselves just the way they are, but that doesn't mean my penis has to agree with your self-assessment of your own hotness. No amount of social engineering is going to change the basics of mainstream attractiveness. Sure, there will always be people with specific fetishes, if bed bound morbidly obese people light your fire, no shame in that, go get your tubby lover. There are plenty of people out there who are into amputees, but the reality is most people are programmed to prefer symmetry. The reality is the vast majority of people are not going to be into non-mainstream, you can shriek on social media about how beautiful you are, and to someone you will be, but that doesn't mean I want you in speedos serving cocktails at my party.
Some people are hot, and some people are not. You are not less of a person, or less deserving of love simply because you are not beautiful. The same way you are not less of a person if you have an average IQ, or didn't make the Olympic dive team. If at the end of your days you are still wringing your hands because not enough strangers masturbated to fantasies of violating your orifices with absolutely no regard for your sexual pleasure, then your priorities are way way off. You can't legislate and berate people into being attracted to you, but you can choose to see yourself as good enough without having to jiggle the criteria so you are in the top 1% in looks, IQ, athletic ability, earnings etc. You are good enough just the way you are, but for my birthday I wanted to masturbate to fantasies of having my orifices violated by handsome strangers with absolutely no regard for their sexual pleasure.
I had seen Mark in real life and my loins stirred. He would do, he would do very nicely. Mark asked if I wanted a second hottie to help, Of course I did. Two hot men in speedos are twice as nice. Mark quickly grabbed my number and sent me his friends Instagram. I died; Mark was hot but his friend was too beautiful to exist. The peen doesn't lie. Mark was masturbation fuel, but his friend was the stuff of hands-free orgasms. Mark was your typical blond, surfer, laid back, tradie type. Not too big, not too small, toned with a tan and a great smile. David, however was a Greek god. Tall, cut from stone, bulging in all the right places, and a jawline that would win some kind of award if they handed out awards for that kind of stuff.
They were both confident, hilarious, laid back and easy on the eye. They lightened the mood, and set about very capably supplying drinks so I could mingle with my guests, and sparkle like I do best. The devil is in the detail, and I can say without hesitation that they were the detail that took my party to the next level. Money well spent.
There were a few sad non appearances, but most of the people I wanted there managed to make it. It was the celebration of the decade, and I got to spend it with almost all of my favourite people in one place, being waited upon by hot charming men in speedos. The best part was that I asked my mother, and two of my amazing friends to do speeches. Mother went first and it went a little like this;
'Well it doesn't seem like 30 years ago since Dionysus arrived in the world.
Dionysus was born 10 days late and arrived at 1.35 am, and funnily enough that was Dionysus time.
Dionysus was 7lb 11 and 21 half inches long. I Just want to tell you a few things about Dionysus. Dionysus was a quiet child and very loving. Till those teenage years
Dionysus took longer in the bathroom than all of us put together from the long showers to the hairdryer which woke everyone and Dionysus used so much deodorant we couldn't breathe.
From blowing up eggs in the microwave and no food with a lid on it so it exploded everywhere and cooking on high with fat splattering everywhere dirty pots and pans and dishes unrinsed in the sink. Closing the doors in Dionysus bedroom and never having any ventilation and by God that smell.
Oh yes and our pets, well apart from the dog which Gaia and I looked after Dionysus wanted birds, mice which we had and he never fed or cleaned and when we were going away Dionysus just said 'let them die'. No comment.
Then there was the dishwasher, letting the bottom tray roll out onto the floor and dishes going everywhere. I had so many chipped plates when Dionysus moved out I bought a new dinner set. But apart from all the funny and emotional times I am proud of Dionysus.
Dionysus is always so kind to people.
Dionysus easy going nature.
Dionysus hilarious sense of humour.
Dionysus ability to adapt to any situation.
Dionysus is our son and I love Dionysus to pieces and I would not trade Dionysus for the world'.
Thanks Mum, this speech was so beautiful, endearing and loving. It made me laugh, cry and realise how much you put up with me over the years, it only increased my respect for you.
Charles speech went a little like this:
'Dear Dionysus,
I've known you for a decade now. You are an absolute force of nature. There have been so many memories over the years that I had no idea where to start with writing your speech. So, in your true style, I decided to crack open some red wine and start putting pen to paper.
You gave me the brief to cover your "early years". It would have been the early part of 2008 that we first met. I remember our first meeting was on the dance floor at Castle Hill RSL. You were this tall, dorky, shaggy hair with the absolute biggest smile I have ever seen. We talked rubbish and danced, I think you even drove me home that night, and the next thing I knew, we had become good friends and you were at my 19th birthday the very next week.
You became:
Our social coordinator
Our wing person
Our trip planner
Our chauffeur
My mum thought of you as her 6th child
And my nan called you the "the friend" - her old woman way of saying I know Dionysus gay.
It was the glory days. With you working at APizza and me working at the cinemas, between us we had all you could ever want as a 19-year-old. You didn't even work there and you'd come and hang out with my on my midnight shift. You'd bring the free pizza and I'd steal the frozen coke. Life was good.
I look back on those uni days and wonder how we managed to get our degrees. Our weeks would look something like this
Tuesday at Cafe Inferno, Pennant Hills station
Wednesday nights - Tracks/the ranch
Thursday nights, off to Greenwood, sometimes ending up in the emergency ward
Friday nights, the RSL
Saturday night the city
Sunday sessions at Greenwood
When we weren't dominating the dance floor with what we probably thought were really cool dance techniques, we were cruising around the hills district doing a hell of a lot of nothing
We would slob around people's houses
Have picnics
Do road trips
Be mall rats at Towers
When I went to Uni, sometimes you would come hang out in my German class and pretend to be a student
We'd drive past hot people and you'd wind down your window and shout out, snapping photos.
Anyway, you get the picture. We had a lot of time on our hands and Netflix didn't exist yet.
Fast-forward, 10 years later to September 2018. I'd like to say that you've grown and changed. I'm sure you've grown, but I certainly don't think you've changed.
We spent 5 days together on Connie Island. It started with buying a $5 backpack, filling it with wine and sneaking it onto the island. We wrapped beer bottles up in clothes so they wouldn't clink together when we got off the boat. After checking in, we made it to the room. You pulled a jacket out of the bag; a beer bottle went flying smashed to a million pieces and spraying beer all over the room. We lay in bed and had some wine to celebrate.
That night, we went out for dinner. You struck up a brief conversation with the person behind the bar. Later, you struck up another conversation with a couple having a cigarette. The conversation was quickly turning into drunken smack and it was my cue to go to bed like the granny I am.
We reconvened at breakfast.
"So, we're going to drinks with Ash tonight at 5.30 then we've got the staff party on Wednesday night. This person's going out with that person. That couple is in room 2015. Within about 8 hours of being on this island you knew half the staff, half the guests, inviting yourself to parties, organising drinks and catch ups, getting discounted cocktails. By the end of that week, you had one girl telling you it was the best holiday of her life and you had an old man from the US who'd written you a reading list to take home." The staff were ready to throw you a farewell party from the island after 5 days.
To me, this really highlights something very special about you, and I'm sure everyone in this room will agree. I am in awe of your ability to almost instantly connect with to people from all walks of life- old, young, disabled, ethnicities. You are accepting, inclusive, kind, caring, fun. You open your home to friends in need and you care for my family as if they were your own.
So even though I won't leave my children with you unsupervised until they are at least 18 and even though I know that you've written off what you refer to as the "third stage of life", I know that you will be a lasting friend through the ages and I sure as hell know that I want to be at whatever retirement village you're going to be at. Thank you for your friendship and here's to the next 30 years of "you doing, you babe."'.
Ingrid could not have said it better; Ingrid was like my other half. My better half.
Bia created a sweet and magical poem. Bia only does on very rare occasions and only for special people in the family. So, I felt very privileged when Bia decided to read her poem for me in lieu of a speech.
Bia's poem went like this:
'To Poppy and Hian, a loud blonde Dionysus, had come into their world. Dionysus was crazy, fun, smiley and tall and a little bit absurd.
They settled as a family of four at a home in Cherrybrook, mum, dad and a big sister Nic, into a happy life they took.
Along to Penno high Dionysus went, hanging with all the mates, learnt all of the important stuff, even got good grades. Life bounced along for our dear Dionysus. Family pets along the way, ben, Goldie, Lockie and peanut, all came along to stay.
Off to explore the world he went travelling far and wide, always with fun and the biggest heart which stands well astride. Uni was Dionysus next big step, so smart with the degree, you set your goals and tick them off. Making plans for the future to be.
Well my sweet you made it here, your very special day. Some may be surprised that you're not dead, but we love you anyway.
Thirty years on this planet earth, with all you've loved and learnt, you've partied more than anyone and wasted all you've earnt.
The yards all blue into one another for most spend doing the same, living larger than anyone else we know and having not on ounce of shame.
Dionysus your laugh is loud huge and true, and your smile is full and perfect. You make people happy, with all that you do, your care, you're real, you're true.
So today we raise a glass to you, and wish all the best, long may you live in this crazy world and you my friend god bless.'.
After my glorious friends and family had toasted me, I ended with a thank you speech of my own.
'I'd like to thank my parents for always being there when I needed them. Mums fun loving nature and Dads generosity shine through constantly. They have supported me when I came out and made sure that I was felt loved, which is a huge encouragement to my growth and confidence. My sister has also been an integral part in this love and support.
I need to give a big shout out to Charles who has not only known me for 10 years, but has put up with a lot of shit during those years. Charles your support, encouragement and gentle nature has got me out of many a rough patch.
Two major rocks I have had over the last 3 years with my move to Dee Why have been Bia and Buddy. I don't think I would have stuck around as long as I have without their support and of course there always handy for a drinking or smoke buddy.
The most important thing is that I love you all, you've all touched my heart in some way. Made me feel special at some point, and always allow me to be the fun loving stupid natured self that I am. I know I don't always follow the rules.
I have been so fortunate with the friends I have made, the family I was given, and the love that I have received from all of you'.
As you can see, my birthday was truly special. A celebration of me, one where I graciously gave shout outs to my friends and family, but mostly all about me. And hot guys in speedos. Just kidding. It was a night of celebration, a night where I was surrounded by the people I love most, and hot men in speedos.