Our House: the Days of Covid 19
My Journals during the Pandemic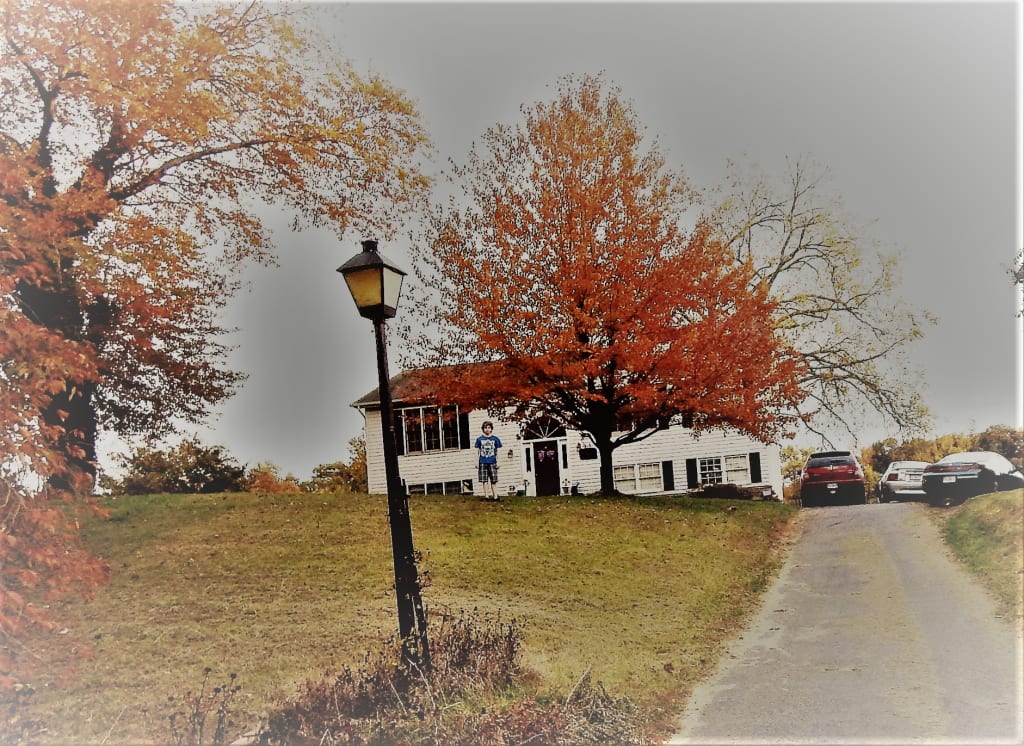 Our House in Autumn several years ago.
Even before the pandemic was declared, my year started with a stressful 'bang'! My boss of many years had suddenly made the decision to retire. He left in mid-January; then my daughter in law's best friend and first cousin in Turkey passed away suddenly and she made a quick trip home to say good-bye just as we were first hearing about Wuhan. It was scary to think of her traveling so far so she made the decision to leave my youngest grandson home with his dad. My son and I altered our work week to take care of him.
Then in February my son had to travel because several positions were being cut and he had the unlucky task of giving staff all across the country the bad news. After a trip to Ohio he came home very sick and just couldn't seem to shake it. No one in our area was testing for Covid at that time, so he just did his best to avoid us but he kept a dry, hacking cough for weeks. We were all growing more and more concerned with the news stories and I started worrying about crowds and even carpooling. I started walking the mile from where my carpool parked to my building to avoid taking metro rail.
Then on March 11, the World Health Organization declared a pandemic and when I went to work on March 12 I was told to take my computer and anything else I thought I might need home with me to prepare for telework. We honestly thought it would only be for a couple of weeks - 14 days seemed to be the catch phrase. Little did I know that would be my last day in the office.
I had scheduled leave on the 13th to take my husband to see his GI Specialist at Mercy Hospital in Baltimore. He was due for a procedure called an ERCP and stent placement in his bile duct. But we arrived to find strict precautions in place. We had to be screened before we entered the building and his doctor did not do the stent placement as planned because my husband is usually hospitalized after and his doctor told us 'in patient' was the last place he needed to be right then because he thought Baltimore was going to explode with Covid cases. On our way home, we stopped at Bob Evans - we always had lunch there after these appointments. Neither of this would realize this would be the last time we'd eat out in 2020.
So on Monday, March 16, my first week of full time telework began. If I had realized it was going to be such a long term event, I would have been more selective about what I brought home - there are still at least 10 pairs of shoes under my desk! Of course, within days I realized we were in the midst of something much bigger, scarier and deadly. Something that I never expected to experience in my lifetime. I also quickly realized that it had the potential to forever alter the way we interacted and the way things are done in our world. Like September 11, 2001 altered air travel.
I also realized the emotional and mental toll this epidemic was placing on everyone. We had 'open mental health' discussions via Skype and Zoom at work so people could talk about how difficult it was taking care of their loved ones, educating their children, finding groceries and necessities all while working full time from home. Realizing I was in the midst of something rare, something once in a generation, I decided to keep a journal of my impressions and experiences. I wanted to capture as much of the impact of this pandemic from a personal level, especially since I am of 'a certain age' with 'certain health conditions' and I live with people who are immuno-compromised either by illness or the medications they take.
You see, my entire immediate family all live in one house. There are 9 of us, under one roof. My husband and daughter are disabled due to illness, my daughters sig-other is disabled due to mental illness. His meds make him immuno-compromised. I accompany my husband and my daughter to 95% of their medical appointments since both frequently experience brain fog and have a difficult time explaining their symptoms.
Our 3 grandsons live with us. My daughter's two sons are nearly grown, my son's little one is still pre-school age. The older boys have been home schooled for most of their education, so online learning is nothing new to them. My son has teleworked for most of his career, so he's a pro at it. His wife, who is Turkish, is in college online. She and their son usually spend the summer in Turkey, visiting his other grandparents, but of course we quickly realized they wouldn't be able to do that this year.
My only other nearby relatives are my sister, who lives about a half hour away and my brother's widow, who's about 15 minutes away. She is older, in her 80's and on dialysis 3 days a week, but she has 2 daughters from a previous marriage that see to her needs. My sister, also a widow, has health issues as well. She has no children and was always like a second mother to me. So my goal is to make sure we all have the things we need to see us through this crisis.
So hear are my journals of our journey. I hope you follow along.