My Dad Had a Way to Connect with All His Children
A Tribute to My Dad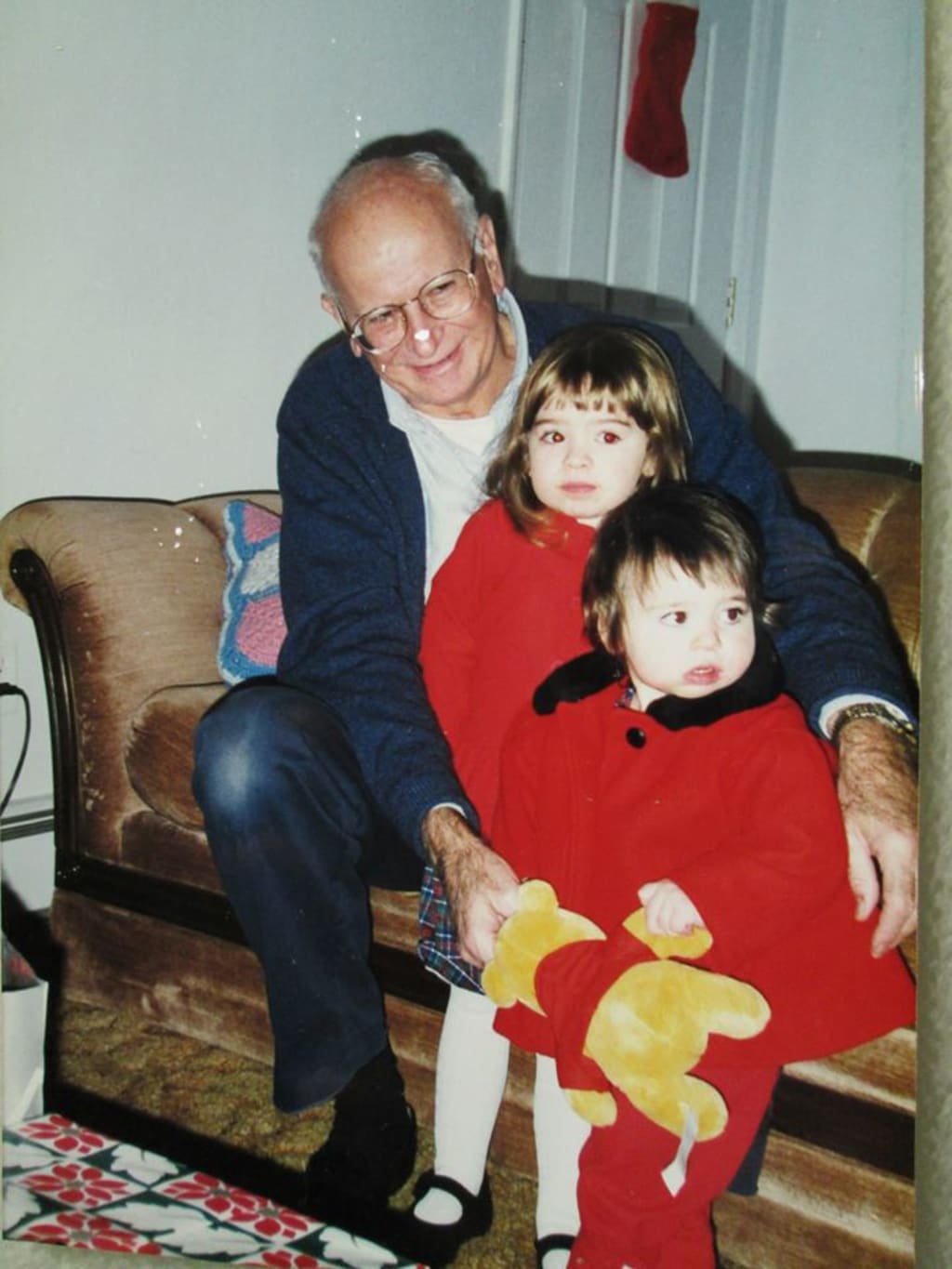 My father has passed. But everyday that I walk into the daycare I can feel my father coursing through me—especially when I see the infants.
Most walk by the babies and wave. I don't do that. I walk in, pick one out and point. The first time, they look around and as if to say, who's that big goofy bald guy. The next day, I find the same baby and they start to engage. By the third or forth time, a big smile emerges and they start pointing back at me. At this moment, I've turned into my father. That's exactly who he was, and who I am.
In fact, I once put on a show to let him know. I was in Florida and Debbie's kids where with us. I had the two youngsters going and everyone else was happily involved. This was a very conscious performance aimed at my father. I was sending him a message. "I learned this from you."
A Father to the Boys
Of course, he was not just a father to me, my brother and sister. Fatherlike, he was a refuge and a place for Matt and Vin to hang their hats on Lakeside Drive. I always remember a night in 1974 that filled the bill. Matt appeared at our locked screen door, and my father greeted him by requesting, "the password."
There was no hesitation. "Knicks" said Matt and Game Seven of the Eastern Conference Semi Finals went our way versus the Bullets. The weeds also got a rest when the games extended to the street. Every time a "Jerry West" was hoisted to top it off at "21," my father was playing respite.
Outside our family, my dad was among the many Somers fathers who raised a community on the baseball field. His shinning moment came in a season where my brother was a year removed, and I wasn't coming on board until the next year.
The Braves were involved in a heated game with a perennial rival. A pop fly settled over our third baseman, and the fans from the opposing team yelled, "drop it, drop it." And that's exactly what happened.
Seething, my dad walked out onto the field and chided the adults. "If I hear one more word, I'm taking my boys off the field, and we're not coming back until only the players and coaches remain."
Of course, my father wasn't perfect. He never did teach me to field a ground ball, and now 40 years later, everyone cringes whenever a ball is hit my way. Still, he was more than deserving in joining in my greatest softball thrill. "Are you sitting down," I joked. "I put one over the fence."
His reaction required no words and really went the distance. In the ball park, my proudest moments as a softball player took place in my 20s. All those boys my father raised now came back us at Reis Park. "Hello Mr. Monetti, nice to see you Mr. Monetti."
A generation of classmates who acknowledged of him as a father made me feel like a rock star.

A Magical Dad to the Girls
As should be expected, my dad had a way with the girls in our family too. Laura, Lisa, Carla, Debbie and Denise—there was a connection that we boys just weren't privy to. This is exemplified on a night when the Olivet's came over for some poker.
The game a few hours old, my father had to go to the bathroom, and my sister gladly took over. The seamless handoff should have signaled that something was afoot, though.
As my father disappeared up the stairs, serendipity kept us all in and grew the pot larger and larger. More importantly, my sister seemed to channel my father's absence. As if he was hovering over her shoulder, Dolores cajoled us along, and the biggest pot of the night went her way.
But the deal wasn't done yet - especially since the rest of us were still in denial. As the next hand turned, my dad was beginning to reemerge. Of course, he's not surprised as the chatter revealed that my sister has put it to us and in a big way.
Mid-hand he takes his seat, and now it was my sister who hovered. But they were essentially one.
The tandem now worked us over together and sowed just enough doubt to keep everyone in the game. Round and round, my father's tones and inflections piggyback perfectly on my sister's play along.
This was nothing short of magic. An unspoken, outer worldly aura enveloped my father and sister, which again, the boys were not privy to. The result was the same, and we all paid again with the biggest pot of the night.
Afterwards, I realized this was not new. I had seen this many times before as a kid, but it was lost when my father had his stroke.
My Father and My Brother
Also lost was the special communication that my father had with my brother. Again, I offer a story.
One Saturday morning my mother asked my father to go get milk. He had no money and didn't want to stop at the bank. So he asked my brother if he had a few dollars.
My brother pulled out his wallet and revealed a hundred dollar bill. My father acquiesced and resigned himself for a trip to the bank. But he seemed to take note.
Guess what, the same thing happened the next week, and once again, my brother was ready with a hundred dollar bill. True to form, my father didn't show his hand, but was ready with a little entrapment a few weeks later.
So before my brother could open his wallet, my father pulled a slip of paper and began to read. "46A321B…."
Obviously me, mother and sister were perplexed, but probably identified that anew game was at hand. My father got my brother to read the serial number on the hundred dollar bill. The two sets of numbers were the same.
He had gone into my brother's wallet after the second time, and decided that my brother was holding onto the same bill. This way if anyone ever needed to borrow money, he could just flash the same $100.
Now, this was 30 years ago so I'm sure I have not provided a completely accurate account. But I'm sure of one thing. The spirit of the moment is true. My dad was testing my brother (and who won didn't matter). All five of us laughed, and in the end, we rejoiced that this was the unique way that my father and brother connected.
Mr. Rich
As for me, our connection crystallized on the train one day. My father was having a health issue, and I got the positive update as I was heading into the city. For good measure, my mother put Uncle Bill on the phone. He closed the pleasantries by saying, "Bye Mr. Rich."
I just took the words and let them sink in. I realized that this was the special platform that my father gave me.
You see, I'm not just the youngest in my family. Among the many cousins and family friends, I was very near to the bottom. Keeping up was an impossibility but this was my father's way of moving me to the front of the line.
In fact, unofficial initiation into the family required that new members pay heed to the place my father carved out for me. So the ring didn't really do the trick, it was when the new husband or wife felt familiar enough to call me, "Mr. Rich."
An Example for His Granddaughters
Unfortunately, Amanda and Samantha didn't really get to experience such things. The pictures provide a tragically brief moment and break my heart.
On other hand, my dad's circumstances do offer an example that cannot be discounted . My father's attitude never had us wanting for his pain. In other words, we were able to mourn, recover and persist over what we lost, because he didn't want us burdened by what he lost.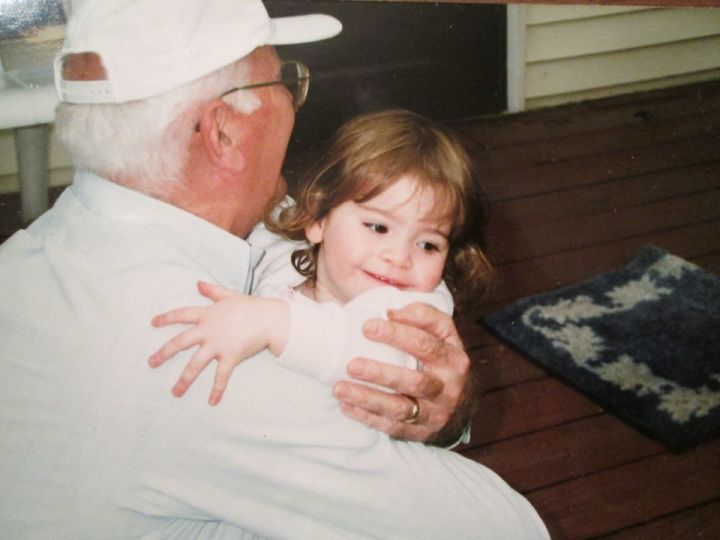 This I thought was going to change when he became bedridden. The notion of my father confined to a bed completely overwhelmed me. We've all seen those people. They politely wait for medical science to let them die. There is nothing worse.
Hearing this news, I could not get on the phone with him, and I believe my mother sensed this. But after a few weeks, she finally asked. "Do you want to talk to your father?"
I could not say no. And what do I hear, "Hey, Hey, Ok, Ok, Ok. Ok."
Like nothing happened, it was like just another day - put on the macaroni and give me the remote control.
What could I say, If this was a problem for him, I guess it wasn't a problem for me.
That was my father.