Know Everything about Banashankari 6th Stage- Bangalore Real Estate
know all about Banashankari 6th stage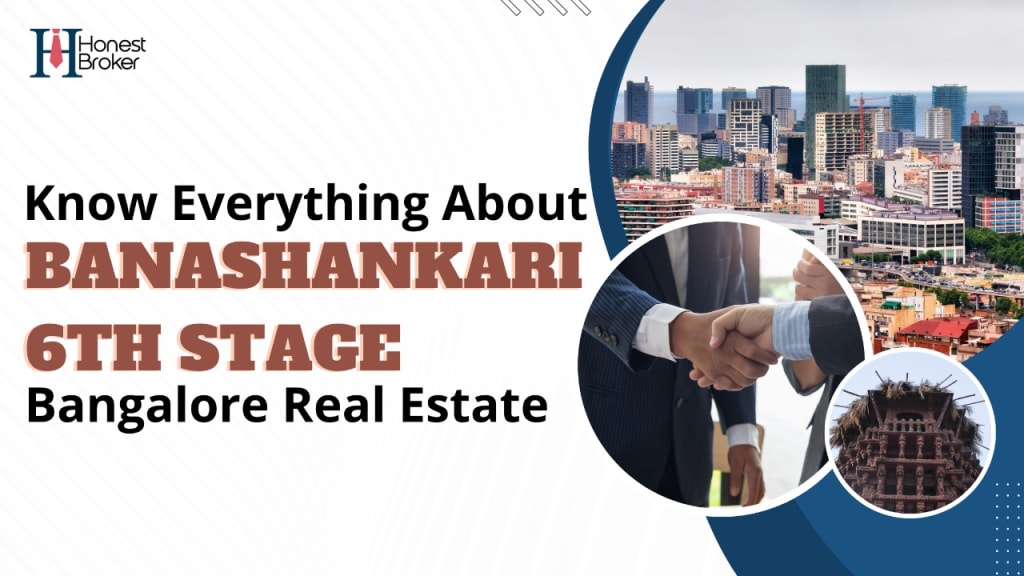 Introduction
Banashankari is a well-known area in South Bengaluru. It is located in an ideal area with all the amenities like schools, colleges, and hospitals. It also has good road access. We have spoken extensively about Banashankari's stages and locations. Below, I will concentrate on the Banashankari 6th Stage and its surrounding areas.
Availability of BDA Auction Sites For Sale
It is a bit far from the main locations, but the connectivity is excellent. People can connect to Bengaluru via the Metro. On the eastern side, Banashankari 6th Stage, you will find the famous Turahalli Reserve Forest, the main tourist attraction for Bangalore. Pavamanapura can be located to the South, Srinivaspur to the North, and Hemmigepura to the West. A 100-foot main road connects Kanakapura and Kodipalya. It is surrounded by Gubbalala and Ganagalla, Karyanapalya, Ganagalla, and Chikegowadanapalya. In 1999, the Bangalore Development Authority purchased Pattegarapalya. It has constructed almost 20,000 sites in 14 blocks. Most citizens were given plots of land to build their homes.
The Banashankari 6th Stage offers investors a variety of options. You have affordable options as well as elegant and more luxurious housing options. It is located in Bangalore Development Authority's most sought-after area. There are many parks around, the area has a lot of greenery. You can find the Turahalli forest, an excellent place for nature lovers, and the Bengaluru–Mysore expressway. Many people are looking at the available space as the area is well-suited for residential development.
1. Banashankari Metro Station
All amenities are easily accessible from the neighborhood. Excellent connectivity is available to all areas of Bangalore, as well as various transportation options. Long-distance driving by car is easy because the area is near the Bangalore-Mysore Expressway. You can get to and from Bangalore by bus or taxi. BSK 6th Stage is also within easy reach of the Phase 2 metro line.
There are many BDA plots for sale in Banashankari's 6th Stage. It is located in Bangalore's southern suburbs, as I have mentioned. There are large parks, the RV College for Architecture, and the planned Banashankari 6th-stage BDA development. It has a well-developed BDA layout and connectivity to the Metro.
BSK 6th Stage is a great place to live in Bangalore. It's also suitable for the next generation.
This area is new and well planned. It has a strong social infrastructure. You don't have to travel far to get essential services. There are parks, schools, markets, and hospitals within the area. Many small shops cater to daily needs and a local market. Residents of a community value the proximity to hospitals and medical providers. Here are some hospitals and healthcare facilities that are close by.
1. Banashankari Temple
Some attractions near this area include the Banashankari 6th Stage Park, the Turahalli reserve forests, and the ISKCON Temple, which is approximately 2 km away.
Because it is a growing neighborhood, there is plenty of growth potential. There are many housing options to fit everyone's needs. The area is also home to some new developments. New regional projects could be great investment opportunities as the site grows and connectivity improves. These areas will be highly sought-after due to the congestion in the city's central parts.
At Banashankari's 6th Stage, well-known developers keep their real estate projects moving at an impressive pace.
Prices for land at Banashankari are affected by many factors, such as
The cost of the property should be analyzed in light of its location, the development status (roads and parks, drainage, garbage collection), the area of the plot (corner locations fetch more people to build shops), the availability of amenities, the size of the plot and the value set by the BBMP.
1. Banashankari BDA Complex
Banashankari's sixth Stage is the largest among all BDA-formed layouts. It was formed in the mid-2000s and is still in its early stages. This area was developed 18 years ago by the DDA. It still lacks basic amenities. It is further divided into 15 sections. This vast neighborhood is bordered east by Kanakapura Road and Dr. Vishnuvardhan Road. To the west, NICE Road borders it. The famous Thurahalli hill, and the local forest surrounding it, are located in the middle of Banashankari's 6th stage. This is a tranquil, scenic area with rolling hills and vegetation. Many properties in Bangalore and BDA plots are available in the area.
Thank you
Reader insights
Be the first to share your insights about this piece.
Add your insights