I Need to Tell You Something
An Open Letter to Mom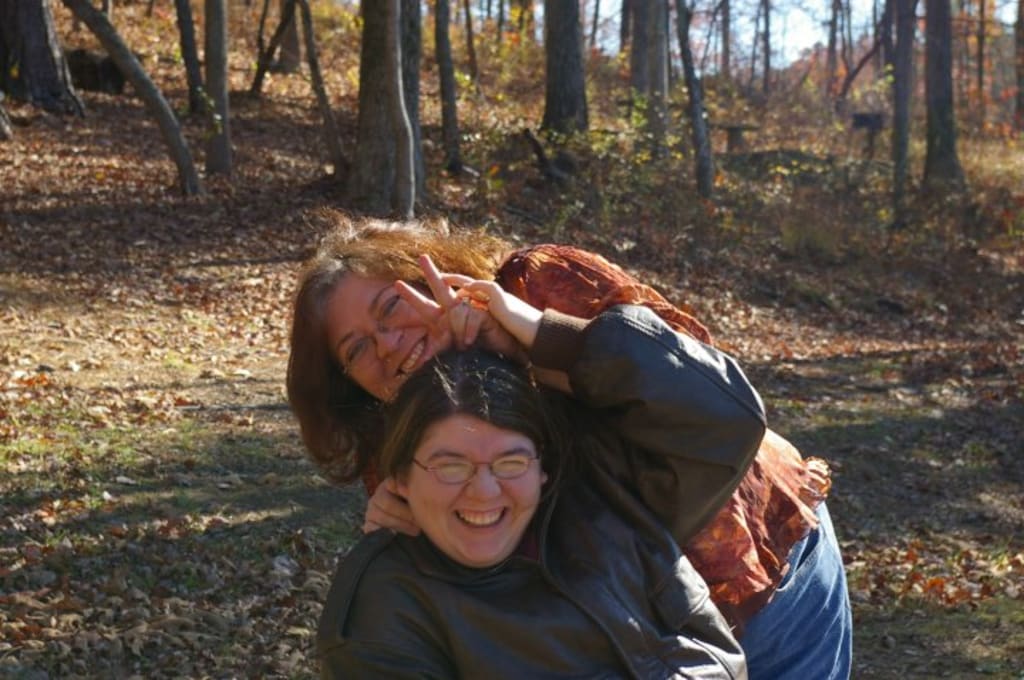 I hold the piece of paper in my trembling hands. The wrinkles from how often I crumpled the paper only to straighten it back out again as I changed my mind one more time making the material feel almost soft. I wrote this letter knowing that I would not be able to keep my thoughts straight without it. My mouth is dry, it feels as if I have inhaled sand and I lick my lips to try and get myself ready to speak. I know what I have come here to say today will be difficult. I look at the wrinkled notebook paper with its tattered edges from the spiral and begin to read.
"I came here today to talk to you. I came here to tell you everything. Throughout my life I have never been as forthright as I should have. I never told you that you are my hero. When I was little I didn't understand the strength it took for you to decide to leave and raise me on your own. I knew Dad wasn't the best man, but it never occurred to me that leaving was an option until you did. I never told you that the day you left I screamed and cried as the rental truck pulled away. I hated you for leaving me with my father. Not only did I hate you I missed you and needed you to come back for me. At 5 I didn't understand why you didn't tell me. I didn't understand that little children have big antennas but even bigger speakers. You were afraid I would tell Dad and you knew you would never make it out of that house if he knew you were trying to leave. You came back for me before too long but I ever forgot that feeling of abandonment and I never told you, but I resented you for years because of it. I watched you work yourself to the bone over the next 13 years. You worked 12 hour shifts in hospitals where no one cared about how tired you were or how much you hurt. 12 hours a day of doctors looking down their noses at your thoughts and recommendations because you were 'just a nurse'. You never complained you just put your head down and kept moving forward and I was a selfish child. I would complain about chores, dinner, and the fact that you weren't playing with me enough or helping me with enough homework. Looking back, I can't believe my actions; whether I was a child or not, and I never owned up to it and apologized for my younger self. I've never told you how much I began to admire your strength as I grew up and started to realize your sacrifices. I begged you for a sibling. I pressured you to find someone so you could give me a baby sister or brother or adopt. It never occurred to me that you were barely keeping your head above water with just me. I knew that Dad wasn't paying what he was supposed to, but you did such a good job of not showing how much you struggled because of it. For 13 years you lived in self-imposed isolation. You barely dated because your main concern was making sure that I grew up well taken care of first. You put your life on hold for me, a selfish, ungrateful child and I said thank you the first-time way too late. I see now what you sacrificed, how you struggled, the things that you suffered through wordlessly to provide me with a better life. I love you and I appreciate you more than you will ever know. Thank you for everything you did for me. Thank you for putting up with me and my selfish ways. I miss you."
Tears are streaming down my cheeks as I fold the paper and put it in my pocket, I know that if you could have heard me you would have stopped me in the middle of it and told me it was okay. You would have told me you loved me. My hand reaches out almost of its own accord and traces your date of death a mere 6 days after your 52nd birthday. "I love you mom." I whisper. "I wish I had told you this while you were still here."
immediate family
About the author
My name is Whitney and I have been an avid reader since I was 3. I am currently going to school to be an educator for elementary and collaborative students. I am also a painter and photographer. I hope you enjoy reading my work!
Reader insights
Nice work
Very well written. Keep up the good work!
Top insight
Heartfelt and relatable

The story invoked strong personal emotions
Add your insights