How to Volunteer as Family | Blake McCoy | Chicago, IL
Volunteering by yourself is fun but doing it as a family is amazing.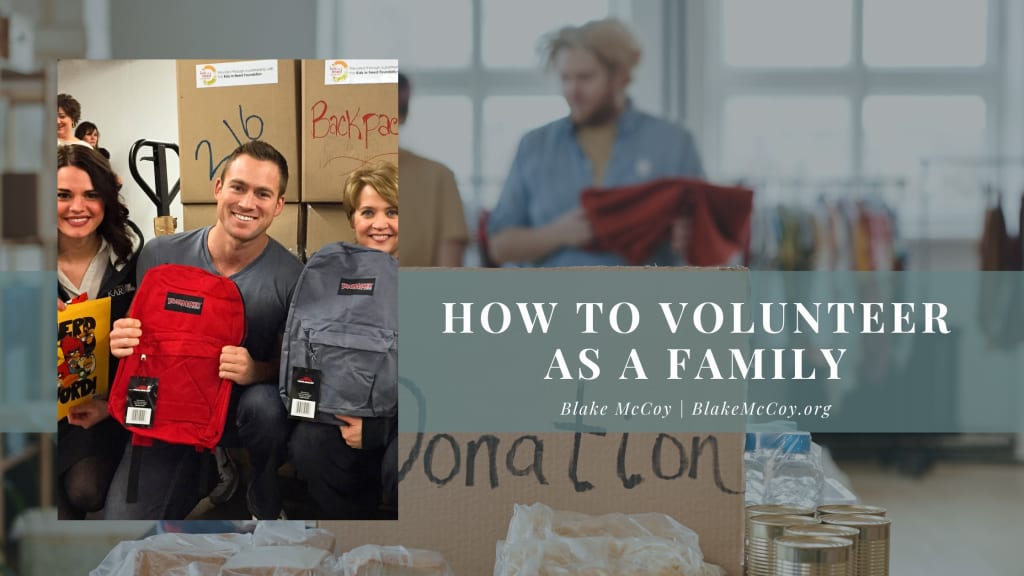 https://blakemccoy.org/how-to-volunteer-as-a-family/
Many families want to volunteer but don't know where to start and what to expect from the experience. Several websites help families find volunteer opportunities that are appropriate for their family. As parents and role models, it is essential to talk to children about the various causes they are interested in and encourage them to participate in the selection process. The best way to make a difference and have a meaningful experience is to volunteer in the following ways as a family.
Connect with Seniors
Although it may seem like a daunting task for parents to volunteer with young children, they can still make an impact by being themselves. Many programs help those in need, such as visiting a nursing home.
Through volunteering, children can develop a deeper understanding of people of all ages. They can also reduce their feelings of loneliness and joy when they visit the elderly. They're additionally less likely to hold negative stereotypes.
Make Homemade Cards
Although volunteering is primarily about serving others, it's also essential that children develop empathy. This is a critical internal motivator for people to make a difference. If your children are young or new to volunteering, you can start by making simple acts of kindness. Doing so can help them practice being kind to others. One of the most effective ways to practice empathy is by making homemade cards for those in need.
Food Donations
There are many jobs that children can get involved in while volunteering, such as preparing meals for the needy. It's also an opportunity for them to develop new skills and meet people from different backgrounds.
Get Active and Outside
There are also many fun activities that families can participate in, such as park clean-ups and tree planting. These activities allow children to have fun and improve their skills.
Getting active and outside can also help people raise money for a cause. Many events that have gone virtual can be supported by walking in your local area.
Host a Food Drive
A neighborhood food drive can also help strengthen your community. It can be conducted by inviting your friends and colleagues to join in, or you can use safe distancing techniques to encourage them to donate. You can also arrange the drive around the holidays.
About Blake McCoy
Blake McCoy has established a career as a skilled broadcast journalist. Blake has anchored top-rated newscasts in Washington, DC, Minneapolis, Las Vegas and Boise, ID. As a recognizable face delivering news to those communites, Blake McCoy has looked for ways to give back and highlight important causes. Blake also spent several years as a Correspondent for NBC News, traveling the country reporting for Nightly News, TODAY, and MSNBC. Alongside his professional career, Blake McCoy is focused on giving back and supporting his community. He is involved with multiple charities and organizations, both as a volunteer and donor. Blake has co-hosted the annual Susan G. Komen Twin Cities Race for the Cure, a Mother's Day event that raises millions for breast cancer awareness and research and draws more than 50,000 people.
Blake McCoy was also Ambassador for Dining Out For Life Minnesota, an annual event that partners with local restaurants to raise money for HIV/AIDS resources. In his role as Ambassador, Blake leveraged his position at KARE 11 to generate excitement and raise awareness. On the day of the event, Blake visited as many restaurants as possible to thank the owners, greet diners, and take photographs which were then used to promote the local restaurants. A symbiotic boost to everyone involved and an annual event that helped forge new ties within the community.
About the Creator
Blake McCoy is a dynamic, engaging broadcast journalist with a depth of experience. As a network news correspondent, Blake has traveled the country sharing stories of human triumph and tragedy, struggle and perseverance.
Reader insights
Be the first to share your insights about this piece.
Add your insights