His wings were ready; my heart was not.
Born to be Brandon Chrisan's mom and Kyle Deans too!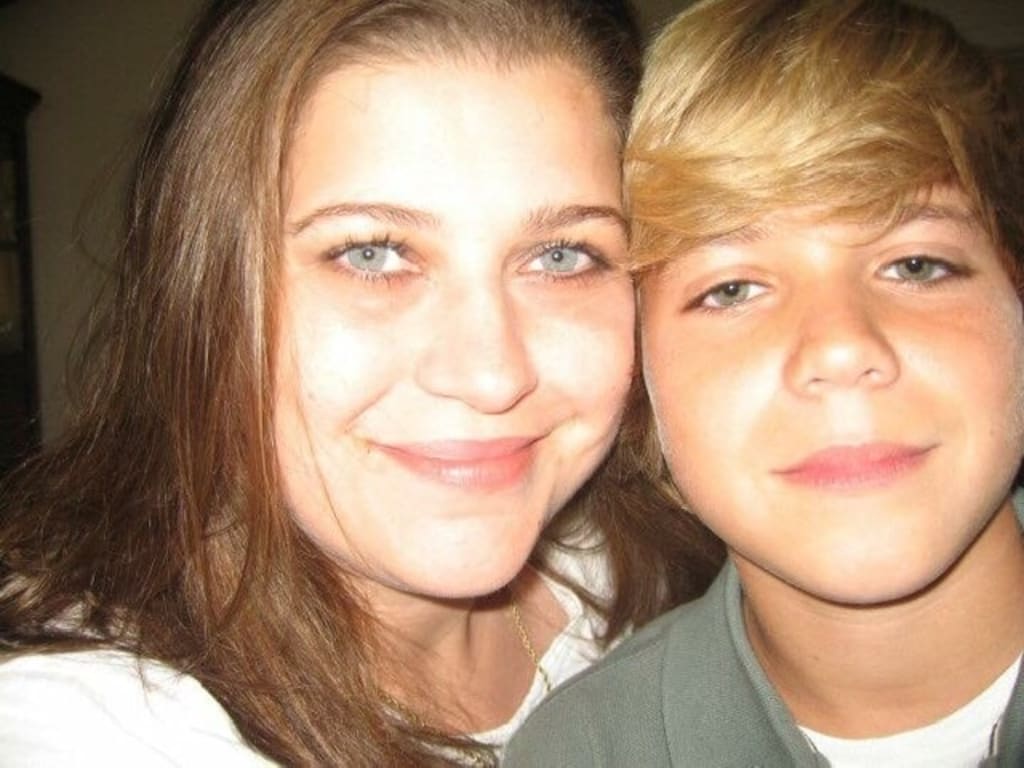 Our first story not our 1st pic
Hi readers I am Alexis, Brandon Chrisan aka Kyle Dean's mom2. I have been his mom2 since he was 5 years old. In each of my stories I am going to share about falling in love with my kid and left shattered from his senseless death. Let's face it, there really aren't too many books on a stepmom who's not wicked but smitten with her eldest boy on how to grieve if he should die before you? How to not pine for him? Cry for him? You will learn about the kind, funny, wore his heart on a sleeve Brandon. You will also learn about how I felt just like I had given birth to him never differentiating he wasn't biologically mine. And, hopefully at the conclusion of Born to be Brandon's mom and Kyle Dean's, you will hopefully feel as if he knew he was born to be my boy too. I will touch on the abuse I felt Brandon endured, the conversations of "He needs to come to Texas; Brandon needs to be heard and grounded, so he doesn't float away". The control, manipulation and bitterness fueled by alcohol and the lack of love he received when he wasn't home in Texas. I know everyone wants to know his cause of death and I will get there I promise. There are many facets to life, people never really think about. I am here to hopefully give a voice in this new club of being minus one kid here in this atmosphere. That tragic day, with a cold, callous stepdad with the words "Brandon's dead", to his mom2 of the exact time period of 17 years, 9-28-2018 was the worst day ever in my life and 17 years of being together with his dad. A bittersweet day I wished never had existed. Don't be too harsh on me, I am from Texas, and I haven't written in quite a while.
Brandon Jason Chrisan was born 08/25/1997 in Austin, Texas to my future husband Bill his dotting dad. (They are OMG twins) Brandon was a five when I became his stepmom. You see Brandon had moved to Florida with his birth mom and stepdad. We were married at the end of January and Bill his dad was taking monthly flights to see Brandon and getting videos for his mom2. March came and it was Spring break, I must admit I was nervous driving to the Airport to pick him up on his first solo ride on a plane. The drive was about 45 minutes, no awkward silence as Brandon was my talker and he liked me and felt so natural we were instant best friends. Truth be told I was only barely 20 and he was 5 almost 6 our age difference was a mere 14-15 years. We made it home I showed him to his room with his new stepbrother who was 18 months old; Pacey. And while I unpacked his suitcase Brandon walked to get his back pack, unzipped 2 pockets and said "Alexis I got you something!", I must admit I was stunned sitting in awe "he walks back to me on his tippy toes just like my new husband he opens his tiny hand and replies "I found this on the playground about a month ago", a silver toned metal beat up ring was presented to me, " dad got you a ring and I wanted to get you one too". He slid that ring on my right ring finger, an old metal ring with love engraved on it that is more valuable to me than my wedding ring and more beautiful than all other rings of this world. I cried while we hugged, not allowing him to see me cry but, it was happy tears. The only ring he would put on a woman's finger was at the age of 5, and how honored am I that he gave it to me his mom2. Do you know my 18-year-old son, Pacey can't keep up with his cell most days? Can you imagine a 5-year-old keeping up with a ring for a month? I bet you he looked and made sure the ring was where he put it daily. My son was not born of my womb but, more importantly born of my heart. I fell in-love with my tippy toe, turned up nose, looks like my husband spit him from his mouth, blonde haired comic, ladies' man! My Brandonanna and I was Alex. I always joke with Bill his dad, his hero, his first question each phone conversation, "Alexis how's my dad?" He was a daddy's boy until he met his mom at 5. I hope you enjoyed my first piece on our mom and son relationship and the fall out will soon be reached. His wings were ready; my heart was not.