Dad's Barbeque Ribs
Don't touch that meat, boy!
What does summer taste like to me? Naturally when I was a child, summer meant the taste of freedom, except for when we had to work on those school books over the summer, and I'm not talking about the reading. It meant no more tyranny from school. It meant being able to stay up late, sleeping in till noon, late night fishing with Dad (mosquito bites included), mowing the lawns on other days than the weekend (cutting some green to earn some green, ka-ching!), summer band classes, and of course barbeque.
My Mom always told us that Dad didn't know how to barbeque, that was until he met an older gentleman that befriended both of our parents. Whenever Dad would boast about his grilling skills, Mom would have to humble him and ask him where he learnt the trade. Even when a professional chef has tasted Dad's barbeque before, he told Dad, "You have a well seasoned grill. I know that it would personally take me and my kitchen staff well over three hours just to get a fraction of that flavor imbued in it."
That being said, Dad's barbeque skills were all in thanks to a kindly man that I remember as a child. I only have memories of him from my childhood being that was the last time I saw him before he passed. Sad to say, the last memory I had of him was when he babysat for the evening. The next day when I woke up, rubbing the sleep from my eyes, racing downstairs to meet him, I couldn't find him anywhere in the house. Whether or not my memory serves me as correctly as the history does with him, deep in my heart as a child I knew that was the last night I spent with him.
Over the years we would always joke about his teaching methods when it came to barbeque. As sort of an homage to him, whenever grilling we would always say, "Don't touch that meat, boy," whether grilling together or alone.
Dad told me that the story between the two goes like this.
They were both sitting outside on the back porch one day. The sun is shining in the afternoon day, and the charcoal grill was a alit, with smoke rolling out the stack. Dad had just gotten up, and had practically committed a sin in front of Original Griller's eyes.
Ashamed at what he had just seen, he asked my Dad, "Did you just flip that meat again?!"
My Dad in turn, responded, "Uh, yeah. The smoke was rising from the stack. It looked like it needed to be flipped."
The Original Griller in turn said to my Dad, "Don't touch that meat, boy! You gotta let it get nice and smokey. If you don't it'll all be flavorless. Even without salt and pepper, the grill does wonders."
And from there, that phrase along with patience has always been adopted when it comes to grilling our food. From chicken, to hamburgers, to lamb, fish, and the amazing blessing of ribs; by submitting control over to the grill, the smoke, and patience itself, our food has always been flavorful even without the simplest of spices such as salt or black pepper.
Summer barbeques have always been a favorite of ours, but the main dish that would help to bring us all together was when Dad would barbeque full slabs of ribs.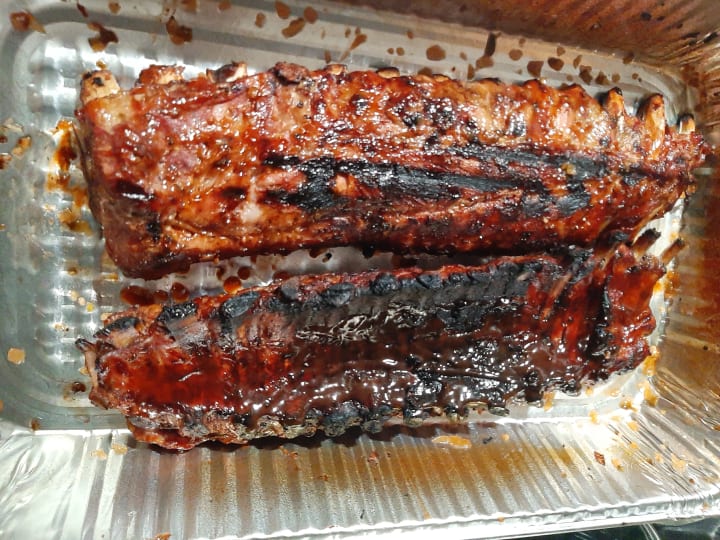 Served with green beans, grilled corn on the cob, nice cool watermelon, and even freshly picked strawberries from the garden bed, Dad's smoked barbeque ribs were always one of the best delights of summer's long days.
Falling off the bone, so tender you wouldn't even have to use a knife to cut through them, something so delicious with the "bone-in" would easily become "boneless" when you would try to grab a rib for yourself by the bone. From just eating the ribs themselves, to making rib sandwiches, to having pulled pork that would pair with tacos, a main dish that signaled the smell of summer, was the homage to the Original Griller, Dad's barbeque ribs.
immediate family
About the author
Thank You for stopping by. Please, make yourself comfortable. I'm a novice poet, fiction writer, and dream journalist.
https://www.instagram.com/thavienyliaster/
https://www.youtube.com/channel/UC1X7ig3Q3wJ01x3smSfcqiQ
Reader insights
Be the first to share your insights about this piece.
Add your insights