Celebrating father's day
Best gift for Dad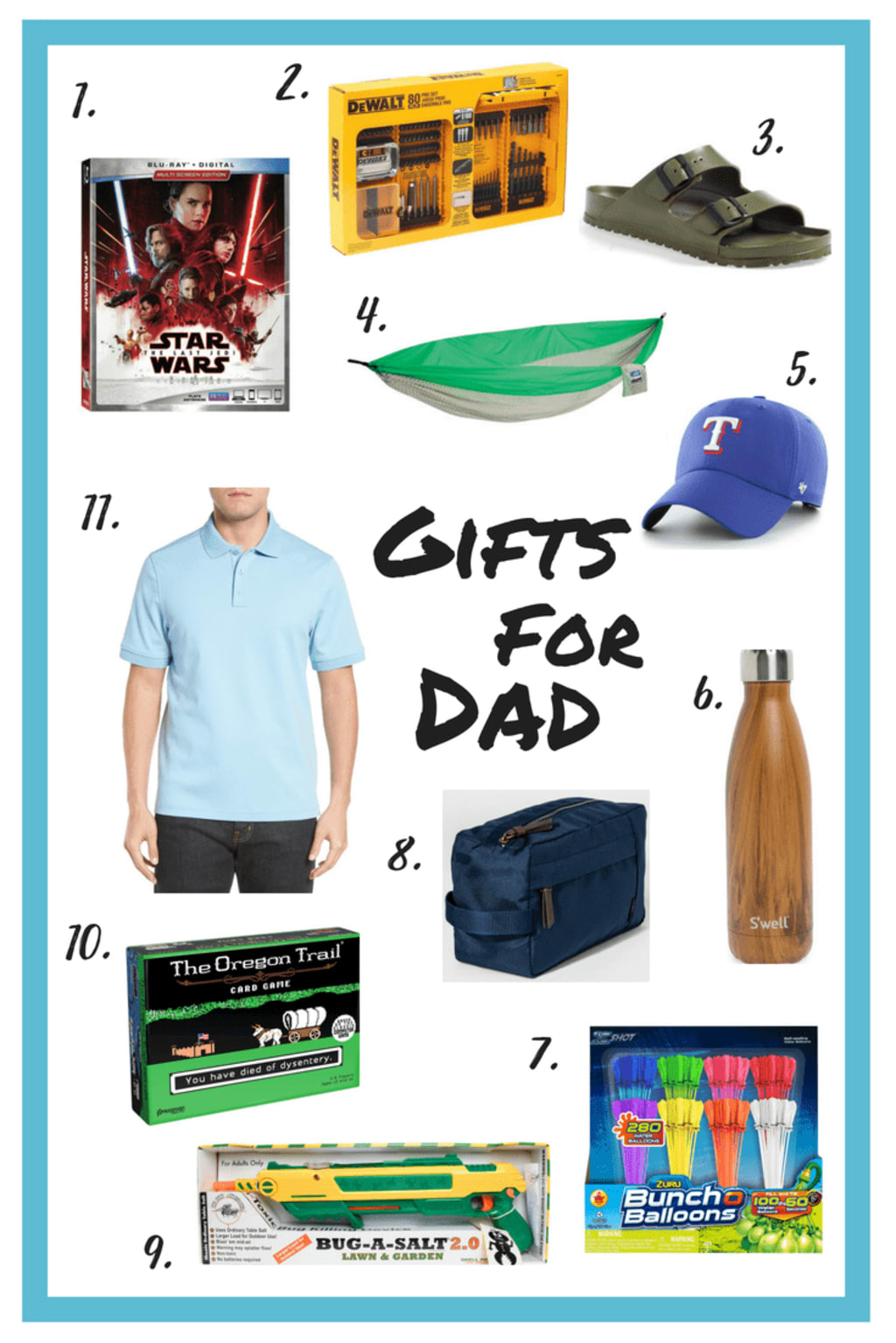 Title: Celebrate Father's Day with the Top Gifts for Dad
Introduction:
Father's Day is a special occasion to honor the amazing dads in our lives and show them our appreciation. Finding the perfect gift for your dad can be challenging, as you want to choose something thoughtful and meaningful. To help you out, we've compiled a list of the top gifts for dad that are sure to make him feel loved and valued. Whether he's a tech enthusiast, a grill master, or a sports fan, these gift ideas are designed to cater to various interests and make this Father's Day truly memorable.
1. Personalized Gifts:
One of the most heartfelt ways to show your love and gratitude is by gifting your dad something personalized. Consider customized items like engraved watches, personalized photo frames, or monogrammed leather accessories. These gifts add a personal touch, reminding him of the special bond you share.
2. Tech Gadgets:
If your dad is a gadget lover, there are plenty of exciting options to choose from. Consider the latest smartphones, tablets, or smartwatches. Other tech gifts like noise-canceling headphones, wireless speakers, or even a smart home assistant can enhance his daily life and provide endless entertainment.
3. Outdoor Gear:
For dads who enjoy spending time outdoors, gear that complements their hobbies or interests makes for an excellent gift. Whether he's into camping, hiking, fishing, or cycling, consider a high-quality tent, a durable backpack, or a new set of fishing rods. These items will allow him to pursue his passions with top-notch equipment.
4. Gourmet Treats:
Delight your dad's taste buds with a selection of gourmet treats. Consider a gift basket filled with his favorite chocolates, exotic coffee blends, artisanal cheeses, or premium wines. If he's a cooking enthusiast, a cooking class or a subscription to a gourmet food delivery service could also be a great choice.
5. Sports Memorabilia:
For sports-loving dads, sports memorabilia is always a hit. Consider getting him a signed jersey or memorabilia of his favorite athlete or team. If he's a golfer, a set of personalized golf balls or a golfing experience at a prestigious course could be an unforgettable gift.
6. DIY Kits:
If your dad enjoys hands-on activities, DIY kits can be both fun and practical gifts. From woodworking kits to brewing beer at home, there are numerous options available to cater to his interests. These kits provide an opportunity for him to learn something new and enjoy a rewarding experience.
7. Relaxation and Self-Care:
Everyone deserves some relaxation and pampering, including dads. Treat your father to a spa day, a massage session, or a luxurious grooming set. Alternatively, consider a subscription to a meditation app or a comfortable recliner where he can unwind and enjoy some well-deserved relaxation.
Conclusion:
This Father's Day, celebrate the extraordinary man in your life with a gift that reflects his passions and personality. The top gifts for dad mentioned above offer a range of options to choose from, ensuring there's something to suit every dad's taste. Remember, the most important aspect of any gift is the thought and love behind it. By selecting a gift that resonates with your dad's interests and shows your appreciation, you'll make this Father's Day a truly memorable one.
Personalized Gifts for Dad: Show Your Love and Appreciation
When it comes to expressing our love and gratitude, there's no better way than through thoughtful and personalized gifts. And when it comes to dads, they hold a special place in our hearts. Fathers are our superheroes, our mentors, and our biggest supporters. So, why not surprise your dad with a personalized gift that truly captures your admiration and appreciation? In this article, we'll explore some wonderful personalized gift ideas that will make your dad feel extra special on any occasion.
1. Customized Engraved Watch:
A classic and timeless gift, an engraved watch adds a touch of sophistication and sentimental value. Choose a stylish watch and have your dad's initials or a heartfelt message engraved on the back. Every time he glances at the watch, he'll be reminded of your love and the special bond you share.
2. Personalized Photo Album:
Collect precious memories and create a personalized photo album for your dad. Gather old photographs, both candid and posed, that capture beautiful moments shared with him. Arrange them in a creative and chronological manner, and add captions or handwritten notes to make it even more meaningful. This gift will surely evoke nostalgia and warm his heart.
3. Customized Whiskey Glass Set:
If your dad enjoys a glass of whiskey or any other favorite drink, consider gifting him a customized whiskey glass set. Have his name or initials etched onto the glasses, along with a special message or a quote that resonates with him. It's a perfect gift for the whiskey connoisseur, and each time he raises a glass, he'll remember your thoughtful gesture.
4. Personalized Leather Wallet:
A wallet is an essential accessory for any man, and a personalized leather wallet adds a touch of elegance and sentimentality. Choose a high-quality leather wallet and have your dad's initials or a heartfelt message embossed on it. It's a practical and stylish gift that he'll use every day, reminding him of your love and appreciation.
5. Customized Wall Art:
Decorate your dad's living space with customized wall art that reflects his personality and interests. Whether it's a family portrait, a motivational quote, or a painting of his favorite hobby, personalized wall art adds a unique touch to any room. Get creative and design something that resonates with your dad's taste, and it will surely become a cherished piece in his home.
6. Personalized Grilling Set:
For the dad who loves to grill and savor delicious barbecues, a personalized grilling set is a perfect gift. Engrave his name or a special message on the grilling utensils and present them in a stylish carrying case. It's a practical and thoughtful gift that will make his grilling sessions even more enjoyable.
7. Customized Sports Jersey:
If your dad is a sports enthusiast, consider gifting him a customized sports jersey of his favorite team or player. Have his name or lucky number printed on the jersey to make it extra special. It's a gift that combines his love for sports with a personal touch, and he'll proudly wear it during game nights or when attending live matches.
Remember, the key to a successful personalized gift is to tailor it to your dad's interests, hobbies, and preferences. Consider his personality, his passions, and the moments you've shared together. The effort you put into choosing a thoughtful and personalized gift will surely touch his heart and strengthen the bond you share.
In conclusion, personalized gifts for dads are a wonderful way to express your love and appreciation. Whether it's a customized watch, a personalized photo album, or any other thoughtful gift, the personal touch will make it all the more special. So, on your dad's next birthday, Father's Day, or any other occasion, surprise him with a
gift that reflects his uniqueness and shows how much you care.
Reader insights
Be the first to share your insights about this piece.
Add your insights