A Calm Birthing Despite Unexpected Turns
Little B's Birth Story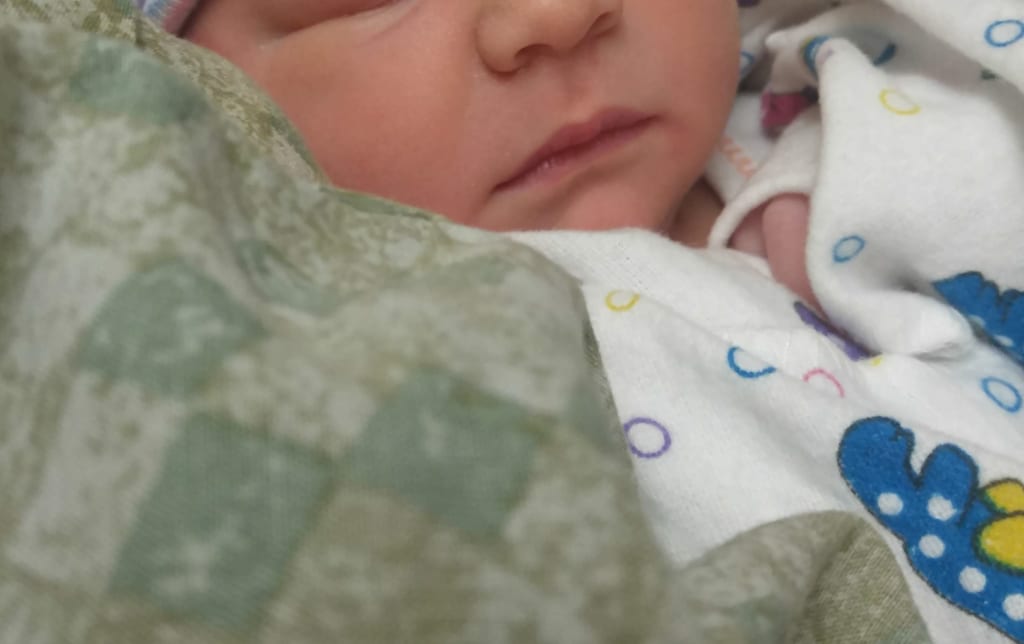 I had a beautiful first pregnancy. After a first trimester with very mild to no nausea and mostly fatigue, I made a point to enjoy every moment. I got into hypnobirthing (by myself, no classes) quite early on, during my fourth month. It involved daily meditation and relaxation sessions, which helped me stay positive and approach my birthing with very little fear (and giving birth had actually been my biggest fear for years beforehand).
I had been hoping that labor would start early so the wait felt endless. I found out afterwards that if we count a pregnancy in 40 weeks here in the US, back home in France, it's 41 weeks. I wish I had known that at the time—one week being quite long towards the end! In addition to an early labor, my dream birthing didn't involve any artificial hormones or epidural. Still I chose to deliver my baby at the hospital, you know, just in case.
June 19th—my due date! And baby boy was still showing no signs of wanting to reveal his sweet little face. In case this would happen, we had already chosen a date for an induction, as late as possible, on June 27th. I'm not sure if I can explain it rationally, but I didn't like the idea of being induced, I would much rather my baby chose his birthday and arrived when he was ready (without being put at risk of course).
My mum arrived from France just a few days later. It was not the plan for her to see me still pregnant, but we were both happy about it. I hadn't been feeling any contractions and my excitement and my impatience were growing.
June 27th arrived—the big day. We had to be at the hospital at 6 AM for the induction. We had shared this date with our friends and family—but I left Mr. S in charge of all the communication starting the night before. I actually didn't even to turn my phone on to make sure I would remain focused and calm.
We arrived at the hospital to hear a nurse tell us that they left me a voice mail a couple of hours earlier... it turned out a lot of women had showed up in labor the night before. All the inductions planned that day were being postponed because there was no room available any more. Some would say it was because of the full moon. The nurse told us to check again with her an hour later. We waited at the hospital for a few hours, we even watched some French stand up comedy.
At about 9:30 AM, there was still no room for me and we were told to go home, that the hospital would call us. Being farther along in my pregnancy than the other women that were supposed to be induced that day, I would get the first room available. I didn't let it get to me, but I also didn't want to go home. I was still surprisingly calm and so ready for things to happen. So we went to that quaint Vietnamese place to get that banh mi I had been craving for days. I almost got a foot massage, but the hospital could have called at any point. We went shopping, one store after another to kill time. Hours went by and still no call.
Around 4 PM, I was getting pretty tired and we decided to finally go home so I could get some rest. Two hours later, after unsuccessfully attempting to nap and trying to distract myself with video games, something happened. Nope, not a call from the hospital… my first contractions! They very quickly became intense and five to 10 minutes apart, so another two hours later, we were heading to the hospital.
We were shown into the delivery room as labor was progressing well. What my body was going through felt very intense and draining. Thanks to the relaxation exercises that I had practiced during my pregnancy, I was able to focus and regain some energy between the contractions. After several hours though, I was feeling so exhausted that I asked for an epidural. I must confess that I had been more worried about the epidural than labor itself (hello needle!). As I'm writing these lines, I don't remember what it felt like any more. The epidural brought me some relief, but (consequence or coincidence?) my contractions started to space up. I agreed to be given pitocin to get back on track.
The moment had then come for our little one to join us. I started pushing and the nurse said that I would have my baby in my arms 30 minutes later. 30 minutes passed, and another 30 and baby was still not there. In addition to repetitively hearing "oh, he has a big head," sensations had returned to my lower back. I started voicing my discomfort, to which the doctor would only reply to push the button to add a dose to the epidural, which felt totally useless to me. She also wanted me to take a break from pushing since nothing was really happening, but my lower back was getting way too uncomfortable if I stopped.
Eventually, the doctor realized that there was no medication left in my epidural, explaining why pushing that button wouldn't help. When the anesthetist arrived, he was not happy to see that my mattress had been benefiting from the epidural more that I had. The epidural had in fact been disconnected for a while. He fixed it and refilled it. Soon after that, after a total of three hours of pushing, the doctor suggested helping with the forceps. Completely exhausted and even if the epidural had not kicked in again yet, I agreed.
Our perfect baby boy was finally born at 6:18 AM, probably so exhausted himself that he didn't even cry for a few moments.
Despite the unexpected circumstances, I absolutely did not experience it like a trauma. I rather went through an intense and extremely exhausting event and I am proud that I never gave in to panic.