5 Celebrity Children With Very Expensive Phones
We can't be jealous of kids, right?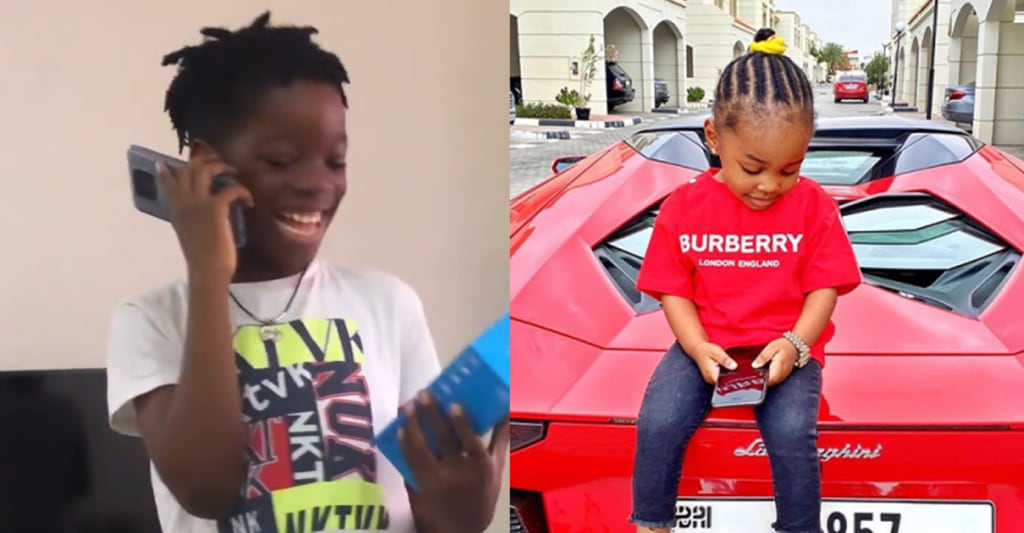 We aren't allowed to be jealous of kids right? Alright, just checking. This post really had to make me ask.
While many Nigerians including myself are using cheap or regular-priced smartphones, some of Nigeria's top celebrities' kids are prancing around with very expensive phones, phones that are way out of most people's price points especially in this economy, and you know me, if I see something that I find interesting, I have to come and share it with you.
Today, we'll be counting down 5 Celebrity Children Who Are Currently Using Very Expensive Smartphones. Are you ready to count down the list with me? Then let's go!
**Before reading on, please make sure to like and follow my Facebook page (Jide Okonjo) so you don't miss out on any new and interesting lists, articles, and stories that I post every single day. I have a really fun page. If you like my page, you will have fun too. So what's stopping you? Like my page and let's have fun together!
1. Love Johnson Suleman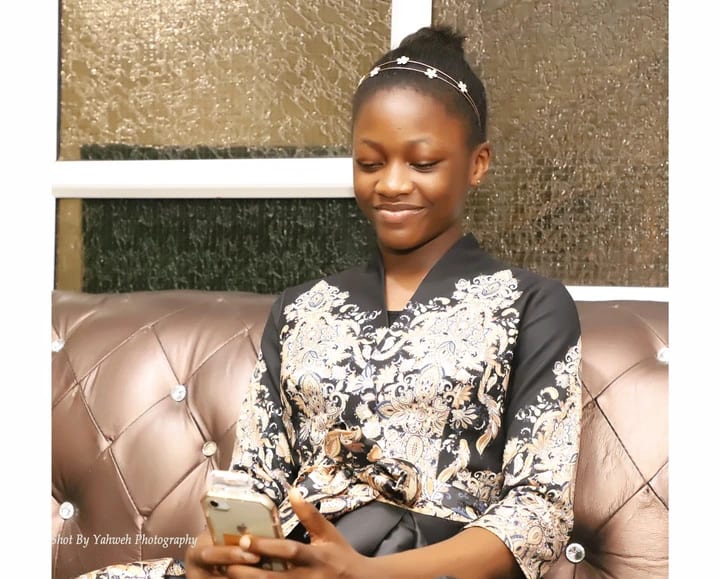 Apst. Johnson Suleman came under fire when on his daughter Love Johnson Suleman's 12th birthday, he posted a picture of her using an iPhone 11. People on the internet didn't take a liking to this with one user writing explicitly: '12 yrs and she's already using iPhone 11. This is not a good parenting at all.'

The iPhone 11 currently retails at around N337,000 in stores.
2. Boluwatife Balogun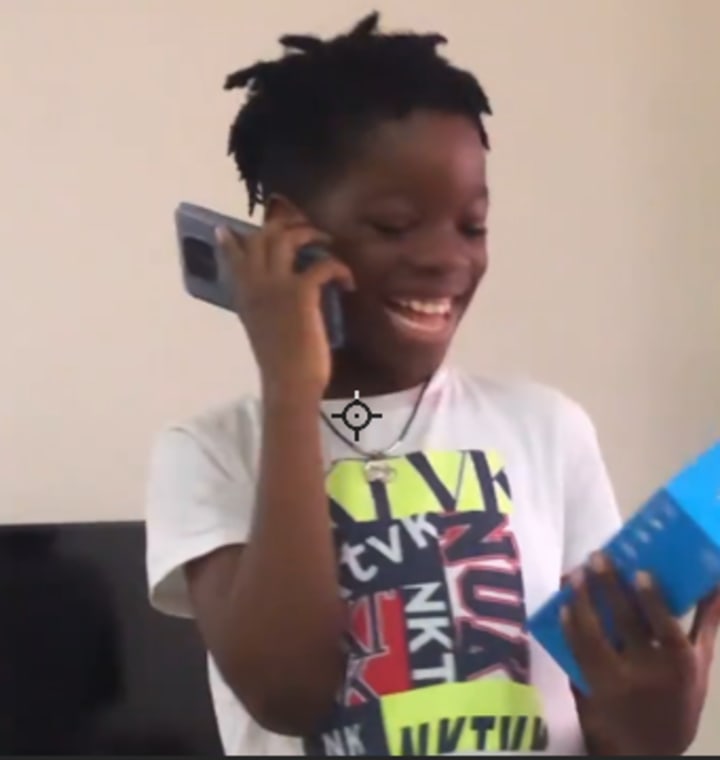 Nigerian mega superstar singer Wizkid's son Boluwatife Balogun took to Instagram in February to express to the world how he cracked (not broke btw) his phone and had his father immediately send a new model replacement to him under 24 hours. Boluwatife wrote on Instagram:
Hey Everyone 👋🏽

Throwback to when I mistakenly cracked my previous @tecnomobileng and my DAD came through with the latest TECNO CAMON 16 Pro in less that 24hours... That sure put smiles on my face 😬 Thanks Dad, You're the best 💙 and as we all know

Life is good with @tecnomobileng 👍🏽
The Tecno Camon 16 Pro currently retails at N125,000 in stores.
3. Kosi Igboegwu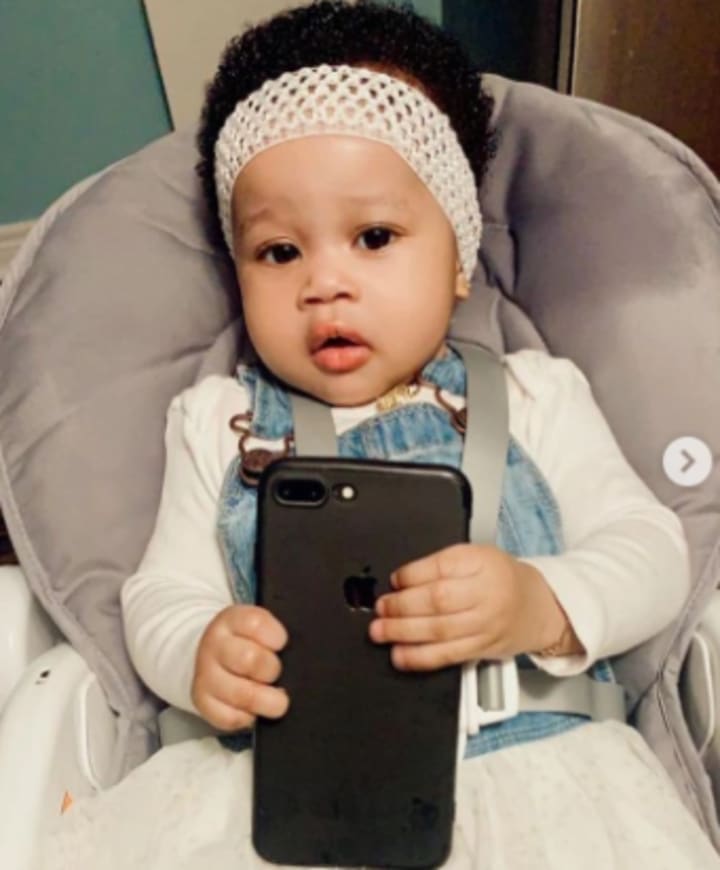 Nollywood actor Browny Igboegwu took to Instagram to show off a picture of his daughter who received an iPhone 8 Plus as a generous gift from an aunty who chose to remain anonymous. Browny wrote on Instagram saying:
My Angelic daughter Chief miss Kosi @kosipearl_browny got a gift of iPhone 8plus from an Aunty who chose to be anonymous. Pls help me say a little prayer for this Aunty. May God grant her her heart desires in Jesus name Amen

4 & 5. Mompha's Son and Daughter.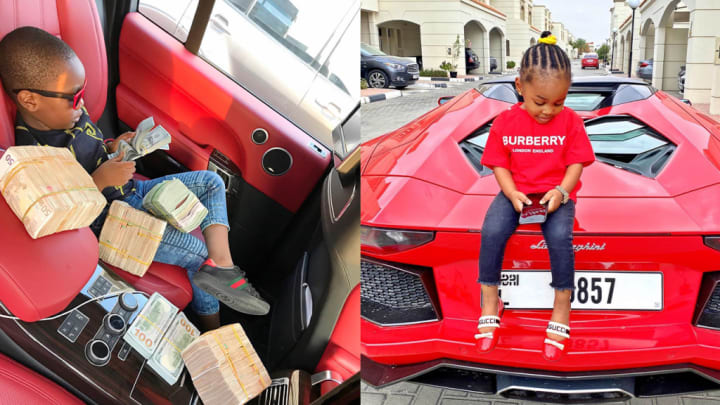 It's no news that Mompha is a man that likes to show off. One way he likes to really show off is through the gifts he buys for his children. In 2017, when his son was only 4 years old, Mompha bought and presented to him an iPhone X worth N560,000 at the time of purchase.
His daughter as seen in the picture above also uses quite an expensive phone as seen in the picture above. The exact nature of the phone is not yet known but people speculate from the picture that it is a Samsung Galaxy phone.
Nawa, all of this and I don dey manage this small phone now for almost four years. This life truly no balance 😂
That's All.
I hope you've had fun. Don't forget to like my page (Jide Okonjo) if you don't already for more stories like this, the fun never ends!
To catch up on other content you might have missed, click here.
Until next time, have a wonderful rest of your day.