Who Will Slay The Beast?
The Special Ed Committee was witness to the disconnect between the LAUSD Bureaucracy and parents of children with Special Education needs.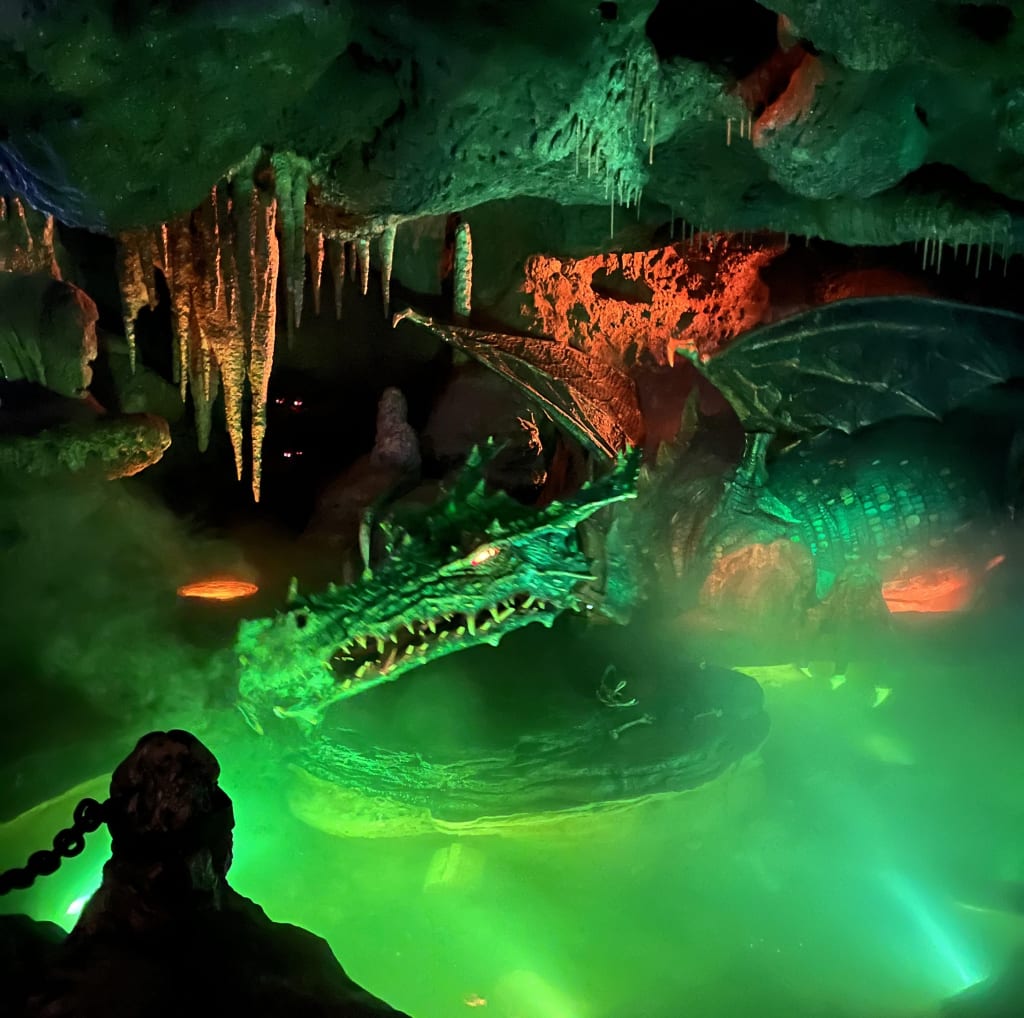 This beast lives beneath Le Château de la Belle au Bois Dormant, at Disneyland Park in Disneyland Paris
"The beast shows up in every corner of LAUSD but nowhere is it more damaging than with the special ed community."

- Tracy Cook
Last week's meeting of the LAUSD Special Education Committee followed the same usual format. First, the District bureaucrats gave a presentation about how well they are performing. Questions were then allowed but in most cases were only answered with cursory responses. There was no real feeling from this Committee Member that there was any real exchange of ideas.
Next up were presentations from schools whose representatives seemed chosen to exemplify how well they followed the bureaucracy's mandates. This was followed by another unfulfilling Q&A session for the committee members.
Finally, it was the public's time to speak. Not surprisingly, the tone of these comments was in stark contrast to the message that had just been delivered by the District's staff. Apparently, when you look behind the curtain, things are not as rosy as the LAUSD would like the committee to believe.
The problems faced by the families of our most vulnerable children were summarized in the next-to-last comment by education activist Tracy Cook. Cook, whose successes include helping to save CTC West from being evicted from the Fairfax High School campus by Nick Melvoin, gave a name to the unyielding bureaucracy, it is The Beast:
Good evening board members and committee,

My tenure as an engaged parent in LAUSD began in 2007. I worked with parents, teachers, and administrators at my son's school, then organized stakeholders to amplify needs so that we could come

together and build a supportive, enriched school environment. Obviously, I talked then and now to a lot of parents

It was early into my journey that I heard about the Beast at LAUSD. The Beast blocks the good in classes. The Beast marginalizes the issues. The Beast misdirects parents and teachers to dead ends.

The Beast is not limited to an elected board member, a

hired superintendent, or even a rogue department head. The Beast is a willful shirk of responsibility. The Beast is a "Not-My-Problem" attitude. The Beast is an "Oh well, what are you gonna do" mindset.

Because I was that parent, the one who asked parents how it was

going and really wanted to hear the answer, I had parents let down their hair and get real with me. What I know is The beast shows up in every corner of LAUSD but nowhere is it more damaging than with the special ed community.

Early on I heard about the issues around Special Ed and IEPs. I would find the parent who had navigated the problem and then go to the new parent and have those two parents talk. It might have taken me a little time, but it was worth it because I wanted to help.

What I learned was Inevitably the answer was usually one solution;

"Get a lawyer." Why should a parent of a special ed student who is already more burdened in so many ways resort to 'get a lawyer'? It is because of The Beast.
The Beast that Cook described had been on full display during the meeting. When asked to describe the difference between Behavioral Intervention Implementation (BII) specialists provided by the District and those contracted through outside agencies, Dr. James Koontz, the LAUSD's Coordinator for Moderate/Severe Instruction and LRE Programs, slipped in his opinion that:
"having an adult with you all day long can be...a very limiting thing for students. They start to lose their voice, they start to lose those self-advocacy skills if they had them, and they sometimes don't develop those skills."
This is an overly simplified statement that seems more useful in discouraging parents from demanding a very expensive service than in helping students who are struggling. As I reminded Dr. Koontz, when done correctly a BII can help a student to find their voice. They can teach as they guide the student through the classroom experience. That was my experience with my two daughters, who both had the benefit of having a non-public BII.
Sure enough, one of the callers during public comment alleged that the LAUSD is telling IEP teams "that they have no authority to give even the most needy of child a dedicated one-to-one district aid." A parent stated that "a lot of times IEP teams are limited as to the decisions and support that they can provide students and we parents often have adversarial relationships because the schools have a limitation." Another complained that the IEP team unilaterally got rid of a "support that [she] felt was necessary for him."
Cook offered a solution to defeating The Beast:
The antidote to The Beast is Authentic Warriors. People who are principled and slay weaponized cynicism, or worse, apathy, which The Beast thrives on.

I am asking one human on this board to sponsor the proposed "Improving Special Education Within the LAUSD" resolution so that it can move forward for the parents who are not even here yet, the parents who will go to their pediatrician today who will tell them there is something 'wrong' with their child. Those parents need someone now to stand up for them. Who will do it? Or will you let The Beast win another day?
Also, addressing the Committee on behalf of the proposed resolution was my wife, Nicole Petersen:
Your colleague and my husband Carl Petersen have asked that his proposed resolution "Improving Special Education within the LAUSD" be presented to the Board for a vote. Carl and I will be married for 15 years next month and my girls were 6 when he met them. He never had experience with a special needs child, let alone 2 of them. He has taken on the challenge of being an amazing father to my girls and also helping all of our most vulnerable children. This is why I am here to share a story of why this resolution is so important:

When I was told at the age of 25 that I was having triplets it was exciting and scary. When my girls were 2 I was approached by their preschool teachers that we should have them evaluated by the Regional Center for learning disabilities. We went through the motions and my girls were enrolled in services.

Fast forward to when it came time to finish preschool and enter kindergarten. My daughter Zoey had already been diagnosed with Autism but Morgan was given the diagnosis of pervasive developmental delay. As preschool was coming to a close, I persisted and asked for another eval and she was re-diagnosed with Autism. Looking back I now wonder if she missed out on services due to this delay in diagnosis.

Kindergarten came and for the 1st time in a very long while all 3 of my girls were able to be on the same campus. Morgan was able to be in a general education room with a full-time aide and she did ok. She needed multiple breaks throughout the day and had to sit near the back of the room for when she needed those breaks. I was grateful to her teacher for including her in the class and activities even if it was difficult. I do believe that having Morgan there taught the other children about people with different abilities.

The year ended and it was time for the dreaded IEP. I coached myself because I knew that an inclusive environment was not going to be the right fit for Morgan. She was not reading at the same speed as the other children and she still needed those multiple walking breaks which I knew were disruptive. I didn't want her interruptions to impede on the other children's time and also the teacher's. I looked to the professionals for guidance and felt that they did not listen to my concerns. They told me, "let's try until winter break and see how it goes", so I felt pressured to sign because I trusted them.

First grade started and it was an immediate disaster. Morgan was overwhelmed and even though she had the same aide she spent more time out of the room than learning. Right after Thanksgiving another IEP was held and Morgan was moved to a special day class where she could grow, learn and build a foundation of who she is today.

Carl and I have attended more than our fair share of IEPs, together and separately, along with Due Process hearings, etc. I believe that this resolution would allow our parents and educators to become more cohesive collaborative partners which would make the IEP process less dreaded and possibly even celebrated over accomplishments.
Board Members Scott Schmerelson and George McKenna, who have both declared their intentions to run for reelection in 2024, were present for these comments. Jackie Goldberg, who specifically ran on a platform of supporting children with Special Education needs, also attended virtually. They all heard the pleas of parents under siege from The Beast. Will they sponsor this resolution or will they leave these families to fend for themselves?
____________________________
Carl Petersen is a parent advocate for public education, particularly for students with special education needs. He was elected to the Northridge East Neighborhood Council and is the Education Chair. As a Green Party candidate in LAUSD's District 2 School Board race, he was endorsed by Network for Public Education (NPE) Action. Dr. Diane Ravitch has called him "a valiant fighter for public schools in Los Angeles." For links to his blogs, please visit www.ChangeTheLAUSD.com. Opinions are his own.
About the Creator
Carl Petersen is a parent advocate for students with SpEd needs and public education. As a Green Party candidate in LAUSD's District 2 School Board race, he was endorsed by Network for Public Education (NPE) Action. Opinions are his own.
Reader insights
Be the first to share your insights about this piece.
Add your insights