Need Help with Your English Literature A-Level?
'The Importance of Being Earnest'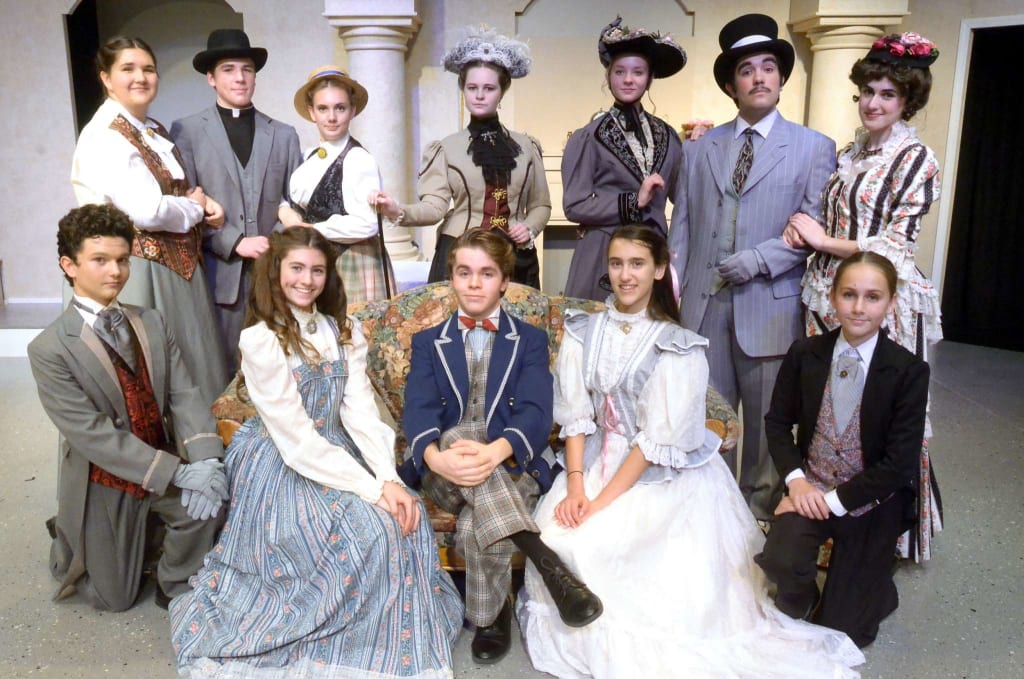 Photo by Mustang News
Are you struggling with your college A-Levels and need an extra something to help you along the way?
Well look no further, in my posts you will find useful insights, information and tips on 6 well known pieces of literature, including:
Twelfth Night by William Shakespeare
The Importance of Being Earnest by Oscar Wilde
Frankenstein by Mary Shelley
The Handmaid's Tale by Margaret Atwood
Wuthering Heights by Emily Bronte
The Bloody Chamber by Angela Carter
Ok, so lets get started with Oscar Wilde's famous comedy play: The Importance of Being Earnest.
The Importance of Being Earnest premiered at the St. James Theatre, London on Valentines Day 1895. It received many positive reviews and played to pack houses.
Part of the play's attraction was that it was quite different to anything else that was then on the stage. Although it combines elements of Melodrama and Comedy of Manners, it is also a Farce: a kind of comedy intended solely for entertainment. The play is subtitled "A Trivial Comedy for Serious People" and this subtitle encapsulates Wilde's intention.
Act I (First Part)
The opening of the play, rather brilliantly and succinctly, conveys many of the play's themes.
The first thing to note is that the dialogue is not realistic. Instead, it is comprised of repartee. This style of light-hearted banter is used throughout the play and Wilde's clever witticisms are one of the main sources of comedy. For example, Lane says he doesn't think it "polite" to listen to Algy's bad piano playing while Algy insists that "anyone can play accurately" meaning that anyone, except him, can play accurately.
The Cucumber Sandwiches
The cucumber sandwiches provide an ongoing point of comedy throughout the scene. Algy insists that they are for his aunt Lady Bracknell, yet he continues eating them himself until they are all gone. Indeed, Algy's voracious appetite is a consistent source of comedy in the play. Algy also prevents Jack from eating the sandwiches and gives him bread and butter instead.
The Cigarette Case
The cigarette case allows for further repartee over the matter of the reward and word play as regards the dentist's "false impressions." It also introduces one of the main themes of the play: the confusion over names and identities.
There is also a further comic effect in the chase scene where Jack tries to retrieve the cigarette case from Algy, which can be used to symbolise how Algy has the physical as well as the verbal "upper hand."
Act I (Second Part)
The second part of Act I, when Gwendolen an Lady Bracknell arrive for tea uses social relationships and social conventions to comic effect.
In the latter part of Act I, a lot of the comedy comes from both character and social convention. For example, Jack's proposal to Gwendolen is hopelessly ineffectual. He struggles through what he is trying to say, repeating himself, until Gwendolen takes charge if the situation. This is a reversal of the traditional gender dynamics of marriage where women were expected to take a passive role.
Lady Bracknell is a further example of this reversal of gender roles. Indeed, she is a strong and formidable woman. Her frequent and absurd statements go completely unchallenged simply because she delivers them with such absolute conviction. We get the impression that she is also very much in charge of her own husband who, for example, is accustomed to having to "dine upstairs" in order to suit his wife's table arrangements.
Act II - The Garden Scene
One of the themes of the play is the difference between town and the country. Traditionally in literature, the country is seen as representing rustic innocence while the town represents sophistication. Here, however, Wilde plays with this idea in keeping with the theme of lack of seriousness in the play. In Cecily's garden, the roses are every bit as artificial and cultivated as any in the town and this gives further dramatic irony to Algy's statement that Cecily is "like a pink rose." This emphasises the play's theme of the interaction between realism and artifice, fiction and reality and of life itself as a work of art.
Cecily
Despite little Cecily's country location, she is clearly no country-bumpkin. She is clearly very interested in "Ernest" despite or even because of his wickedness. Although outwardly proper, if flirtatious, she is keen to hear about his escapades as is shown in how she is "glad to hear" of his fecklessness. She also may not even want him to change and says she has no time to reform him that afternoon, though she thinks she should try.
Like Gwendolen, she has completely fallen in love with the name of Ernest. She believes she is destined to fall in love with a man she has never met and has created a completely fictitious fantasy life to this effect.
Act III
Act III opens with the women retaining a "dignified silence" in the house and the men eating muffins in the garden. The silence does not last long however, and when the men return to the house they are quickly forgiven for their transgressions. Algy honestly explains that he merely pretended to be Ernest in order to meet Cecily. Gwendolen then asks Jack whether he invented the identity of Ernest in order to visit her and Jack allows her to believe this is true, although she knows this is not really he case.
A Well-Made Comedy?
In Act III, Wilde may also be critiquing certain aspects of the Well-Made Play. The Well-Made Play was often quite tightly and cleverly plotted with many twists and turns and, here, Wilde uses these conventions to comic effect. The Well-Made Play was a conservative genre that can easily be sent-up as comedy. It is possible, therefore, that Wilde is taking elements of the Well-Made Play and twisting them to comic effect.
An Example Essay Question for 'The Importance of Being Earnest'
1). Explore how Wilde develops the contrast between the artificial and the natural in The Importance of Being Earnest. You must relate your discussion to the relevant contextual factors.
Underlining Key Words
Start by underlining the key words of the question. This will help you to focus on what the question is asking you to do. Remember to read the whole of the question.
For this question, you must write about how:
Wilde
develops the contrast between
the artificial
the natural
You must mention:
the relevant contextual factors (such as Wilde's use of the genre of drama).
For every paragraph:
Make a clear point
Use a quotation to support the point
Analyse the quotation
Link back to the question by drawing a mini-conclusion or link into the next point