Five Ways My Family Is Reducing Our Carbon Footprint This Year
Small changes make big differences!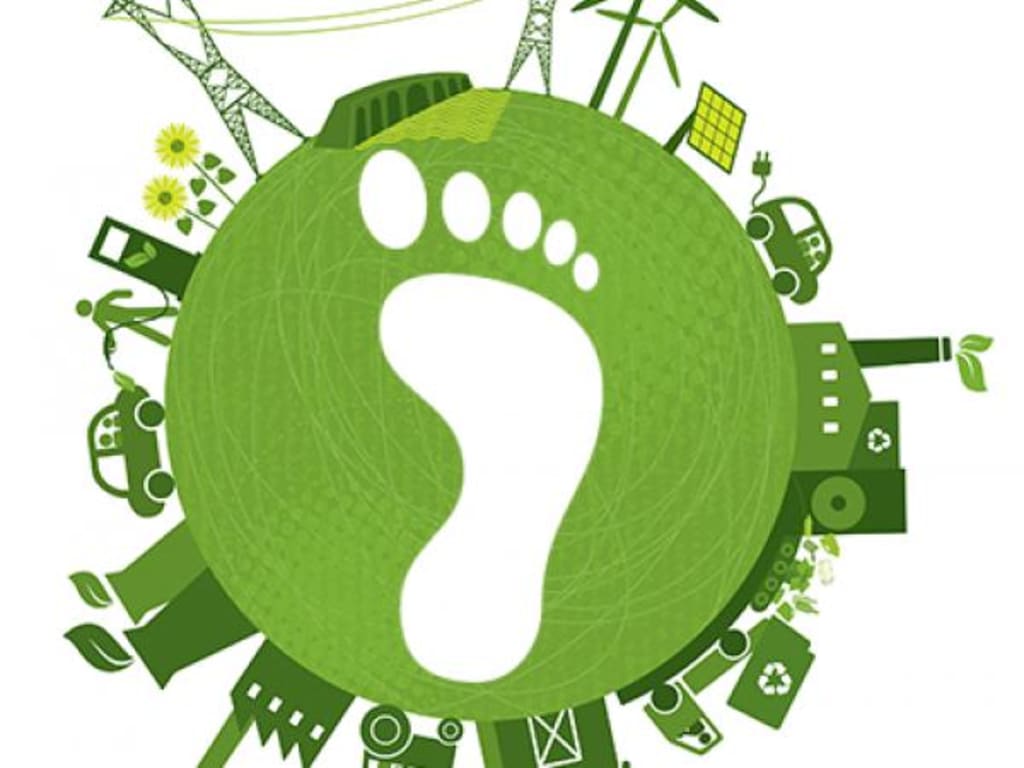 Climate Change is a crisis we all have to worry about. It will be the single most impactful element in every corner of our life. One of the biggest contributors to the climate crisis is our individual carbon footprint. What is our carbon footprint? In simple terms, it is the amount of energy we consume and expel that directly impacts the health of the Earth and contributes to the climate change issues we are experiencing today.
Now, it can seem intimidating to tackle such a thing when we have all been faithfully recycling our plastic, glass, and cardboard, as well as being mindful of how much water we are using and wasting. That all helps, but now it's time to take it to the next level. Sea levels are rising, and weather patterns have become more volatile than ever. So I've come up with a list of five things my family will be doing in 2021 to reduce our carbon footprint.
Eating lower on the food chain three days a week
Factory farming and the processing of animal products and by-products is incredibly harmful to the environment. Eating a more plant-based, and unrefined diet cuts down on energy consumption and waste. Not to mention… wait for it… it's also a lot better for you! So we will be incorporating meatless options and choosing in-season plant-based options three days a week. It's also beneficial to buy in bulk and prep your meals in advance to reduce energy output.
Upcycled Fashion
Fast fashion has boomed over the last decade, and its material, production, and shipping have a very large carbon footprint. Also, from a humanitarian standpoint, the working conditions are rather abysmal as well. To combat this, we will no longer purchase clothing from these retailers, and will thrift whenever possible. Who doesn't love an afternoon treasure hunting in a thrift store? Upcycling your fashion gives previously mass-produced fashion new longevity, and is probably a lot kinder to your bank account as well!
We can walk it!
We live in a metro area that is very walking-friendly, so if the weather allows, we will walk or ride bikes for any trip two miles and under. The cardiovascular health opportunities are endless with this one. Besides, you're not going to overbuy at the store if you have to carry it home! Studies have shown that simply swapping your car out for your bike or your feet just twice a week reduces your output of harmful emissions by almost 20% annually. You're also going to get into pretty amazing shape, so no complaints there.
Shopping Local
Quite honestly, when you have a large family, shopping local is hard sometimes because the price points are larger due to the fact the items are typically not mass-produced. However, sometimes less is more, and by sourcing as much as you can in your life from local suppliers, your carbon footprint is reduced tenfold by avoiding mass production alone. You're also reducing the amount of energy it takes to package and ship things as well.
Getting involved politically on a local level
One of the biggest ways to enact change and help the environment is to get involved in your local politics. This allows you to advocate for things like farmer's markets in your communities, designated bike lanes, expanded recycling services, and pedestrian overpasses just to name a few. Many times, people forget their local governments even exist when in fact, they're the biggest sources of change in your community you can be a part of.
Everyone can get involved in reducing their carbon footprint and combating the climate crisis. By making little changes such as the ones my family and I have committed to this year, you can make a huge impact while improving your quality of life!