Unsolved Crimes on 'The Haves and the Have Nots'
There are many unsolved crimes on Tyler Perry's popular series that date back to Season 1.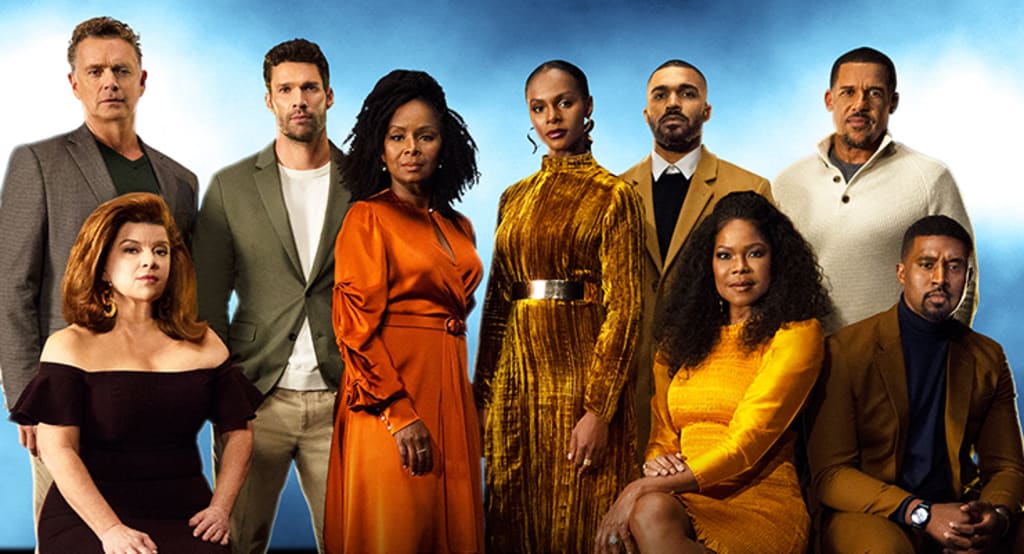 There have been many unsolved crimes on Tyler Perry's The Haves and the Have Nots that airs on the Oprah Winfrey Network. Those cases include ten deaths and other crimes that have not been solved. The crimes date back to the very first season, and Perry keeps adding new crimes without bringing closure to the old ones.
Fans who have been watching The Haves and the Have Nots since Season 1 would like to see those old crimes solved before the creator, writer, director, and executive producer add more to the list.
1. Amanda Cryer
Amanda Cryer was the only daughter of Jim and Katherine Cryer. She had a mental problem and fans are unsure if she killed herself with a shotgun. Her death occurred under mysterious circumstances in Season 1. Many viewers have been under the impression that she killed herself, but her death comes up periodically in conversations that suggest it was a homicide and not a suicide. The case has never been solved.
2. Law Professor Cannon
After Amanda's law school professor raped her, she became even more mentally distressed. One day in broad daylight, she stabbed him in the park. He didn't die from the stab wound in his shoulder, but Jim Cryer avenged his daughter by first beating him up and later ordering Cannon to be killed.
3. Maggie Day
Veronica Harrington accused her husband of having an affair with his campaign manager. However, David Harrison and Maggie Day never had an affair even though they thought about doing so. Veronica set Maggie up to walk through the door of Veronica's house and was shot by a gunman. The crime was never investigated, and jealous Veronica was not held responsible for Maggie's death.
4. Jennifer Sallison
District Attorney Jennifer Sallison was killed by Katherine Cryer when she was investigating Amanda's death. Judges Jim Cryer and David Harrington along with attorney Veronica Harrington covered up the murder. All of them spent some time in jail, but the case was never solved.
5. Quincy Maxwell
Quincy Maxwell was Candace's ex-boyfriend and father of their young son. Quincy abused Candace and threatened to keep Little Quincy away unless she gave him $50,000. When she came up with the money, he told her he had thrown their son in the river and he drowned. Candace went to the police and turned Quincy in for two murders for which he was imprisoned. He lied to her about drowning their son.
When Quincy got out of prison, he tracked Candace down and she and Jeffrey Harrington killed him in self-defense. Candace's brother Benny buried the body in the backyard. By the time police discovered Quincy's body, Candace's house had been repossessed. The brilliant lawyer Veronica got Candace off for the murder because she no longer owned the house when the body was found.
6. Quincy Jr.
Warwick Lewis, also known as Warlock and War, was a good friend of Candace. She cheated him out of some money. Therefore, he set out to kill her. He and his gang burst into a hotel room where he thought Candace was. They shot up the place, and Candace's young son, Quincy, Jr. was shot in the head. He later died, but Warwick was never brought to justice.
7. Warrick Lewis
Candace arranged for the Malones, a crime family to kill Warrick Lewis because he and his gang killed her son. War was lured to the Malones' restaurant where he was killed in gunfire.
8. Oscar
Candace conned Oscar into helping her steal Jim Cryer's money. During an altercation with Oscar, she pushed him from her hotel window and made his death appear to be a suicide. No one investigated to see if it was a suicide or a homicide.
9. Man Hired Intruder to Scare Hanna
Candace hired Malik to scare Hanna, her own mother. Instead of him attacking Hanna, she surprised him and stabbed him in the back. He ran out of the house and returned to Candace. She and RK burned up the van with Malik inside. The case was never investigated.
10. Erica
Veronica became jealous after David started dating Erica. She ransacked the house where David and Erica were living. Veronica was not charged. Then she took a sledgehammer and destroyed Erica's car. David bought Erica another car for her birthday. Veronica hired a man to bomb the new car with Erica in it. Veronica thought David would be in it too. The bomb went off before he got inside, but Erica was burned alive while she sat in the driver's seat.
David suffered severe burns on his back and spent the next season of the series in the hospital. He knew Veronica was responsible for the explosion, but she was never charged.
Other Crimes
Justin Ran Veronica Off the Road
Before Justin was relieved of his duties as an officer, he ran Veronica and Melissa off the road with his pickup truck. Veronica was hospitalized, but Justin was never brought to justice.
Veronica Burned Down House
Veronica burned down her own house while David was sleeping inside. The house was completely destroyed, but David got out just in time. He knew his wife did it, but he did not report her. She was never charged.
Veronica Planned to Have RK Killed
Veronica planned another senseless murder, but it never took place. She conspired with a hitman to murder RK and make it look like Jeffrey did it. She wanted her son to go to jail because she doesn't like his lifestyle and she cannot control him. The hitman didn't kill RK.
Veronica Hired Gunmen for David
Veronica hired hitmen to shoot up David's house while he was in it. She didn't know Jeffrey was also there. When she found out, she didn't care. David had guns hidden around the house. When the gunmen rushed inside, David and Jeffrey defended themselves. One of the gangsters was killed, but David and Jeffrey were unharmed.
tv review
Margaret Minnicks shares articles with readers all over the world. Topics include celebrities, royal family, movies, television, foods, drinks, health issues, and other interesting things. Thanks in advance for TIPS that are sent my way.
Receive stories by Margaret Minnicks in

your feed