Top 10 Serial Killer TV Shows on Netflix Right Now
Love guts, gore, and drama? These serial killer TV shows on Netflix will give you the thrills and chills you're seeking.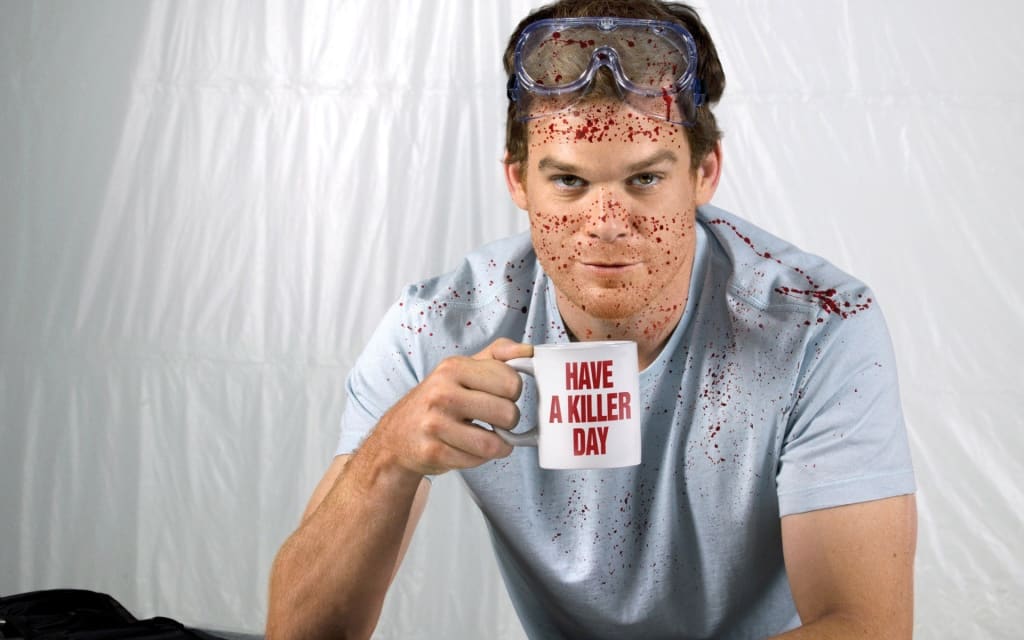 Serial killers are fascinating, in that ever-morbid kind of way. It's why people read up on the most notorious female serial killers, why people love watching serial killer documentaries, and why so many true crime books sit on store shelves.
Netflix, our lord and savior, is aware of this. That's why there are quite a few serial killer TV shows on Netflix to begin with. That being said, there are good shows and great shows. If you're not sure what to watch, the following options are great for newbies to the genre.
The Fall is currently one of the hottest serial killer TV shows on Netflix, and it's easy to see why. The entire plot focuses on a female detective who has to battle her own inner demons while she hunts down a serial killer who wears the "family man" disguise perfectly.
What makes The Fall so good is the way it brings in its psychological aspects into play. You'll find yourself getting creeped out by how human all the characters are—killer included.
Dexter is about as classic a crime show as it gets, really—and it's still one of the most popular serial killer TV shows on Netflix. As you probably already know, Dexter is about a forensic analyst who has a deep, dark secret. He's a serial killer, and has been one for a while.
When his family member found out, he urged Dexter to do the wrong thing the right way. As a result, Dexter only targets bad guys. It's a great show with tons of seasons. You'll love the show, and the hunky man known as Dexter too.
Though not entirely a show based around killers, Criminal Minds still deserves a shout out as far as being one of the better serial killer TV shows on Netflix. This show zeroes in on an FBI team whose job is to profile and capture psychopathic criminals—and boy, do they do a good job of it!
True crime fans who love a good chase story will love this series. It's been renewed for a 14th season by CBD, the show's parent network. With a series that longstanding, it's safe to say that it's got quality.
Britain sure knows how to make some really good dramas, and Happy Valley is an excellent example of that. This gripping series shows a policewoman as she pursues the man who assaulted her daughter.
The thing is, the man who she's following isn't aware that he's now the target of a kidnapping plot. Like others on this list, this is one of those serial killer TV shows on Netflix that really does a bang-up job of being a psychological thriller above everything else.
Luther is currently one of the newer serial killer TV shows on Netflix, but don't be fooled by the age of the show. Its popularity has nothing to do with novelty, but rather the intense plot lines that involve Idris Elba's character chasing down killers in rough city streets.
People who love Idris Elba's work, or just love a good, gritty series, will love Luther.
You might recognize Mindhunter as the TV series that was based on one of the greatest forensic psychology authors of all time. Is it really that surprising, then, that it's currently one of the best serial killer TV shows on Netflix?
Currently going into its second season, Mindhunter follows all the intense drama and science that goes into understanding the mind of a killer—and predicting where the bad guys will show up next.
The End of the F***ing World is one of the only serial killer TV shows on Netflix to be a Netflix Original Series. It's also a series that takes a look at a budding killer as he meets a female classmate and goes on a road trip that turns into a death trip.
Part humor, part serial killer show, this isn't your typical killer-themed TV show. It's totally hilarious, wild, and at the same time, keeps that epic "indie" vibe that people adore.
When it first came out on Lifetime, The Lizzie Borden Chronicles was one of those shows that got seriously mixed reviews. This historical fiction show follows serial killer Lizzie Borden after she's exonerated for the murders of her parents. What's a killer to do? Well, she decides to solve other murder mysteries.
Realistic? Nope. But, watching Christina Ricci is always fun and that's why we're saying it's one of the most entertaining serial killer TV shows on Netflix with a twist.
Deep in the wild, swingin' 1960s, a killer was on the loose. That killer was Charles Manson—and he had a whole family of crazed cult members carrying out orders. The short-lived, perfectly binge-sized television series follows the 60s LAPD as they try to find out what's going on with the murders.
Aquarius is one of those shows that's a slow boil but quickly becomes one of the more addictive shows you can experience. You're going to enjoy this one, especially if you loved reading about Helter Skelter.
Let's talk about real killer cases, shall we? After all, if you're searching up serial killer TV shows on Netflix, you probably want to have some legit crime facts presented to you. Inside the Mind of a Serial Killer is a TV series that follows a case of a real serial killer in every episode.
The episodes show reenactments, live interviews, and expert opinions on what makes a killer kill.
About the Creator
Skunk Uzeki is an androgynous pothead and a hard partier. When they aren't drinking and causing trouble, they're writing articles about the fun times they have.
Reader insights
Be the first to share your insights about this piece.
Add your insights