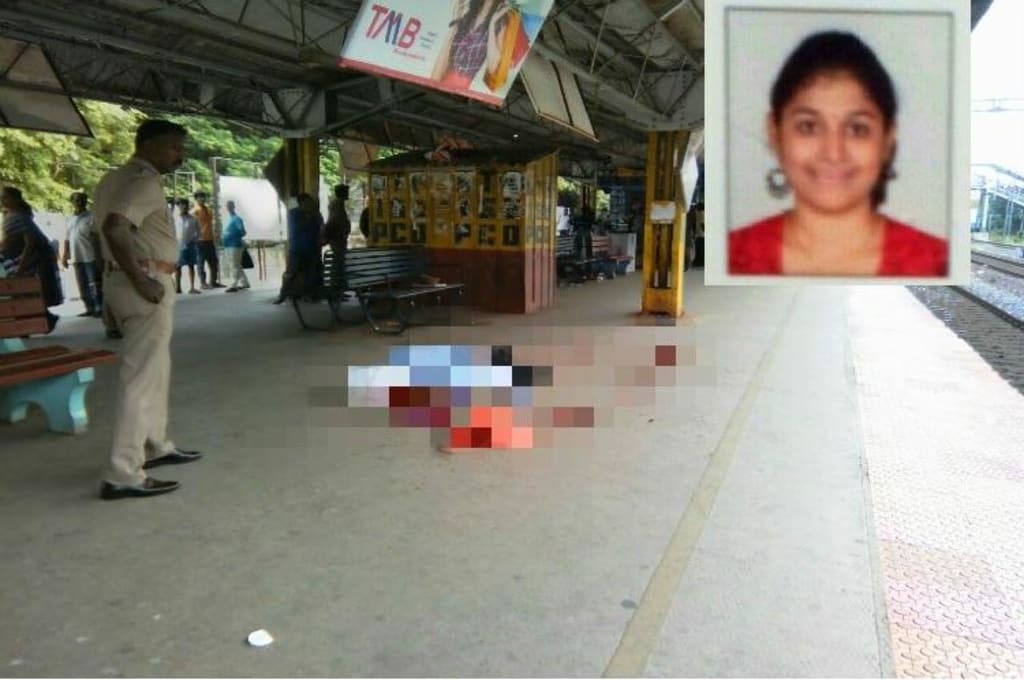 Swathi's DeadBody at Nungambakkam Railway Station
SWATHI MURDER: WHAT REALLY HAPPENED
For the city police, the probe into the murder of young techie S Swathi on the platform of Nungambakkam railway station was as messy as it came: 72 hours had gone by since she was murdered in public view, but the only identifiable detail was a rather common check shirt and black trouser. Complicating the matter was the rising outrage among the middle class. Right from the beginning, this was a fight against the clock.
entered the Nungambakkam railway station to go to her office as usual. On that day, however, a young man was waiting for her for about 30 minutes on platform 2. After a brief argument, he hacked her and fled at 6.42 am. That was the last anyone saw of him. By the time the City Police took over investigations on June 27, the Government Railway Police had released two CCTV footages that vaguely showed the suspect – a dark youth wearing a green and white check shirt and carrying a backpack. There, however, was no response from the public. No one came forward to identify him.
first real clue came from her friend, Mohammed Bilal, who said Swathi had told him about a person stalking her. Swathi apparently told him that she noticed the stalker at Paranur, the railway station near Mahindra City where her Infosys workplace was located.
That was on June 11. About a week later on June 16, she complained that this time the person was on the train, traveling from Nungambakkam to Paranur. It happened again on June 18, this time at Nungambakkam station.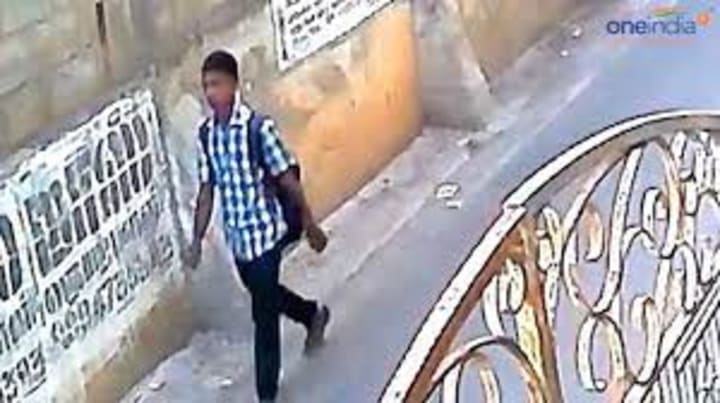 The investigators saw a faint glimmer of hope. The officials accessed tower dump data from the mobile phone towers closest to these three areas, and compared it with the approximate time when she saw him. This was far from easy. There were over five lakh calls made around this time which they had to compare.
The task was tedious, but at the end of it, they short-listed 48 numbers that were common in these three places at the time. A team of officials began tracing the persons using these numbers. One of them had a South Tamil Nadu address, but the tower data showed he had been in Choolaimedu, close to Swathi's place.
progressed with the aid of technology, another team of personnel returned to shoe-leather investigation. Armed with an enhanced image of the suspect, they began knocking the doors at Choolaimedu, asking them if they identified the man in the photo.
After a series of disappointments, they struck luck when a person at AS Mansion at Choolaimedu identified the boy, Ramkumar. Natesan, the 50-year-old Tiruchy native who worked as a security guard, said they shared the room for over three months.
The police found the green shirt that the suspect wore that morning. Among his belongings, they found a diary that had a Tirunelveli address – same as the one that the mobile phone records showed. Chennai police commissioner immediately got in touch with Tirunelveli Superintendent of Police, who alerted inspector Balamurugam at Tenkasi.
By about 11.20 pm, inspector Balamurugan and a team of four officials landed at Meenakshipuram and surrounded the house. Ramkumar, who was sleeping in the backside, tried to escape but found himself surrounded. Officials said he slit his throat when cornered, following which he was rushed to GH at Tenkasi, from where he was taken to the GH in Tirunelveli.
Officials told Express that after he escaped from Nungambakkam station, Ramkumar went to his mansion on Showrastra Nagar 8th Street and changed his dress. He then took a local bus to Koyambedu. What began as four special teams went up to five and eight to finally 10, manned by 40 officials drawn from various parts of the city.
Senior officials said the major part of the investigation was over, but further investigations are on.
What's behind the latest resurrection of the case?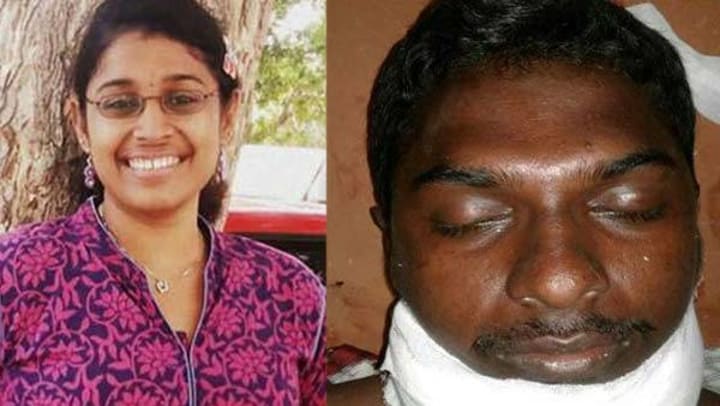 The investigation in one of the most high-profile crimes from Chennai in recent times – the hacking of techie Swathi earlier in June 2016 – came to an abrupt end as the sole accused in the case, Ramkumar allegedly committed suicide on Sunday in the high-security Puzhal prison in Chennai.
At 4.45pm, Ramkumar committed suicide by biting into a live electric wire, say the jail authorities. That would seem like it's the end of the matter, but there are questions being raised about this explanation for his death.
Ramkumar's parents are not buying the "suicide" theory. They've demanded that the police, who confirmed the suicide about 90 minutes after it happened, should be held responsible for his death.
On Monday, the Madras High Court ordered a team of four doctors conduct a post-mortem to determine how Ramkumar may have died. Meanwhile, taking suo moto cognisance of the matter, the State Human Rights Commission (SHRC) has also directed for an enquiry into the incident.
Meanwhile, a Dalit party Viduthalai Chiruthaigal Katchi (VCK) has insinuated Ramkumar was "victimised" because he was a Dalit and has now asked for a detailed enquiry. Opposition party DMK's chief M Karunanidhi also raised doubts about the police's suicide theory.
In Chennai (and Tamil Nadu at large), despite a few niggling doubts over whether or not Ramkumar had acted on his own in Swathi's murder, there was never any popular support for the accused. Under these circumstances, that Ramkumar tried to commit suicide by slitting his throat with a blade when the police were about to apprehend him earlier in July was seen as an admission of his guilt. There were reports of Ramkumar's confession that he loved Swathi, but was angered when she spurned his advances, and insulted him for his looks – all again pointing towards admission of guilt.
Despite the initial hate-mongering by Twitter warriors of Right-wing groups who tried to make it look like a case of "love jihad", speculations were laid to rest when Ramkumar was arrested. The Madras High Court had pulled up the police for delays in prosecution, asking them to expedite the process. The police were close to completing the charge-sheeting in the case, but Ramkumar's alleged suicide on Sunday has put a spanner in the works.
Questions over security in jail
Speaking to Newslaundry, former Indian Police Service (IPS) officer Vibhuti Narayan Rai said, "It is a case of carelessness. How a convict got hold of a live wire inside a prison is intriguing. The fact that Ramkumar had displayed suicidal tendencies in the past only meant that he should have been kept under stricter watch."
Newslaundry made multiple attempts to contact prison authorities for their version, but without any success. Two doctors who are not related to this case – one of internal medicine and the other who handles emergencies – said that committing suicide by biting into a live wire is "entirely possible".
But larger issues may just surface with this case. Former Madras High Court Judge K. Chandru indicated there was something rotten about the security in Puzhal prison. He told Newslaundry, "It was the responsibility of the jail officials to make sure that the accused was safe. Puzhal is said to be a state-of-the-art prison. Over the years there have been hundreds of complaints about drug smuggling inside the prison. Mobile phones were found among the prisoners. Not only should the death of Ramkumar be investigated, but also the state of affairs in the jail in the last five years."
Chandru said that there was a strong case for "liberating" prisons from police control. "Prisons should be out under the control of a magistrate," he said.
According to the latest prison data released by the National Crime Records Bureau (NCRB), in 2014 alone, 94 suicides took place in India's prisons. This is of course, the reported figure, and exact number could be higher. Former policemen have recounted how custodial deaths in prisons are often passed off as suicides. Suicides accounted for 5.5 per cent of deaths of prison inmates during 2014. In Tamil Nadu, five suicides were reported in 2014.
Multiple theories, no answers
The timing of Ramkumar's alleged suicide has raised some eyebrows. The police was just about to file the chargesheet in the case and one theory is that the police was struggling to make the case against Ramkumar watertight, as they only have circumstantial evidence of his involvement. Speaking from Chennai, journalist Shabbir Ahmed told Newslaundry, "A lot of these theories floated around via Facebook, Whatsapp, and Youtube. Initially, it was said that Ramkumar had a roommate, who was supposedly his accomplice in the case. Later, it was announced that he was the sole accused. No one knows what happened to the roommate or where he is now."
If Ramkumar would eventually to be acquitted in such a high profile case, the police would be left red-faced.
"The plausible scenario was that he was indeed the killer, but the case against him was not strong enough. It is a sensational case, and Tamil Nadu police had received a lot of flak for not being able to solve it in time. Ever after police arrested Ramkumar, they were not able to prosecute him, because of lack of evidence," said another Chennai-based journalist, speaking on the condition of anonymity. "What really happened, we may never know for certain."
What further muddies this prison suicide is that there are bits and pieces of information that don't entirely add up. On Sunday, Ramkumar's lawyer released an audio recording of a telephonic conversation between himself and an official at the prison. (Newslaundry is not in possession of the audio recordings, and cannot independently verify the veracity of the same.) According to a report, the lawyer can be heard in the recording asking a prison official if the news about Ramkumar's suicide was true. The official said that it was not, adding that Ramkumar was unwell and had been taken to a hospital. Ramkumar's father was told the same thing by a prison official.
If he had indeed committed suicide, why did the prison officials lie about it to his family and his lawyer?
What makes matters worse is the refusal of Tamil Nadu policemen to come on record about the facts surrounding the case, which broadens the scope for wild speculations. "Even on the day he died, for a long time, we couldn't confirm the news, because there was no confirmation forthcoming from the police. It has been more than 48 hours, but the police are yet to hold a press conference," Dhanya Rajendra, editor-in-chief, The Newsminute, told Newslaundry. This silence, however, is peculiar to the local police, rather than to this case. Rajendra said that she couldn't remember one press conference organised by the police, to brief journalists on the developments in an investigation or a case, in the past eight years.
Did Ramkumar commit suicide? Did he collapse because of something that happened in prison? Should a closer watch have been kept on him, given his suicidal tendencies? The report submitted by the team that the Madras HC has appointed might shed some light on these issues, but considering the kind of silences, lack of accountability and paperwork that shroud these cases, it seems unlikely that either Ramkumar or Swathi's grieving families will get much of a sense of closure.
Reader insights
Be the first to share your insights about this piece.
Add your insights