The Mysterious Murder of Mary Gunn.
A 110 year old unsolved murder from Scotland.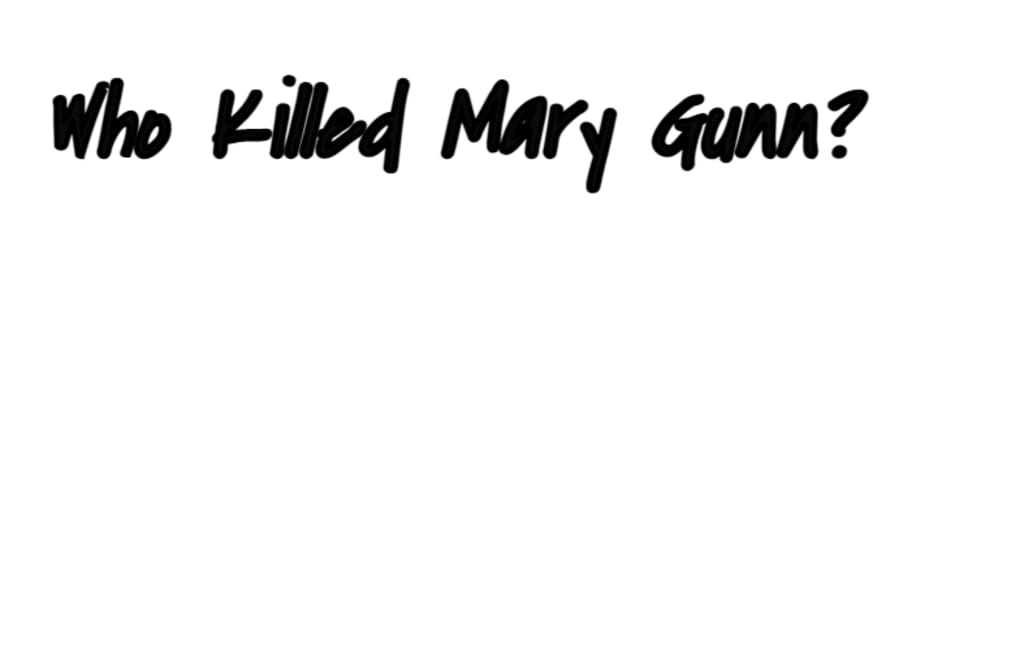 On a wet and cold Saturday night in October 1913, Mary Gunn, 51, was relaxing in the living room with her brother-in-law, Alexander McLaren, 61, and her sister Jessie McLaren, 61, when 6 bullet shots came raining through the window. Mary was killed when one struck her through the heart.
Who was Mary Gunn?
Mary was born on the 31st of August 1862 in Stevenson, North Ayrshire to parents Jane Speir of Dalry and Gilbert Gunn of Gateside. She was one of three sisters. In 1881 and 1882 she lived in Beith at Burnside and was said to be very good looking. She was described to be "the beauty of Beith." In 1891 she had the new unusual job of telephone operator with the town's first to be recorded in 1883. She later moved on to the same job in Ardossan. In 1901 Mary was working for and living with her brother-in-law, Alexander McLaren, a self-employed banker, then aged 48, in Wigtownshire. Alexander's wife and Mary's sister, Jessie McLaren, then 48, and the ladies' mother, Jane Speir Gunn, 83, also resided with them. Alexander McLaren had previously run the Glengarnock Iron and Steel company store before moving to Port William in Wigtownshire. He built Ebenezer Hall at Port William which he operated whilst also being on the school board.
When offered a role at the post office in Taynuilt he moved with his wife, Jessie, before moving on to farming and retiring in Portencross. Mary stayed behind in Port William for a short time as she was dealing with some family affairs however, she later joined her sister and brother-in-law in Taynuilt. Upon arriving she learned that she was expected to work on the farm so she moved to Canada after accepting an invitation to move in with her other sister and brother-in-law. Staying in Canada for a few years, she became involved with a man which seemed to be a promising love affair. Unfortunately, this ended and Mary moved back to Taynuilt to stay with Jessie and Alexander.
In May 1913, Mary, Jessie and Alexander moved into Northbank Cottage near Portencross in North Ayrshire. The cottage was isolated and quite inaccessible as it was an old farm situated beneath the red sandstone cliffs on the raised beach of Portencross. They kept to themselves but were regarded as well-off by the locals.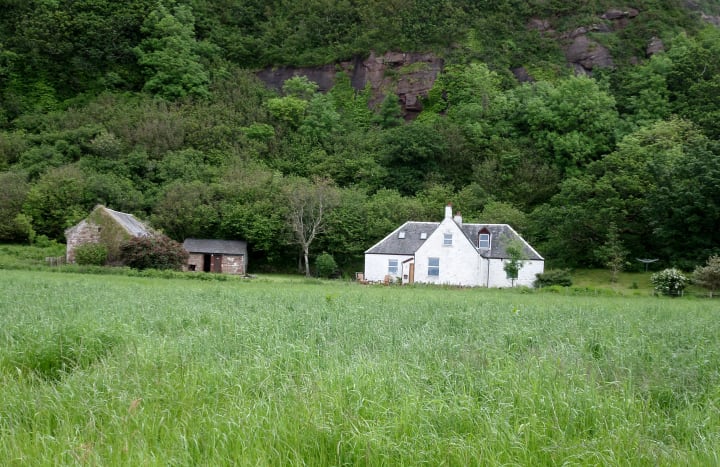 The Murder
Alexander had recently sold the sheep from his old Taynuilt farm which resulted in £100 (equal to £12,825.05 today) and it was thought to be held at the cottage. On the day of the murder, Mary went shopping in West Kilbride. Alex walked out to meet Mary on her return journey where they met a non-descript stranger they walked and talked with.
The storming evening of Saturday 18th October 1913, the three of them were relaxing in front of an open fire in the parlour with a single oil lamp illuminating the room. Both of the ladies were knitting and listening to Alexander reading aloud from the book "At Sunwich Port" by W.W Jacobs. Alexander had his back turned to the only window in the room. At 8:30pm an ear-piercing pistol shot rang out, followed quickly by five more. Without realising, Alexander had been shot first with the bullet ripping through the pages of the book in his hand before pummelling into his left index finger. Mary cried out "Alex I'm shot" before collapsing to the ground. Alexander shouted at his wife "floor, floor" but Jessie was struck by two bullets. Pushing Jessie to the floor in an attempt to save her from any more incoming shots, Alexander rushed out to the outhouse to release his two dogs (a collie and an 8-month-old Scottish Terrier Pup) to chase the gunman but he was nowhere to be found. As there was no phone in the house, Alexander decided to run to the neighbouring farm of Alexander Murray to inform them of the attacker and then made his way to the nearby mansion of the Auchenames where the laird, William Adams, used the phone to call for help. Strangely, the police didn't have a phone so they contacted a friend of the lairds in West Kilbride who knocked on the police station door and informed them of what happened. Police and a doctor quickly arrived on the scene. Mary had three bullet wounds with one striking her heart, she was pronounced dead at the scene. Jessie had a bullet removed from her back by the doctor and was taken to Kilmarnock infirmary where she stayed until January 1914. Alexander was taken to West Kilbride Police station, in shock, where he recounted the events that had just taken place.
Evidence and Theories
Outside the broken window they found at least one fired bullet on the ground. Two bullets were removed from the seat which Alexander was seated and three sets of footprints were found which the police took plaster casts and concluded they did not match Alexander's boots. The gun was identified through the calibre of the shell case to be a heavy army revolver of the colt-type, however the weapon was never found and thought to have been disposed in the sea close by. Enquiries found that an unidentified man had recently been to all three farms in the locale looking for directions to Portencross which was corroborated by some local school children.
After questioning both Alexander and Jessie, they picked up some vital information that led them to believe it was someone they were familiar with. The dogs would always bark at strangers that would occasionally pass by however the night of the murder; the dogs were silent. This was backed up with the angle the shots were fired at. Police believed the gun was fired at an acute angle outside the window as the perpetrator was fearful of being recognised. Extensive enquiries were made in the investigation taking the police as far as Saskatchewan in Canada to look into the idea of the man Mary left behind there being a scorned lover, however this led nowhere.
Police concluded that the intended victim was actually Alexander but he claimed that he knew nobody with a motive as he hadn't been in any disputes and a robbery "gone wrong" seemed unlikely as nothing was taken. A £100 reward was offered but nobody came forward with any information that led to something significant. One police theory was the murderer committed suicide by drowning after the attack but no body was found and nothing came from searching the nearby Ardneil woods.
A legal action was brought to Alexander in 1915 by Miss Elizabeth Walker who was the keeper of the boarding house at Portencross because she claimed her business suffered badly due to accusations made from Alexander that she knew something or was involved in the murder. She later dropped the claim and had to pay her own legal fees.
Author Jack House wrote a book which included the murder called "Murder not proven" and claimed that Alexander staged the attack and Jessie went along with his version of events because she was scared and in shock. Others believe that Alexander actually meant to kill Jessie because he had hopes of marrying the younger and more attractive sister but Mary got in the way to protect her older sister. This is unlikely due to the life expectancy in the UK being around 52 years of age. Both Alexander and Jessie were already 61 by this point and Mary was 51.
My Opinion
I believe that Alexander may have had something to do with it as he came away from the incident basically unscathed and his wife did not have any fatal wounds. He could have been fed up with Mary living with them and not ever having any privacy with his wife. I think that Alexander at the very least knew the person who did it and sent the police in different directions so the real murderer could clean any evidence leading to them. Jessie could have also been in on the murder however there is no evidence to suggest any of this. After researching and looking at any evidence that has survived over 100 years, I would suggest that Alexander didn't pull the trigger due to their being a clear indication of another person on the property. Whether Jessie and Alexander knew or had something to do with it is a completely different story.
More true crime stories?
Unsolved:
Solved:
About the Creator
I like to write about true crime and do small investigations. I also write fiction sometimes
Reader insights
Outstanding
Excellent work. Looking forward to reading more!
Top insights
Expert insights and opinions

Arguments were carefully researched and presented

On-point and relevant

Writing reflected the title & theme
Add your insights