The Hypothetical Confessions of a Border-Jumper III
'Preggoland'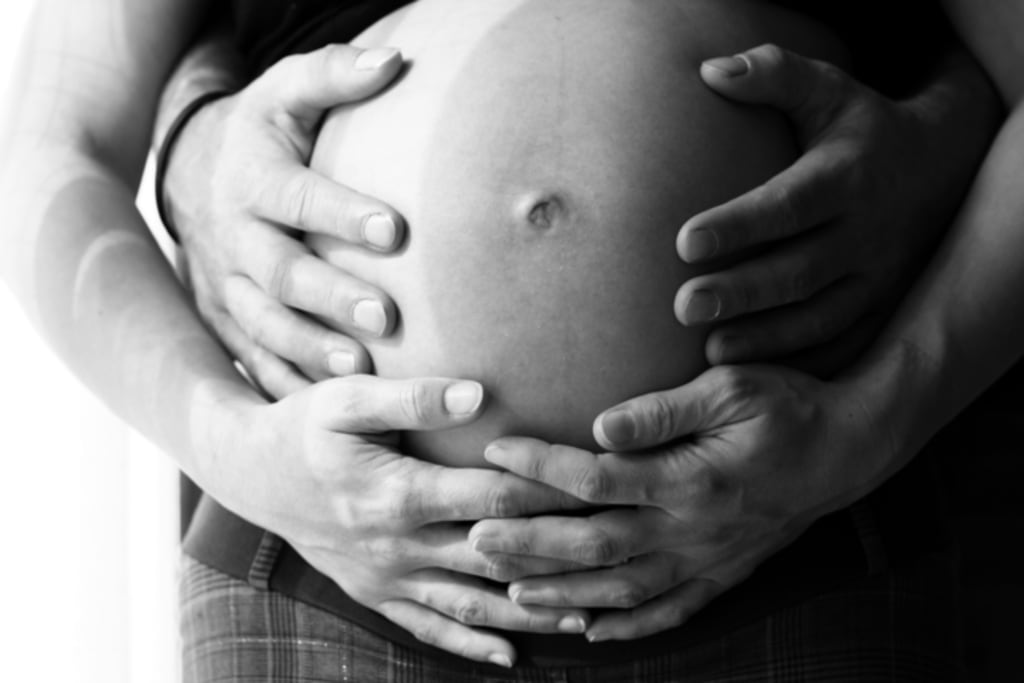 Homemaker. To put it very bluntly, the title was more detestable to me than anything at one point in my life. A real aversion. Something curse-like to be avoided at all costs. Which is why it is incredible to think that it is a title I have now worn for the past year without the slightest resentment. There is no foreshadowing how quickly it grows to become the most valuable post of one's life.
Once—cute as they can be—I had viewed children only as an inconvenience; a stumbling block to all dreams. Yet, now, all I ever dreamed of while cloistered in a life I felt strangled by; international fame as a world-renowned author; traversing the globe with legions of fans; movie deals coming out of my ears, glamour and success heaped on success—all of it cannot compare, cannot measure up to two perfect little faces. And that so-long abhorred title of "Homemaker" may just as well be a Pulitzer when I kiss them, feel their tiny arms around me or just love them.
A complete 180.
Nothing preps for such kind of emotion, and nothing is quite like it.
Strange to think it all started with a breakup.
Towards the end of July 2013, in the trendy affluent Joburg suburb of Fourways, in a small flat, I was at that point typical of the average early twenties girl grasping for love in the big city; balled over in tears because he broke up with me. I was stoically bed-bound and didn't touch a morsel for two full days; straight fasting and weeping.
Yes, all gentlemen out there who aren't familiar with this process, it does happen. A dedication to tissue, bedcovers, and making absolutely sure you feel every bit of emotion as keenly as possible after it ends badly with a guy who's just plainly never been that into you to begin with.
Though, it must be said, usually, it is not a permanent state. A girl can be expected to come out of it sooner or later. Maybe, as was the case with me, at day three or four, the sun no longer hurts the eyes as much; you could nibble on something, and before you know it you slip on some flipflops and head to the kitchen. Re-emergence and the start of a fresh beginning.
And, as is common with humanity, improvement on the past is imminent; evolution. The men, I've come to find, just get better after the last one, if you learn right as a girl. Evolution.
That's how it was with me.
From debilitating, crushing heartbreak and thinking I would never recover, I met him.
My new love had no idea at the time that the life I led then, living in a trendy area with all the best bars and clubs a step from my doorway, working in a bookshop and enjoying my young adulthood for the first time since arriving in Joburg—he had no idea that all that was purchased through doctoring my immigration status.
Our intimacy progressed rapidly from just work friends to dating, to me falling in love—though he wasn't quite there yet; then came the pregnancy eventually leading to marriage.
And because we were so different and it was something along the lines of a shotgun wedding, our union didn't fail to raise a few eyebrows. Though for me, it was the most natural thing on Earth...
In the winter of 2014 my grandmother passed away back home. She had taken care of me, loved me like no one else from the time I was a 6-year-old girl who'd just laid into an early grave her only remaining parent.
When Gogo (as I called my gran) also died, it brought me to pieces, made worse by the fact that I couldn't return home for the funeral—dubious immigration status, fake permits and all. They would not have let me back into South Africa afterwards. So, in self-preservation, I let others lay her to rest.
I sat miles away in another country and I wasn't even there to say goodbye. Me, the one person who should have been. The one person who owed her the most.
I felt I had let her down. I felt like a disappointment to her memory.
When people said, "That's the measure of how she loved her gran, that's how grateful she was that she couldn't even be bothered to tear herself away from Joburg long enough to lay the amazing woman who cared for her to rest," it was the shame of my life. It still is.
And he was there. My now husband. I had no family in Joburg and my friends were distant. But in the dead of night, as tears fell silently down my cheeks for grief and shame he was there. He just held me. And that is what everybody needs. You want someone who's there when the world isn't.
Then when the world sees me walking with him by day and they say, Oh she's just with that "mulungu" (white man) because A or B (any flippant conjecture) they just weren't there in the dead of night when I crumbled. They never are. And the only thing that matters is who is, skin colour, social standing, or nationality be damned.
So, I felt as though I was about to have everything I had been desperate for. Not only the man I loved but finally, through him, the legality that had always alluded me, because he had acquired South African citizenship despite being a foreigner himself; British by birth and raised in the Midlands of England.
What I didn't know at the time was, it was twins I was pregnant with.
Living under his wealthy brother's roof would prove to be utter hell.
Said-brother would angle to evict us before the twins were born—crazy family drama and something about me being a gold-digging opportunist who'd "trapped" his dear brother (NB the brother an a-hole of note), and making an attempt for a return to England would be our only way forward.
Taking all that into account, we tried the legal route for me to go with my husband. I was ready to live by the book, the straight and narrow, ready to change my ways. I was ready to reform.
But, as it turned out, when applying for a UK visa, it's particularly difficult to disguise a very dodgy immigration history, and I soon learned that the British are not so keen to dish out visas to people who fail to respect the immigration rules of the country they're presently in. They were on to me from the get-go.
Our entry into parenthood looked to be a disaster.
We had to make a plan.
Other options were sought—by me, secretly.
Enter Thabi and Ireland.
Let's not beat about the bush here. There is a backdoor into Europe when it comes to the Republic of Ireland. And the Republic of Ireland is a wide gaping doorway into the United Kingdom because of the lack of a border or any form of movement control between the two countries, one that many a grasping African has been utilising.
All you need really is a South African passport. And that is accessible to anyone with the right coffer weight.
There was a childhood friend of mine from my home country. We'll call him Thabi. For some years I'd kept in contact with Thabi. We chatted a lot on WhatsApp from across oceans when I was still at the call centre, dreaming of a different life. Now, a different life was not just a dream, with the circumstances, it seemed imperative.
Thabi'd used the backdoor into the UK. There were others who'd done it as well. I wanted my shot too.
Though it is a path, in hindsight and from first-hand experience, I wouldn't recommend it to anyone. It involved a charlatan who played me for all I was worth, secret meetings while heavily pregnant, and worst of all, at every step trying to cover my tracks and hide my deeds from the man I married.
First of all, I had to walk into a South African Home Affairs department, sit and wait like everyone else but in the end only go to a specific woman behind one of the counters—she was part of the ring of criminality and only she could process a South African birth certificate for me.
My turn came up. I walked to her and she quite literally did everything under the counter. Her top lip was perspiring, eyes constantly shifting to "check coast," hands working quickly as right there and then, shielding what she was doing with her body and the short outcrop of her counter top for cover (under the counter!). She "fixed" me an authentic birth certificate copy.
With this birth certificate copy, we then drove to another home affairs department (another ring of undercounter government officials) where, based on my new South African birth certificate I applied for an SA identity card. A smart ID it's called. Specifically designed and launched by the government as an anti-fraud step. Yet one wonders how smart it actually is with the rate of illegal attainment.
That ID was the first step. Afterwards would be the passport, and that for any immigrant attempting illegal entry into the UK, was good as gold.
But as they say, "The course of true love never runs smooth," so neither does the course of true crime. It's not just a saying, take it from me—there really is no honour among thieves.
I learned that fact well enough when I was left high and dry after purchasing all kinds of costly travel arrangements, on Christmas day, standing outside Joburg's O.R. Tambo airport feeling anything but festive.