The Eyes of the Devil: Stephanie Lazarus
How Stephanie Lazarus Got Away with Murder for over 20 years while becoming a respected Police Officer turned Detective.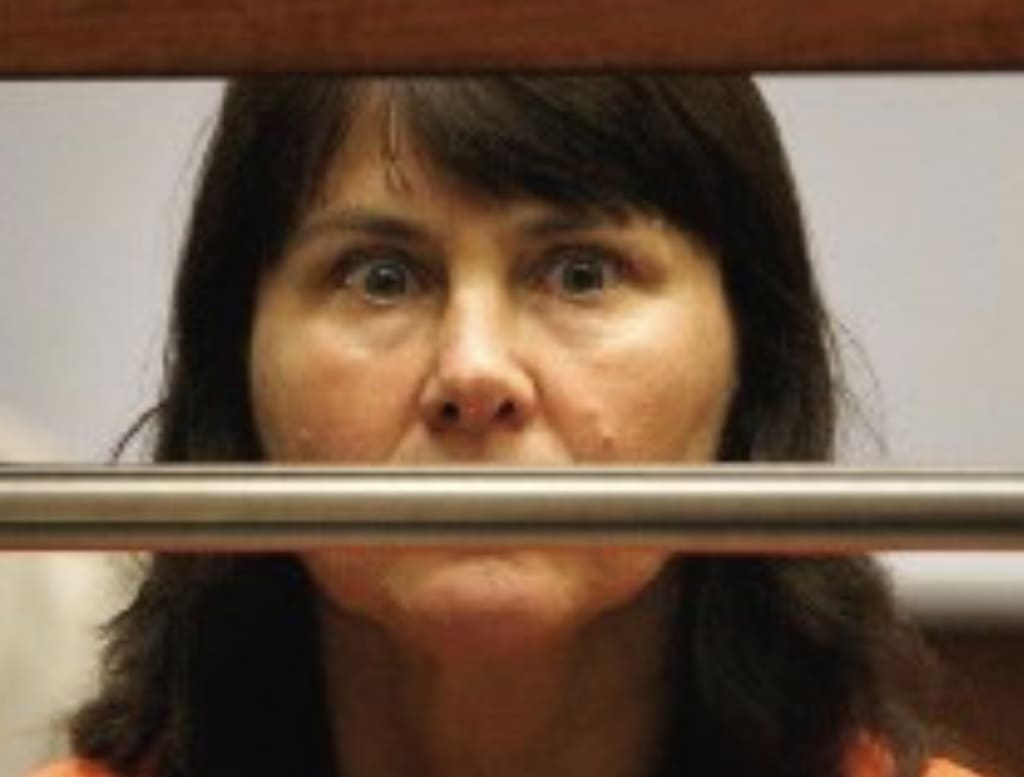 Image by: https://www.youtube.com/watch?v=hBULroRe7P0
Who is Stephanie Lazarus? She was a Los Angeles police officer working in departments from patrol, starting the private investigation company, and then making her way to the homicide department before finally landing a high position in the LAPD art theft department. The main question is, how did Stephanie Lazarus get away with murder for over 20 years?
The Backstory
Stephanie Lazarus was dating a man named John Ruetten, but the relationship ended sometime before 1986. Although, there are some claims that John had one or two meetups with Stephanie before finally calling it quits and marrying Sherri. At the time of Sherri's death, Stephanie was working in patrol. Additional claims state that Stephanie went to Sherri's workplace, which was a hospital as Sherri worked in nursing. Stephanie went to talk to Sherri; however, onlookers state that Stephanie was yelling and was as quoted, saying, "If I can't have John, no one will."
The Murder
On February 24th, 1986, Sherri Rasmussen, 29 years old, was found beaten and shot multiple times with a .38 caliber revolver. "Sherri called out this day from work." It is said that John tried various times to reach Sherri but with no success for the whole day. When Sherri was found murder in the apartment, she shared with her husband, John Ruetten. The police immediately thought it was a robbery gone wrong, with signs of a struggle and a couple of reports that robberies have taken place in the past week in that neighborhood.
Fast Forward
Twenty-three years later, Stephanie was arrested for the murder of Sherri Ruetten, the wife of her long-time crush John Ruetten. She dated John before Sherri and John met and then married. When Stephanie was arrested, she worked as a detective in the Art Theft Department of the Police Department.
The case was later opened with DNA being tested at the time of the murder was not available, but when the case was re-opened, DNA was tested and belonged to none other than detective Stephanie Lazarus. Many questions have not been answered regarding the fact that an LAPD officer could hide the fact she was apart of murder for twenty-three years. While being award, awards, and promotions. Her career grew; however, nobody was able to put two and two together that Stephanie was involved in the murder of Sherri. Evidence slowly started coming up, missing from the evidence box that had information from Sherri's case.
These items were allegedly checked out by another office and never returned. John Ruetten came forward and explained who his ex-girlfriend was a police officer for the LAPD. Sherri's family came forward and also pointed out that Stephanie was John's ex-girlfriend and worked for the LAPD. All of these claims fell on deaf ears. Allowing one of their own to excel in her career while covering up a murder. The "investigation" wrapped quickly and wasn't really investigated if the LAPD weren't following up on leads because, as speculated, Stephanie was one of their own.
Conviction
After the 1986 murder of Sherri Ruetten, justice was finally served to Sherri and her family untimely death retired LAPD detective after 34 years. Stephanie Lazarus is now serving a first-degree murder sentence of 27 years to life for the crime. The timing of the killing, Lazarus, was on the job for only two years. Stephanie, as of conviction, is fighting to appeal the sentence. Stating that the evidence was tainted as it was sitting for years before it was tested. The questions are: what took so long? Who removed proof on behalf of Stephanie? Where is that evidence now? Also, do you believe that Stephanie's appeal regarding "tainted" evidence will work in her favor?
REFERENCE:
Michael Martinez-Stan Wilson-
https://www.cnn.com/2012/05/11/justice/california-cop-cold-case/index.html
Retired L.A. Detective Sentenced to 27 Years to Life For 1986 Murder
Https://www.google.com/amp/s/www.latimes.com/local/lanow/la-me-In-jennifer-francis-lapd-trial-20190327-story.html%3f_amp=true
LAPD Criminalist Testifies in Retaliation
Lawsuit She Filed Against Department
Full video footage of interrogation of Stephanie Lazarus (n.d.).
https://www.youtube.com/watch?v=t5ljpPTNvCM&feature=youtu.be
LAPD Detective Stephanie Lazarus' discussion of how these retired convicted police officers got away with murder for over 20 years. (n.d.)
https://www.youtube.com/watch?v=Fn9tMlEfnRI
A hypothetical mental discussion from Dr. Todd Grande. (n.d.).
https://www.youtube.com/watch?v=hBULroRe7P0
Image of Stephanie Lazarus
Juan Blanco-
https://murderpedia.org/female.L/l/lazarus-stephanie.htm
Stephanie Lazarus: Murderpedia, the encyclopedia of murderers