The eyes of a killer
My past with death row inmate Eric Holmes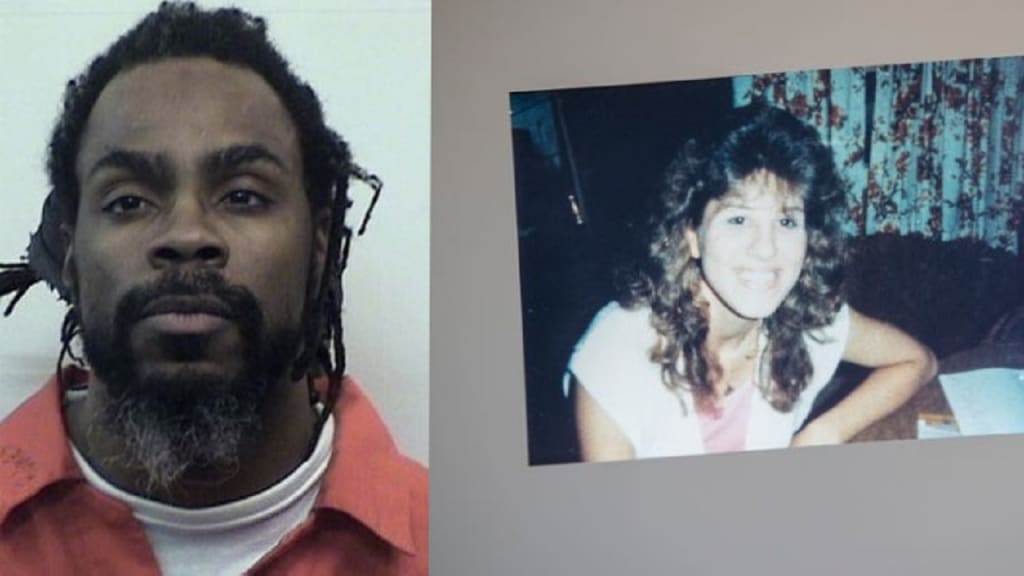 Killer Eric Holmes and victim Theresa Blosl
According to Shakespeare, "Hell is empty and all the devils are here." Today, those infamous words still apply. The world is full of evil monsters. If you don't believe me, then pick up a newspaper or do a Google search and you will find it all over the planet. Since the dawn of time, people have committed heinous acts against one another for the sake of greed, lust and many other reasons. Most people, however, will spend their entire life without knowing anyone on death row.
Unfortunately, I am not one of them.
For this story, I revisit 1989 when I still lived at home and attended college. I had taken a quarter off to work. I applied for a manager trainee position at a restaurant called Shoney's in Indianapolis. After interviewing for the position, they offered me a position.
I spent a couple months at the training store before reassignment to another location. I learned all the hourly positions and how to open and close the store.
One evening, my parents visited me at work. After my shift ended, my mother expressed concerns about my safety. She wanted me to quit and return to school.
Her reasoning? She had a bad feeling about the place. And it was her instincts that may have saved my life. She felt my life could be in danger. I laughed and told her she worried too much.
After completing my training, I was assigned to a Shoney's at 5485 E. 82nd Street, in Indianapolis. Once there, I became good friends with a co-worker named Theresa Blosl, who was also a manager.
She was a friendly young woman who focused on her career and raising her son. We had many conversations about kids, life and career goals. Her father came in often for coffee and spent time speaking to his daughter. I even got to know him. He told me she worked so much he had to visit her at the restaurant just to see her.
I also met a young man named Charles Ervin, who had just left the U.S Navy. On behest of our assistant general manager, who was his lifelong friend, Charles moved to Indianapolis for a management position.
Theresa and Charles were great co-workers and good people. I also befriended another co-worker named Eric Holmes. He worked on the salad bar and seemed likable. His job was to keep the salad bar stocked and clean. Most of my conversations with Eric involved the attractive female customers that dined at the restaurant.
Although Eric seemed mentally slow, I had no issues with him. He did whatever I needed him to do without any issues. I spent most of my shifts working with Eric and Theresa in the dining room. We all had a good working relationship.
Shoney's is known for having an excellent breakfast bar. One perk of being a manager was enjoying a nice breakfast every shift. I eventually became restless and no longer wanted to cook for diners, cut vegetables or restock the breakfast bar.
My mother badgered me about quitting and returning to school to finish my degree. I relented and turned in my notice to leave. I arrived at the restaurant on November 7, 1989 to get my last paycheck. Before leaving, I spoke to Theresa, who was working. I wished her luck on her career. I think she wanted to either become an assistant general manager or general manager.
A senseless murder
On November 16, 1989, Charles, Theresa, and another employee had left the restaurant with the store's till to make a night deposit. In the restaurant's foyer, Eric Holmes and an accomplice who also worked at the restaurant, confronted the trio. The men demanded the till.
Eric Holmes attacked the three employees with a knife and stabbed each of his three victims numerous times.
Charles and Theresa died in the restaurant's foyer. Unknown to Holmes, the third victim survived, played dead, and called the police. After the killings, Holmes and his accomplice told their third accomplice, "We are ruthless." Hours after the homicides, police captured the killers, recovered the stolen money, and arrested the third accomplice.
This crime happened nine days after my last conversation with Theresa Blosl. I didn't realize she would be viciously murdered just days later. I have never forgotten this crime because I knew the two homicide victims and their killer personally. They weren't characters in a movie or fictitious characters in a crime novel. They were just hard working good people trying who didn't deserve what fate dealt them. I periodically check the news to find out if an execution date has been set for Holmes. I don't see any indication that he will ever be executed.
The Indy Star published an article in 2019 about this case. Her son Aaron is now an adult and also continues to wait for justice. His punishment is the worst. His beautiful mother was taken away from him. He also received a sentence. He has to live without ever knowing her. I can remember her telling me how she wanted to be a good mother and to give him a great life. It saddens me that she never lived to see him become an adult.
After the murders, I thanked my mother for encouraging me to leave. She said, "Had you stayed, you could have died that night." There is a saying about a mother knowing what's best. In my case, no truer words could ever be spoken.
A court sentenced Eric Holmes to death on March 26, 1993. Today, he still sits on death row in Michigan City, Indiana. Holmes now spends his final days known as inmate number 932132.
Reader insights
Be the first to share your insights about this piece.
Add your insights