'Miss Fisher's Murder Mysteries' Adds Life to Investigating the Dead
This lady detective combines fashion, fun, and feminism into an entertaining series.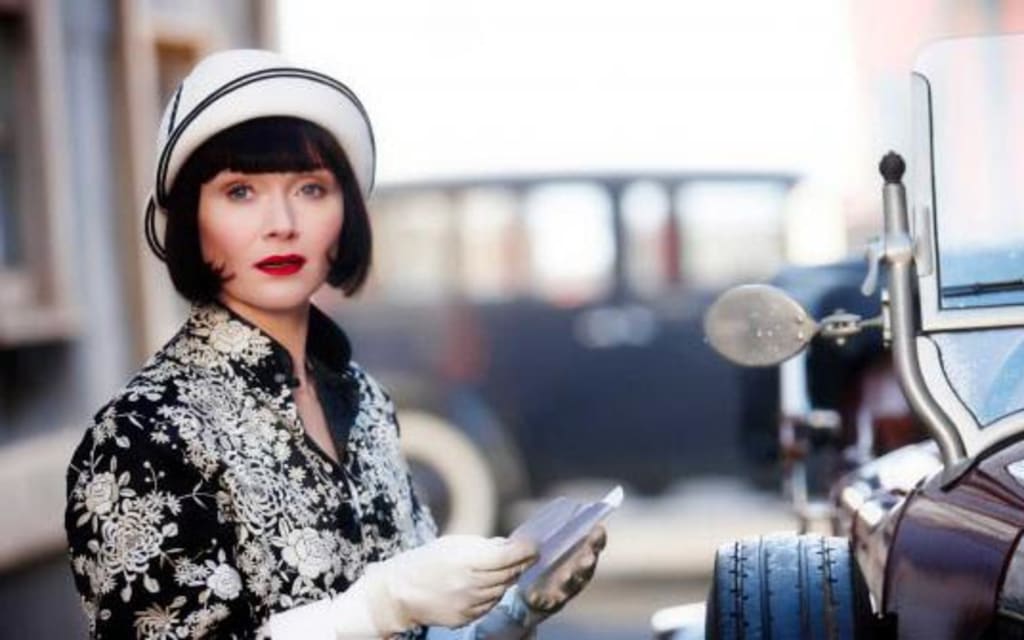 Credit: KCET
The Honorable Miss Phryne Fisher is a "lady detective" who solves murders in Australia following World War I. The television series on ABC Australia called Miss Fisher's Murder Mysteries began as a series of books written by Kerry Greenwood.
Why do you need another crime-solving detective in your life?
Imagine Sherlock's brains and James Bond's charisma in the body of a woman.
Unlike others in her field, Miss Fisher brings a certain level of flair to her cases. She started off in life with no money until her family inherited both fortune and title. This allows her to maneuver through a high society party and hang out with dock workers at the pub.
At the start of the series, Phryne returns to Australia after attending/finishing school in England, driving an ambulance during World War I, learning to fly airplanes, and a being a muse for painters in Paris. She has settled into her new home with a cast of characters that aid her in her cases and her life whether they want to or not.
Her Crime Solving Team
Miss Phyrne Fisher (Essie Davis) has endless charms and multitudes of friends. The books and the television show have the same characters with slight differences.
Dorothy "Dot" Williams (Ashleigh Cummings) operates as her right-hand woman who doesn't trust technology and is Catholic. She likes the Protestant policeman, Hugh Collins (Hugo Johnstone-Burt), and frets about their differences. Hugh works with Detective Inspector Jack Robinson (Nathan Page) whom on the television series functions as a love interest which is not the case in the books. Add to the mix Bert and Cec (Travis McMahon and Anthony Sharpe) who drive a taxi and help with the seedier side of the town, and Mr. Butler (Richard Bligh) who keeps her household.
The main differences between the book and the show involve Miss Fisher's family. The show has a continuing storyline about her sister's death. Yet her sister is alive and kicking in the books and joins her in Australia. While the books have more characters including a Mrs. Butler, the show adds her Aunt Prudence played by Miriam Margolyes.
Her wardrobe itself is a character.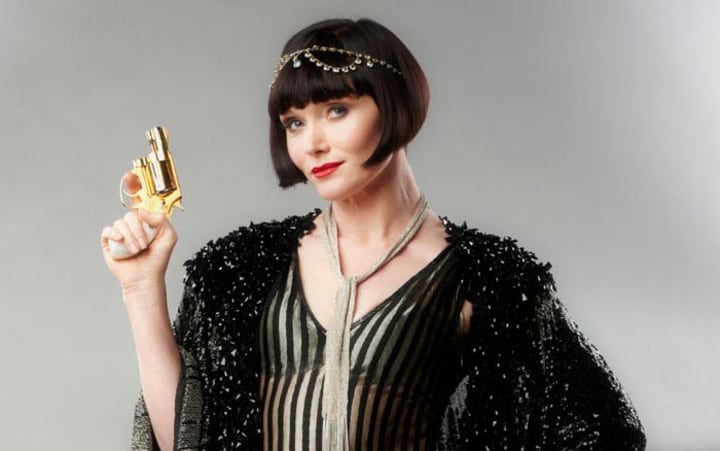 While the books describe some breathtaking outfits, the television series brings them to life. The costume designer, Marion Boyce, designed 95% of the clothing herself to accommodate the character's active lifestyle. An outfit exists for every situation from an evening gown to activewear to nothing at all.
From top to bottom, the actors are adorned in clothes that show their character's economic situations. The upper-crust of society wears bright fashionable outfits contrasting to those struggling to compete with duller clothes and holes in gloves and stockings.
Not All Flirting, Feathers, and Fashion
"A young man in one's hotel bedroom is capable of being explained, but a corpse is always a hindrance." Kerry Greenwood, Cocaine Blues
While her style draws you in, her cases are worthy of Sherlock himself. With both the books and the shows, you're never yelling out who the killer from the beginning. Everything unfolds in a way that is entertaining as well as interesting. The books offer far more detail, but the shows make the 1920s leap off the screen.
Miss Fisher is a well-rounded character that is soft and strong, smart and wise, fun and funny. While her friends help her a bit, she can also take care of herself.
Finding Miss Fisher
If you would like to watch her, three seasons are available with a total of 34 episodes. They are on DVD and now streaming on Netflix.
Filming begins in October 2018 for a movie entitled Miss Fisher & the Crypt of Tears.
"Miss Fisher & the Crypt of Tears will have the witty intrigue of Indiana Jones, the opulent style of a Merchant Ivory Production, and the feminist fun of Thelma and Louise." Co-producer, Fiona Eagger, told Australia's TV Tonight
If you would like to read about her, 20 books exist that are available in paper, eBook, and audiobook (read by Stephanie Daniel). The first book is entitled Cocaine Blues (Phryne Fisher Mysteries).
Unlike with other adaptations, you can't go wrong either way with whichever one you consume first.
tv review
About the author
Originally from Chicago, Kathy is an avid addict and advocate of all things entertainment living in the Pacific Northwest.
Reader insights
Be the first to share your insights about this piece.
Add your insights