How a 10-Year-Old Boy Being Charged with Assault Over a Dodgeball Game Proves Over-Policing Is Real
It's part of a bigger pattern...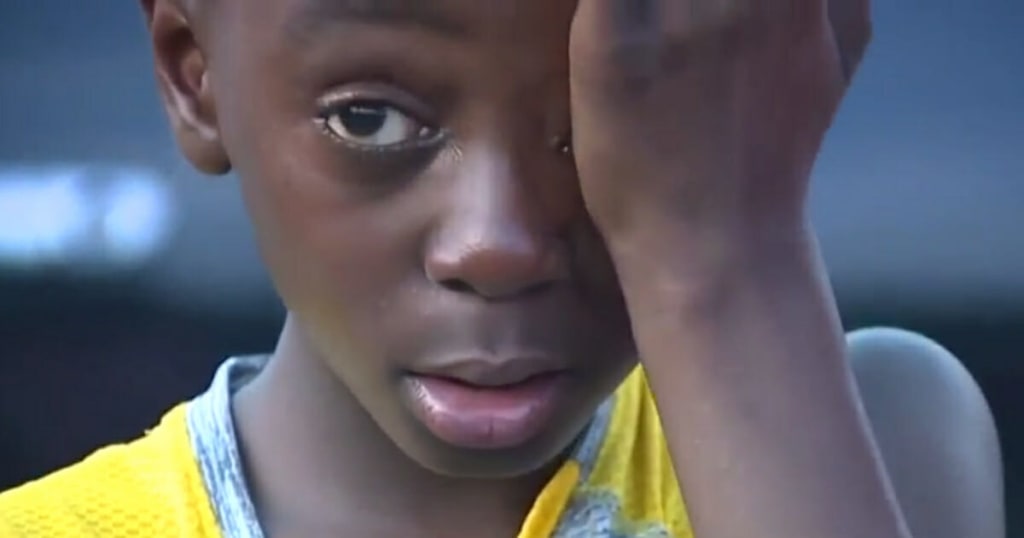 Imagine being a mom of a 10-year-old boy received a phone call from your local juvenile court telling you that your son is about to be charged with assault.
That is what happened to Cameishi Lindley when she got a call that her son, Bryce, would be charged with aggravated assault, months after a playground game of dodgeball at his elementary school.
"I couldn't believe it," says Cameishi, mom of the soon-to-be-fifth-grader. And honestly, who would? Dodgeball, a game so many of us have played as kids, never turned into something law enforcement should or would engage in. However, here the Lindleys are, trying to piece together what should have been a conversation between parents and teachers now escalated to legal charges.
Because Bryce is a black child who is being so severely punished and the boy who was injured is white, many are calling the entire incident not only heavy-handed but racist. People are taking to their platforms, including DL Hughley, who called the charge "ridiculous" coming to the boy's general defense across the internet.
Everything began back on April, when, during an end of the year dodgeball game at Ruth Eriksson Elementary in Canton, Bryce managed to hit another child in the head with a ball. Bryce received a one-day suspension from school, an already heavy consequence. The child Bryce hit reportedly sustained a concussion. But because it was an obvious accident, the Lindleys didn't expect punitive measures against her son Bryce to go any further, that is until the phone call Cameishi received in the summer.
The injured child's mother (who has not released her's or her child's name publicly) says her son had a previous medical condition that made him susceptible to head injuries.
The unnamed mother alleges that this particular injury was indeed intentional, adding that her son "sustained facial tissue damage to his face. He had a black eye and a bruised nose." The unnamed mom says that her son had already experienced similar incidents while engaging in physical activities at school, and that she "tried not to let it get to this point."
At no point was there any mention that the unnamed mom instructed teachers of her son's condition, nor is there currently any indication that instructors or school personal attempted any action to prevent the unnamed boy from playing sports that would exacerbate his condition.
Cameishi insists that neither she nor her son knew about the injured child's medical condition, or about the other school incidents for that matter. How could she, she it was obvious that if the school allowed the unnamed child to play, they didn't know about the child's condition either? Lindley feels the child who was injured shouldn't have been allowed to play any sport where his condition would be exacerbated, least of all a risky game of dodgeball, in the first place.
It is very odd that the responsibility for this situation would fall entirely and squarely on the shoulders of a 10-year-old Bryce and not on any of the adults who could have easily and quickly avoided this and other incidents with simple awareness.
The case, Wayne County's assistant prosecuting attorney Maria Miller tells Yahoo Lifestyle, "was evaluated by our Juvenile Prosecuting Unit, and it was determined that there was enough evidence to for us to charge aggravated assault." Yes, you read that right: the Wayne County Juvenile Prosecuting Unit confirmed that a simple elementary school dodgeball accident held enough evidence to charge a 10-year-old boy with aggravated assault.
If that sounds ridiculous to you, it's because, well, it is.
However, this one incident that may seem like an unfortunate one off appears to fit into a larger pattern of what various studies have concluded as "disproportionate punishments" between Black and White children in America.
A 2018 report by the Government Accountability Group found that Black students in K-12th grade certainly more likely to be disciplined harshly at school, and that includes the gambit from public chastisement to suspension and even to involving law enforcement.
The New York Times in 2017 report says, "during the 2012 school year, black students [in Arkansas] were suspended five times as often as whites were, and little has changed since then. The racial discipline gap is not restricted to Arkansas, or to the South. The same report finds that several Northern states, including Illinois, Michigan, and Wisconsin, rank above Arkansas in the black-white suspension gap."
An additional Brookings Institution study that examined the state of California schools found evidence of the same gap despite statewide efforts to reduce suspensions.
These studies and others all prove one thing: Black Children, like Black Adults, are policed more harshly than other ethnicities, and certainly more than our White counterparts. And the charging of a 10-year-old boy over a dodgeball accident that should have never happened is certainly proof of that.
In the meantime, Cameishi has created a fundraiser to assist her with Bryce's legal fees. She and her son are set to appear in juvenile court on Aug. 1st. It's her hope as well as the hope of others that this case be immediately dropped.
racial profiling
Writer. Blogger. Podcaster. A stylish goofball with social justice leanings.
Receive stories by Whitney Alese in

your feed