Celebrities Who Were Criminals and Their Turning Points
Some Unknown Celebrities Facts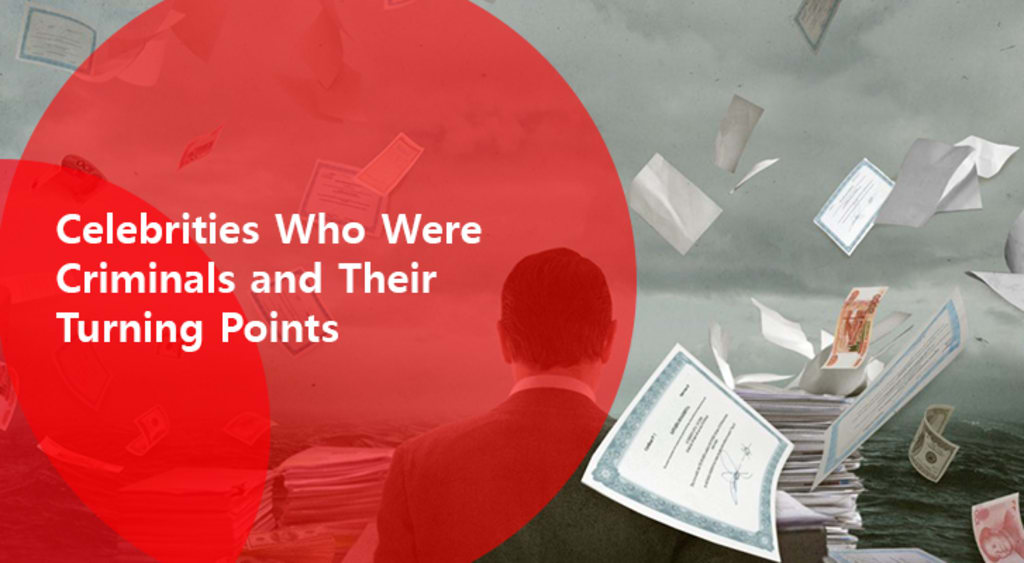 Celebrities Who Were Criminals and Their Turning Points
Growing up, we all have loved and idolized celebrities in our lives. Putting up posters and wallpapers of your favorite celebrity is just thing mostly all of us have done or are doing. These celebrities whether from the music, filming, or any industry are an inspiration we seek. We are influenced by them to such an extent that we follow them and
Some of the celebrities we know are known of their humble and down to earth characters like the Chinese superstar Jackie Chan, some for their divine beauty like the gorgeous Australian fashion model and actor Margot Robbie, some for their brilliant acting like the long-awaited Oscar-winning actor Leonardo Dicaprio and some because of their influence in the industry like the Detroit rapper Eminem and the unique flowing rapper Lil Wayne.
Some fans claim that their favorite celebrity has them a reason to live and motivation every day. For them to hear that their favorite celebs were accused or proven guilty of criminal activities would be a huge blow.
Let's find out about 7 big celebrities who have criminal activity under their name and what changed them.
Chris Benoit
For all the WWE (world wrestling foundation) fans out there, you might know about Chris Benoit. A Canadian wrestler who was doing decently in his wrestling career killed his wife Nancy and their 7 years old son Daniel and later hung himself, committing suicide. He had taken his wife Nancy from his ex-husband Kevin Sullivan when he previously worked for World Championship Wrestling (WCW). Nancy was Chris' manager. The unfortunate event is still a huge blow to the Wrestling community.
Many reasons have been proposed this brutal act like his use of steroids, his failing marriage, and alcohol abuse. This is by far the most extreme and bizarre incident we have heard about the celebrities we follow. The world of wrestling was shocked when they found about Chris and his family's dead bodies, each with a bible at their side.
Robert Downey Jr.
The fantastic actor of Iron man, Robert downy Jr. and one of the highest-paid superstars in the Hollywood industry has one of the most inspiring stories.
In April 1996, Robert was arrested for possession of a gun, drugs and other paraphernalia. Being under the influence of a drug he broke into his neighbor's house intoxicated and slept on their bed. He was initially sentenced to jail for 3 years, which was later turned into a one-year sentence and then to a rehabilitation center.
His career momentum shifted when he gave up on drugs and started working hard as an actor. He got his breakthrough in 2008 where he played as the hero of the action-packed film Ironman. Since his sobriety, Robert has been a completely changed man and an inspiration for all his followers and fans. If your chest has just swollen by pride after listening to this inspirational story, and you want to catch up on his movies, then subscribe to "Spectrum Gold packages" so you can enjoy your favorite Robert Downey Jr. movie right on your TV or your smartphone with Spectrum TV app.
Mark Wahlberg
Born in 1971, in Massachusetts, Mark embarked on a life filled with crime and received his first civil action at the age of 15 when he was harassing African American children. A year later he beat a Vietnamese man with a wooden stick and shouted racial chants at him. He also suffered cocaine and many illegal substances addictions.
At the early of age 19, he decided to clean up and joined the band with his brother and became famous because of that. He is one of the handfuls of actors who have made the transition for good. He is currently one of the highest paying actors and lives peacefully with his wife and 4 children.
Mike Tyson
Despite being one of the biggest names in the sports game, Mike Tyson has been a part of many controversies and has flirted with illegal activities all his life. He was sentenced in 1992 for raping an 18-year-old beauty contestant in his hotel room. He was released after 3 years because of his good conduct. Mike didn't stop and started boxing again. Since 2011, Mike has been improving and hasn't gotten himself into trouble since his daughter was born.
Will Smith
Will Smith, the superb actor, and musician is known as a chilled laid-back father who spreads positivity and happiness through his videos. He's known as a person who is always exuberant in nature and has tranquility in his veins. The West Philadelphian native became famous because of a TV show fresh prince of Bel-Air and has earned 4 Grammys' and nominated for 5 golden globes and 2 academy awards till now.
Before coming to fame, Will was a struggling actor trying to make it through the Hollywood industry. During his 20's he had an incident where he got into a fight with a man and beat him so brutally that the man was left heavily wounded with an almost blind eye. He was charged with aggravated assault, criminal conspiracy, and simple assault for recklessly endangering another person and spent a night in jail in Pennsylvania.
Luckily for him, he spent the next morning signing autographs, and maybe this violent criminal record made him into headlines after which he gained fame.
A person who is so inspiring and lives such a glamorous lifestyle can commit this horrific crime is very hard to take for some of his diehard fans. Will, later on, realized how he must retain a good image and till now has only been an awe-inspiring and an idol for many people who love him. Get Spectrum TV Stream Service, and catch up on some Will Smith's movies to get some inspiration.
Snoop Dog
It isn't surprising to see rap stars on the list because legal authorities and hip-hop celebrities have always had a bone to pick. Snoop Dogg also is known as snoop lion is a millionaire, rap superstar, and a marijuana enthusiast who is known throughout the rap community. He hasn't been shy about bragging about his gang influences and suffered jail many times even before his music career began.
In 1993 he and his bodyguard were accused of shooting an opposing gang member but the case was later dropped as self-defense and he was acquitted of all his charges. Snoop Dogg is a legend for people who follow rap and was the close friend of the pioneers of rap Tupac Shakur, who was assassinated. Snoop has turned himself as a law-abiding guy and is a regular face on TV shows with an appearance in late-night shows like Jimmy Kimmel.
Eric Cantona
Eric Cantona a French footballer who represented Manchester United in the premier league. Now he is an actor, producer, and director. He Kung Fu kicked an opposing team fan, which caused a huge controversy in the football world where critics said he should be deported and never be allowed to play in England.
Moreover, he was allegedly charged with criminal assault and had to face 2 weeks of a prison sentence, which was later overturned by bail and he had to do 120 hours of community service. He wasn't allowed to play first-team games and irritated he terminated his contract. Since then he has become a very strict and respectable man. He recently featured in the Ballon d'Or award where he delivered his speech too.
In A Nut Shell
We all love our heroes. Our ideal celebrities are our idols and their actions guide us and motivate us. The fact that most of them have suffered while growing up and faced many problems coherently depicts that even the major superstars deal with harsh times. The fact that they grow up on their mistakes and prove their haters wrong is why we as their fans we should stay away from their mistakes and take inspiration from their stories.
We wish all celebrities whether famous or struggling, very good and prosperous life and that they overcome all the adversity in their life and prove to be excellent role models for their fans.