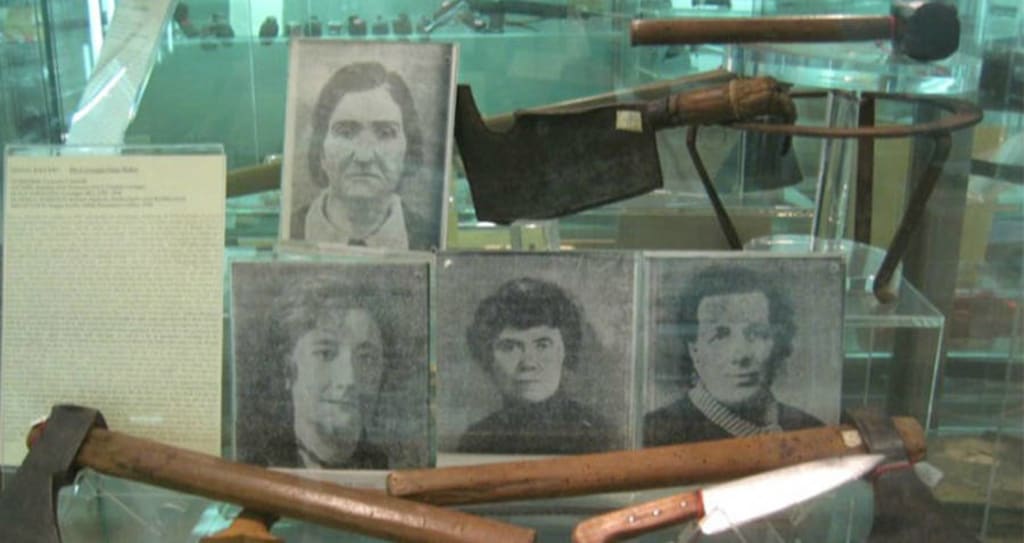 Wikimedia Commons :victims and the weapons used (Italian Criminology Museum)
The child mortality rate has significantly decreased in recent decades, marking an incomparable improvement. In a span of less than thirty years, the child mortality rate has reduced by over fifty percent, going from 12.5 million in 1990 to 5.2 million in 2019. In fact, the United Nations had predicted that the global population will surpass eight billion people on November 15th, 2022.
Life in the past was a struggle, especially for our ancestors, as they had to deal with high child mortality rates. Due to this, having more children was seen as a necessity for the continuation of the family line. Women, on average, would give birth to four to seven children during the pre-modern era.
I'm telling you that in an effort to help you understand how life was different in the past, I want to tell you a very grim story about a mother named Leonarda Cianciulli. Her life was similar to the image I am trying to convey to you.
Leonarda Cianciulli was a caring mother who had a difficult life. She got married and became pregnant 17 times. Unfortunately, she suffered three miscarriages and lost 10 of her children at a young age. As a result, she became extremely protective of her remaining four children.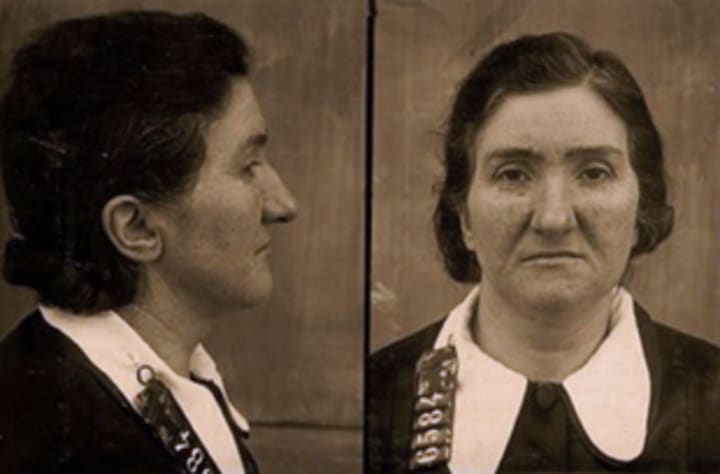 At the start of her story, which takes place in the early 1900s, there was a warning that stuck with her. A fortune teller had prophesied that she would marry and have children, but each child would die young.
Cianciulli's emotional well-being during her upbringing was unstable, and while the exact cause is unclear, it may have been related to a strained relationship with her mother, which led her to contemplate suicide at a young age.
In 1917, when she was due to marry, her mother strongly disapproved of the match, preferring a different suitor. However, Cianciulli rejected the chosen partner, and she believed that her mother had cursed their union. This moment played a significant role in shaping her thoughts, although it was just one of many.
Growing up in a loveless environment may have contributed to Cianciulli's tendency to commit minor crimes. In 1921, she was convicted of fraud and imprisoned when she and her husband moved to his hometown of Lauria. After her release, they relocated to Lacedonia Evelino, where their home was destroyed during the devastating European earthquake of the 1930s. In Cianciulli's eyes, this string of unfortunate events further confirmed the curse placed on her by her mother, causing her to spiral further.
The couple had their fair share of ups and downs, but they did experience a moment of success when they opened a small shop in their neighborhood of Correagio Reggio Emillia, where they gained popularity and respect.
Unfortunately, the difficulties that the woman had faced overshadowed this achievement. To deal with her insecurity, she sought the help of a fortune teller, hoping to hear that her future would be bright and that the curse from her mother had been lifted. However, the fortune teller's prediction was not what she wanted to hear; instead, it made things worse for Cianciulli.
"In your right hand, I see the prison," she said, "In your left, a criminal asylum."
Nowadays, it is widely acknowledged that a woman can suffer from depression and anxiety after experiencing a miscarriage, and Cianciulli had to deal with this three times. To make matters worse, she also lost ten children at an early age.
Leonarda Cianciulli may have been diagnosed with clinical depression if she were alive today. During the 1930s, she lived in a new town and had developed a sense of paranoia. Since there were limited options to alleviate her condition, she turned to superstition, fixating on her mother's supposed curse and the prediction of a Romani fortune teller.
When her eldest son, who happened to be her favorite, disclosed that he was enlisting in the Italian army, it served as the tipping point for her. It is unclear where Cianciulli obtained her ritualistic plan to ensure her son's safety during the war, but she believed that she needed to perform a human sacrifice to fulfill her wish.
Cianciulli would entice her victims to visit her home by pretending to offer assistance with their problems. Her initial victim was Faustina Setti, whom she lured into her home in 1939 under the pretense of arranging a marriage for her. Cianciulli claimed to have found a suitable partner in Pola but asked Setti not to inform anyone until she arrived there. She sent letters and postcards to reassure them that all was well.
Setti visited Changchuli for the last time to say goodbye before her departure. Unfortunately, Cianciulli poisoned Setti's drink and killed her with an axe. Cianciulli then moved the body into a closet and dismembered it into nine pieces.
Cianciulli provided details of the aftermath in her official statement, explaining :
"I threw the pieces into a pot, added seven kilos of caustic soda, which I bought to make soap, and stirred the mixture until the pieces dissolved in a thick, dark mush that I poured into several buckets and emptied in a nearby septic tank. As for the blood in the basin, I waited until it had coagulated, dried it in the oven, grounded it, and mixed it with flour, sugar, chocolate, milk, and eggs, as well as a bit of margarine. Kneading all the ingredients together, I made lots of crunchy tea cakes and served them to the ladies who came to visit. Though Giuseppe and I also ate them."
Additionally, Cianciulli reportedly stole Setti's life savings of 30,000 Italian Lire (equivalent to about 300 dollars today). Setti had received the money as payment for Cianciulli's matchmaking services, which helped her find a husband.
The next person to fall victim to Leonarda Cianciulli's heinous crimes was Francesca Soavi. Cianciulli reportedly came across Soavi, who was also unemployed from Piacenza Girls' School, just like Setti. Cianciulli instructed Soavi to write letters to her acquaintances about her upcoming plans and asked her to visit before she left. Sadly, just like Setti, Soavi met a similar fate. This crime occurred on September 5th, 1940, and Cianciulli is said to have taken three thousand li-ray from Soavi.
The third person she killed turned out to be her final victim.
Virginia Cacioppo, a well-known soprano, once performed at the prestigious La Scala Opera Theater in Milan. In 1940, Cacioppo visited Cianciulli after she was offered a job working with an impresario in Florence.
As with her first two victims, Cianciulli used wine laced with poison and an axe to kill Cacioppo. However, in this instance, she also turned Cacioppo's flesh into soap, instead of just baking her body into tea cakes to distribute to her neighbors.
As she said, "She ended up in a pot like the other two. Her flesh was fat and white when it had melted. I added a bottle of cologne and, after a long time on the boil, I was able to make some most acceptable creamy soap. I gave bars to neighbors and acquaintances. The cakes too were better. That woman was really sweet."
Cianciulli believed that she had committed the murders without anyone noticing, but unlike the previous two victims, Cacioppo's sister-in-law became suspicious of the situation. Although the sister-in-law received letters from Cacioppo about her abrupt departure, she witnessed her visiting Cianciulli's home on the same night she was supposed to have left. The sister-in-law, not believing the letters, reported Cacioppo's disappearance to the local police.
Once Cianciulli became the subject of a police investigation, she vehemently denied any wrongdoing. It was only when the police turned their attention to her son, Giuseppe, the very reason behind her brutal rituals, that she finally confessed to everything.
Cianciulli's trial lasted only a few days, during which she was found guilty and sentenced to 33 years in prison, closely mirroring the Romani woman's prophecy of 30 years in prison and three years in a criminal asylum. On October 15th, 1970,
Cianciulli passed away in the asylum from cerebral apoplexy, a type of haemorrhage. Her family buried her, but her murder weapons, including the pot she used to boil her victims, were donated to the Criminology Museum in Rome. Today, visitors to the museum can see her collection of axes and even peek inside the bag she used to boil her victims.
About the Creator
We should enjoy every moment fully, fall in love, make the most of our time, and live without regret. We should cherish the fact that there are still many moments in life that we have yet to experience for the last time.
Reader insights
Be the first to share your insights about this piece.
Add your insights