A crime most clever
Listen closely. Can you guess where the body is? This is the dead lad's story.
I am dead. My spirit will not depart until my body has been found, if you can possibly assist the police in locating me, I would be eternally grateful and could finally go on to the next phase of my scary, unknown journey.
Here is what happened.
Jurney shot me. Not deliberately, she was playing with her fella's illegal pistol and it accidentally went off. Why he had a gun with real bullets when the props on the movie set used fake weapons, I had no idea. Anyway, I suddenly felt the pain in my gut, and then everything went black.
I woke up in the desert, I really thought that I was still alive. I walked (or I think I walked, I moved pretty quickly, which was strange!) back to the set, and was puzzled that everything was going on as usual, nobody noticed that I had been missing, that blood was dipping from my gut. Everyone was just carrying on with the acting and movie production. My scene was coming up.
"Ok people, Act 11, scene two. And...Action"! I walked unto the stage, trying to get some attention.
Nothing happened. Everyone waited, looking around. "Action", was yelled again. I was confused.
Nothing. No reaction from anybody.
"Anyone seen Marko"? Tammy yelled!
"I'm right here, don't be silly". I laughed, grimacing from the pain, or at least I should have felt pain. Again, strangely, I didn't.
Tammy walked right through me with an uncomfortable whosh, as I staggered back. Then I stood still as death.
"Oh my sainted mother, I am dead, they can't see me, Jurney had killed me. I am dead". Realization washed over me, bathing me in horror, ungodly terror and intense agony.
What had she done with my body if no one knew that I was dead. Now I am remembering the desert scene when I woke up. She had left me in the desert.
"Take five, someone go find Marko so we can get on with our day". The director yelled, exasperated at the waste of his time.
Tammy found a drop of blood on the faded old carpet in the dressing room. That murdering, lying Jurney volunteered that I had cut my hand and probably just went home. They rang, they visited my apartment, I could not be found. People were beginning to get suspicious. They called the police.
If only the dead could speak! Here I was busy explaining to everyone, yet no one except Jurney could see me. Life is so full of irony, she stared at me, looking scared and really needing to cry. I knew that she was sad, I understood, she was in a lot of trouble. Jurney had always been a good liar, if not the smartest leaf on the tree. Yet, what had she done with my body? The cops found the gun in her handbag. It had recently been fired.
Yet, no body, no proof...right? They searched the theatre thoroughly, or so I assumed. There was no sign of me, or even the bullet. Except for my ghost of course, but they can't see me. Pity!
They questioned everyone. When Jurney's turn came, she started confessing before her bum even hit the chair.
"I was playing with Robbie's gun and I didn't know that it was loaded and Marko was standing there and the gun went off and he got shot in the stomach and I think he died so I stuck him in a tree in the desert". She never stopped to take a breath in between words.
"Actors". Sighed the policeman, not really believing her.
"Do you think you can point out where in the desert, Jurney". They asked while placing the handcuffs on her hands behind her back. Robbie too had been arrested for having an illegal gun, which may or may not have shot someone.
"Yes, I know exactly where the tree is". I knew when my best friend was lying, she blinked too fast. She was up to something.
"Right, come on, let's get to the desert then". The officer said, marching Jurney out to the police car.
"But....."? She looked at me with a sly smile. Now I knew that she was lying.
They searched the desert for three days. Not a single body or tree with a body could be found. I remember waking up and, come to think of it there had been a few trees.
Due to the absence of a dead body, they let Jurney go, pending further investigations.
She waited two nights, clever girl. I was sticking to her like glue.
Late on Wednesday night, she loaded a shovel and some sheets into Robbie's big ass old van, shoved her shopping cart inside and drove to the theatre. What was she doing here?
Have you guessed what the clever Jurney had done?
She let herself into the back door of the theatre, flicked on the floor lights, no one would see those from outside. In went the shopping cart, sheets and Jurney, and into the cart she carefully wrapped and piled my lifeless body. She cleaned the fake tree hurriedly, but thoroughly, and retrieved the bullet from inside.
Now I am not a big fella, so a strapping girl like Jurney had no problem navigating me outside and into the van, along with the shopping cart.
"WHERE WAS MY BODY"? You may ask.
Jurney had not lied about that. I was in the desert.
The desert on the movie set of the film that we were making. She had simply opened the fake tree with the false bottom where fake blood drained, and shoved me inside. I was just starting to smell, so no one had noticed as yet.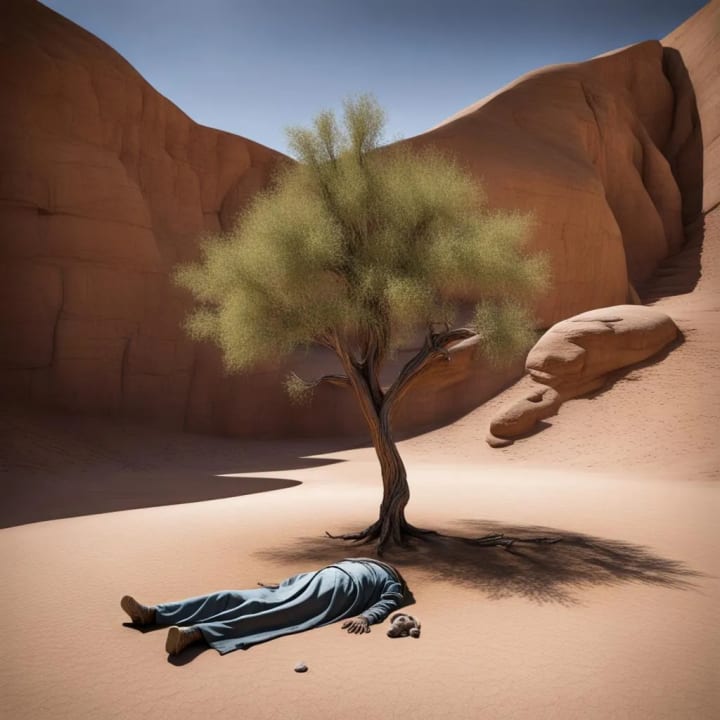 Well, long story short. She took me and buried me in the real desert this time, rolling a few huge stones on top of the spot. I had totally underestimated the genius brain of my best friend. No one would ever search the real desert again.
Engulfed in the desert's parched silence, I was nothing but another grain of sand in the wind.
.................................................................................
About the Creator
(Uk based) I Exist within moments, driven by whims and fancies, a free spirited dreamer. I Run wild with the wind.
Reader insights
Nice work
Very well written. Keep up the good work!
Top insight
Compelling and original writing

Creative use of language & vocab
Add your insights