Seeking the mystery woman who messaged me on Words with Friends
Did I get scammed? or did we fall in love?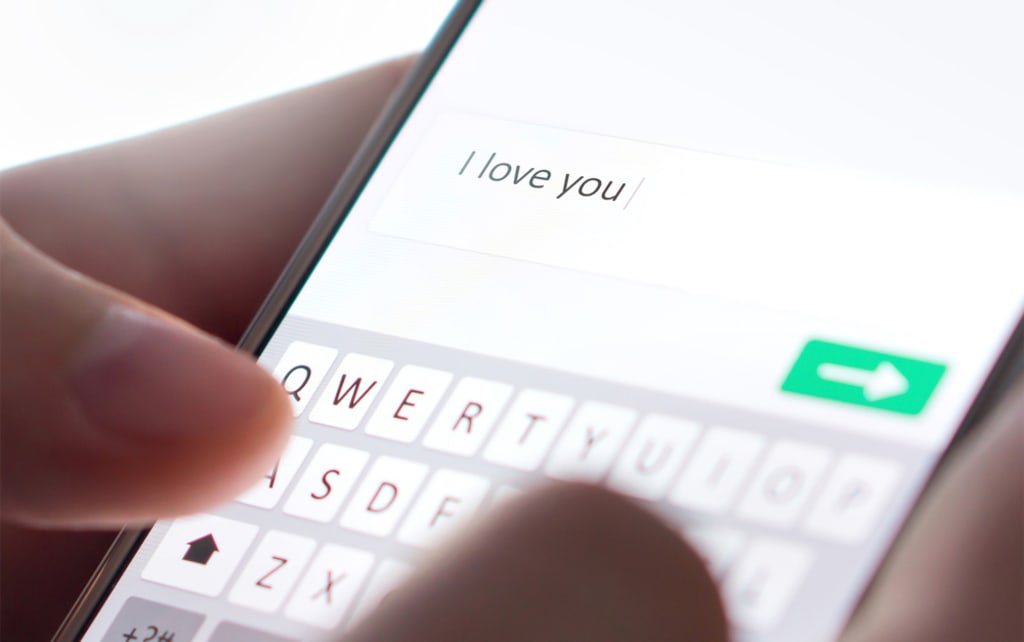 You know people are always so quick to think the worst. How many times do we walk on the other side of the street when we see someone walking towards us that we think looks a bit dodgy? Or maybe we hear an offer and repeat "Well if it sounds too good to be true, it probably is"?
Likewise, there is this natural response that when strangers contact us online, most of us automatically think it's a scam.
Now don't get me wrong, there have been some great examples of why people should be wary online. I mean, those Nigerian princes and penis growth people really stuffed things for a lot of honest internet entrepreneurs.
So, one day whilst playing Words with Friends I got a game request from someone, they didn't start out very strong, so I saw this as an opportunity to improve my stats. Soon enough she messaged me. Ok, right off the bat you are probably saying "How do you even know it's she?" and that's a valid question I didn't ask for their preferred pronouns, but during our conversation, we did at least establish that they identified with being female.
I will admit from the outset though, that I wasn't entirely honest with her during our interactions, but I'm hoping that if we do meet again that she will see past that.
She opened up the conversation very politely with, "hello how are you doing today hope you are doing well" straight away I thought, the lack of punctuation was pretty impressive, and before I could respond she followed up with "Where exactly are your from? I'm from Dallas Texas". Now, this is where my first lie came in, I said I was in Houston, although I live in Australia. I just didn't want to get bogged down talking about if I know Chris Hemsworth or if I have a pet kangaroo (the answer to both is "of course, all Australians do").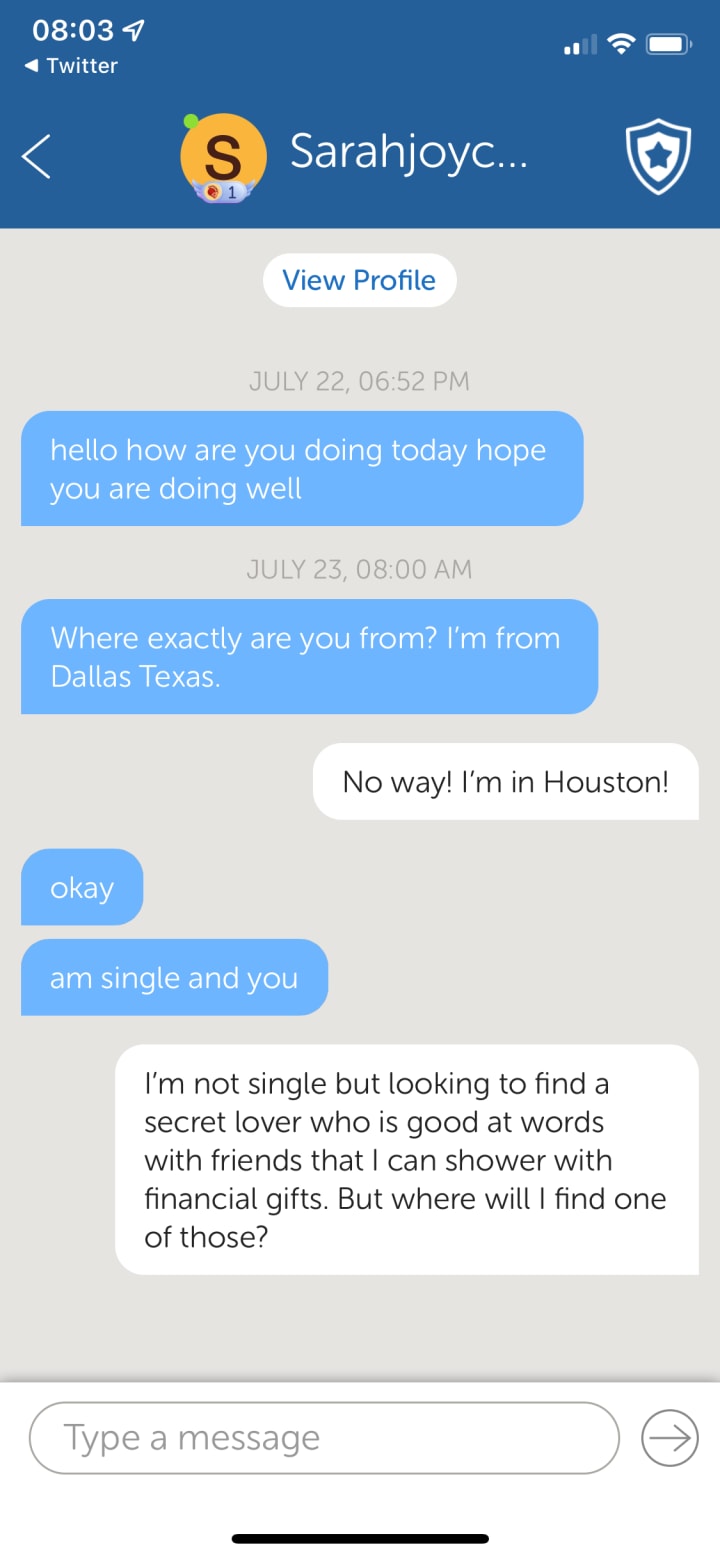 But very quickly it became apparent that the words I had already played had garnered her attention because she had an immediate interest in my relationship status. I felt it was essential to be honest on this, declaring I wasn't single but was happy to take on a secret lover who was good at Words with Friends that I could shower with gifts.
This is where I know she was genuine because my honesty didn't scare her off, quite the contrary. I talked about my plans for our secret wedding and checked on her attitude towards polygamy. She was comfortable with it.
Then we went into the other parts of my life, like my career. I shared with her my experiences as an apple sticker, you know the person who puts the stickers on apples, so you know if you're eating a Red Delicious or a Pink Lady, as well as knowing which orchard it came from. I vented my frustration with Stan who gets to do the oranges, but only because he's a brown nose to the manager.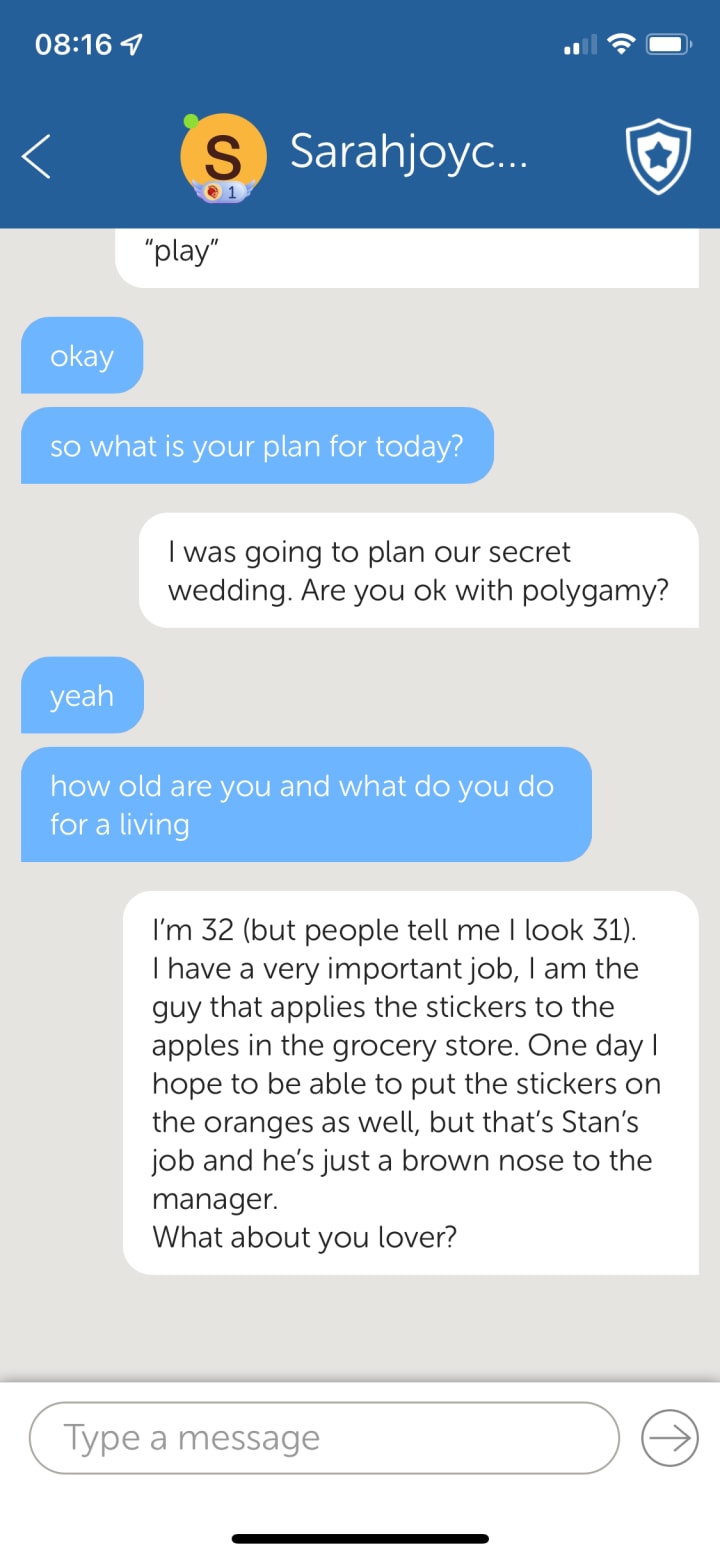 You can't make up a connection like that, it was real because SHE WAS REAL.
Then I got her message telling me that she was willing to be my wife. I told her that my other wives would be overjoyed to welcome her into our home. I got a brief "thanks dear" (again, her non-use of punctuation or even capitalization drove me wild), and then she disappeared.
I tried the number she gave me, but it was disconnected. I tried to find her profile on WWF, but it wasn't there.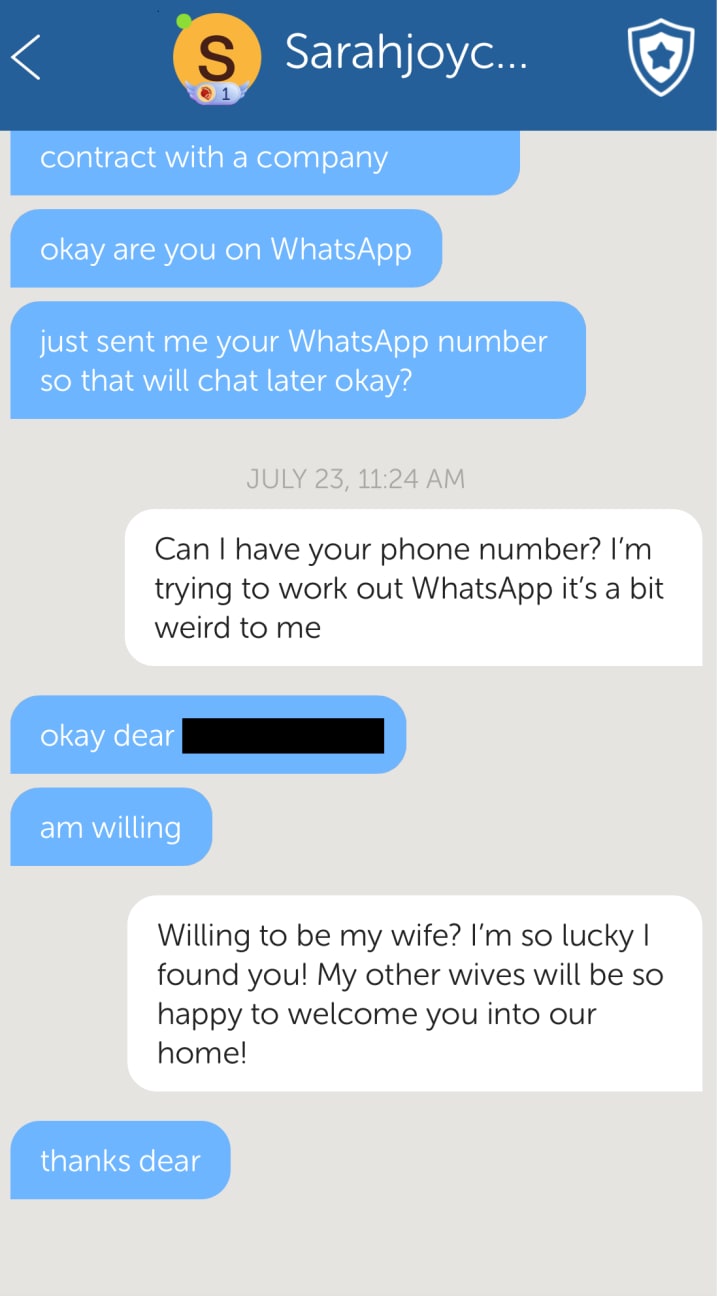 Where can my love be? What happened? Was I winning and she had too strong a competitive streak? Maybe something has happened, and she needs money. If you know, please reach out and I'll do whatever I can to make sure she is safe.
Obviously, if you have read this far, I hope you've picked up that this is tongue-in-cheek. These scams continue because people still fall for them. Educate yourself on cyber security and basic cyber safety. Always assume that the person you are talking to is wanting to rip you off unless you absolutely know them (although some of my family the ripping you off thing still applies).
Do not ever give details away to people through mediums like messenger or game chat functions. Search for resources if you aren't sure or ask someone you trust for help (I continue to be my parent's tech support many years later).
Dating
About the author
Amateur storyteller, LEGO fanatic, leader, ex-Detective and human. All sorts of stories: some funny, some sad, some a little risqué all of them told from the heart.
Thank you all for your support.
Reader insights
Nice work
Very well written. Keep up the good work!
Top insight
Heartfelt and relatable

The story invoked strong personal emotions
Add your insights