Reasons to Leave the Christmas Tree up
Why I won't be taking my tree down... at least for a month (or two)
Mid-January is a most difficult time of year for me. Not only is it disgustingly hot in Australia, but it's also the time of year in which I must grapple with an incredibly difficult decision... how long is it acceptable to leave the Christmas tree up?
If I had it my way, there would be a Christmas tree for every season. Could you imagine? An Autumn themed 'Christmas' tree, with squirrel ornaments and orange leaves that rustle when you touch them?
*Sigh*
But alas, no such tree exists... yet... so I'm going to have to make do with my winter-one (even though it's the middle of summer; thanks America for normalising a 'white Christmas'). To help myself (and you) deal with the cognitive dissonance, here are five reasons to keep your Christmas tree up just a little bit longer...
My Cat Likes to Climb it
Aah the little terror. As the saying goes, you can't choose who you love, and this little critter sure does like to test my limits.
I accepted a few years ago that Christmas is not for me... it's for him. He loves to play in the wrapping paper, so we leave it in the loungeroom for a few days so that he can get the 'burn, kill, destroy' instinct out of his system. He likes to pounce amongst the paper - as if it were a pile of maple leaves - and has been known to tear it into so many pieces that we are still finding shreds in odd-places by mid July.
His favourite holiday past-time? Toppling the tree.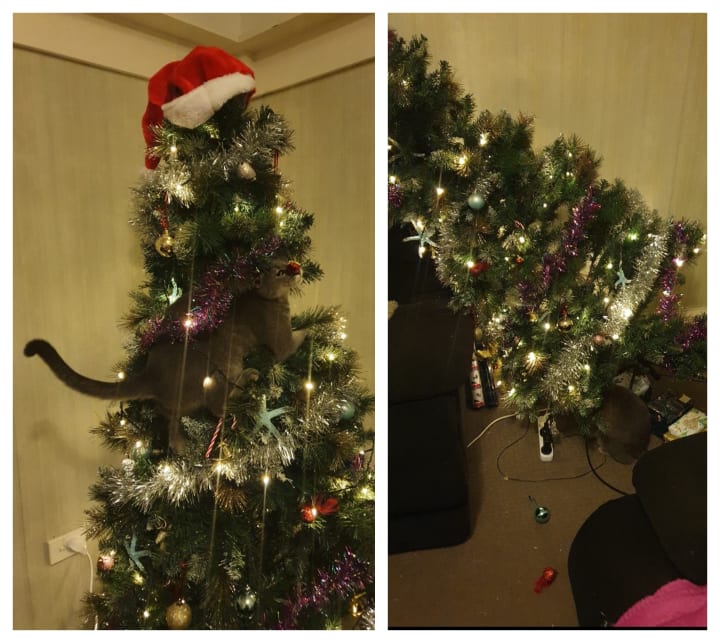 My Other Cat Likes to Sit Under it
Maybe it's because it's where her cat-tree goes for the other 11 months of the year, or maybe it's her natural outdoorsy instincts calling her to the closest thing that resembles real leaves. Regardless, under the tree is her favourite place to rest. Sometimes when you think you're alone you can catch a pair of bright green eyes peaking at you from between the foliage.
It's as terrifying as it sounds, and just as cute.
My partners cat likes to do the same. He favours his spot under the tree over his cat-bed, and has been found many a morning shading himself beneath the shadows.
Reading by Fairy Lights
One of my favourite parts of the holiday season is the sleepy lull that seemingly falls upon the nation from December 27th and half-way into January. Everything is silent, as if engulfed by a film of sleet. I take advantage of the quiet, and five years ago I accidentally stumbled upon a new tradition of mine; reading by the light of the Christmas tree.
The first time I did it, I was reading the screenplay for Fantastic Beasts and Where to Find Them by the light of a tacky string of rainbow Christmas lights. I didn't know it at the time, but this night would soon became a flashbulb memory.
Perhaps it's not good for my eyes... but it is good for my heart.
I Spend a lot on Christmas Decorations
I don't go over my budget for most things, but I must admit that Christmas decorations are my guilty pleasure. Post-Christmas sales are my favourite; I stock up on everything I couldn't afford beforehand, and store them away for the next year. I like to buy things with intricate designs, or practically anything that sparkles, and since I don't buy anything cheap or plastic, I think I can justify the need to display the decorations all through January.
I didn't get a chance to look at the sales this year, so I like to call these Arianna Grande-esque baubles 'the ones that got away.'
I'll be back for you next year, my loves.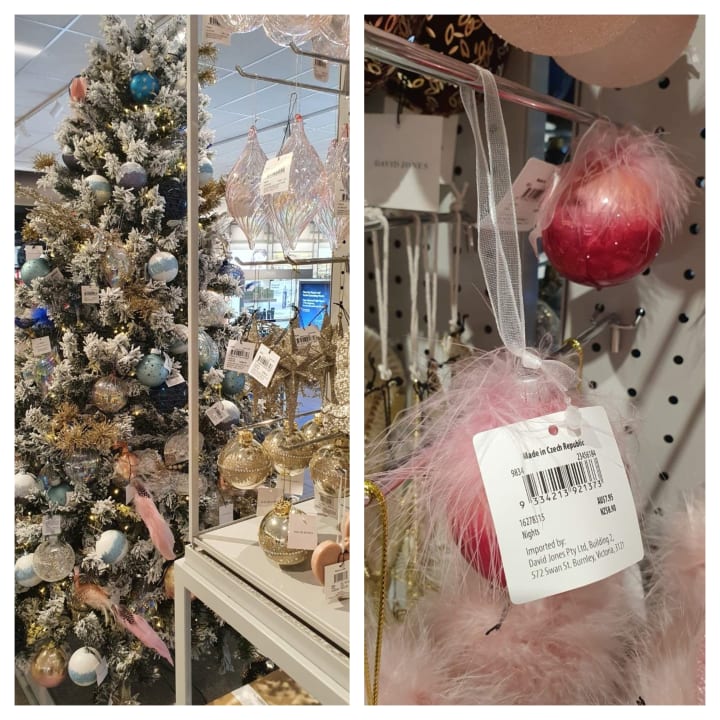 It Makes the Memories Last Longer
Call me cheesy, but when I look at the Christmas tree, I can't help but smile. I love to see the cats sleeping under it and batting at the decorations. I love to see the fairy-lights reflecting off the glitter, and I love what it represents.
The mere sight of a Christmas tree has me reliving memories from years past.
I remember how my brother and I are especially meticulous with the decorating; crafting DIY decorations with my Mum and my sister; the year in-which my Dad and I threw the decorations at the tree instead of placing them, and the night my partner strolled through an affluent neighbourhood marvelling at the resplendence of the décor.
Needless to say, I'm ready for December to roll around again. Except maybe without the soundtrack this time...