Dear Diary
By: J.A.F_Jess.A.Fox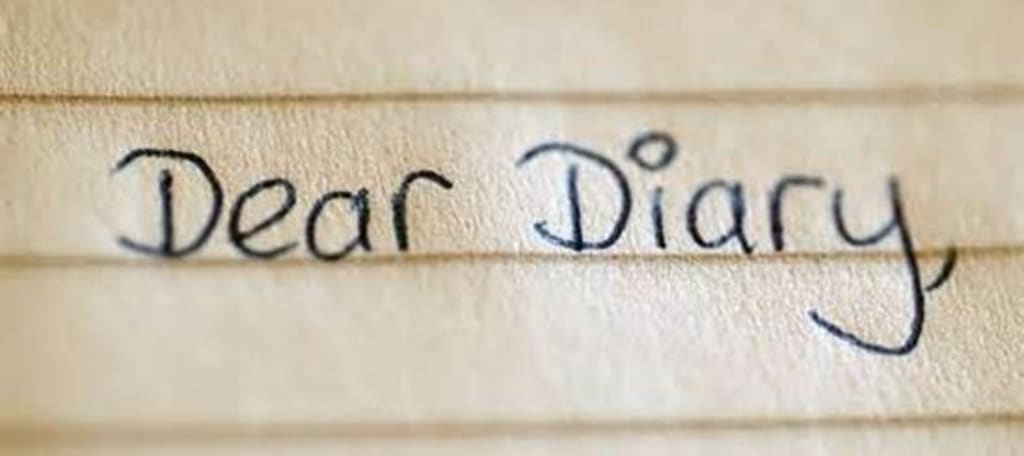 Some say the people and memories in their lives have changed since the start of COVID. I say COVID allowed people to reveal themselves. It may not be the best memory, but memories were still created; why is this important? Because memories are what we thrive on sharing later in life as wisdom or for laughter. So what exactly can Jess A.Fox say to provide individuals with knowledge or laughter?
The embarrassing and untold stories are numerous. Numerous in which to choose, "choose from the numerous Jessica, choose." Now we can talk about when I was seven and cut my face open on a chair racing on foot to the swings on the beach. I can add the importance of turn-taking and laughing at oneself while learning a valuable lesson. I can also talk about when I was five, and my teacher told me I could not use the washroom; as a result, young JAF pulled down her pants and urinated in the corner. We can also talk about the time I started rollerblading and got the hang of it. Getting the hang of it was nice but trying to empress a cutie while approaching the bumps on the sidewalk took an unexpected, flying like chitty, chitty bang, bang turn. We can also talk about when my former partner and I brought our rolled pennies to the bank. Now, most people know this story, but an equal amount does not. Cashing in pennies is not our story; dropping all the pennies on the floor and screaming my money when a guy is trying to get one of our phone numbers is. Yes, he walked away. However, today, I will share my diary, my written up's and my written down's:
Summer 2019, Slow: I do not know what to do, do not know what to do. Got me head over heels, feeling so confused. Said we should take it slow, together we both know, lol to the impossible—all honesty your mentals what I want. Your grind is harder than the average day thot. I grind too together, or what a better two, on all we could ever want. So, baby, let's take it slow. Grins on everything, yes. No penetration on me, but you got my heart feeling to bless. Crawling, crawling boo, you crawl to me, I crawl to you. But let us take it slow. WOW! Do you say you love me? Well, I love you too. Yes, you a baddie, you are my baby, you, my boo. I got it tatted, and ill quote that because I love you. Baby, you bad. You know. We still got to take it slow. Cause what am I to do? What am I to do? Three years to ten and a million and one things I can say and do. Stressed!! About a better day, on a, what is up when they try and minimize your play. Cause they are jealous; oh, my baby got that head-turning game going, though. My little Spanish, Black, everyone wants that, call me lucky, on a Vedo- Yvette type track. Cause she a Classique banger. People are always talking about her and what she does. It got me all upset because they don't know her as I do. My little sleeping-out camp friend who once hopped off a bus to defend me: so, I equally did the same by jumping off a balcony to a broken ankle to defend her name. Now the untold story in all that is I dropped my last internship and lost you. But all this led to a better tomorrow too.
Now talking of a better tomorrow, let me tell you about this friend, never a lover but love him to the end. Summer 2019, Phone: Hit me on the phone, boy, just hit me on the phone. Hit me on the, hit me on the, hit me on the phone, boy. Calling on the phone, late-night don't want to be alone. Tell him amma role up, cuddle, cuddle up. Said he is trying to have me, trying to have him too. On a love, a woman, love a woman, type a mutual. We forever, we forever, though.
No penetration but hella conversation, though; he wants two women, and I like 5. Mutual aye, what's mine is mine, facts. He wants a rider and a rider; I am that. He wants a bro; I am that I got that. But on the conversation, conversation, let me tell you about these five cats I like, though. First, you got the baby moms without the baby going on, then, of course, the four ladies from my confession song. But facts, I am not down with all that. You already know I dropped a brother for that. So on a five minus three brought over to equal 2, I'm not down, for that is what I am trying to get to; so, hit me on the phone boy, just hit me on the phone, hit me on the, hit me on the, hit me on the phone boy. On a volt secret boy, you not alone. Just call me, call me up, he knows, I there, that's what's up. On a call any hour type of day. Crusty eyes, bad breath, even on my tiredness of days. That's right; I love you best. Now the untold story is that this friend is just my friend but can this generation believe it dam.
Now down another memory lane, Winter 2020, I Pray: I pray, I pray, got to get out, though. I got to get out; I was on a who is going to help me out? So perceived, Father to the left and right are serpents, Over here acting like they care that I was hurting. I was hurting on a handout, Gave, and a negative mention. WOW!! Then they're trying to come at me, Jess A.Fox off to another galaxy. The galaxy of love, The galaxy of no hurting. The galaxy the psych told me to visit when I want to close the curtain.
I faced a gap or two—a couple of threats, A couple of times too. But at the end of it all, I kept my head high is what I am trying to get to. Even at seven, when piggy said spread them. The girl up the street and I had to call ourselves special cause our privates were being used as a pillow, and I am not lying though, you know it is all true, what is the day she yelled in the hall, he touched me? Hmm. Then you got them quick man-boys that like to switch up the story. Wonder if they got what they wanted, or she figured their f-boy story? But what's funny, though, she comes up in another too; Passed out after a drink, so I can't even say what happened hmmm. But morally, morally, I pray, and outside of her, they look like something JAF flushes every day. That's for real, loving myself with my head high. I pray I pray, I pray, got to get out, though. Manifest, Manifest, a manifestation of self-blame, the black thoughts lead me down an unrealistic evaluation of my name. I am working on those four stages up to the word of dependency. Now, look at me creating my challenge; see, I made it through it all regardless of past pain. So let's join pens on an honorable write-up to moving on.
Time to regroup cause I got this Winter 2020; blessed: I'm blessed, and I'm blessed, I'm blessed, yeah—blessings raining on me Jah, blessings raining on the crew. Coming in like them shots, hey bartender boo. On a let's celebrate what does the new year got in store? Year? On an oh yeah, more than once. Pour the liquor in the dam cup, pour it, pour it, what a vibe. The role it up, cause now we high. Blessed, and I'm blessed want a thick girl 1st and 2nd girl vibe. As pretty as her eyes, I don't have millions but can have you feeling good again, come and come and come and get it, man. On a caller, call her, you got my fingers, friend and tongue. If you saw what I had, you'd call yourself a pedestal dam; ladies don't get salty cause on a turn-up; I like the bartender dam. Bartender sucra boo, watching them legs on you? Got them long thick slims, providing up some long grins. Swear the day I get my hands on you, girl, we going missing too.
The untold story is that all this a dream of my boo, with my wild dirty thoughts on she a bartender not stripper dude. On a still here talking about you. Got enough saved up for the night; Bartender, I stay loving you right. Yeah, the chance, blessed, and I'm blessed, you already know. Pour it up to a re-up, call for celebration, three penetration type mood. So, blessed, and I've blessed me to the test, no one knew I loved woman to this point; oh yes, since 15 Blessed.
Now set the timer to Summer on oh, he thought I forgot; my boy says he loves me, time to switch the words up, cause it isn't looking like that no. He lost himself a rider. Play it back as I walk myself to the corner on a don't go. He had his chance to love me, but the loose way he chose to go. Straight facts when I told him I didn't hook up with any other bro. But of course, he doesn't believe me, listening to his f-boyfriends. But on a redirect, all that neglect reflecting on him. He says he loves me, but where is he when I needed him? Sleeping with a street girl when he knows he the only one I gave it to; So on a serious check-up, it's a wrap boy, he knows I'm done—taking it to history because he was my only one. Negative on negative experiences with these men, at this point, you can call me a lesbian.
Reader insights
Be the first to share your insights about this piece.
Add your insights