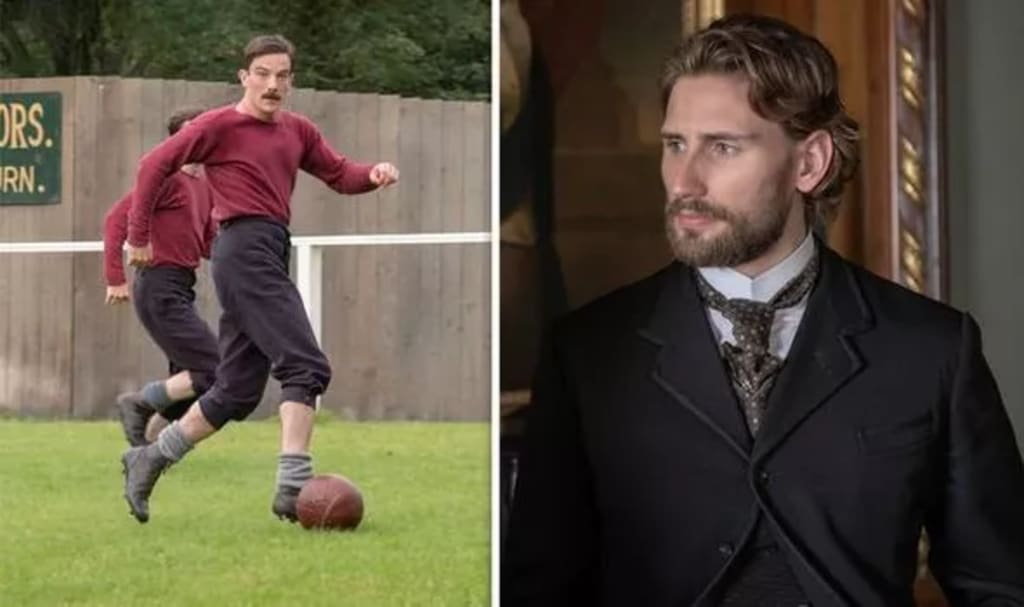 Fergus Suter, World's 1st Ever Professional Footballer and Arthur Kinnaird, my Favorite
Looking for great Soccer/Football Content to help kill off your World Cup Off Day....
Look no further!!
First up, the 6 Episode Netflix Mini-Series:
The English Game
This one is a Netflix's Owned and Created Period Piece transporting us to the wonders of 1882 and Football's 1st Ever Transfers and 1st Ever Professionals, Fergus Suter and his friend Jimmy Love gets bought by Darwin FC, as their ambitious mill owner wants to chase and make a run for the FA Cup!!!
And over the course of the next 6 Hours watching the lives of all the principle players and characters create and adjust to the professionalization of Soccer/Football. It might just be my Favorite Experience and I usually rewatch it in full like 2, 3, even 4 Times a Year. Rewatch the 6th and Final Episode even more.
There are subplots not involving the Football to keep the Non-Football Supporting Spouse and Friends Happy (although, if they have triggering issues with fertility I should warn you there's an onscreen miscarriage)
Not sure how to explain it without slight spoiler, but Arthur Kinnaird is my favorite because of what he represents.
If Gianni Infantino actually meant what he tries to say about making "FIFA a Net Positive for the Entire World" he'd run FIFA the way Arthur Kinnaird would run FIFA and we'd be building the gah damn Starship Enterprise, but instead Gianni Infantino and his Corruption Cronies behave more fitting to Gul Dukat's Character (you'll only get that one if you Star Trek: Deep Space Nine, the best of all the Star Trek Series. It also mentions/alludes to Soccer 3 Times in DS9 while being the best, coincidence I think NOT!!!)
Summer of 92
Pure and Simple, Summer of 92, is a biopic about the Euro 1992 Underdog Champions Denmark. Originally gave it a chance while it was on USA Netflix between 2016 and 2021 to see my Manchester United Legend, Peter Schmeichel Win his International Trophy, but I love it for everything else that it is, too. And Peter's portrayed as a stoic unspoken leader with very few lines, so my fellow United Fans shouldn't expect Peter to dominate the screen, but it's still a fantastic ride all around!!!
It's fascinating watching the real life story unfold to them. Going from Not Qualifying for the Tournament, to being Invited Last Minute to replace War-Torn Yugoslavia, the Winners of their Qualifying Group, to Winning the Entire Tournament is a fantastic ride!!! It's not just that, it's watch the realatable real life people go through the things they were going through and watching them achieve it!!!
The Denmark UEFA Euro 1992 Squad:
1 GK Peter Schmeichel 18 November 1963 (aged 28) 47 0 England Manchester United
2 DF John Sivebæk 25 October 1961 (aged 30) 77 1 France Monaco
3 DF Kent Nielsen 28 December 1961 (aged 30) 50 3 Denmark Aarhus
4 DF Lars Olsen (captain) 2 February 1961 (aged 31) 57 3 Turkey Trabzonspor
5 MF Henrik Andersen 7 May 1965 (aged 27) 25 2 Germany 1. FC Köln
6 DF Kim Christofte 24 August 1960 (aged 31) 11 1 Denmark Brøndby
7 MF John Jensen 3 May 1965 (aged 27) 43 1 Denmark Brøndby
8 MF Johnny Mølby 4 February 1969 (aged 23) 14 0 France Nantes
9 FW Flemming Povlsen 3 December 1966 (aged 25) 45 17 Germany Borussia Dortmund
10 FW Lars Elstrup 24 March 1963 (aged 29) 23 11 Denmark Odense
11 FW Brian Laudrup 22 February 1969 (aged 23) 25 5 Germany Bayern Munich
12 DF Torben Piechnik 21 May 1963 (aged 29) 4 0 Denmark B.1903
13 MF Henrik Larsen 17 May 1966 (aged 26) 18 1 Denmark Lyngby
14 FW Torben Frank 16 June 1968 (aged 23) 3 0 Denmark Lyngby
15 FW Bent Christensen 4 January 1967 (aged 25) 16 8 Germany Schalke 04
16 GK Mogens Krogh 31 October 1963 (aged 28) 1 0 Denmark Brøndby
17 DF Claus Christiansen 19 October 1967 (aged 24) 2 0 Denmark Lyngby
18 MF Kim Vilfort 15 November 1962 (aged 29) 42 6 Denmark Brøndby
19 MF Peter Nielsen 3 March 1968 (aged 24) 2 0 Denmark Lyngby
20 MF Morten Bruun 28 June 1965 (aged 26) 11 0 Denmark Silkeborg
Manager: Richard Møller Nielsen, the film's primary protagonist!!!
Cheers Denmark, hopefully you'll do better in the Summers of 24 & 26!! Although hopefully Summer of 24 (Copa America) and Summer of 26 is in the Cards and Stars for my USMNT, USA!!! The Golden Generation grew up a bunch in Qatar despite the disappointing collapse against Holland. The Film is Spoken in Danish, but while it was on Netflix it had English, Spanish, and French Subtitles Available. I have found it on YouTube today, but there's no Subtitles that way. For Americans trying to find a way to watch it with the Subtitles you might need a VPN for Danish Netflix or something.
Cheers and Enjoy World Cup Off-Day Number 2!!!!
Reader insights
Be the first to share your insights about this piece.
Add your insights