The Best Gear for Playing Soccer in the Cold
Soccer requires intense cardio, and your hands, face, and muscles all need to stay warm in order to play the game at your best. Thankfully, the big brands like Adidas, Nike, and Under Armor have thought this through, creating top notch gear for playing soccer in the cold.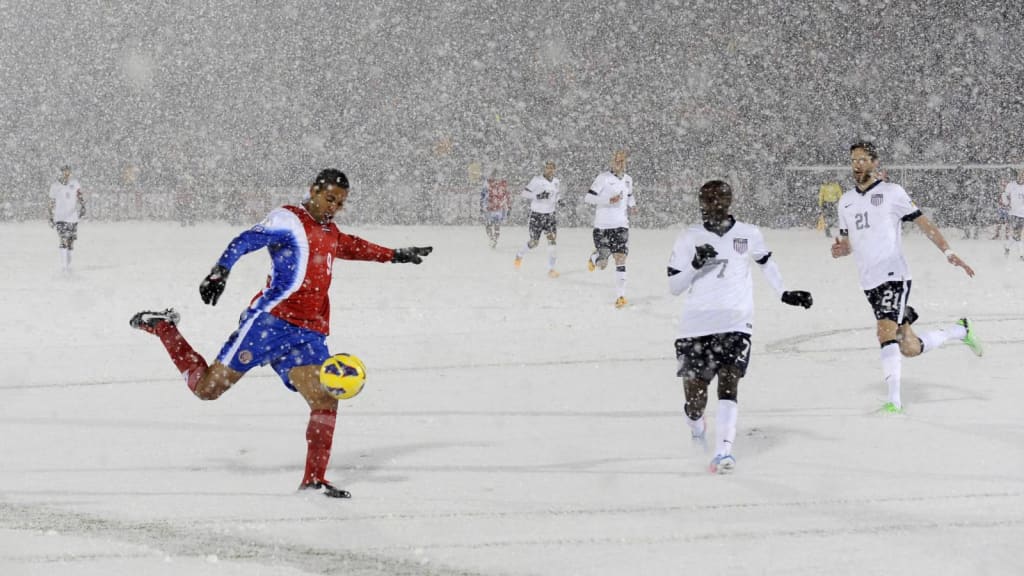 A sport that is played all around the world, soccer has been played in many weather conditions, be it under hot summer sun or in the elements of winter. In fact, many soccer players prefer to play in cold weather as opposed to really hot weather. Though difficult to breathe in the cold, hot weather can be much more dangerous when intense cardio is performed. When temperatures drop, however, it's important to wear the correct gear for playing soccer in the cold. How to choose soccer shin guards may still be a personal preference, but in order to stay warm while running up and down the field, players need the correct head, hand, body, and foot gear. The top brands like Under Armour, Adidas, and Nike have created clothing tailored specifically for these cold weather conditions.
Under Armour's ColdGear® clothing should be the highest priority piece of gear for playing soccer in the cold. This long sleeve compression shirt can be worn under uniforms, and it comes in a variety of colors, as not to stand out against your team's colors. It has a second skin feel, and when temperatures drop, this shirt will lock in your body temperature to help keep you warm. It has a four-way stretch material for flexibility. It's also fast drying, so your sweat will wick away—with anti-odor technology to ensure that this shirt will not hold in bacteria from sweat.
In harsh weather conditions on the soccer field, your exposed hands can take a beating against the cold wind while running up and down the field. It's important to stay warm from head to toe, even though your hands don't get used often while playing the game. These Under Armour gloves have an adjustable wrist, four-way stretch material, and it comes in five sizes, from small to extra-large. Even if you're a goalie, these gloves can be very useful—though they're not the best goalkeeper gloves with finger protection, don't forget that you will have to grip the ball for throw-ins!
These over-the-calf socks by Under Armour are an essential addition to your gear, not only when playing soccer in the cold, but also during any other time of the year. These soccer socks can work well in all weather conditions, as they wick moisture away and dry very quickly. They have excellent arch support and cushioning for specific areas of the feet that soccer players use most. They are thick at the tops of the calves as well, providing added warmth when the temperature drops.
This is a classic Adidas jacket, and this piece of gear for playing soccer in the cold will keep your body temperature warm on and off the field. It is made out of a sweat-wicking fabric, and it comes in three different colors for whichever suits your style best. There are also stretch panels around the elbows to give you full range of motion if you choose to wear this in practice or when warming up for the big game. Many people even wear this look as a fashion statement so this jacket can serve many purposes.
These Adidas shorts may best be worn during warmer weather conditions, but when temperatures drop, they are comfortable enough to wear with compression leggings underneath. These shorts are quick drying and will wick sweat away as you play soccer all day. If you're looking for gear for playing soccer in the cold, you'll want shorts to cover up your tight pants, so this is a great pair that you can wear, no matter what season it is that you play in.
A simple Nike beanie is an excellent addition to your uniform when faced with colder weather on the pitch. Whether you wear this while warming up, practicing, or on the sidelines in between play, this beanie will be sure to keep your body heat cranked and ready. Made from 100 percent acrylic material, it won't absorb the sweat from your hair in the way that a fuzzy beanie would.
If you're playing in weather conditions that are especially cold and you really need to stay warm during the game, then you may want to consider adding this Nike snood to your kit. This piece of gear is perfect for keeping your entire face and ears warm while you play. It has a breathable pouch around your mouth, so you can still breath while running. You can also push it down around your neck for those full out sprints. This specific piece of gear is probably best only in the worst conditions, but it is well worth the money for those extremely cold game days!
Not only will these Adidas training pants go great with the track jacket by—together you'll have a full tracksuit of gear for playing soccer in the cold—but these training pants can also be worn for warm up or practice. They are made in a nice slim design so that the bagginess doesn't get in the way of kicking around the ball.
There are things you should always carry in your soccer bag and then there are somethings that may even come in their own bag...
Every soccer sideline needs a picnic blanket in addition to their gear for playing soccer in the cold. This picnic blanket by Lightproof Outdoors is the perfect choice. Players who are watching and waiting on the sidelines can stay warm and share this blanket as they cheer on their teammates. The outer layer is water resistant and the inside is a short fleece material that can easily be brushed off. It also has a bag for it to be wrapped up and put away, so it is perfect for a soccer road trip.
Still need an extra layer under those soccers shorts? These Nike training tights are necessary for cold game days where shorts just aren't going to cut it. Compression tights can be worn under game shorts to keep blood flowing and body temperature up while running up and down the field.
All of this gear for playing soccer in the cold will help you stay warm in some of the coldest conditions out there. You'll want to keep your blood pumping so that your muscles can move just as fast as they do when it's warm out. Don't let the cold hinder you—get this gear and get moving.

Brad Gould
I'm a sports nerd that has multiple fantasy teams in every sport. If you want to know who won the championship in any major sport in any year you've come to the right place.
See all posts by Brad Gould →