Best Goalkeeper Gloves with Finger Protection
A goalkeeper without goalkeeper gloves with finger protection is a player more likely to spend time on the sidelines with an injury than they are on the field.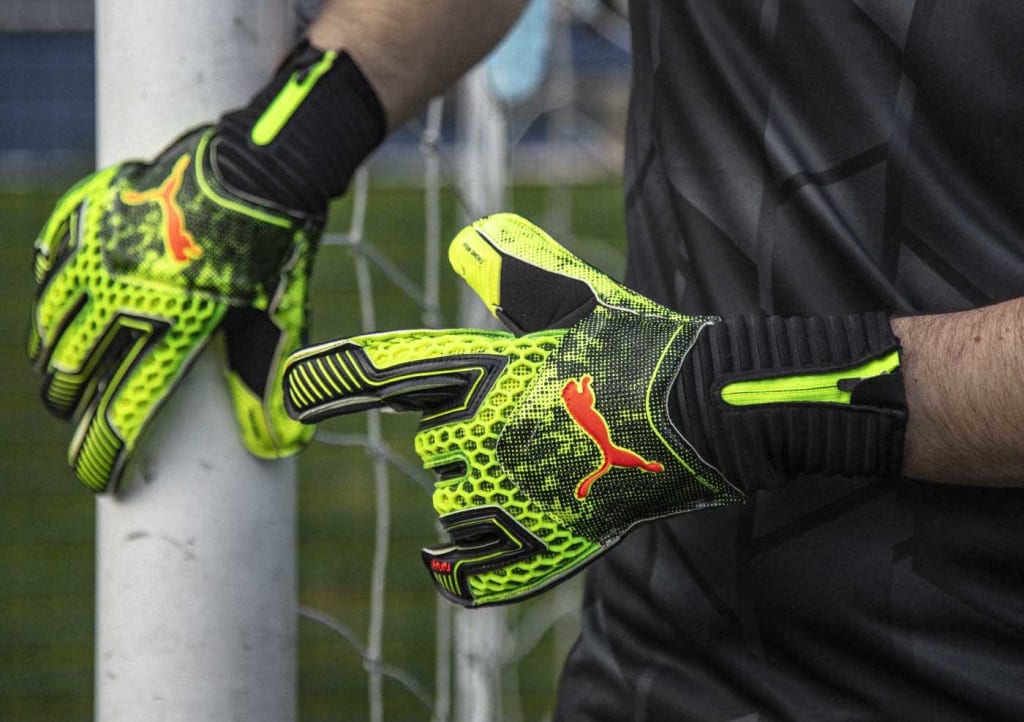 I have never seen a world-class goalkeeper make an astounding save without high end gloves, and I'm willing to guess you haven't either.
That said, there are lots of variables to reflect on when considering goalkeeper gloves, because what works best for one goalie may not be the best product for another goalkeeper.
Nonetheless, goalkeeper gloves with finger protection are an essential part of any player aspiring to become a world-class goalkeeper.
Coming in at number one is the GK Fury Goalkeeper Gloves from Renegade GK. Renegade GK is a firm well known for its line of gloves for keepers of all levels, especially for making the best women's goalkeeper gloves. Whether you're a beginner or an expert, Renegade has something in store that will be tailored to your needs and requirements.
These gloves are bright and attractive, and will undoubtedly have you stand out on the field, but they are more than just fancy gloves. What sets this product aside from all other gloves in this enumeration is its stellar finger protection technology.
With Endo-Tek Pro fingersaves, you get the protection required for your fingers while, at the same time, they deliver the flexibility required for regular gameplay.
Pros
The gloves provide great protection.
They're lightweight.
They're manufactured from a breathable material.
The manufacturing company also provides outstanding customer service if you have an issue.
Cons
They might be a bit challenging to put on.
They say goalkeepers cannot have it both ways, but once again, Renegade GK tends to disagree. That is, after all, why the company designed this hybrid-cut goalie glove.
The company stuffed the gloves with premium features; including, Endo Pro-Tek Fingersaves for extra safety, a full 360-degree wrist strap to offer maximum support, and a pre-arched palm.
The firm also added premium German latex materials on the palm section of the glove, to award you optimal grip on the ball during any weather or pitch conditions.
Pros
The gloves are manufactured from breathable material.
They boast a pre-arch design to help you catch the ball.
They are ideal for finger protection.
They have an attractive design that is trendy and stylish.
They have a good grip which prevents ball slipping.
Cons
The wrist is a bit narrow.
These soccer goalie gloves come out with a bang. Puma's Evopower gloves boast a vibrant combination of black, green, and pink, which permits you to be spotted from miles away. These premium products also retail with a 4mm grasp on the palm section, which is totally astounding given the product's affordable price.
Better yet, Puma Evopower Grip is the best example of how soccer glove's technology has evolved over the last couple of years. Their straps are part bandage and part latex, so you maintain lots of movement freedom, as well as maximum finger protection.
Pros
These gloves have a cool design.
They are flexible and lightweight
They provide good grip of the ball.
They are durable.
Cons
Some people find the color combination unappealing.
These are not the prettiest in this enumeration, but they do boast comfy features and have a price tag that's hard to beat. Designed with a super soft foam backhand, you'll feel comfortable wearing these premium gloves without worrying about what the ball's impact may do to your hands.
They also boast a finger reinforcement frame that protects your fingers from hyperextension.
The Vizari is an attractive choice for many professionals because it boasts a combination of the two most important components in goalkeeper gloves with finger protection. The gloves not only protect you from impact, but they also allow your fingers to move freely.
Pros
These gloves provide great flexibility.
They allow free finger movement.
They keep your fingers from getting hyperextended.
They have good stitching, which boosts durability.
Cons
They boast a strong chemical whiff, which may be irritating to some.
The sizing is a bit off. Be keen when picking your size.
Any list of goalkeeper gloves with finger protection would be incomplete without the Brine King Match 3X gloves, as they are some of the best goalkeeper gloves you can buy. Boasting a unique design that's hard to miss, these gloves look like they were designed for royalty, and you can rest assured that you'll stand out from other goalies you meet across the pitch.
Besides their attractive design, the Match 3X also boast unique features you won't find in gloves within the same price range. For instance, these gloves include protection designed to help you absorb the ball's impact. Better yet, the wrapped thumbs ensure you have great control over the ball.
Another feature worth noting is the 3mm German latex foam palm, which helps you maintain good grip of the ball when you are diving for a save.
Pros
These gloves are comfortable.
They include a backbone protection system that prevents hyperextension.
They provide a good and true fit.
They are great for practicing with.
The straps provide amazing support.
Cons
They may feel too snug for some goalkeepers because of their narrow design.
Be careful when tightening the straps.
If comfort is a priority, then these are the gloves for you. These goalie gloves offer an excellent grip and incredible feel thanks to the high end leather, as well as a particular finish that anyone will notice at first sight.
These durable, high quality gloves also feature a rolled finger latex cut, which basically offers a greater contact surface area between the gloves and the latex. In addition to that, the palm also boasts the Kronis Supreme Aqua latex that's designed to provide a sturdy grip.
Pros
These gloves provide a strong grip.
They can handle any weather conditions.
They provide a good fit.
They are great for both practicing and gameplay.
Cons
They are not very breathable compared to most other gloves.
Good gloves for goalkeepers need to provide optimal finger and wrist protection, and these high end gloves do not disappoint. Featuring a 9mm padded latex-foam palm, as well as unique finger protection, these soccer gloves provide sufficient cushioning guaranteed to protect your palms from the strongest shots.
Besides this, extra features included for finger and wrist protection include backbone finger-save tech, and a double layer wristband that protects your hands from sprained wrists.
Pros
These gloves are easy to clean.
They are breathable so as to prevent sweating.
They provide good grip of the ball.
They include wrist and finger protection.
They are affordable.
Cons
They may fit too snug for players with wider hands.
They aren't as durable as most other gloves.
These junior goalkeeper gloves are all about protecting young goalies from strong shots, which may result in bad injuries. For starters, these gloves boast a soft grip pro latex, providing these players a somewhat larger surface area for allowing young players to save shots without sacrificing ball control.
The latex palm also provides extra grip that permits good ball control in all weather conditions, whereas the thickened finger spines resist pressure in order to provide effective ball deflection.
Pros
These gloves can stand a strong impact.
They work in all weather conditions.
They are flexible and durable.
They have a breathable mesh to prevent sweating.
Cons
Palm stitching may start wearing off after several matches.
If you prefer gloves with striking designs and patterns, then pretty much anything by Reusch Soccer could be considered go-to goalkeeper gloves for you. Other than their mesmerizing design though, these gloves also retail with some hard to beat features.
For instance, the gloves feature flexible finger protection technology, reducing any chance of injury as a result of contact with the ball or ground. Additionally, the soft foam is flexible where it needs to be, but strong enough to give you a good grip on the ball. This glove also boasts full strap wrist bandage closures, ensuring you get the best fit and support all game long.
Pros
These gloves provide great grip.
They have a unique design.
They are breathable.
The wrist support is dependable.
Cons
They are a bit expensive.
Reusch is an excellent brand best known for manufacturing soccer cleats, particularly goalkeeping products. They are a renowned brand, known to design some of the most sturdy soccer goalie gloves in the game for some of the best soccer goalies of 2018.
That said, this creation, from their famous product line, has a significant price tag, but it is something every player should consider if they intend to reach the highest class of goalkeepers. The gloves newest ergonomic support system ensures your fingers are not restricted inside the gloves; which, in turn, permits you to have better handle on the ball each time.
Pros
These gloves are made of high quality foam.
They protect your fingers at all times.
The are designed using a breathable material.
They are flexible.
They improve your ball handling capability.
Cons
The grip is not exceptional if the gloves are wet.
I understand that choosing the best product gets a bit confusing at times, especially if the product in question is of grave importance to you. That is why the best goalkeeper gloves with finger protection come with affordable prices, excellent grip, and protection that will last year after year.
Whichever pair you pick, just ensure it keeps your hands safe from impact. Do not put your health and wholeness at risk by picking a glove just because it's attractive.
product review
About the author
Holistic health practitioner. Believes in using natural remedies over traditional medications whenever possible. Volunteers at a recycling plant.
Reader insights
Be the first to share your insights about this piece.
Add your insights