Best Women's Goalkeeper Gloves
With the right women's goalkeeper gloves, you can be stylish even on the field!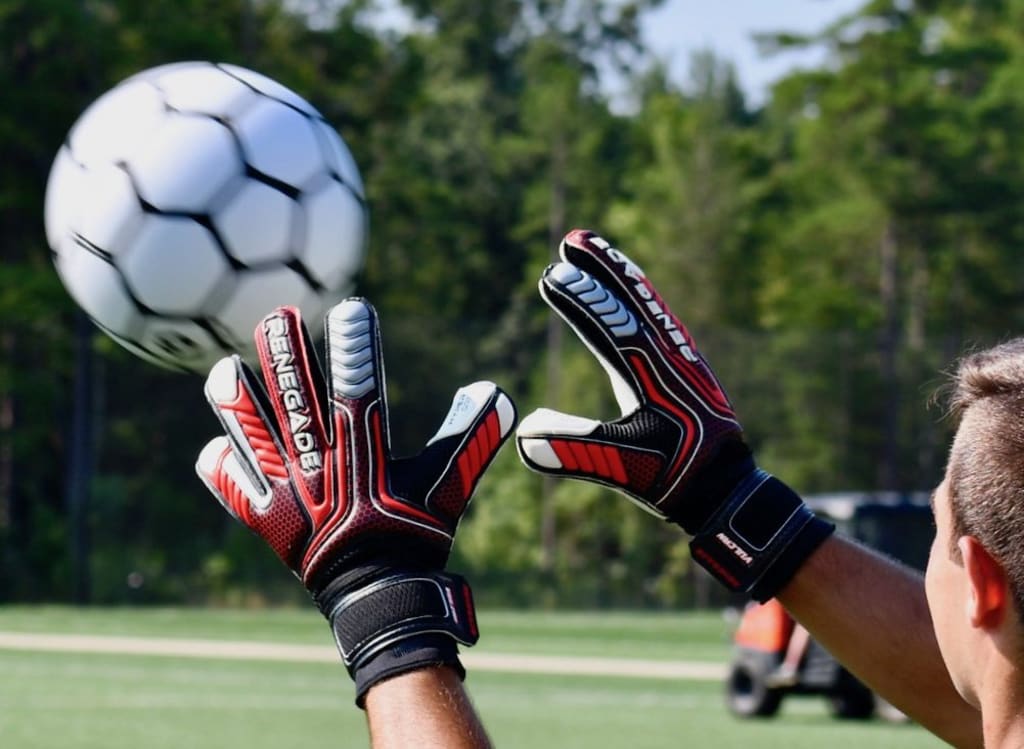 As much as we'd all like to admit that there are no gender gaps in our modern world, even the popular sport of soccer depicts that there still are. Just consider the wage gap between US Men's soccer players and the female team (which has won for championships) for instance.
But the gap doesn't end there with this male-dominated sport. Even the best soccer goalkeeping gear is predominantly masculine. As an example, female goalkeepers have difficulty finding feminine women's goalkeeper gloves that not only look attractive but also have quality and practicality present.
Yet, with one of the hardest jobs in soccer, female soccer goalies deserve to have reliable equipment that they feel confident wearing that express who they are in all the right ways. On the bright side, while there aren't many, there are unisex and feminine gloves for female goalies out there.
A soccer goalie glove can have pink and still pass for sporty and functional. Interestingly, its simple, Japanese cherry blossom tree design isn't just for aesthetics; it also holds significance as the cherry blossom represents strength, perfect for an athlete.
Providing you with the perfect cushion, these NoetZ gloves are constructed with extra 4mm of latex panels that NoetZ claims boost grip surface by a whopping 30 percent. Along with its catch-ready position design, these goalie gloves are incredible for shortening your reaction time.
Best of all, while these gloves are padded, offer a secure fit, and are waterproof, they still offer a breathable, lightweight design that promise to keep your hands cool even in the heat of the game. That said, these NoetZ women's goalie gloves have the style and function all in one.
Not all goalkeepers want subtle colors. If you like bold, Renegade GK has the perfect goalie gloves for you with their flat gecko cut gloves featuring the style Volt (pictured) offering black, neon yellow, lavender, and bright orangeish-pink. There are four other styles to pick from as well.
These women's goalkeeper gloves are equipped with German latex to provide the proper flexibility for goalkeeping, helping to improve grip and control. They also feature fingersaves to ensure your fingers don't bend back during gameplay along with mesh to keep your hands dry and cool.
While this product is provided by one of the top goalkeeper's glove brands on the market, and thus, satisfaction is high among customers, Renegade GK still graciously offers a 100 percent money-back guarantee in case you are not happy with your purchase.
These goalkeeper gloves are unisex but still hold an attractive design that's not incredibly masculine. They feature 4mm backing foam for the ultimate protection without being too bulky. These gloves also feature air ventilation fabric and a water-resistant layer for versatility.
Before gameplay, make sure to wet the palms of these bad boys to make sure the water-resistant layer of the gloves is activated, offering a glue-like texture to ensure soccer balls will stick and not slip. For that reason, these are especially great goalkeeper gloves for rainy weather.
All in all, the Elite Aqua Goalkeeper Gloves may be on the higher end of your goalie glove budget, but nevertheless, they are equipped with the right materials and technology to make a goalie go from good to wow no matter the conditions, wet or dry.
The unisex soccer goalie glove may appear more masculine than feminine, but nevertheless, it delivers a snug, reliable fit to keep the hands safe during goalkeeping. After all, not every women's goalkeeper gloves need to feature feminine colors or designs to be considered a great buy.
This KRONIS Goalkeeper Glove offers supreme mega grip latex for a comfortable wear without providing too much padding, thus ensuring there is enough flexibility for the wearer. It's also equipped with breathable mesh for those longer games.
According to reviewers, while there aren't metal fingerguards on these gloves, there is plenty of cushion for protection. Additionally, users found that these KRONIS goalkeeping gloves offer durability, longevity, and an overall great performance.
For a soccer goalie glove with a fairly clean and simple design, these Elite Brambo 2018 Goalkeeper Gloves might be visually suitable for your needs. Also, being under $60 and offering great quality, you've got yourself a steal with these beauties.
Getting to the specifics, these soccer gloves feature 4mm of backing foam for a thick, adequate cushion along with high-quality, air ventilation fabric. In addition to the latter, these goalie gloves feature removable finger spines to provide convenience for the user.
One reviewer claims that the Elite Brambo 2018 Goalkeeper Gloves offer a nice fit and grip regardless of how rough the soccer game gets. That said, the fun, geometric print on these gloves is just a nice bonus for what these gloves are worth.
Another great soccer goalie glove from Renegade GK, their hybrid cut-styled glove in the design "Surge" offers a neon appearance to make the goalie stand out on the field. This same design is also offered in black and red as well as black and neon green to suit other tastes.
These Renegade GK gloves showcase a 3D Airmesh body, wear-resistant latex palms for proper grip and ball control, and removable flexible finger saves. As a result, these gloves allow goalkeepers to have essential flexibility, proper breathability, and and ideal fit.
With a reputable manufacturer, a 100 percent money-back guarantee, along with a fair price under $50, the Renegade GK Vulcan Goalie Gloves are a great option for a female goalie wanting a stylish glove embedded with great quality, comfort, and function.
For less than $50, these women's goalkeeper gloves offer a masculine design with a pink, feminine touch. For those who don't like pink, you can also snag these gloves with green or blue accents. No matter the color you choose, the finger and backhand designs on these gloves are detailed yet tidy.
From the thick, tightly-wrapped wrist wrap to breathable 3D Airmesh material, these gloves promise to offer a durable and relevant fit for any wearer. With a nylon strap puller and rubber pull tabs, these gloves allow a goalkeeper to put on the second glove without a hassle.
While reviewers find that these goalkeeping gloves offer a tight fit and great, innovative features to make these gloves suitable for many, know that if you don't end up liking these gloves, Renegade GK offers a 100 percent money-back guarantee.
Select 33 created these beautiful goalkeeper gloves featuring a black and pink design and a pink ribbon on the backhand of each glove to allow goalkeepers to show support for breast cancer. In fact, for every glove purchased, one dollar will be donated to breast cancer research.
These all-weather gloves offer a thick, heavy-duty padding to properly protect your hands during a soccer match. With adjustable Dura Grip latex, you can ensure that these women's gloves offer a great, comfortable fit while still giving each finger flexibility.
One reviewer claims that with the Select 33 Cure BCA Goalkeeper Gloves, the grip is ideal both in wet and dry environments. While the seams on these gloves may need to be repaired from time-to-time, they still manage to have a similar use as gloves on the higher-end of the budget.
If you love Renegade GK goalie gloves but fear that they aren't within your price range, these Valorports Professional Goalkeeper Gloves JA939 just might considering that they're priced under $50. While they're definitely not Renegade, they do, however, still offer great bang for your buck.
For durability, these Valorports gloves offer 4mm of German latex and double-layered wristband to create the ideal fit, comfort, and safety. According to Valorports, the PVC material on the back of these gloves gives the user flexibility while having the longevity to survive many games.
Overall, the Valorports Professional JA939 Goalkeeper Gloves hold up well and offer a stiff design to protect the hands without making the hands immobile. Apart from the featured red design, you can also purchase these gloves in red.
For the female goalkeepers who don't want super bulky gloves, these soccer goalie gloves by Adidas are a great option. They offer a classic, striped, pastel blue design featuring a white, embossed Adidas symbol on the back of each glove for extra flair, keeping things cute yet simple.
The soft latex material on the palms allows the user to have the right mobility while still being a heavy-duty glove that's weather-proof for a plethora of conditions. Additionally, the elastic band on these women's goalkeeper gloves allows for a tight, flexible, custom fit.
Users are generally pleased with these women's gloves, especially with their inexpensive cost. Reviewers also rave that the Adidas Performance ACE Replique Goalie Gloves are properly padded, are lightweight and allow the user to act quickly, and generally provide great value.
While soccer is one of the most popular sports in the United States, it's still a sport dominated by men. Thus, it's not uncommon to come across soccer clothing and gear that offer masculine designs, styles, prints, and color schemes.
Fortunately, with stylish women's goalkeeper gloves, and the rise women's soccer gear, female goalies can express as much femininity they desire while playing on the field. In turn, the right gloves can give these players the confidence to thrive during game time both mentally and physically.
Reader insights
Be the first to share your insights about this piece.
Add your insights