Requiem For The CONCACAF Hexagonal!!!!!
Looking back at the World's Best World Cup Qualification Format as we prepare for the brief? existence of its Octagonal Cousin, and DREADING the 48 Team World Cup which COULD DESTROY the World's Objectively Best World Cup Qualifying Format!!!!!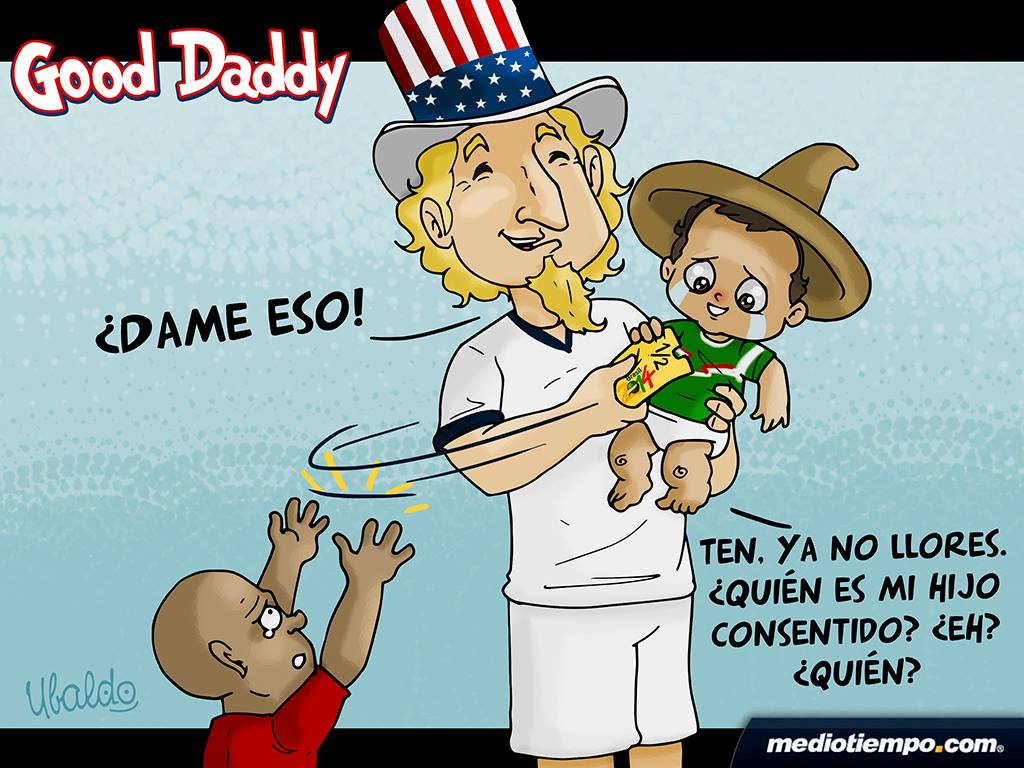 "Give Me That!" - Panama
"Here, don't cry anymore. Who is my spoiled child? Hey? Who?" - USA about Mexico; 2014 World Cup Qualifying!!!!!
Jurgen Klinsmann's your supposed integrity! could NOT have been any more defiled or debased that what he did himself leaving Landon Donovan at HOME!!!!!
"If We Took Games Off, Mexico WOULD NOT BE HERE!!!" - Jurgen Klinsmann, 2014 World Cup Press Conference!!!!!
"If you ACTUALLY HAD Integrity, Landon Donovan would've BEEN IN Salvador, Brazil WHEN WE NEEDED HIM and Tim Howard's 16 Saves WOULD NOT HAVE BEEN WASTED!!!!! - Sean S, Vocal Draft Editor, June 27, 2021; 12:28 AM!!!
2014: Picture if you will: that we're talking about BIG XII Football instead of CONCACAF World Cup Qualifying for a moment. Partially because a new Longhorn Friend of Mine and I are Launching a Red River Rivalry Podcast Soon sometime-next-month, we're planning on trying to Record tonight this 4th of July Night!
#Time4CongressionalTermLimits, #Time4RankedChoiceVoting!!!!! #WeDeserveBetterThanBidenVTrumpTwoPointO!!!!!
#RedRiverRivalryTHEPodcast!!!!! #BoomerSooner!!!!! Football, the Gridiron Version, Football/Soccer, and Baseball on Tap, on a Semi-Regular Basis!!!!!
So it's Week 15 of the College Football Season:
There's a Scenario where Texas could actually BE Back, lamo, and make their 1st College Football Playoff (okay not-a-perfect metaphor because Mexico are World-Cup-Regulars, but #JustGoWithIt.) !!!!!
And Oklahoma has a Hand in Texas's Ultimate Destiny because Texas Needs Little-Brother-Stillwater to lose in order to get to the Big XII Title Game!!!
Oklahoma is Currently #1 in the Land, all but Guaranteed a Place at the Table in the Potential 12 Team College Football Playoff!!!!!
Stillwater has an Outsiders' Chance because they've only lost to Texas & Iowa State!!!!!
Oklahoma, with the opportunity to play spoiler has the opportunity to REST EVERYBODY, Play the Freshman, Let Stillwater WIN at Home at Boone Pickens, Join the Party to be the 12 Seed, And Soil Texas' Last Chance: Who Lost To Oklahoma (of course, this is my story after all, #HornsDown), and Iowa State!!!!!
But Lincoln Riley in his 'Infinite-So-Called-Wisdom' Decides He'd Rather Secure the #1 Overall Seed (worse in the real life scenario: we already HAD!!!!!) instead of Fucking Over Texas.
But the Catch is the 11 Players on the Field Can Make their Own Choice. And knowing the stakes and the conflicting emotions my Sooners Performance is tepid and apathetic. Lukewarm and halfhearted as Half the Team is doing its Absolute Best for the NFL Scouts, and Half the Team is kinda letting it slide because They'd Rather Rematch Stillwater in the Orange Bowl if Stillwater were to Actually Upset the 5 Seed Alabama Crimson Tide (LSU Beat Them and Went to Atlanta!!!!! Love You My Louisiana Wife. *blows kiss*)!!!!!
Despite everything it's a terrible game and it's a 6-3 Lead for Stillwater with our Field Goal Kicker set to Attempt a Closing Seconds Equalizer to Set Up Overtime. The Kicker's Tempted to Make a Statement and Kick It Intentionally Backwards to Screw Over Texas, but He Needs that NFL Payday, $$$$$! So he blasts it through the Uprights hoping the Sooner Defense will fail, or take the opportunity to fail.
Instead, on the very first play of overtime our Shutdown Corner Graham Zusi Secures a Pick Six to Secure Texas's Audition Tape for the Committee, Trolls and Fuels Stillwater's 'Ambition', and the Opposite Corner Aron Johansson Mockingly Kicks the Unnecessary Extra Point Through the Uprights in Celebration!!!!!
When those 92nd and 93rd Minute Goals were Scored, having begged my team to lay down all night and rooting for Panama the Whole Night!! I dejectedly collapsed to the floor when Zusi's Header went in!! Then nearly had a panic attack when Johansson's Dagger went in to End All Possible Doubt. This was the closest we were ever going to come in my lifetime to seeing Hated-Rival Mexico Fail to Qualify for the World Cup in My Lifetime!!!!! And now with the 48 Team World Cup, for one Mexico is automatically in 2026 because they're 'helping' us Host the 48 Team World Cup, with Canada Thrown in for Good Measure because they Can't Qualify on their Own Merits outside of Mexico 1986, and their 1985 and 2000 Gold Cup Championships Canada thinks that this Sport is played with a Black Vulcanized Piece of Rubber Suspended on Frozen Ice; #TheMiracleOnICE1980, Hockey's Okay, it's a good Cousin Sport for Soccer!!!!! And for two: it's going to be be damn, near impossible for Mexico to Screw Themselves Hard Enough to Not Qualify, EVER AGAIN!!!!! With North America Now Getting 6 And A Half Spots in the Forty-Eight Team World Cups!!!!!
And the Austin American-Statesman Prints a Cover with Vince Young saying to the camera, "Thanks, Gringos!"
This was the Aftermath of #ThatNightInPanama!!
If You Know Anything about American Soccer AT ALL; You've Already Heard About #ThatNightInTrinidad!! So I don't REALLY have to re-recap that one for you...do I?????
Hexagonal Historical Standings:
2018: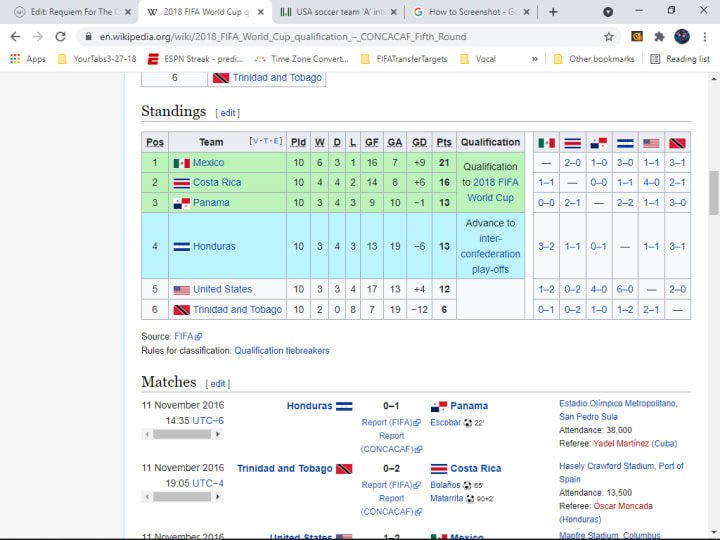 2014: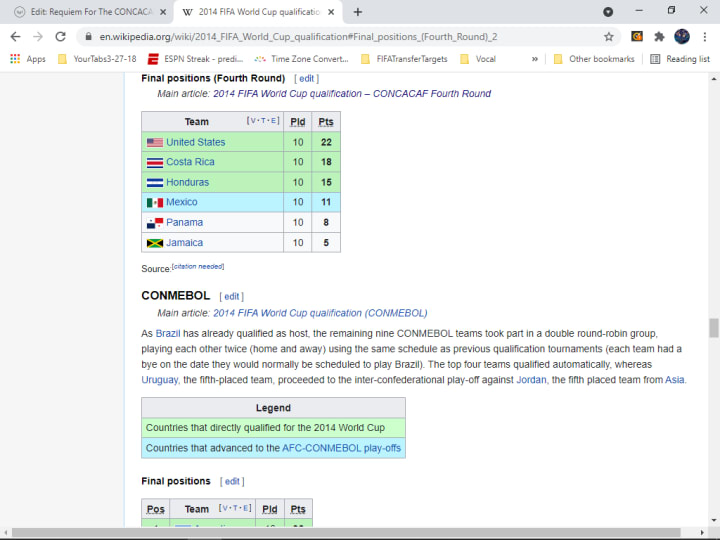 2010:
2006: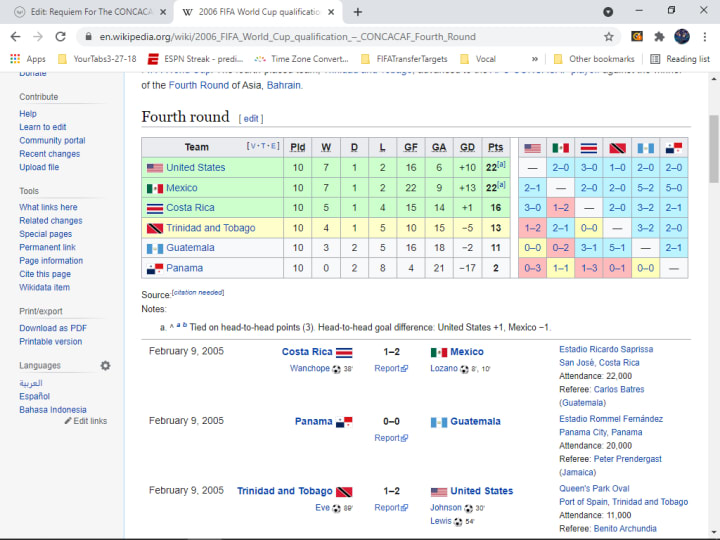 2002: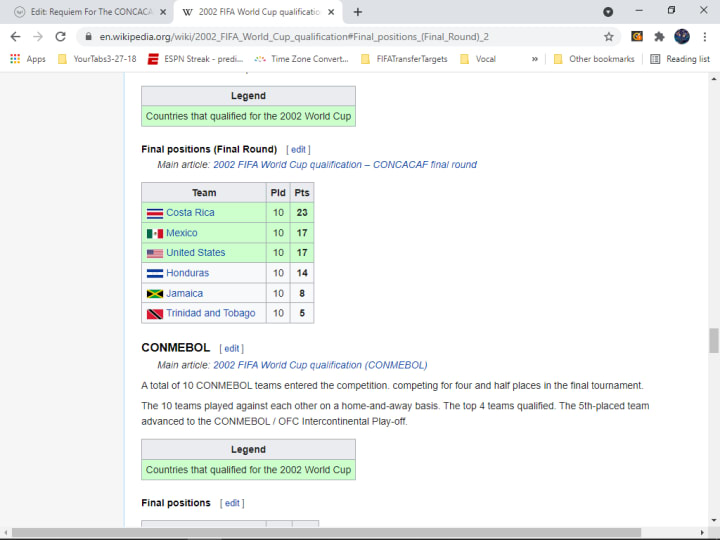 1998: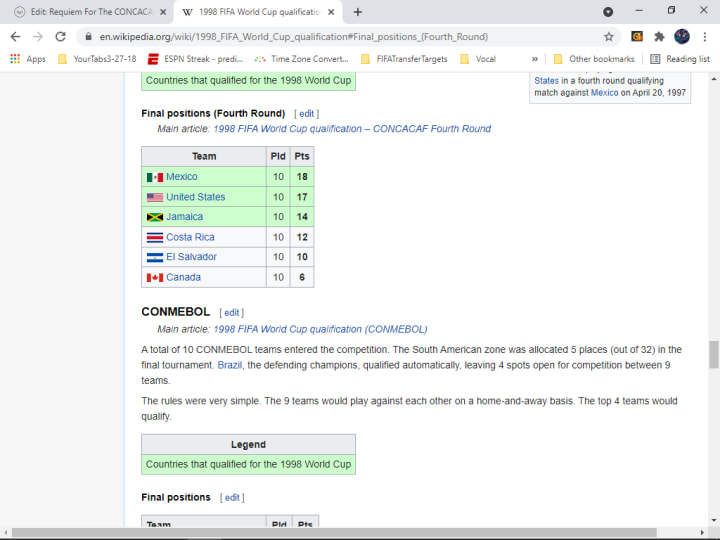 Harkes and Wynalda have asked me kindly to NOT talk about the Disaster-Class that was France 1998, Praise Jesus I was too young to pay attention!!!!! And I got to lose my World Cup Virginities with Women's World Cup: USA 1999 and Men's World Cup: South Korea/Japan 2002!!!!! We Had Rose Bowl Tickets for the Women's Final btw. And FIFA can join Jurgen in the Shitlist for Scheduling that game for 110 Degrees Fahrenheit, Los Angeles Heat just so the 'European TV Audience' could watch Norway Lose to Brazil on Penalties in the Turd Place Game. There's a Perfectly Logical Reason that Both Games were NIL-NIL Draws Decided on Penalties!!! 110 DEGREES!!!! That's 43.3 Celsius for the Rest of You Lot in the Rest of the World. Mother-Defiling Qatar 2022 Conditions if they'd enforced the Summer Schedule!!!!
Because basically John Harkes Iran into Wynalda's Wife, was left at home darkly-foreshadowing Landon Donovan's 2014 Exclusion (although that one was Jurgen Fucking His Own Brain.) , and Actual Iran Beat Us!! I-Fucking-Ran!!!!!, Football Powerhouse That Side, because this was somewhat before they were Regularly Qualifying. France 1998 was their Maiden Voyage at the FIFA World Cup!!!!!
I can't really think of anything clever to say about 1998 Germany or 1998 Yugoslavia besides again, Thanks A Fucking Lot Jurgen Klinsmann, *FacePalm Emoji* !!!!!
1998's Cycle was the Birth of the Hexagonal because of the Expansion of the World Cup to 32. Spain 1982 through USA 1994 had 24 Teams. The World Cup has DOUBLED in Size since We Hosted The Greatest Party on Planet Earth!!!! USA 1994!!!!!
2026 will see the Costa Ricas and Hondurases fight over 3.5 Spots as going forward in the 48 Team World Cup: CONCACAF will have 6.5 Spots. So CONCACF could technically keep the Hexagonal for 2026 as its 2 Highest Seeds and Lucky Hockey Neighbors already have been granted their 'Golden Tickets' to Wonka's Factory. Because they've let us be the 3 Oompa-Loompas making the Hotel Arrangements for the 45 Off-Unit Visiting Other Teams.
What I Love About Western Hemisphere Qualifying is that COMONBOL, because of their lucky membership numbers, do Football Pure and Correct in Qualifying. All 10 South American National Teams play a Full League Table, Home and Away, Against the other 9 Teams. 18 Games of Drama Spaced about Throughout the Cycle.
COMONBOL 2018 Standings: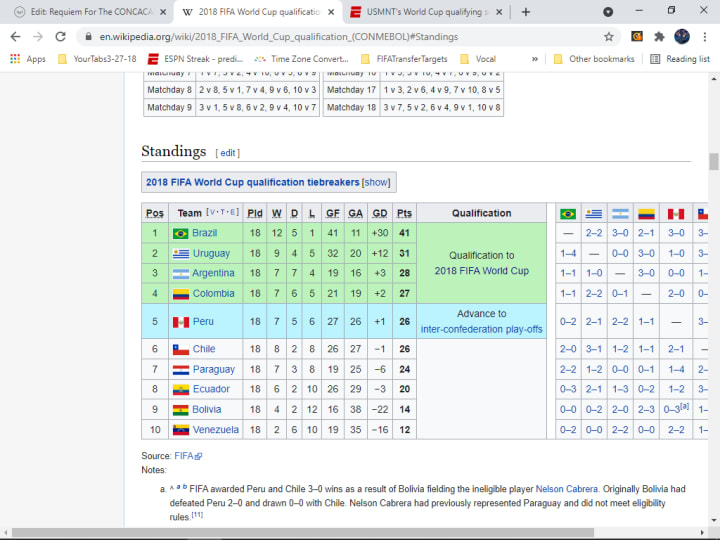 Since our membership is too large for this approach, as is all of the other 5 Confederations as well. We spilt the difference and do the next best thing, make the minnows earn the right to play in the later rounds, then do it right with the Hex or now the Octagon!!!!
However, Europe, Africa, and Asia frustratingly don't embrace this approach. Oceana is basically the New Zealand Invitational ever since Australia Joined Asia to get a Better Challenge, and outside of Tahiti Upsetting New Zealand to take the 2013 Confederations Cup Spot, it's not exactly worth elaborating on.
Europe draws out Basically Several Hexagonals!!!!! Denying Us Clashes of Giants, because their Paths are Too Easy!!!!! Yet Still Too Hard for Poor, Banished Israel!!!!!
Africa's Final Round draws out 5 Winner-Take-All Groups of 4, Mini World Cup Groups in a Good Way, so I can see where their coming from!!!!!
And Asia comes frustratingly close, but doesn't because they don't exactly have sufficient time. They have 10 Teams in the Final Round, so they could copy the COMONBOL Decagonal if they reorganized the Prelims into a Shorter Amount of Time. But they don't, they draw the teams into 2 Groups of 5. Not Egregious, but it does deprive us of semi-guaranteed North Korea versus South Korea Fixtures, wink, wink, haha.
And that's the point!!!!!
With COMONBOL, You're Guaranteed Two Brazil Versus Argentina World Cup Qualifiers Every 4 Years!!!!!
With CONCACAF, you're basically Guaranteed Two USA versus Mexico Urine Bottle and Car Battery Affairs!!!!! Although there was 'this one time at [this] band camp' that Mexico very, very nearly LOST to Belize in the Prelims; USA and Mexico were given Deeper Byes into not having to play That Round anymore the Next Cycle, lmao. And in a Harbinger of the Disastrous Cycle Ahead where we would Fail to Qualify for our Rocky IV, Miracle On Ice Sequel as FIFA would've rigged us into being Russia's Opener instead of Saudi Arabia if we'd made it!!!!!; We ALMOST, BY THE SKIN OF OUR TEETH, DIDN'T QUALIFY FOR THE 2014 HEXAGONAL!!!!! I can't prove that FIFA would've Rigged-Us-To-Play-Russia!!!!! But you instinctively know it's true!!!! And you feel like begging Dr. Strange to let you visit That Little Corner of the Multiverse to see Clint Dempsey's Rocky IV!!!!! Miracle on Grass Hat-Trick!!!!!
Not that Russia are World-Beaters or Anything, but it's really, REALLY Hard to Spoil The Hosts' 1st Game!!!!!
Even South Africa, the Only Host to Fail to Qualify for the Knockout Stages, Got an Uno-Uno Draw with Mexico in Their Opener in 2010!!!!! To be fair we did Finish 3rd in our USA 1994 Group and Got Lucky It Was a 24 Team World Cup instead of a 32 Team World Cup. So that's that if you were wondering!!!!!
2030 CONCACAF World Cup Qualifying:
A Tournament that will very likely be Awarded to Argentina/Uruguay/Chile/Paraguay to Celebrate 100 Years since Uruguay 1930, the 1st World Cup, a Tournament we FINISHED 3rd at By The Way!!!! Guess I should've respected the 3rd Place Game a bit more ealier, haha. Although way back when it was decided by us having the Superior Record to Yugoslavia rather than Actually Having to Play Them. Whereas Belgium, the Chocolate-Waffle-Bastards themselves, #TimHowardsWasted16Saves, Beat England for the 2nd Time in the Tournament 3 Years Ago in Russia's 3rd Place Game. From what I remember it was actually a decent game for a Bronze Medal Fight!!!!!
What's CONCACAF to do????? Emulate the COMONBOL Decagonal to Distribute the 6.5 Spots, #TheIdealOutcome.
Or Will USA & Mexico be Brave Enough to Embrace the Tougher Challenge like Australia Did and 'Nebraska to the Big Ten' Ourselves to COMONBOL and Ruin the Beautiful, Perfect Decagonal in the Process????? Ironically Finally Qualifying Us for All Future Copa Americas Though!!!!! A Goal US Soccer should be focusing on regardless of our Confederation Affiliation!!!!!
The Copa America could very easily be a Western Hemisphere Championship!!!!! Sort of is when they invite Mexico, but we've only gone in 1995, 2007, and Hosted 2016!!!!! Which Uruguay 1995 was Glorious!!!!! We Defeated Mexico on Penalties in the Quarterfinals and Came 4th Place!!!! Venezuela 2007 was brutal because our B Team lost all 3 Games to Argentina, Paraguay, and Columbia, but it did Produce Jay DeMerit!!!!! Green Bay's Own World Cup Hero, #GoPackGo!!!!! The A Team had to Play the 2007 Gold Cup, a Final I was at, at Soldier Field of All-Star-Crossed Places as We Were On the Way to Lambeau for my 1st-Ever-Lambeau Leap!!!!!
BENNY!!!!! FELHABER!!!!! So between Jay DeMerit and Securing our 2009 Confederations Cup Place it was okay and acceptable. We used Our Confederations Cup Spot very, very well if I do say so myself!!!! Beating European Champion and Future World Cup Champion Spain was Enthralling and Complete and TOTAL JOY!!!! Losing our #DosACero Lead on Brazil and Settling for Silver Medals was Heartbreaking!!!!!
Could CONCACAF and COMONBOL spilt the Difference and just do a TOTAL Merger?????
That's an Ideal Outcome as well besides figuring out how to make Proper Qualifying for 12/13 Spots, Haha!!!!!
Oh by the way there's a Worthless Gold Cup Next Month that the B Team will play since the A Team has, to-be-fair, #EarnedTheirRest after that Bombastically, Insane Nations League Final we just WON Over Mexico At Mile High in Colorado!!!!!
Here's the Octagonal Teams and Schedule if you want to actually Find Out on Television if We Redeem Ourselves in the Coming Months!!!!! If you want to Find Out if Karma is Going to ACTUALLY Come For Mexico!!!!!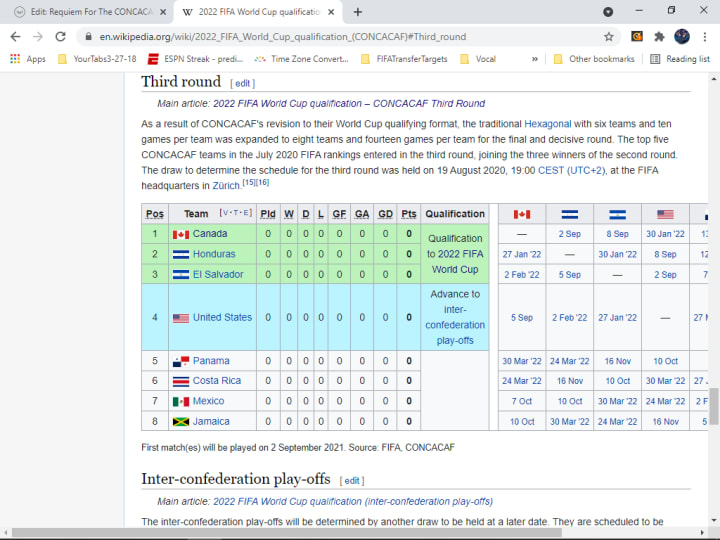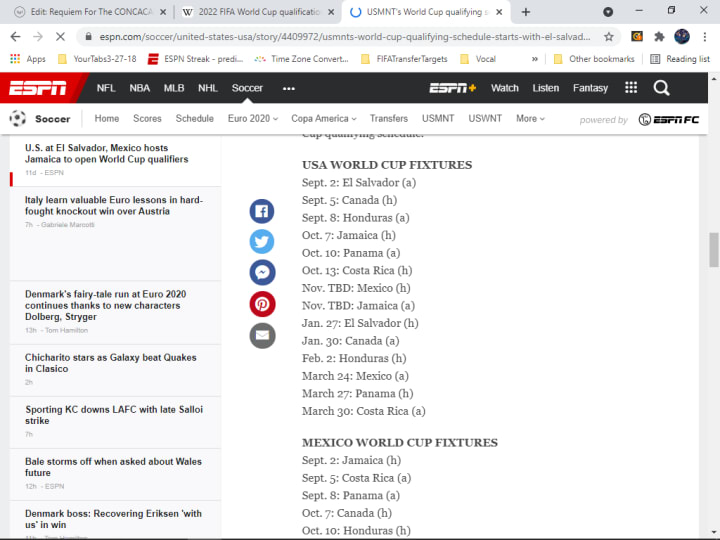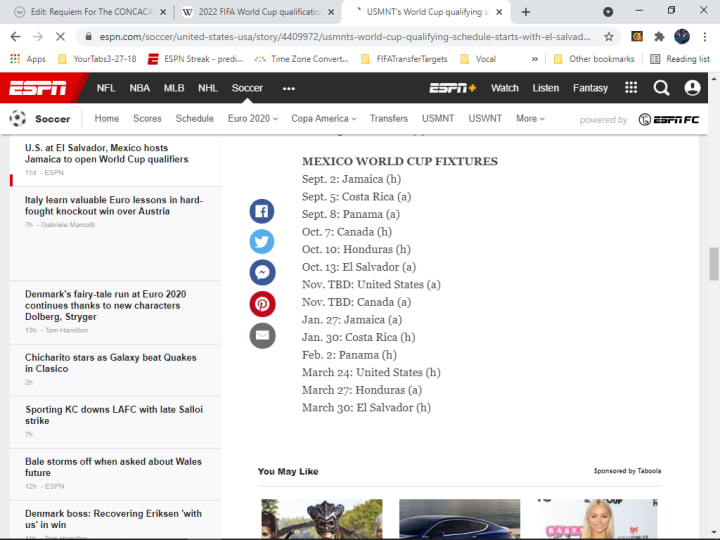 November in Columbus, Ohio & March 24th in the Azteca CANNOT COME, SOON ENOUGH!!!!!
Oh yeah, did I Mention, We Got Our First-Ever Point Out of the Mexico Away Fixture Last Time with a 1-1 Draw Above Mile High, BUT STILL MANAGED To NOT QUALIFY!!!!! Partially-Because it was Canceled Out by Mexico Overcoming Our #DosACero Hex in Columbus with a Soul-Destroying 1-2 USA Loss that Ultimately Cost Jurgen Klinsmann his Job and Reputation when Three Months Later we put ourselves firmly up the 8 Ball's Ass from Losing the Home Qualifier with Costa Rica as well. Karma for #SnowClassico I suppose! Good Thing that Account is Already Closed. If 2018 was to be, THE VERY LAST HEXAGONAL!!!!! : Perhaps it's appropriate, poetic even, that ALL USA-Mexico-Costa Rica Hexs, Mojos, and Curses were Reversed in what would become, #BecauseOfThePandemic, #TheFinalConfirmedHexagonal!!!!!
As an Exhausted, Overworked, and Underpaid Correctional Officer this is My Speech for the Current #USMNT Team:
Every Day I Journey Into Hell!!!!!
Every Day I AM A DEAD JEM'HADAR, (The Dominion War in Star Trek Deep Space Nine, is Something Special Indeed!!!!!) That Has To Earn The Right To Live Another Day!!!!! and Come Home to My Beautiful, Amazingly Patient Wife!!!!!
Every Day, I AM Responsible for a Minimum of 144 Souls!!!!!
Every Day, I Am At Risk of Being Pelted By 144 Piss/Bleach Water/Feces Bottles!!!!!
Every Day, I Am At Risk of Not Coming Home from a Job that taunts my Very Soul!!!!! Getting my Paychecks from Austin, Texas!!!!! #BoomerSooner, Lord Jesus Get Me Through This!!!!!
If You Think CONCACAF World Cup Qualifying is Dangerous, Spend a Night With Us And Try In Vain To Prevent The Inmates From Running The Asylum In Our Desperately Short-Staffed Conditions!!!!!
I DO NOT CARE IF YOU GET DISSED OR PISSED ON!!!!!
I DO NOT CARE IF YOU GET PELTED BY A CAR BATTERY!!!!!
I WILL FEEL A SMIDGE OF SYMPATHY, found in the Dictionary between shit and syphilis, IF YOU GET SHOT BY A PROJECTILE WEAPON!!!!!
NO STUPID YELLOW OR RED CARDS!!!!!
NO STUPID RETALIATIONS!!!!!
IF THEY WANT TO BE PENDAHOS, SMILE, AND SCORE A GOAL!!!!!
IF THEY WANT TO BE PENDAHOS, BEAT THEM 2-0!!!!!
IF THEY WANT TO BE PENDAHOS, BEAT THEM 5-0!!!!!
IF THEY WANT TO BE PENDAHOS, BEAT THEM 7-0!!!!!
IF THEY WANT TO BE PENDAHOS, BEAT THEM 10-0!!!!!
IF THEY WANT TO BE PENDAHOS, BEAT THEM 13-0!!!!!
YOU ARE CAPABLE OF 42 POINTS!!!!!
DO IT!!!!!
SUCK IT UP BUTTERCUP OR GIVE CHARLIE DAVIES COMPANY IN THE WHAT COULD'VE BEEN COLUM!!!!!
QUALIFY FOR THE GOD-FORSAKEN QATAR 2022 WORLD CUP!!!!
IT'S NOT YOUR FAULT FIFA PUT THE WORLD CUP IN TATOOINE!!!!!