Manchester United: What to do with Paul Pogba??
Current Contract Expires Summer of 2022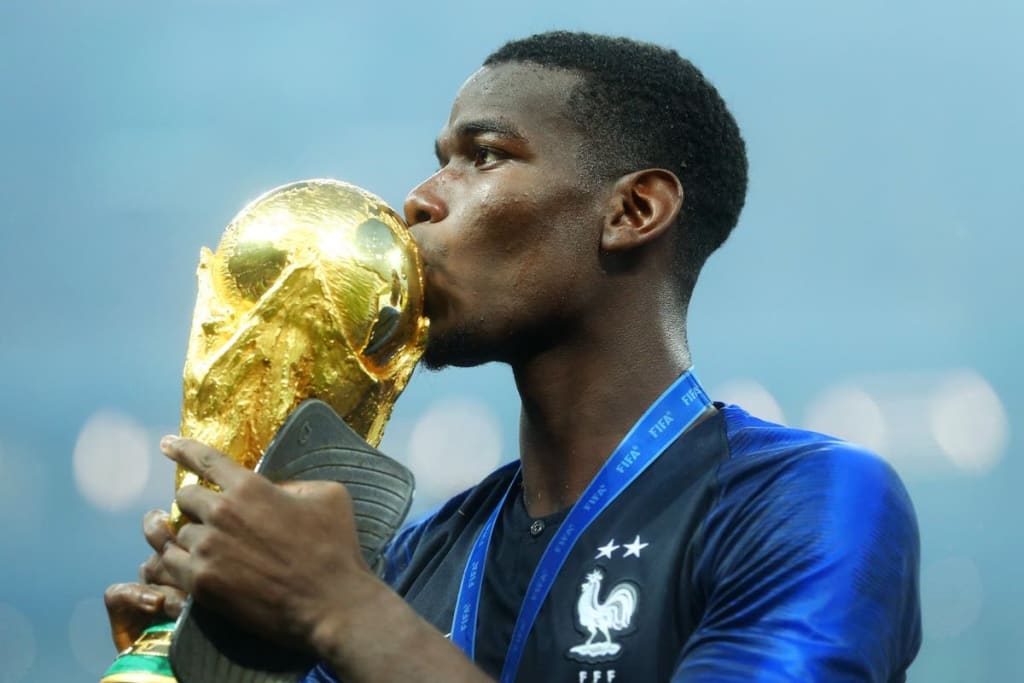 Pogba Lifting and Kissing the World Cup in 2018!
Now that Lionel Messi's settled in Paris, and also because Messi's settled in Paris Pogba will be The Transfer Saga of the Winter unless United get the Contract done soon. PSG had been emerging as favorites to sign Pogba possibly in this Transfer Window as well before Messi became available. PSG would still obviously love to have both players, but after agreeing to Messi's Wages how prepared to take on Pogba are they?? Especially if United can command a Market Value Transfer Fee? They should be good for it, but managing to do so during this Transfer Window would probably prove very difficult after committing to Messi's Wages. Transfermarkt.us currently has him rated at $66,000,000, which while that would be a massive net loss, is somewhat understandable given he's 28 and only a few months away from possibly being available for free.
Now Pogba Finally had the Best Day he's Ever Had in a United Shirt today getting 4 Assists versus Leeds!! To help rocket Manchester United to the Top of the Table here on this 1st Weekend of the Premier League Season!!
Pogba has always been a frustrating figure during his Manchester United Career, as in Football Manager Terms he's a 200 out of 200 Rated Player on his day, but it's as if he's only got a 1 Overall Consistency Rating out of 20!! It's also no secret that's he's very bad about taking games off and not giving his best, especially in games he doesn't particularly fancy. He did after all only manage 3 Premier League Assists Last Year as we were regularly reminded of today when he eclipsed that with his 4! To put in American Parlance, he's Randy Moss. He can Moss People whenever he wants seemingly, #YouveBeenMossed, but he's just as bad or worse than Moss at switching off and switching off very, very regularly. He's also to a lesser degree got similar personal follies with his personality, attitude, and branding, although he has toned that down in recent years.
To his credit though, when he does listen to Ole he does produce World-Class Performances. And thankfully he seems to respect as a Club Legend and appreciate Ole as a player's manager. Ole's gotten much more out of him than José Mourinho ever did!! His Goals and Assist Numbers are Marginally Higher in the Ole Gunnar Solskjaer Era!
Today was his 1st French National Team Quality Manchester United Outing, and he needs to keep it up if he wants to earn the ridiculous wages that he wants. This was Pogba's day today, but as a United Supporter I'm still pensive because of the cost and his form never living up to his class. As sad as it is to say, I can go either way even after today's result. If he wants to stay let's get a reasonable contract done! If he still wants to go to PSG or otherwise let's get that sorta post haste!
Ultimately United's Ultimate Goal with this has to be to either retain him with a new contract, or to get a Transfer Agreed before the January Window closes so we don't lose him for free!! That's the rub, although there's almost no bad outcome as even losing him for free still frees up getting his wages off the wage bill. He's Currently on 290,000 Quid / $402,084.71 per week; 15,080,000 Quid / $20,908,404.92 per year. Somewhat a bargain if he were playing up to it week-in/week out, but you can be sure he's looking for a big raise given this next contract is his last big time contract since it's the end of his prime years. Sadly I don't really care too much because of the apathy he inspires, as long as United get a Reasonable Transfer Fee, I'm Happy. If we get to keep him and he lives up to it, it's a Bonus!!