Best Soccer Warm Ups You Should Be Doing
Hamstrings, hip-flexors, and your range of motion all get a tune up with the best soccer warm ups.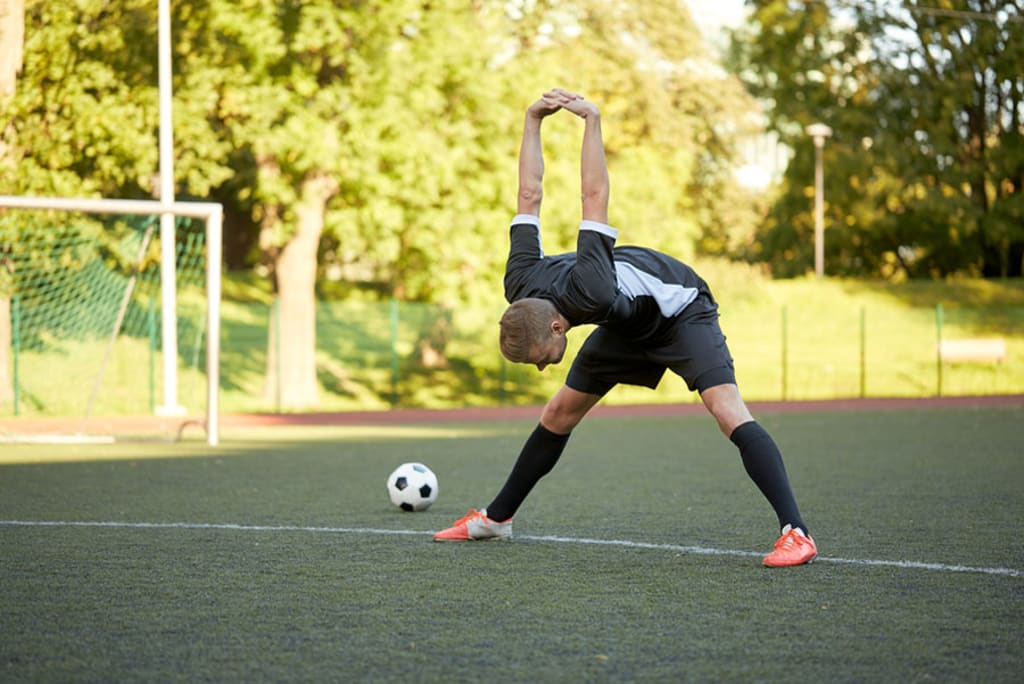 The guy I've been seeing, Devon Thomas, has been coming to all my games. He brings a bottle of champagne to drink afterward. He always comes up with a reason to celebrate. He's a sweetheart. He asked me, "How do you crush it so hard during your games?" I laughed, and told him it's because, "I do the best core exercises for soccer players and I know the best motivational soccer quotes to remember before a game." Of course, what was funny was that I answered his question right while doing the best soccer warm ups.
These are some of the best warm ups for soccer because they activate your legs and hips. Also, when I do these, my thighs look killer and so do my arms. The higher my legs go and the longer I do this warm-up, the more effectively I psych out the other team––especially if I'm making direct eye contact while doing these.
The only person who's going to be kicking my butt is me while I do my warm ups. Literally. I'm kicking my own butt to activate my hamstrings. Devon says my butt is perfect. He says my butt inspired him to be a better person. Ethically and physically. So he's doing squats and volunteering with one of the important organization that help immigrants in the US.
These exercises loosen up your quads and hip-flexors. If you're running uninterrupted for basically 45 to 90 minutes, you're going to want quads as loose as those of a college that doesn't check for IDs as students come in and out of the dorms. Yeah, you want party quads!
These are some of the best soccer warm ups to help with range of motion. They're also great to do at the gym if you want to establish yourself as an alpha, which I am. They say that women can't do pull-ups, but I can. I know that women's difficulty with pull-ups is about more than biology. I just had tough training session after tough training session till I was doing pull-ups. Heck, most dudes can't do pull-ups so, I dunno, maybe don't make sexist assumptions.
If you want to loosen up your hammies and improve your balance, try out these. They're great if you want to establish yourself as the alpha among a bunch of birds. Pigeons, geese, swans, and cranes know not to mess with me because I will destroy them. I have to actively avoid geese because their ducklings are likely to abandon their mothers in favor of me.
Here, the focus is on your hip flexors and for range of motion. I love doing these because they still challenge me. I like a challenge. That's what I like about Devon; he keeps me as honest as these toy soldiers do. He pushes me to do things that I might not do and I have yet to regret following his advice. Just like I've yet to regret having improved range of motion.
This is one of the most demanding dynamic warm ups for soccer. These will help with hip stability and hip rotation, your balance, your footwork, and helps train your stamina. I do this while singing Sara Bareilles' "Brave" at the top of my lungs. I don't want to just crush my opponents; I want to bring out the best in them, and then crush them. ONLY YOUR BEST SELF IS A WORTHY OPPONENT!
This is one of the best soccer warm ups because it trains your coordination and balance. Also, it's great to use a celebratory dance as your pregame warm up. It puts the right frame on your game: it's a party on that field. The work comes before the game during all the time that you've spent training. On the field is where you just let go.
If you can master these soccer drills, then you'll be a true soccer master. People will come to you for advice. And not even just about soccer. They'll just talk to you about life because what you've put yourself through to master this warm-up can be used to master many of life's other struggles.
Bears are one of the best animals so that makes this one of the best soccer warm ups. What do we fear at campsites? Bears! Why do we hoist our food in the trees when we go camping? Bears! Who also lives in the forest? SOME OF THE BIGGEST CATS IN THE WORLD! And yet it's bears we hide our food from. Not raccoons, who would love to nosh on your snacks, but bears. Be like a bear on the field. Be so fierce that the idea of you makes people take precautions just because you might show up.