Best Soccer Forwards of All Time
With so many game-changing talents in the history of the game, choosing the best soccer forwards was not easy, but someone had to do it.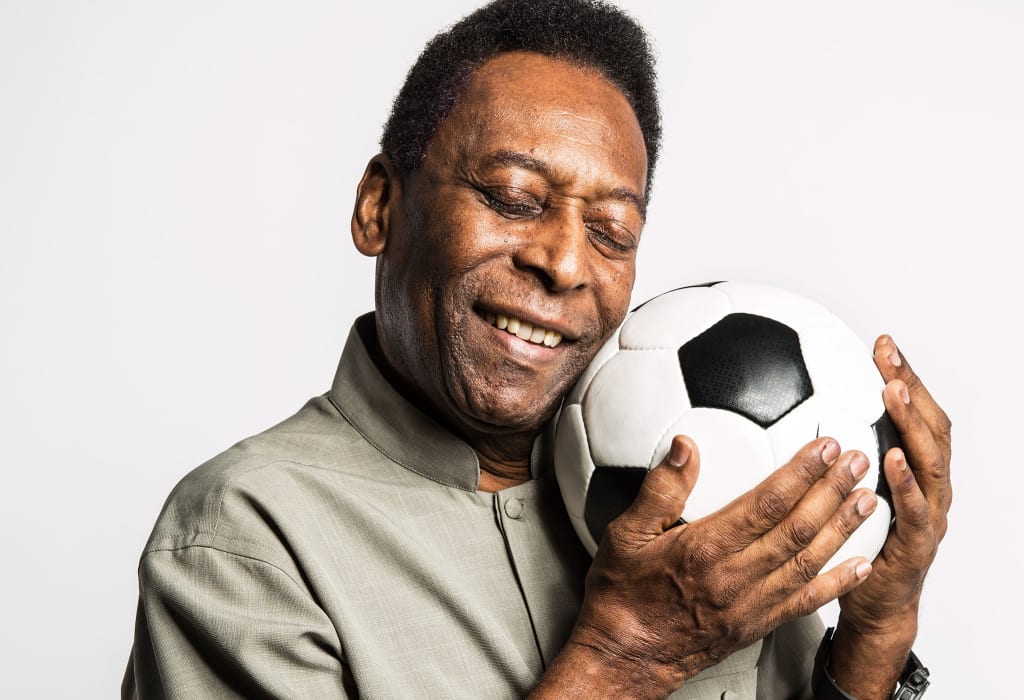 No disrespect to any defenders, defensive midfielders, or goalkeepers, as all of those positions are important and necessary to win, but forwards are why we watch soccer. We tune in to watch offensive players score goals, possess unnaturally good ball control, and dribble through defenders, hopefully making them look silly. Throughout soccer history, there have been countless experts in all three of those disciplines but who's the been best? The debate has raged on for decades. Different eras make it hard to properly compare and contrast players, not to mention team strength, playing styles, and competition faced. Taking all of those factors into account, I have picked the ten best soccer forwards to ever play the beautiful game.
Aside from having one of the coolest nicknames ever, "The Flying Dutchman" also happens to be one of the best soccer forwards ever. Marco van Basten possessed great ball control and was capable of some incredibly smooth finishing. The Dutch forward collected countless trophies and top scorer awards throughout his career.
Unfortunately for van Basten and soccer fans in general, chronic ankle injuries forced the goal-scoring force to retire at the age of 30. If he were to continue playing with the stacked AC Milan team of the early 90s, they could have steamrolled through Europe and become a true dynasty. It remains a true shame that robbed the world of high-quality soccer.
The Brazilian Ronaldo could truly do it all, making him one of the best soccer forwards to ever put on a pair of cleats. His rare mix of speed, power, and skill made him a nightmare for defenders and goalkeepers. The three-time Ballon d'Or and two-time World Cup winner has one of the most impressive resumes in history. Sadly, chronic injuries and pain stopped him from reaching his full potential as well. Can you imagine what his resume would look like if he stayed healthy? My guess would be much, much longer.
Still the most successful goalscorer in Bundesliga history, Gerd Müller has almost all the records you could want. He has scored the most goals in a season (40), has had the most seasons leading the league in scoring (seven), the most consecutive highest scoring awards (three), and has the most goals all time (365). The German league was Müller's personal playground. Potentially the most clinical finisher in the box in soccer history, Müller certainly knew the formula for creating space and letting it fly.
Ferenc Puskás dominated the competition for his entire playing career. He was so good, that there is now the Puskas Award, given to the player who scores the "most beautiful goal" of that year. The winners for best goal of the year include names like Cristiano Ronaldo, Zlatan Ibrahimovic, and Neymar, a class of players worthy of being held in the same regard as "The Galloping Major."
A driving force both Real Madrid and Hungary, he is still second all-time for most international goals scored with 84. His 242 goals in Madrid place him fifth in the storied club's history books. Fifth may not sound all that impressive but Puskás accomplished the feat in nine seasons while the players who rank second, third, and fourth needed 11 or more seasons to score more. The first player in Madrid's history has destroyed all of these numbers in record time, but more on him in a little bit.
The architect of Real Madrid's most successful era in club history, Alfredo Di Stéfano cemented his spot as one of the best soccer forwards after winning consecutive European Cups. He then went on to win three more for an absurd five trophies in a row. That dominance in the highest level of club football cannot go unrecognized. Add in 308 total club goals in Madrid and two player of the year awards and that equates to a truly gifted offensive phenomenon.
Diego Maradona is an iconic name that most people would recognize after hearing it, even those who don't know too much about sports. The Argentinian maestro is best known for his 1986 World Cup performance. Maradona led Argentina to victory, defeating West Germany in the final and winning the Golden Boot as the tournament's best player. He is also responsible for two of the most known goals in soccer history, the hand of God goal and the goal of the century. Both are remembered for entirely different reasons, but they solidified Maradona's place as one of the best.
What is there to even say for Pele? Still widely considered the greatest player in the history of the game, not considering him one of the best soccer forwards would be a cardinal sin. The only player to be a part of three World Cup-winning teams, the Brazilian international has several records that may never be broken. There is some controversy about how many goals he scored in his career, but all theories fall within 1,281 to 1,284, which makes him far and away the most prolific scorer in soccer history.
Unlike Pelé before him, Johan Cruyff remains one of the greatest players to never win a World Cup. Despite winning the Golden Boot for best player in the tournament, Cruyff's Netherlands were eliminated and the coveted trophy went to Germany that year. That is not to say the Dutch superstar does not have any hardware.
Cruyff has three Ballon d'Ors, five Dutch footballers of the year awards, and numerous domestic league and cup titles. His superb footwork, skill, and shot catapulted him to be the best in the world during his era.
Cristiano Ronaldo has officially become one of the best Real Madrid players of all time, one of the best soccer forwards in history, and the best to ever wear the name Ronaldo. Surpassing the Brazilian legend already mentioned was not easy but the Portuguese star made it happen. Winning four of the last five Ballon d'Ors and three of the last four Champions Leagues will do that for you.
The leading goalscorer in Real Madrid's history and closing in on the most European international goals, CR7 has turned scoring goals into science. If you were to create a soccer player in a machine you would arrive at Ronaldo. His pace, dribbling ability, aerial dominance, shooting and passing ability, composure, clutchness, and ability to score goals with either foot may make him the most complete player to ever live. However, that title will always be hotly debated amongst supporters in favor of another living legend who happens to play in the same league.
Obviously, you can't mention the greatest forwards, or Cristiano Ronaldo for that matter, without Lionel Messi's name being included. The Argentinian is not only one of the best players in the world, he's one of the best soccer forwards ever, maybe even the greatest. Holder of numerous records, including most goals and assists in La Liga history, most goals in a calendar year, most goals in El Clasico matches, most goals in a La Liga season, etc, Leo is truly unstoppable.
He had four Ballon d'Ors by the time he was 25 and his five are tied for most in history with, you already know, Cristiano Ronaldo. Soon to be 31 years old, the time remaining for the famous number ten is running out but the otherworldly skill he possesses will allow him to continue playing at a high level for at least a few more seasons. Whenever he decides to hang up his boots he will likely be considered the best player to ever kick a soccer ball. What a sad day that will be for the soccer world.
About the Creator
Huge sports fan, primarily hockey and football. Also a big TV and movie fan. Recent Marist graduate writing about whatever interests me!
Reader insights
Be the first to share your insights about this piece.
Add your insights