Top 10 Skincare Products for Your 40s
Feel like you need to switch up your skincare routine according to your age? These are the best skincare products for your 40s that you need to get your hands on now.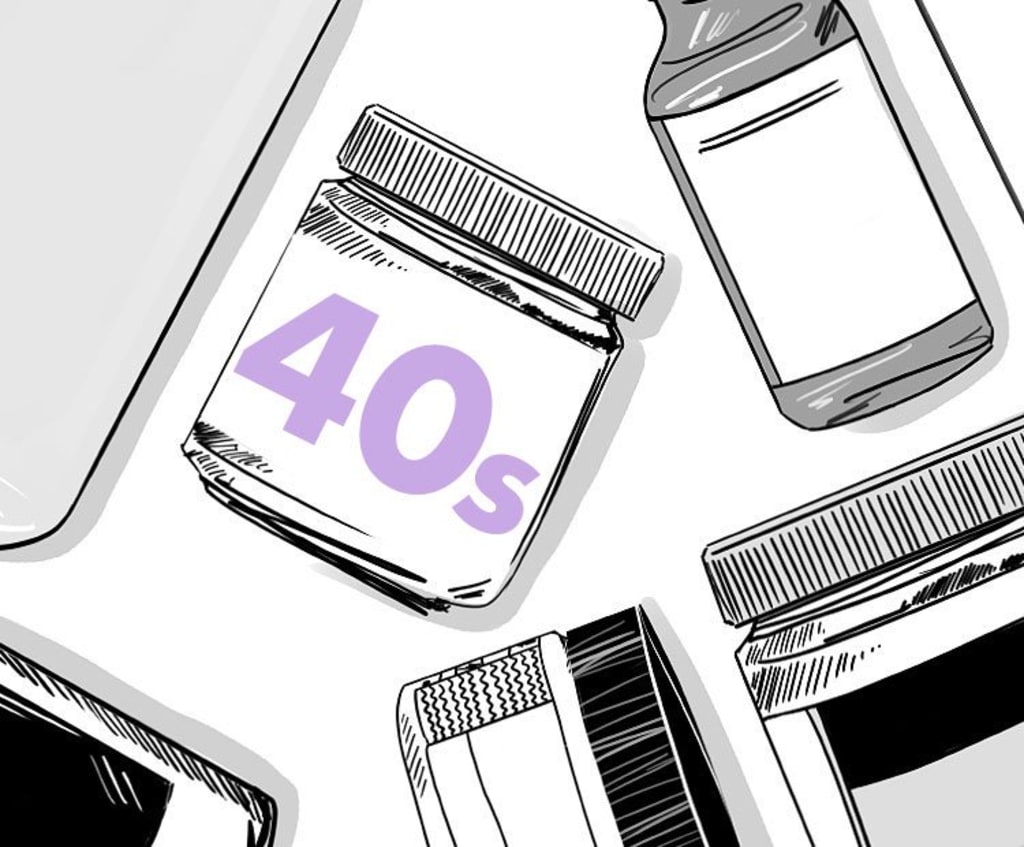 Everyone should focus on a certain skincare routine that depends on their age. Since our skin changes over time, we're looking to care for it as best as possible. After changing up my skincare products and mentioning all about it to my mother, she noticed that she, too, needed to switch up her skincare routine. When I checked what products she was using... she did need to change it up. She seriously needed to change everything up.
My mother is in her early 40s but she's basically been using the best skincare products for your 30s. Since she needed products that focused on specific issues on her skin, I decided to help her shop for new skincare products. She needed a new cleanser, moisturizer, serum, and she started looking into facial peels, too. When she gave her new skincare routine a shot, she absolutely loved the results! If you haven't changed what you're using for your skin in years, see the best skincare products for your 40s to try out.
I'm sure we're all cleansing our faces after a long day with all the oils, dirt, and pollution that build on our skin. No one should ever use harsh cleansers because they can dry out your skin and even cause breakouts. What you want is a cleanser that not only thoroughly cleans your face but hydrates the skin, too. You don't want a cleanser that strips the natural oils from your face.
A great cleanser is the one by La Roche-Posay because it's a hydrating cleanser that's gentle on the skin. This is ideal for sensitive skin as well as normal to dry skin. This cream cleanser gently gets rid of makeup residue, dirt, and impurities while maintaining the skin's natural moisture barrier and pH. Its gentle formula is designed to restore skin comfort and retain essential moisture that leaves the skin feeling silky smooth and hydrated!
People should start using a deep hydration moisturizer to plump up the skin and restore hydration! Moisturizers are known to prevent the skin from dehydrating and when you're in your 40s, you need all the hydration that your skin can take. Don't settle for a moisturizer that dries up a few hours later; if your moisturizer is drying out your skin, figure out why!
What you want is the Rose Deep Hydration Moisturizer by Fresh! This lightweight gel-cream is perfect for any skin type and it's infused with soothing rosewater and nourishing rose flower oil that offers intense 24-hour moisture for soft and smooth skin! This moisturizer is among the best skincare products for your 40s because it helps with dryness, uneven texture, and elasticity for a youthful-looking complexion.
A serum in a skincare routine is like the secret key to achieving great-looking skin. In fact, one of the most important steps in a skincare routine is the serum! So many people skip out on serums but they're definitely products that make a major, positive difference to the skin. There are multiple purposes for serums, from firming the skin to smoothing everything out, fading marks, reducing pore size, increasing moisture levels, and more. In this case, an antioxidant serum is the type of serum that you need!
iS Clinical's Super Serum Advance Plus is among the skincare products for your 40s that you need right now! This serum uses potent, natural ingredients that are designed to heal and protect aging and sun-damaged skin. It's formulated with vitamin C, amino acids, kojic acid, antioxidants, and much more. The product is created to be super effective in reducing the appearance of stretch marks, scar tissues, uneven pigmentation, and acne. It can also improve the skin's collagen and provide you with smoother, younger-looking skin.
Facial peels are one of the best forms of exfoliating because you're completely getting rid of dead skin cells that are sitting on top of your skin. This helps fade scars, acne, and even fine lines and wrinkles. Facial peels are perfect for those in their 40s because consistently exfoliating can help those who want to achieve a younger complexion.
One of the best facial peels is Dr. Dennis Gross Skincare's Alpha Beta Extra Strength Daily Peel because you can use it daily and it's very effective in improving your skin's texture and overall complexion. This anti-aging AHA/BHA extra strength peel combats common signs of aging to gain radiant, smooth skin. This peel is the perfect solution if you're dealing with uneven texture, fine lines and wrinkles, blemishes, or large pores.
Your skin's best time to heal and repair itself is when you're fully asleep. That's why there are night creams that are made to increase the healing process and offer you your best-looking skin in the morning! Since there are so many types of night creams that focus on a specific issue, anti-aging creams are perfect for your 40s.
The Estée Lauder NightWear Plus Anti-Oxidant Night Detox Creme is among the powerful skincare products for your 40s that can help firm and lift the skin during the night. This great night cream can purify, refinish the skin's surface, and visibly reduce the size of your pores. It's lightweight which is perfect if you hate the feeling of a heavy product on your skin while sleeping. The cream can fight visible signs of premature aging and completely diminish their appearance with effective antioxidant power. You'll wake up in the morning with smooth, plump, and hydrated skin!
One of the more common mistakes that people in their 40s are doing is not using a retinol in their skincare routine. A retinol is a weaker version of tretinoin, which is a prescription vitamin A derivative that's very effective in healing sun damage and reducing the appearance of aging skin. A retinol can also even out your skin tone, improve its texture, and stimulate blood flow and collagen production. Overall, it's one of the skincare products for your 40s that you definitely need in your skincare routine.
The EVE LOM Time Retreat Radiance Boost Treatment is a great retinol that's a radiance-boosting treatment to help firm the skin and make it appear more luminous! This product is formulated with pink grapefruit extract that offers freshness, vitality, and luminosity right into the skin. It's also highly moisturizing, the vitamin E combats skin stressors, and the calendula soothes the skin.
It's so important to apply sunscreen every single day—even in the winter! The sun's harmful UV rays are the enemies to our skin because it can dry out the skin while causing sun spots, fine lines, wrinkles. If you love to sit out under the sun for hours and tan in the summer, not only are you allowing wrinkles to appear on your face, but sun damage, too!
You want to apply the ideal sunscreen that will protect your skin from UV rays and prevent it from getting any impurities. CeraVe's sunscreen is among the best ones on the market because it uses the powerful protection from zinc oxide to protect your most sensitive skin. It's lightweight, oil-free, and the additional ceramides help repair and restore the protective skin barrier!
It's completely normal to get a few zits and blemishes here and there while you're in your 40s. It can be the result of stress, menstruation, or any other reason. I understand, just the sight of a pimple on your skin can really tick you off! That's why it's not a bad idea to keep a spot treatment by your side in case a little red devil makes a surprise appearance on your face!
Boscia's Charcoal Spot Corrector is one of the best skincare products for your 40s because its powerful formula can shrink the size and appearance of almost any pimple on your face. This spot treatment is ideal for all skin types and it's made with activated charcoal to stop blemishes from fully surfacing while it effectively removes impurities. This product can help not only acne and blemishes, but redness and uneven skin tones as well.
Using a facial mask twice or three times a week is the best way to fully see positive results on the skin. There are so many different types of masks out there that focus on a specific skin issue. If you're in your 40s, you certainly want to get your hands on a firming facial mask to help defeat aging skin and offer you a younger-looking complexion.
Kiehl's Ginger Leaf and Hibiscus Firming Mask is an amazing product because it's famously known to help visibly firm and smooth the skin overnight. This mask is made with a creamy formula that's infused with ginger leaf and hibiscus. When you use this mask while you sleep, it can reduce the appearance of fine lines over time and you'll wake up with a radiant, smooth complexion!
Lastly, you're going to need an eye cream in your skincare routine. Eye creams are designed to help fight against any skin issue such as dark circles, under-eye bags, and wrinkles. In this case, a good wrinkle eye cream is what you want to offer you bright and youthful-looking eyes!
Shiseido's Benefiance WrinkleResist24 Intensive Eye Contour Cream is one of the most effective skincare products for your 40s because it can counteract the appearance of five types of eye-area wrinkles like crow's feet, corner creases, under-eye wrinkles, and more. It's an ultra-rich, anti-aging eye cream that restores smooth, resilient, younger-looking skin around the eyes!
skincare
Bakes sweets ever Thursday and donates them to her local homeless shelter. Is an owner to five pugs and can count to 500 in French.