The Eyes Have It
Vintage Hollywood Eye Makeup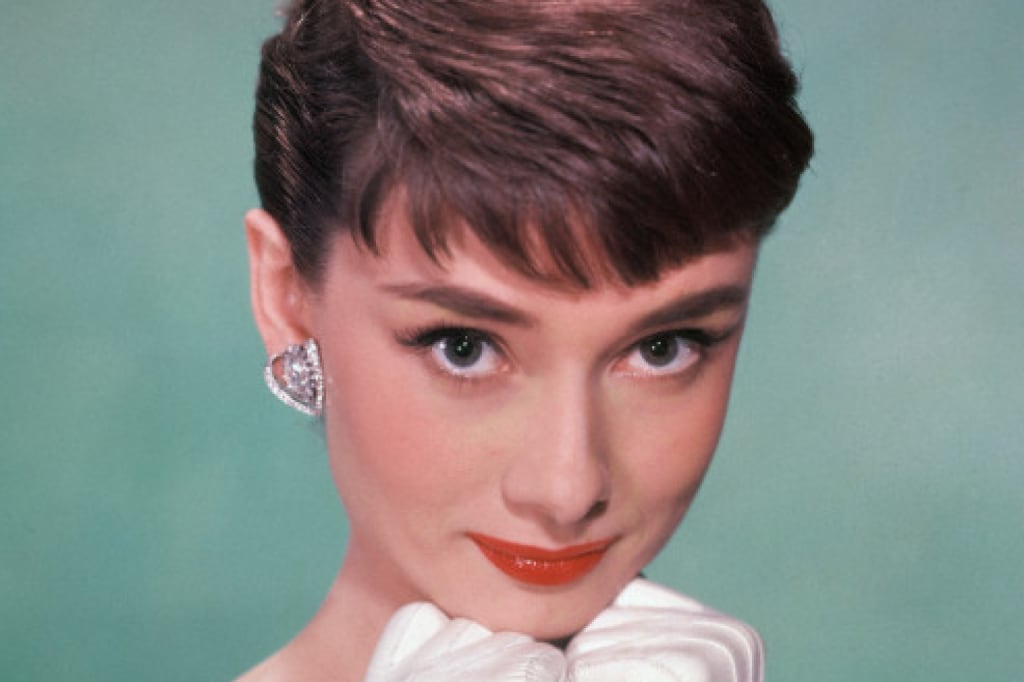 Audrey Hepburn once described her eyes as "the doorway to her heart" —vintage Hollywood had some of the best and most clever uses for eye makeup. The tips and techniques used by old Hollywood actresses are some you'd probably never think to use today. For example, Lucille Ball recommended putting castor oil on your eyelashes to make them thick and glossy, and Bette Davis used petroleum jelly under her eyes to prevent puffiness and/or bags. Vintage Hollywood eye makeup and techniques have since evolved, but below are a few genius yet simple rules that I think are vital to daily makeup routines.
Mascara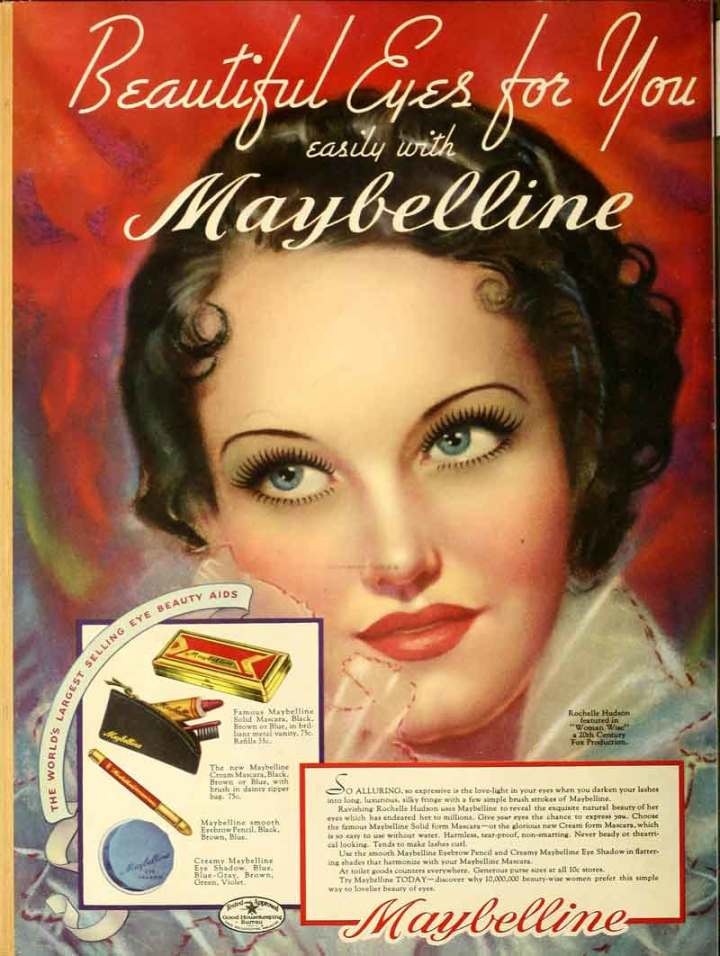 "Every woman needs a man who will ruin her lipstick and not her mascara."
—Marilyn Monroe
It's hard to believe that mascara actually came in the form of a solid block, but it did. In 1917, Maybelline introduced the cake mascara. It was the first product to be presented with an eyelash brush and to be used with a mixture of sodium stearate soap and pigments. Later bought by L'Oreal, they were renamed Maybelline New York and have continued to develop innovative products, focusing on mascara and eyebrows.
Just in case you really want to channel your favorite vintage Hollywood star, Bésame Cosmetics sells vintage inspired makeup products, like the cake mascara shown above!
Eyelash Rules:
Daytime mascara should be black for brunettes and brown for blondes and redheads.
Don't overdo it. Marilyn Monroe said: "when a man looks into your eyes, he doesn't like looking into a mess of mascara."
Fake it if you have to! Bette Davis always wore false eyelashes and her eyes were striking enough to have inspired their own song.
Never apply your falsies too near to the nose. This can make your eyes look close together.
False lashes should always be trimmed to fit and never worn straight out of the packaging, according to Elizabeth Arden's creative director, Pablo Manzoni.
Eyeliner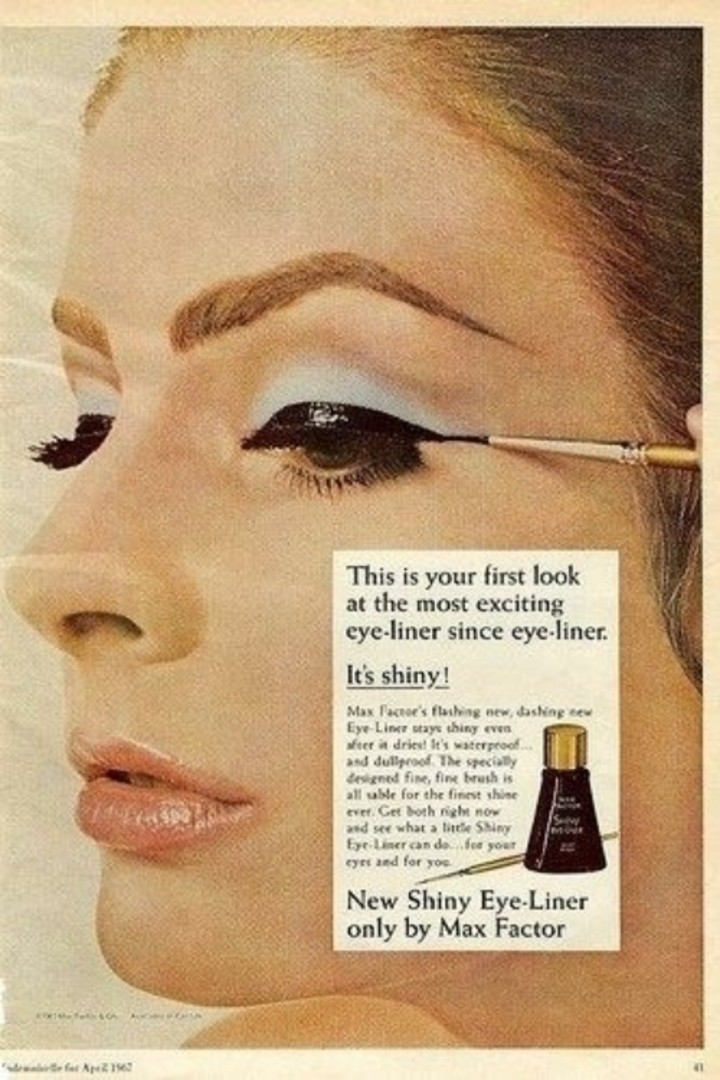 "Even naturally beautiful eyes are improved by the right makeup."
—Alberto de Rossi
Numerous eyeliner looks have been seen on Hollywood's glamour girls, but nothing is more classic than a simple yet bold black line across the upper lash line. This instantly highlights your eyes and opens them up! To recreate the sultry look of the twenties, you'll have to go heavy on the kohl, yet the forties girls wore almost none. The thirties fashion for outlining both the eye and the eye socket is mirrored by the fashions of the sixties. Fifties girls usually went for a single line along the upper lash line.
Eyeliner Tips:
Lining all around your eyes makes them appear smaller.
A line along the top of your eye socket will make them deeper-set.
Never wear eyeliner without mascara, it makes the line way too obvious.
Blend sultry shades of eyeliner up over the lid for a smoky, dramatic look.
Eye Shadow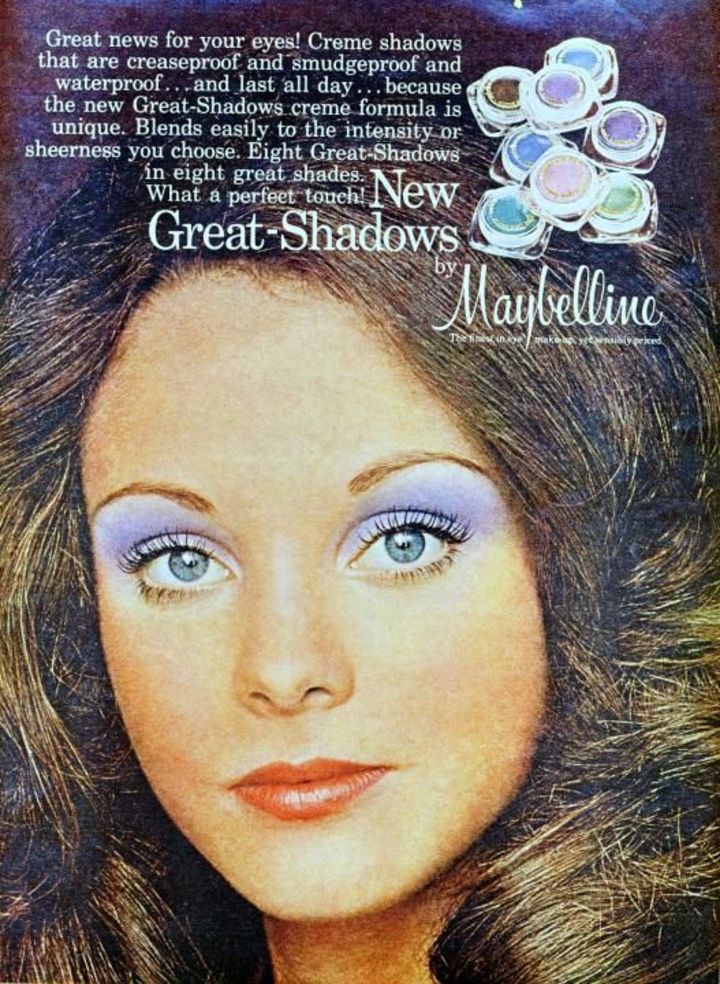 "Your eye shadow will do wonders if you'll let it."
—Max Factor
Dorothy Lamour always topped her bright eye shadow with a coat of foundation; it gave the faintest glimmering of color... subtle, but effective. There's really no rhyme or reason to the way eye shadow was used in old Hollywood, other than each woman had their own way of using it. For example, Josephine Barker loved black smoky eyes, Brigitte Bardot's iconic and bold winged eyeliner, and Greta Garbo had flawlessly contoured come-to-bed eyes. There's no limit to what you can create with eye shadow and that's what I love about it.
Styles to Choose From:
1920s: sultry, smoky shades and lots of eye kohl.
1930s: beige and champagne, natural hues for daytime and shimmery metallic shades were added for evening glamour.
1940s: blue, grey, brown, green, and violet.
1950s: strong colors like blue, green, and pink.
1960s: pastels topped with heavy eyeliner and mascara. False lashes were a plus.
General Eye Shadow Rules:
Apply pigment with a brush and use your fingers to blend. Key word being "blend."
For a daytime look, Max Factor's advice is to use only as much eye shadow as you need to compliment your natural coloring.
In the evenings, there are no rules! Wear as much or as little as you please. You can get away with just about anything.
Eyebrows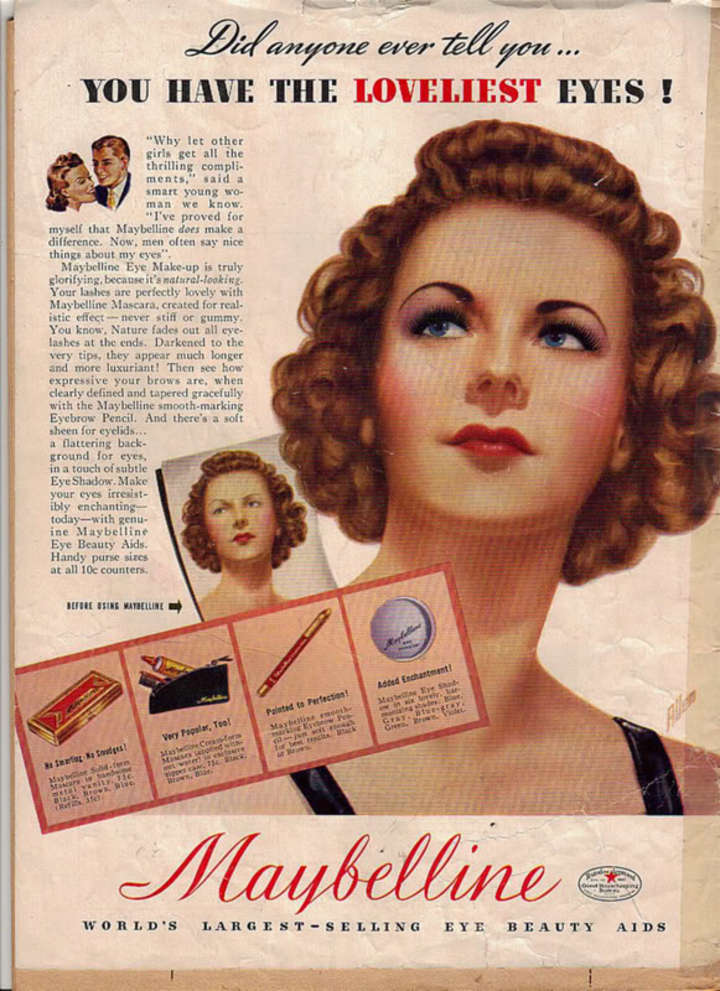 "Eyebrows are key to the whole facial expression."
—Max Factor
If there's one thing that's changed drastically over the years, it's eyebrow shape. From the twenties to the sixties they have come such a long way, in with the full and arched and out with the thin and round. Thin, thick, fluffy, and sparse... They were all in fashion at some point! Shaping your brows is up to you - just so long as you follow these vintage guidelines.
Eyebrow Rules:
Never pluck against the grain!
Never tweeze above the brow. Instead, brush the hairs upward and pluck from below, following the natural curve of your eye.
Never touch the inner corner of your brow. Paramount's Eddie Senz says the lower it dips, the higher your arch will look.
When choosing an eyebrow pencil, never go more than a shade lighter or darker than your natural brows. If you're a blonde, take Mae West as an example; her seductive stares wouldn't have been so seductive under thick black brows!
Don't color in your eyebrows, build them up with soft strokes to create a more natural appearance.
Tidy them up! Even natural brows should be neat.
makeup

morgan aceves
Hello! My name is Morgan, i'm a 23 y/o makeup artist with a strong passion for all things beauty. In my articles you can find my personal opinions and thoughts on different products, techniques, trends, and much more! Thanks for reading!
See all posts by morgan aceves →