Self beauty care
Facial massage and makeup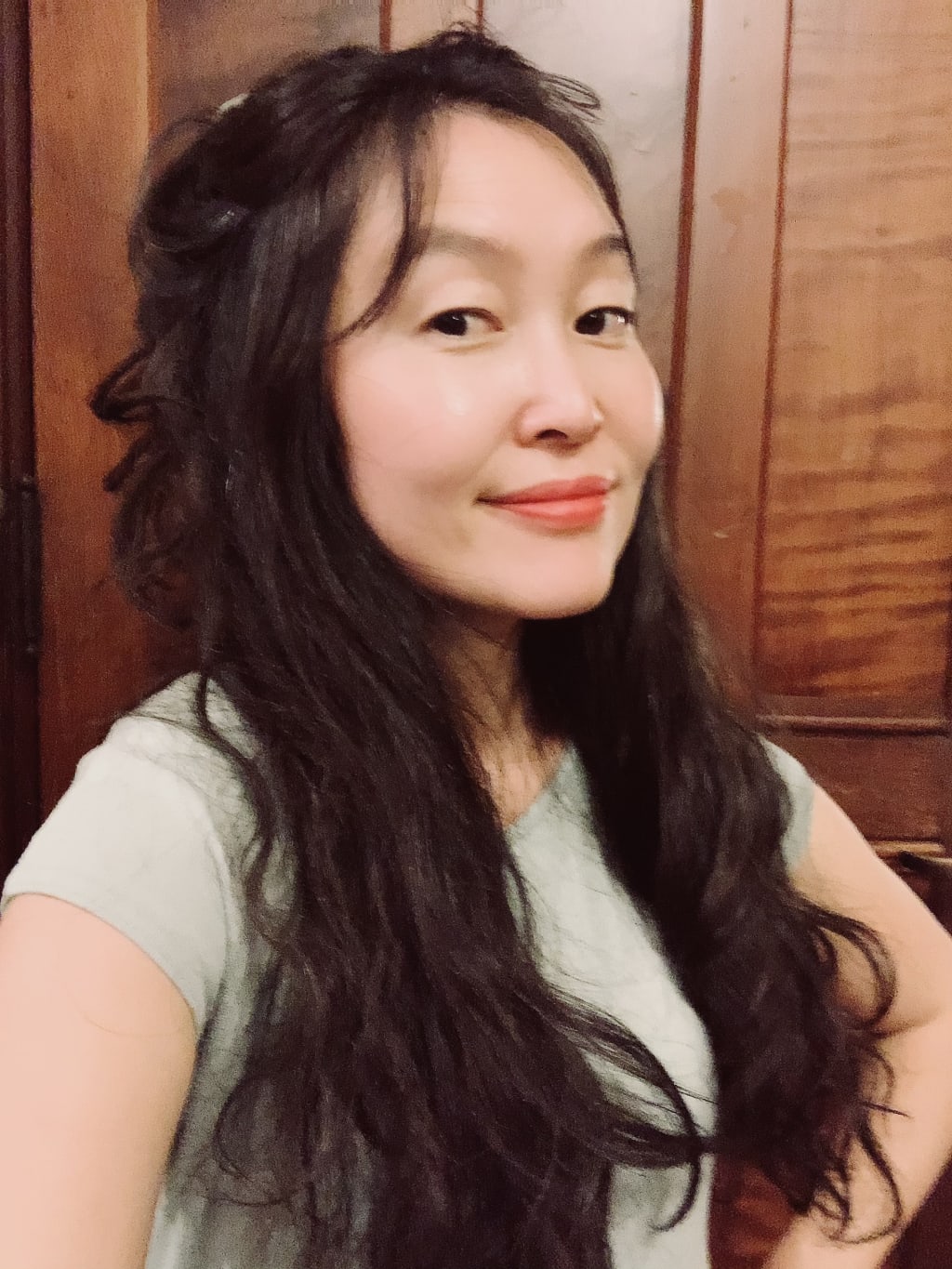 #selfcare #selfie
Before start, I want to write a conclusion first.  Skincare is self-care, and makeup is to express beauty.
One day, I saw my cosmetics and makeup products. There was only toner, lotion, and sunscreen; it was so shabby. I looked closely at my face through the mirror—traces of my busy life buried in every corner of my face. But I had no regrets about my past busy days because  I came to the US for studying and finally got a master's degree recently. How can you imagine an international full-time student's life? I went to the library instead of the party and went to bed than hangout. I wrestled with lots of assignments, reading books, and English every day. Studying was important to me, and I finally got a master's degree recently.  By the way, I got a degree, but I realized that I had not taken care of myself, especially my face. I  started to take care of me. I will write my skincare three steps, which I did.
First, I went gym and did exercise running machines, climbing stairs, and workout.  I felt refreshed and relieved of stress by exercising and sweating. Second, I bought three packages for skincare through Groupon. I calculated that I could go once every two months for six months or every three months for nine months, and I thought it was worth my time and price. On the first day of my skincare at the shop, the skin esthetician checked my skin and said that I have not been in care for a long, but my skin was in good condition. I was glad to hear that.  And she said more; my skin type was oily. By the way, I used the cream, including full moisture or oil, because I thought my skin was dry till that time. I could remember that I felt my skin was heavy and thick because I put on the wrong type of lotion. Lastly, she told me that my skin was oily, but I had no pimples, so I had a good skin type. During skincare, she planned  with anti-aging-oriented treatment. I felt like it was getting rid of all the waste accumulated on my face. And I liked LED and oxygen treatment too. The oxygen-based treatment made me feel clean and fresh with plenty of oxygen and moisture. I felt as if my skin was breathing a lot with pure oxygen. LED therapy, I felt more relax and care for the whole body, not only face. It took thirty minutes, the first time LED light was bright, but I got used to it quickly and fell asleep for a while in peace. After LED, she put a mask on my face, I forgot its name, but it was cooling and refreshing.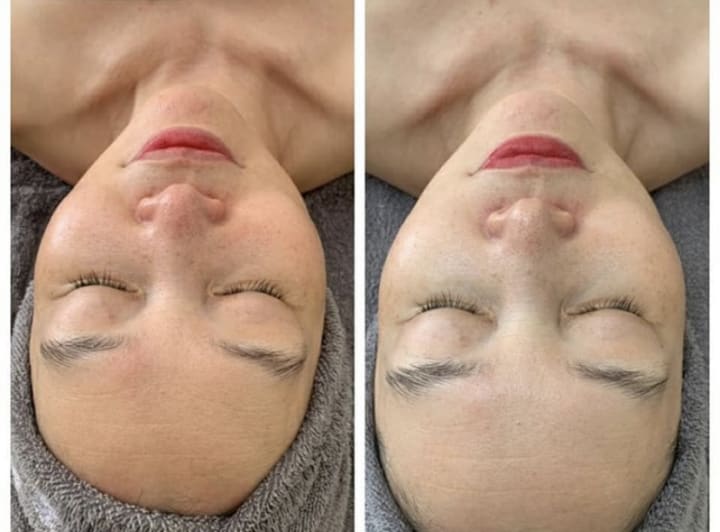 So far, I have tried all three skincare packages. Fortunately, all skincare packages ended before the global pandemic quarantine. While skincare, I learned what my skin type cosmetics are and how I take skincare alone.First of all, I have changed my cosmetics from dry type to oily ones. I felt my skin was refresh and light and not sticky. During quarantine, I started home training because the gym closed due to an epidemic. I was searching and following for 15 minutes face massage from an internet channel. I used "Origins drink up intensive,"  overnight mask, and put on a "face sheet mask"  alternately for twice a week. It provided elasticity and nourishment to tired skin and moisturized it without being oily and sticky. I did not know how much prettier and changed my face, but it was valuable and precious time from facial massage and exercise to take care of myself.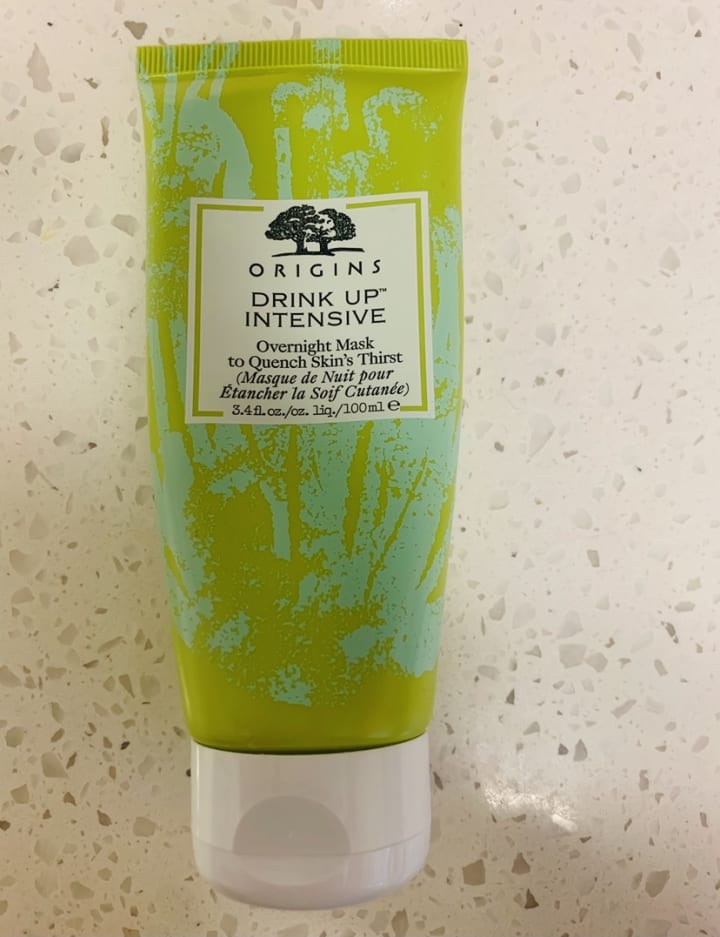 Recently, when the outdoor restaurant opened and became a little loose in quarantine, I met a friend. We had not met in a long time. After looking at my face all evening while we talked and she asked me. "I think  your face has changed?" I said,  "Really? What looks changed?" She said, "You look so brighter than before, and your skin is looking so beautiful." I told her about skincare I got at the shop and self-care I've been doing at home. She could not  hide her amount of emotion from my words, and she responded to me saying, " you did great."  She did not spare any compliments about my self-care.  She suggested that I try makeup from now on. I said makeup is a little difficult, I don't know how to make up, and I tried it a few times, but it did not work well.  She showed me that she did not put on shadow and just drew eyeliner and eyebrow with a pencil, and she was pretty. We talked about cosmetics and skincare more in the middle of our dinner and drink.
From my friend's suggestion, I did makeup for eyeliner and eyebrow. At first, I drew a liner on two snowballs and smudged or looked unnatural when I blinked, but later I could draw a liner near my eyes, and it looked more natural. I drew eyebrows that were different on both sides or too artificially dark, but they became more and more shaped.  I was Googling and searching for makeup products. It was  "Anastasia, Beverly Hills" Brow definer. I found my skin matched color; tone: oil, hair: black, eye: brown, skin: light. It showed a taupe color. I went, "Sephora." It was different when I compared the color I found and the actual color directly to my skin, so I bought soft brown than taupe. I had member points at that shop and could get one gift among the four. I chose mascara; it was the same company. The Brow Definer, which triangular, fills the eyebrow's outline at once, making it easy for beginners like me to use.
This product explains this. "It's a great tool for women trying to fill in the sparse parts of their eyebrows quickly and easily. For best results, twist the pencil to reveal only a little lead, then color the portrait with light pressure as if sketching." - Anastasia Soare.  
From free gift, it was a mascara voltmateur. It explains, "An intensely black voluptuous volume mascara for the sexiest, defined, multidimensional lashes possible."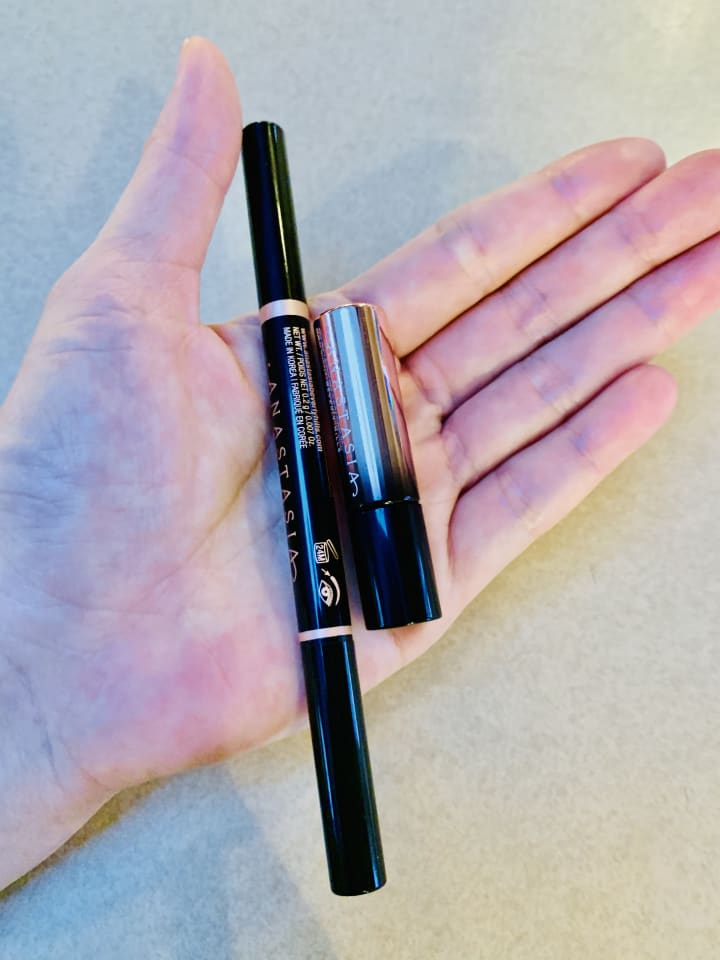 I applied this mascara to my eyelashes, and my eyes seemed more voluminous, deeper, and pretty.
My friend and I met again and had dinner together. As if I were going on a date, I did makeup, set hair, and wear sexy clothes. A friend who met me was surprised by my makeup and told me I  was gorgeous. More than her praise, I was more pleased and satisfied with self-care.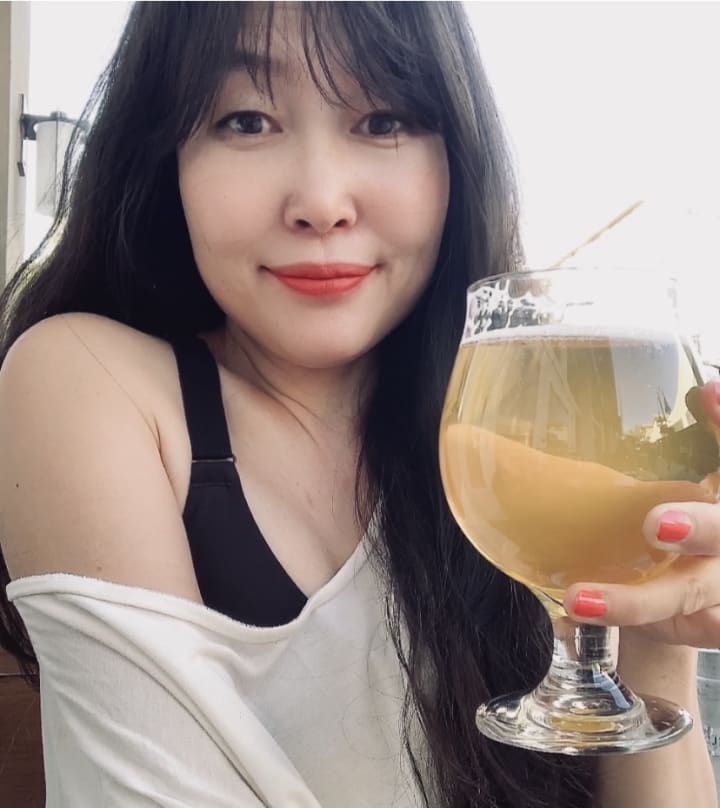 These days, I am still interested in cosmetics and makeup products, so I look for makeup methods on Internet channels, buy products, and follow them. Beyond merely purchasing and consuming, applying lotion to the face and massaging is said to feel alive and beautiful to the skin. Self-skin care is enough self-care for me, and makeup is a lovely painting with drawing eyeliner, eyebrow, and eyelashes. I wrote a conclusion on the first page, Skincare is self-care, and makeup is to express beauty.